We're finally back on broadband! Hooray! Plus I thought my Visiting Teachers were coming this morning at around 9am so we finished cleaning and tidying away our DIY mess all over the house ... and then I realised that they're coming tomorrow so I'm sitting surfing the net because everything's done! Our adventures in decorating: Just to list everything we've done in and around the house since moving in five weeks ago (bearing in mind we were away for two weeks):
Worked in garden, including: removed old pond, pulled weeds, shovelled gravel to clear paving, marked out studio slab, lifted turf along edges, removed various shrubs, pruned bush, lifted paving slabs, got rid of picnic bench, removed wooden "decking"

Cleared junk from side of garage

Hung pictures

Hung mirror in hallway

Moved all furniture to where it belongs, including tying shelving units to walls

Fitted lock to front door

Created fabric screen over meter cupboard under stairs

Hung coat hooks

Nailed boards over landing railings so Noah can't fall through

Hung new door, Noah's room

Fitted doorbell

Installed new gate in driveway

Cleared out iron stove

Built shelf unit for garage

Installed Noah's blackout blind

Started removing tiles and mirrors from the bathroom walls

Put together lots of flat-pack furniture

Painted dining room

Lifted slabs in the garden

Removed a couple of plants from the garden

Cut down branches overhanging from next-door's tree

Hung wall clock in dining room

Pulled up carpet in Daniel's room, removed gripper rods

Removed wallpaper border in Daniel's room

Removed random screws from the walls of Daniel's room and Polyfilla'd the holes

Painted Daniel's room

Laid laminate floor in Daniel's room

Stained part of fence in back garden (will be behind log cabin)

Painted and varnished dinosaur shapes for Daniel's drawer handles

Adhered corner protectors to hearth corners

Laid laminate floor in Noah's room

Installed Daniel's blackout blind

Installed new curtain rail in Daniel's room
A few pics
The hallway when we viewed the house:
What we've done so far:
Hung a mirror and pictures

Hung wall caddies

Put a shelving unit in and tied it to the wall

Created a fabric screen for the meter cupboard

Hung coat hooks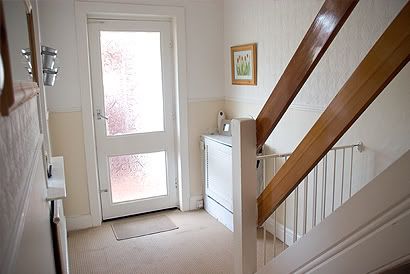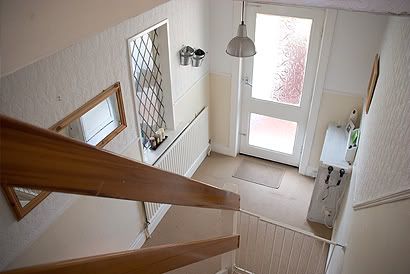 What we still plan to do:
Replace the banisters with a new one and spindles, painted white

Replace the meter cupboard with a tall white unit with shaker doors, creating much more storage

Take out the random window

Install a radiator cover

Remove dado rail and wallpaper and paint the walls
The bathroom as it was when we moved in: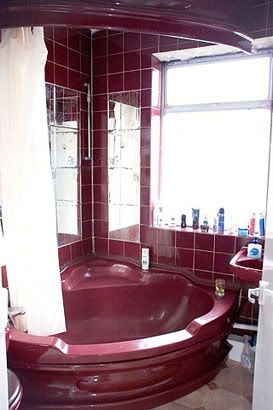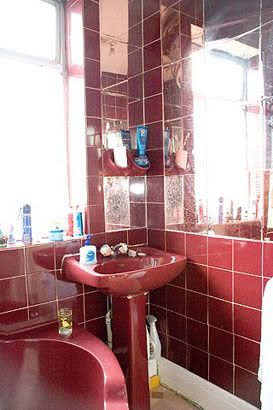 And what we're busy doing to it (removing tiles, mirrors, tile adhesive and plaster right down to the brick):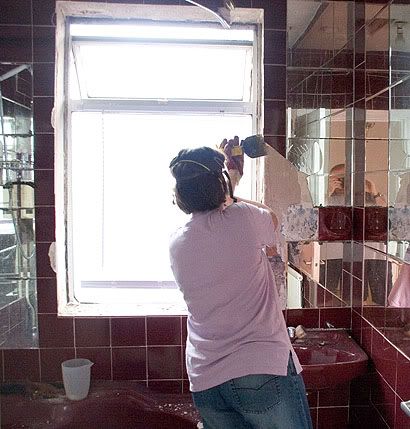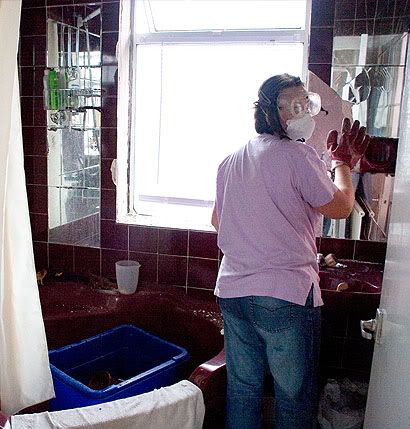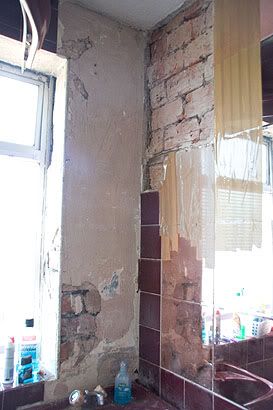 We have Big Plans for this little room! And they don't include a maroon 80's suite with corner bath and mirror tiles!!
Hey, check out the cool original cast iron heating stove that was left in the dining room - can't wait to fire this baby up in winter!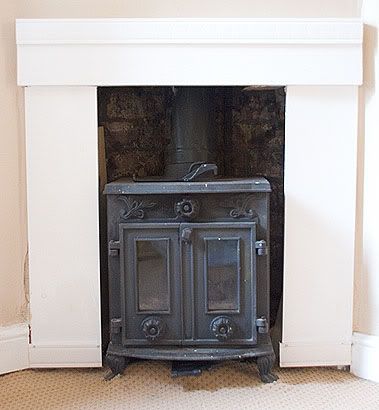 More pics to come later when I get a chance.