We thought "Half-Job Harry" had lived at our last home before us. We now know he was merely passing through there in the briefest of visits – our current home is where he spent most of his botch-jobbing time. Anything that could be done badly has been. Why do a job properly when you can do a patch-job of it? It is completely mystifying … if painting the window-frame roughly, with paint all over the window, doesn't bother the previous owner visually, then why did the unpainted window-frame bother him enough to pick up the paintbrush? If a patched-together, badly painted, gap-ridden doorframe didn't bother him, then how did the unframed doorway bug him so much that he felt he had to turn his hand to it? Clearly this man had no sense of aesthetics. Was he doing DIY for the sake of it (was his telly broken)? Or did he feel he had to make the effort before selling the house? I'm telling ya, I would rather he'd left well enough alone rather than us having to undo all of his awful handiwork. Here are some prime examples of his legacy:
1) The electricity company sent someone to replace the meter. After looking at the circuit board thingie, he just shook his head – someone had unscrewed it from the wall, run wires down behind it and not screwed it back to the wall – and said he'd first send someone to make the board sound and then after that they could replace the meter.
2) Here's the actual meter cupboard itself, complete with patchy single coat of paint and door hanging off its hinges…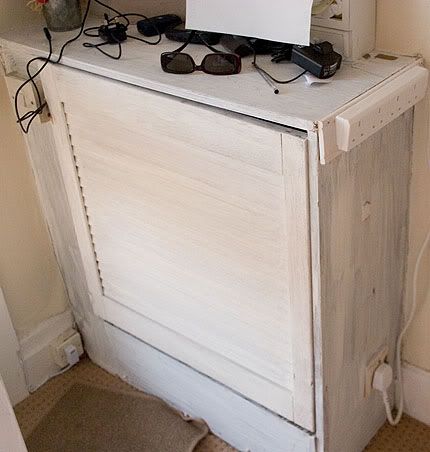 3) …and a close-up of the corner (Grant only added the sockets, the random moulding on the edge was there already.)
4) The doorway from the hallway to the lounge.

5) The back doorstep.
6) Side of a kitchen cabinet.
7) The dining room radiator. ("What? Plaster the walls before adding the radiator? What on earth for?")
8) The kitchen doorway.
9) I think the random window was already in the living room …
... but what on earth has he done to it?
10) Down the side of the fridge unit.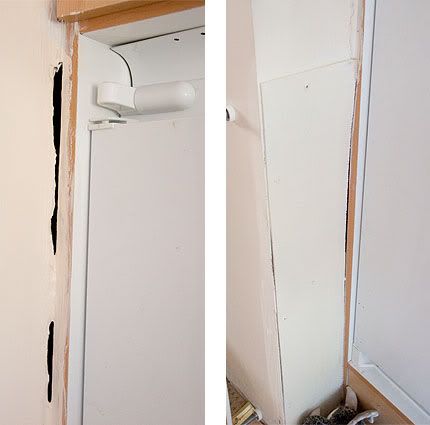 11) Underneath the kitchen wall units (nice tiling job, eh?)
12) Down the side of the cooker.
Just a small sampling of his work which I think sums it up.