I just realised that I never posted the official completed bathroom pictures! Okay we haven't
totally
completed the bathroom - we still need to do a little caulking and a second coat of paint on the door, but it's near enough to finished.
To recap: the old hideous bathroom consisted of floor to ceiling maroon tiles with beveled mirrors on every wall, maroon corner tub, maroon toilet with wooden seat and lid and maroon basin. The ceiling was mouldy, the whole room stank and was filthy. It is also the world's smallest bathroom, measuring only 6ft x 6ft. We ripped out everything, absolutely gutted the room including removing the plaster right back to bare brick. We replaced the window, ceiling, drywalled the walls, put in new suite, new floor, new radiator, tiles, etc. As you know, we did everything ourselves - every last thing, including plumbing, tiling, replacing window, the works. Grant is a genius, and we both worked like slaves. The whole lot cost us less than £2,000 - that is for flooring, tiles, plumbing equipment, window, blind, shower, shower screen, radiator, towels, accessories, suite, folding door, cabinet, drywall - everything.
Blood, sweat and tears ... but it was all worth it.
As a little reminder, here's what it looked like before (don't puke!):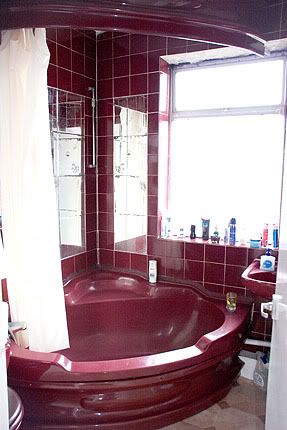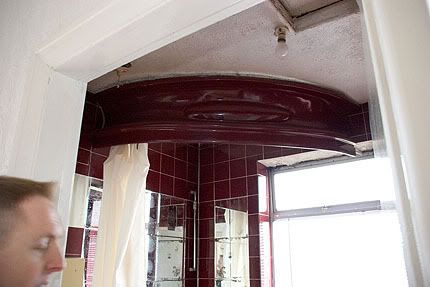 And here is how it looks now (the top row of tiles have since been grouted):
As you walk in the door, this is what you see: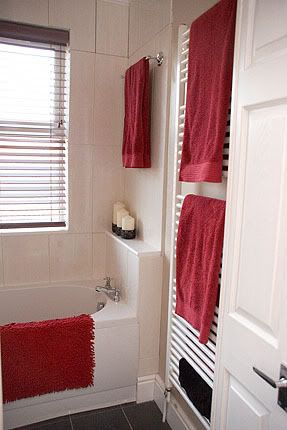 Turning to the left:
Turning around to the left again.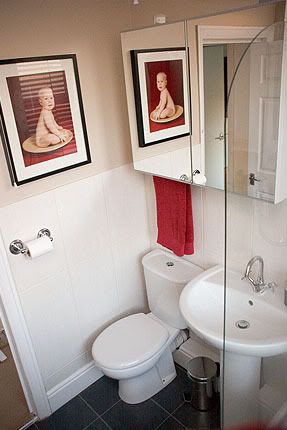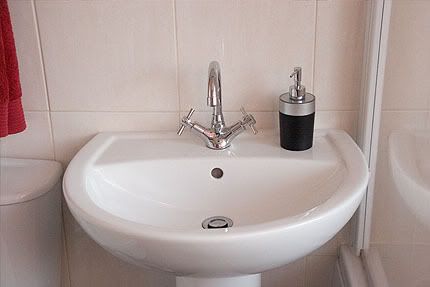 Floor is slate-effect laminate tiles.
Clock above radiator - good shot of coving.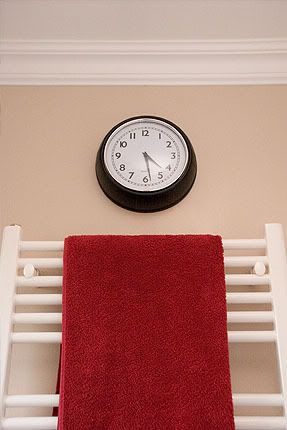 We installed a folding door - it saves space and doesn't block the radiator (still needs a second coat of paint).