Sometimes my little boys need a little reminder.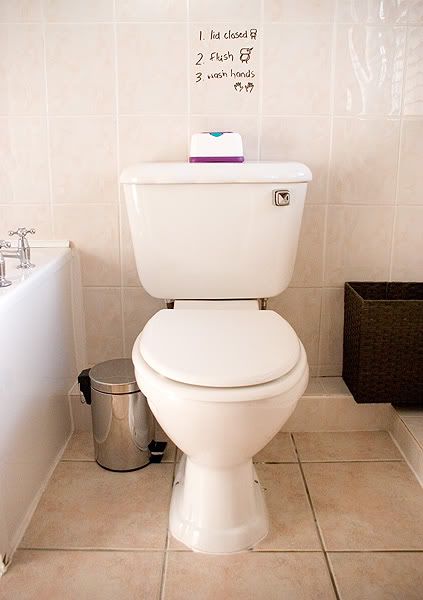 Did you know that whiteboard markers are great for leaving notes on glass, mirrors and smooth tile? (The pictures are for Noah, who can't read yet.) When your note has served its purpose you can quickly wipe the surface clean with no residue. It comes off easily - you can see here that some of the writing has rubbed off a little when I brushed up against it today while cleaning the bathroom (I was dusting the picture frames above).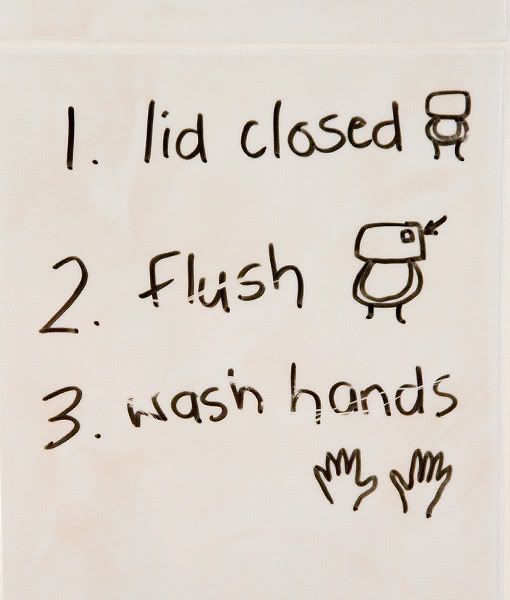 We've used whiteboard markers to leave notes for each other for years. When Grant and I were in our second flat in England, I left a note for him inside the toilet lid so he'd be surprised by it. Okay, I'll admit it ... it said, "Hello sexy!"
And then it wouldn't come off!!! I was
mortified
(I mean, it's not like we even call each other "sexy" to our faces - I'd written it because I knew it would make him laugh) and thought we'd have to leave it there for the next tenants. How embarrassing. Replacing the toilet lid wasn't an option since it was an old grey suite - they don't even make that colour anymore.
Luckily Grant (a.k.a. "Sexy") managed to scrub it off and ever since then I've been
very
careful to only use whiteboard markers on very smooth and non-porous surfaces.
Do you use whiteboard markers on anything other than whiteboard? What do you use them for? And have you ever had a mishap with them??