If you've been decorating or renovating I'm sure you're familiar with the longing to have a room be "done". It's the goal, right?
Well, I've come to realise, now that all of the rooms in my house are "done", that it sucks. It's frustrating to be out shopping at a flea market or on eBay and spot wonderful pieces of furniture, frames or ornaments and have nowhere to put them.
On Tuesday I popped down the road to the charity shop and saw two beautiful, dark wood frames. I stared at them for a while, wanting them. I wouldn't even have to paint and distress them, they were perfect in their rich darkness.
Then I knew where I could put them - a spot that I've been thinking of improving for a while. I was happy to snap them up ...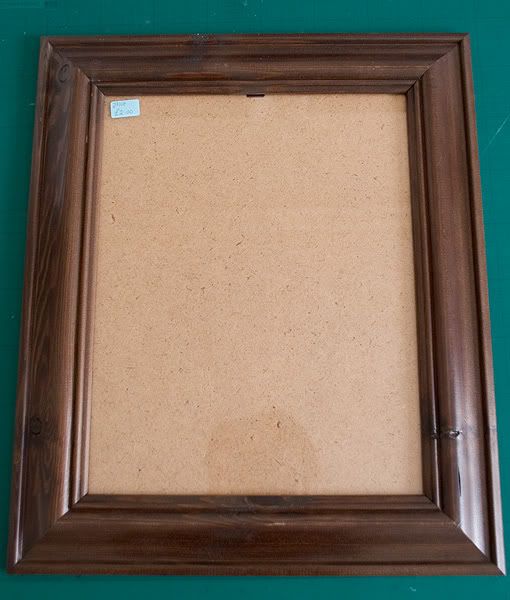 ... especially at at that price! £2 each.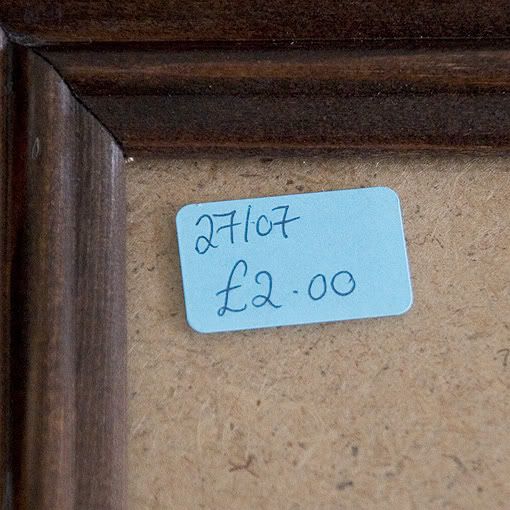 I came home and measured them. The size of the glass is 11x14 inches. They had no mounts / mats, but I knew I could buy or make some somehow. I went ahead and chose two images and ordered them as 8x10 inch prints. I chose these two, taken on my trip down to Somerset - the crab apples were in my aunt's garden and the lily was at
Dunster Castle
.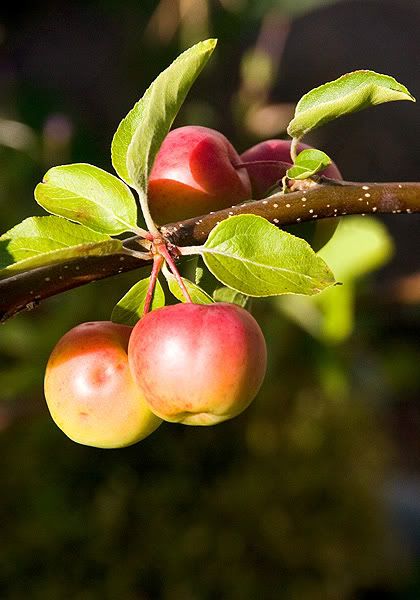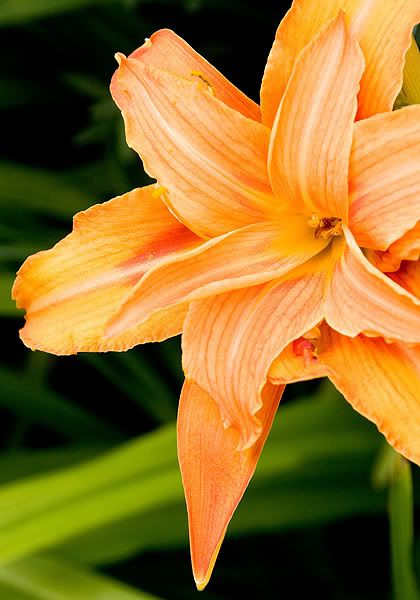 I chose these two images because they picked up the tones in the hallway bench. I'd decided to hang the frames above the bench in the space beneath the shelf as we only used the hooks for keys.
Today the prints arrived and I went down the road to an art shop to see if I could buy mats there. They only had champagne coloured mats in the size I needed but I knew I could either paint them or use the back of them - I decided to use the back. Sure, they don't have the neat bevel around the aperture, but I don't mind. Here's the difference between the front and the back, although this picture doesn't really show the true colour - the fronts are much yellower in real life.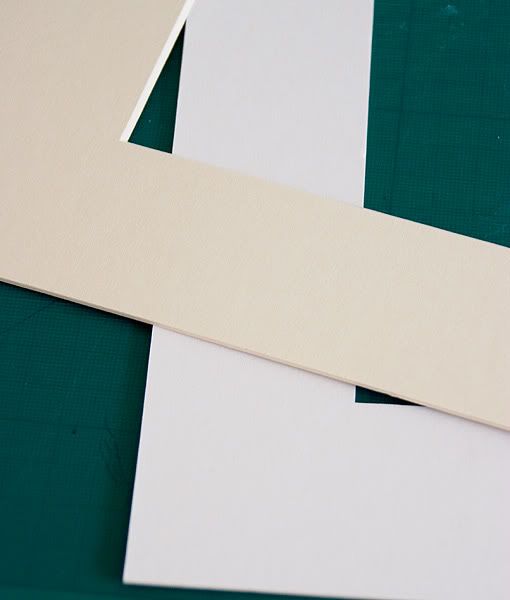 But when I put the prints behind them, I realised that the apertures aren't 8x10 inches. They are slightly narrower and taller. Them being narrower doesn't matter, but the fact that the holes are taller than the prints became an issue when the print didn't fill the space. Aargh!
I decided to trim the width of the photos and stick them to a piece of coloured paper for a double-matted look. I experimented with different shades ...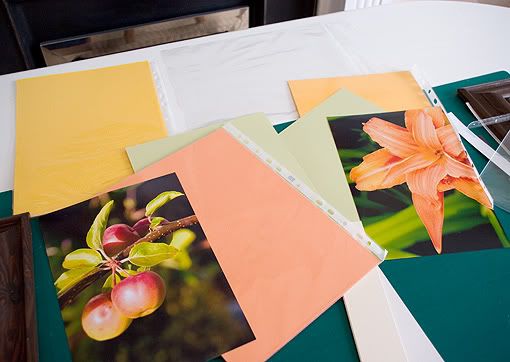 ... and then decided on the coral colour beneath the crab apple picture in the shot above because it tones with the little runner I have on the cabinet in the hallway.
And now for the final reveal. Here is what the hallway looked like before when standing in the studio doorway (in fact this was taken before I made the cover for the bench cushion):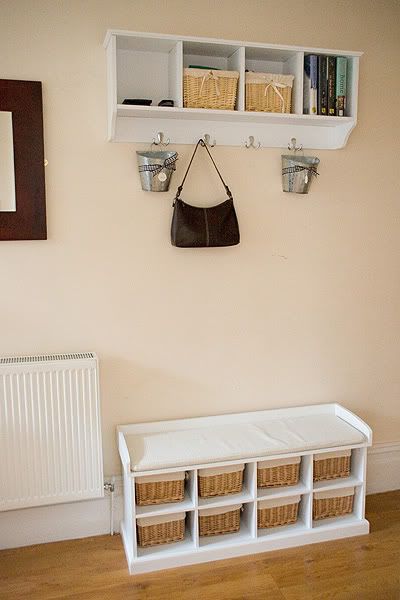 And after: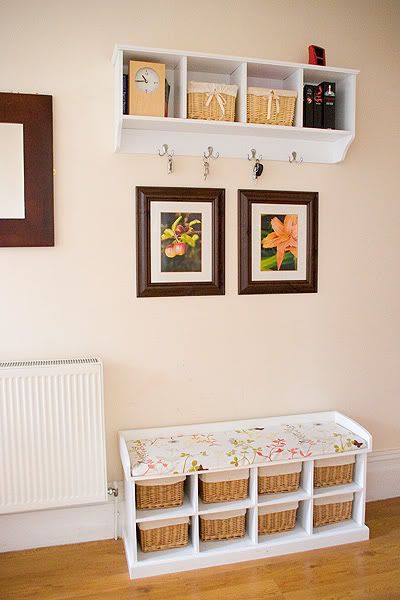 Before and after from the front door: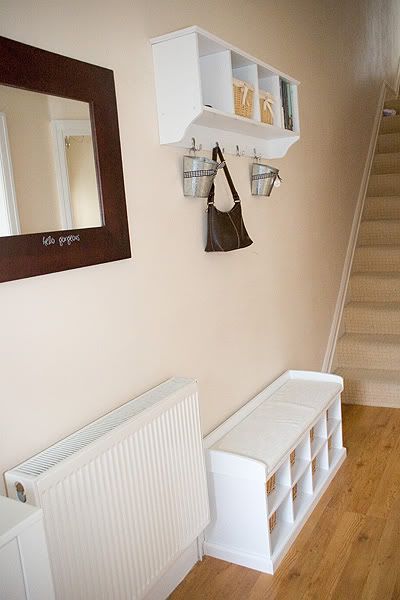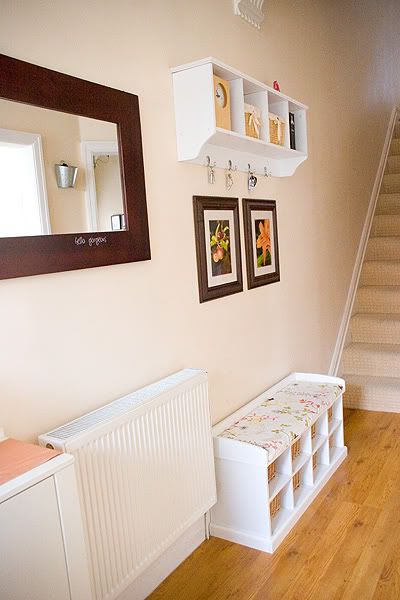 Before and after from the living room doorway (you can see the little silk runner on the shoe cabinet):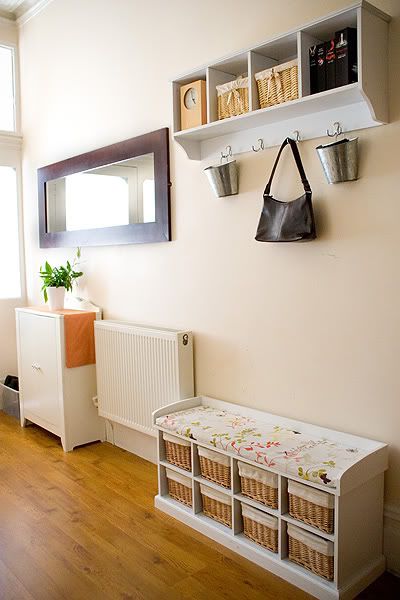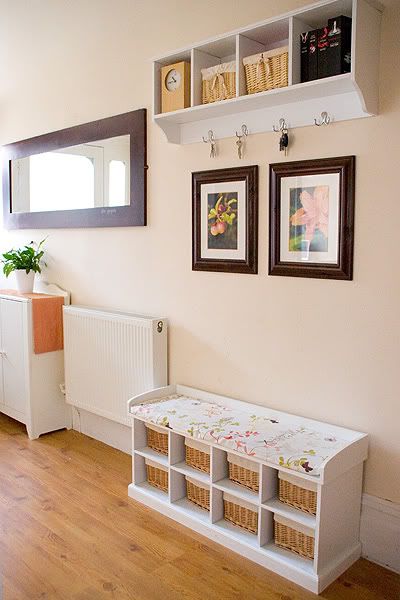 The framed prints - excuse the glare: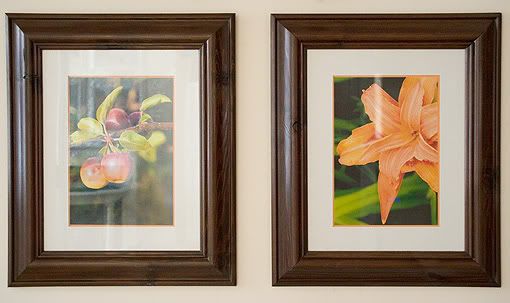 The double-matted effect (now, that's what you call a happy accident!):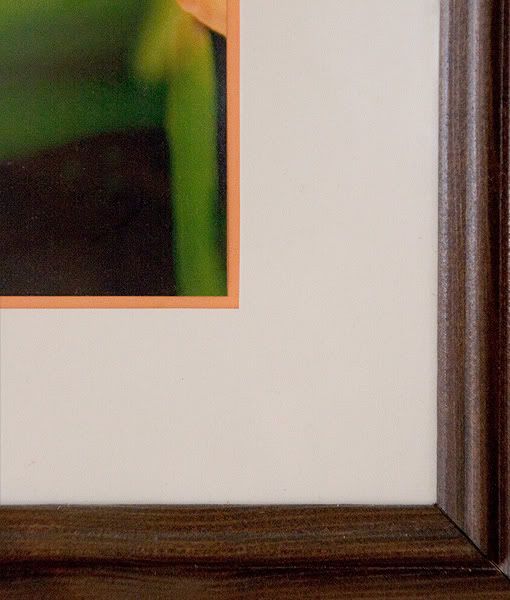 Cost breakdown:
frames = £4
prints = £3.87
mats = £6.80
paper = free (I bought it ages ago, it was in my scrapbooking stash)
Total cost for the project:

£14.67 (that's around $24)