I don't like clutter and Christmas decorations usually drive me mad. The day after Christmas usually sees me packing them away and cleaning because I can't take it any more.
It took me this long to realise that I don't have to
add
stuff, I can remove certain items that are usually displayed in my home and simply
replace
them with festive items. Duh! It does help to cut the clutter.
So here is how I have decorated this year (I don't go all out - see above re not being fond of clutter.)
Our Christmas tree. Grant and the boys decorated it this year as I wasn't well. I am resisting picking at it and moving things. The bench that usually sits in the bay window has been moved to our bedroom bay window, and the storage ottoman that usually sits there has been moved to the landing.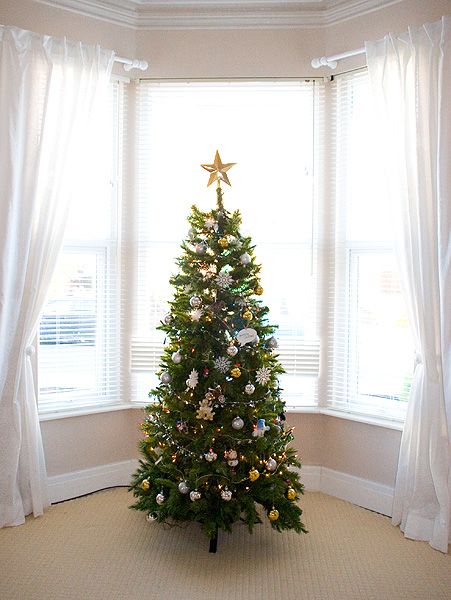 The feather wreath I made for the studio (I removed the bow, thanks to whoever suggested it!), and my ceramic nativity on the mantlepiece. The tub of candles that usually sits there has been moved to the open shelf of the bookcase and the basket that usually sits
there
has been moved to inside the bookcase.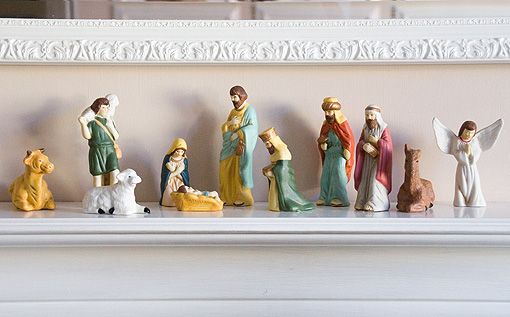 A little wooden Santa added to the pictures next to the TV.
I removed the pictures from the mantlepiece in the living room and packed them away and replaced them with the stocking hangers I got for £1.75 each in the January sale at Matalan. I also added red gingham ribbons to the candles.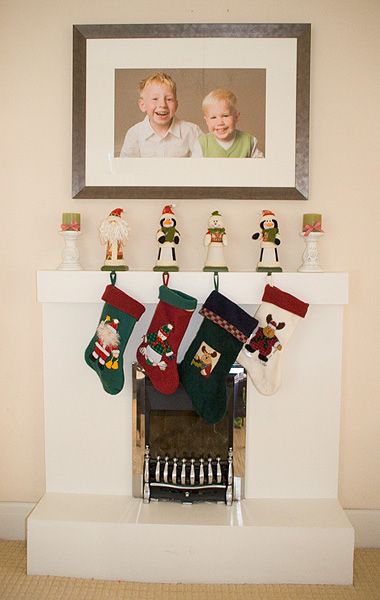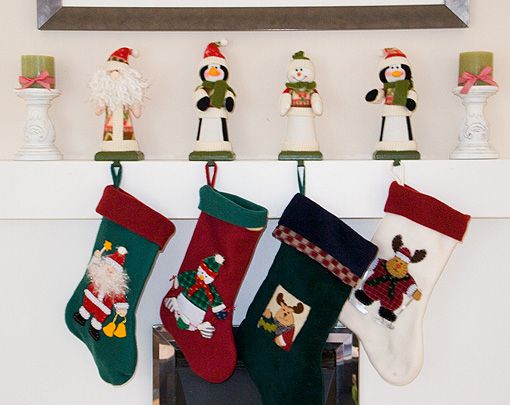 I packed away some of the items from the corner and replaced them with a large poinsettia, a snowman plate (99p at Dunelm Mill) and a stuffed snowman.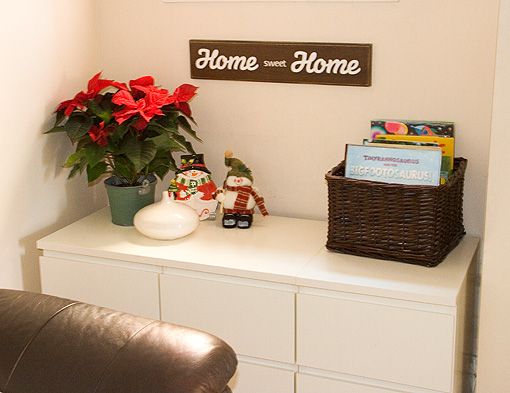 I replaced a few items on the bookcase with Christmassy tealight holders that I got in the Woolworths liquidation sale last year. The fat white angel is new, she was £1.19 at Dunelm Mill.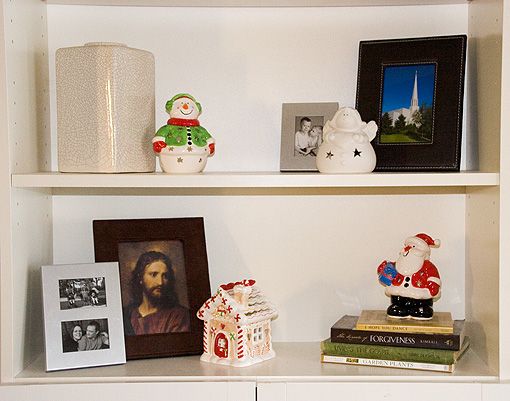 The picture and glass ornament on my kitchen windowsill were packed away and replaced with this little nativity from Home Bargains.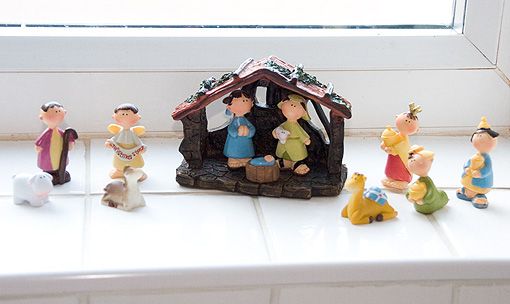 And the little green crate that held the dishwasher tablets has been put away and now Santa's head holds them.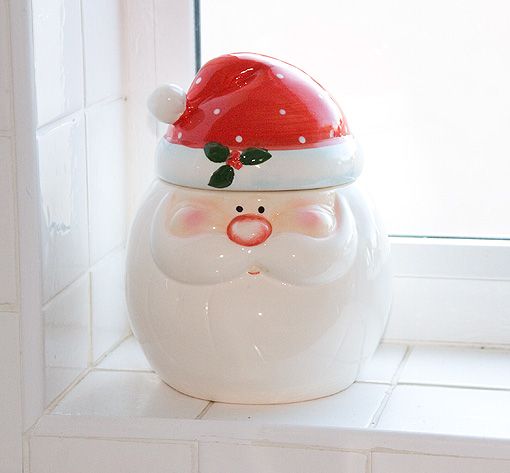 Nice and clean and uncluttered, just how I like it.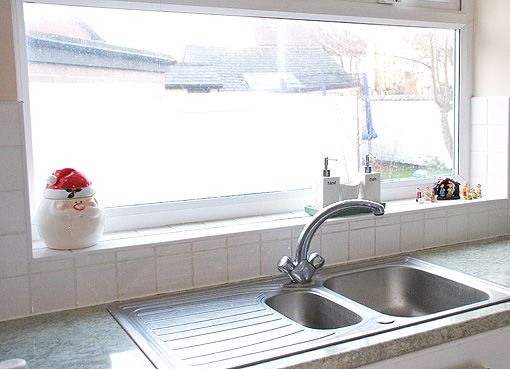 I got this advent calendar a while ago at Dunelm Mill, it was like £1.75 or something. I buy chocolates or sweets to put in the pockets. It hangs on the cellar door. We put out the decorations last Sunday which was the 29th of November, so we told Noah, "The calendar will begin in two days' time." He somehow got it into his head that Christmas was in two days' time! Poor kid, we had to disillusion him. (I need to buy more sweets to fill all of the pockets).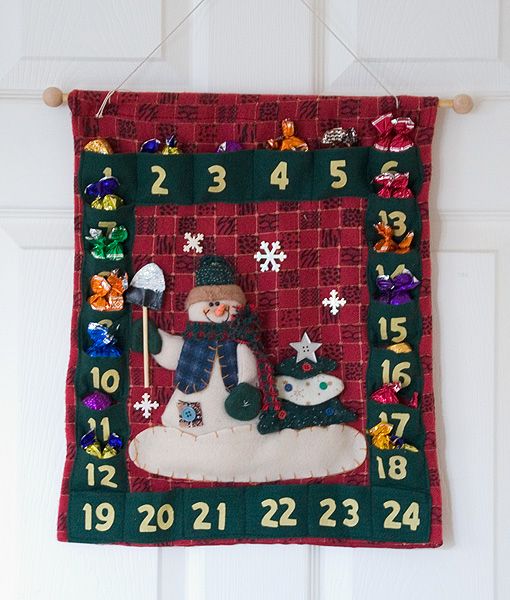 This little metal ornament was also from Dunelm Mill for about £1.50. It sits on the shelf in the hallway, and then of course my angel (which is supposed to be a tree topper - from Matalan) lives on that shelf permanently.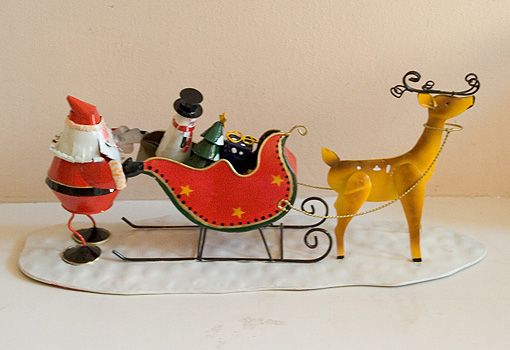 I even do a few touches in the bathroom. I actually leave these out throughout the winter as they are more wintry than Christmassy - my lovely snowman soap dispenser and hand towels (sent to me by my dear friend
Leith
).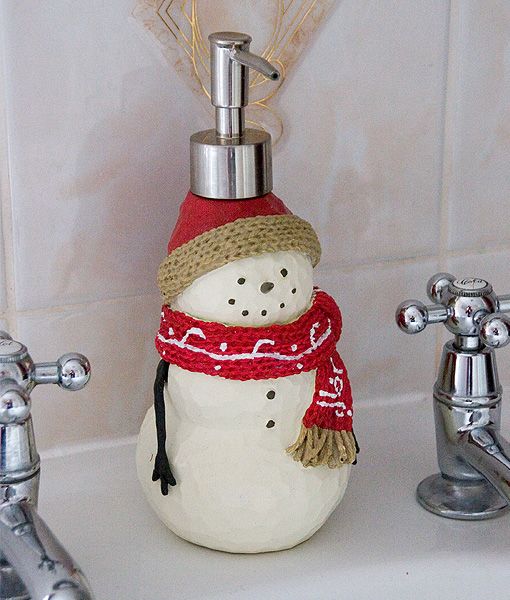 I add in some red towels and bath mat (from the ensuite).
I have plans to make a red and white striped or gingham basket liner for the basket that holds the toilet rolls, but I meant to last year and never got around to it, so we'll see if it happens this year.