On Monday I drove down to Cheshire to help Laura's friend Jen (who is also a former photography client of mine) organise. We spent the day organising the wardrobes in her daughters' room. Unfortunately I only took "before" photos of the wardrobes and never got around to doing "afters" but it was fun and we got lots done.
Then I went to Laura's home for a nap on the couch while I waited for Laura and Tim to return home from work. We visited and had some supper.
When Tim opened the door to their under-stairs space (which is where they keep their fridge as it leads off the kitchen) I could smell gas. They said they couldn't smell anything but that they had smelt it when they first moved in a couple of years ago. I could smell it quite strongly and since I am the Gas Leak Queen (we experienced a gas leak
in our first home
due to nailing a pipe, in our
second home
due to new meter installation damaging a pipe, and there was even one in my studio when we first moved in here) I suggested they get someone out the next day to check for a leak.
Tim got on the phone to arrange an appointment for the next day, not knowing that they wouldn't allow him to do that and they would send someone out the same night (even though he phoned at 11:20pm). If I'd known he was going to phone I would have stopped him but we realised too late ... so Laura and I ended up waiting up for the gas man to come. He arrived after 1:30am and there was indeed a leak, which he managed to fix. Laura and I were so tired and went straight to bed after he left.
On Tuesday I went down to Jen's again to organise all of the cabinets in her kitchen (again, sorry, no pics) which took most of the day, then Laura and I headed out to do some shopping. Home for supper and some chatting ... we ended up chatting until 4 IN THE MORNING!! Shocking, but we didn't even feel that tired.
During the evening I painted a couple of plain tin buckets she'd bought and we added ribbon and little wooden Christmas tree - how adorable are they?? She plans to add a poinsettia to the cream one and fill the red one with nuts (in shells).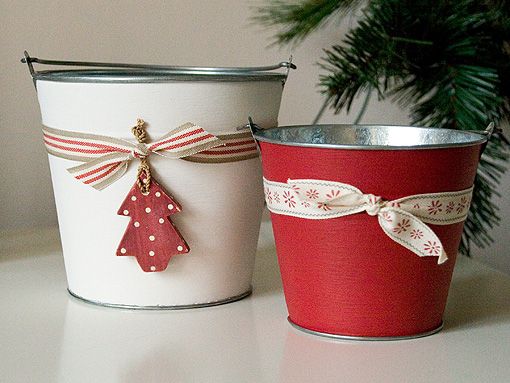 The next day I woke up and looked at the time and nearly had a heart attack when I realised it was NOON! I have literally never slept until noon in my whole life. Well, I guess I can't say that anymore! Anyway, Laura and I got ready and had breakfast and then headed out for some more shopping, then I drove home, arriving back at around 4:30. It was so nice to see my family again. I missed them! Noah was so funny, they phoned me in the evening each night I was away and the second time they phoned I answered the phone and I heard Noah going, "Look at me!" I had to remind him I couldn't see him through the phone! Apparently he was wearing the little black glasses that came with Mr Potato Head - I've since seen him wear them and it's hilarious.
Today I am just pottering around baking muffins, making bread and soup, tidying up and in about 2 minutes I'm heading off to the school to watch Noah dance in his nativity play. Hopefully I'll get some good photos to share.