It is still soooo coooold! Here is a picture of the UK at the moment: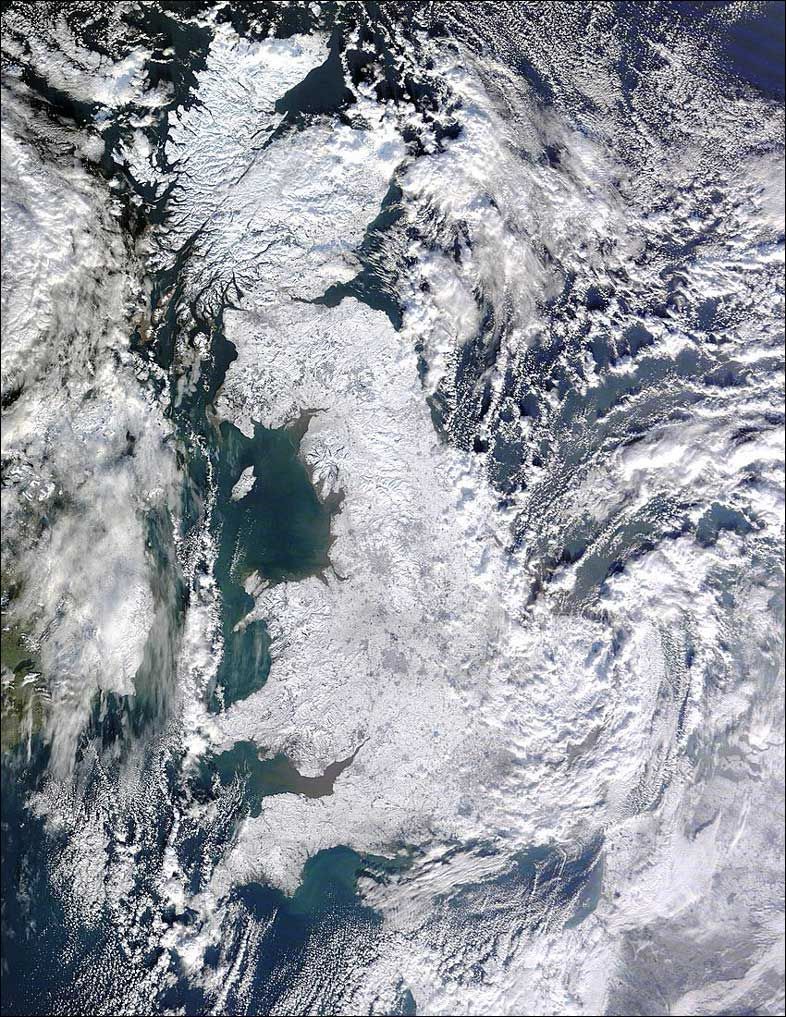 (Photo: NASA/GSFC, MODIS Rapid Response
as seen on Make My Mood)
Like a little slab of ice. It hasn't snowed since two days ago but everything is frozen and the snow on the pavements (sidewalks) is getting more and more compacted and icy and slippery. I thought my face would freeze off on the school run this morning.
But we've had sunshine, which is lovely.
I am on a more even keel today; yesterday, especially last night, I was really emotional. It took me by surprise how much Grant's leaving affected me, especially considering how often I'm alone in the evening due to his shifts, and considering he'd only just left.
But I felt like a rug had been pulled out from underneath me. I felt bereft. I think it was facing the three weeks ahead of me without him and knowing that every minute he was getting further and further away until he'll be 12,000 miles away. If there's any kind of emergency it will take him
two days
to get home.
I've been with Grant for 4 years shy of
half my life
. He is my best friend and my support and security. I miss him so much already. I'm so proud of him for doing this. And of course we'll be fine and get by and before we know it he'll be home.
He phoned me yesterday at 3:20 but I missed his call because I hadn't taken my phone with me on the school run. He left a message saying that he got to Amsterdam and went to find his connecting flight and saw that it had been canceled! It took him over an hour to sort it out but they put him on another flight via Tokyo and Hong Kong and he'll be arriving on Saturday morning at 1:00am England time (1:00pm New Zealand time). The time difference will mean we can't just phone each other or Skype whenever it's convenient but will have to arrange times, but thank goodness for email. I can't wait to hear from him.