I had this idea for a central place to store all of my trackers and household routine things - this is what I came up with: First, take a cheap cardboard ring binder ...
And pull hard on the ring binder mechanism - it should just yank right off: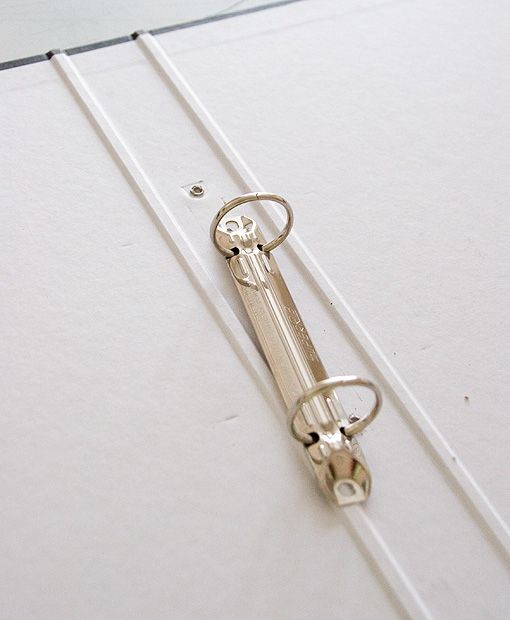 Next, decide what size you want your organiser to be. My pages are A5 (for those who don't work in A sizes, it's half a standard page size, so similar to half of an 8.5x11 inch sheet of paper if you're in the US). My organiser is 17.5 x 23.5 cm.
Cut the cardboard binder to the correct width (in my case 17.5 cm):
Then cut that piece to the correct height (in my case 23.5 cm):
Cover the cardboard in pretty paper. I spray mounted the cardboard to the paper and then used double-sided tape to fasten the paper at the back. You can see here that I have already punched holes in the cardboard for the next stage, but it can be done after covering
Voila, pretty front:
The back will look like this - don't worry, we'll pretty it up in a minute:
Now take your binder mechanism and place it at the top of the covered board. Mark the holes and punch them - I used my Cropadile. Attach the binder mechanism with some hot glue and a couple of coloured brads (paper fasteners):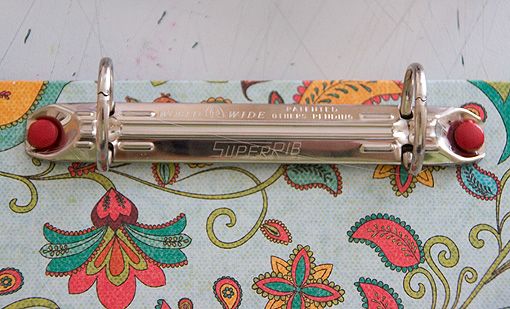 Here is how the back looks - I smooshed some hot glue under the legs of the brads to make sure they stayed firmly attached:
Now cut a co-ordinating piece of paper slightly smaller than the board. Round the corners if you wish and glue to the back of the board (I used spray mount):
Voila, my cute little organiser:
So what did I put on it? Well, first up is a sheet detailing my routines. I like this to be on top so that anyone else in my household can see what needs doing without being asked and hopefully chip in to help (hey, I can dream, right?)
This sheet is laminated so I can cross things off with a dry-wipe marker if I want to. I left a little tab on the side for easy turning, and added a red epoxy sticker for fun:
Next up are my Weight Watchers trackers. I make my own trackers. They include the correct number of daily points for me (19), a place to track my servings of fruit / veg, how many glasses of water I've drunk, whether I've taken my EPA supplements and even a spot to jot down how many steps I did if I'm wearing my pedometer:
See on the right, I've made some little tabs to easily turn to the next section: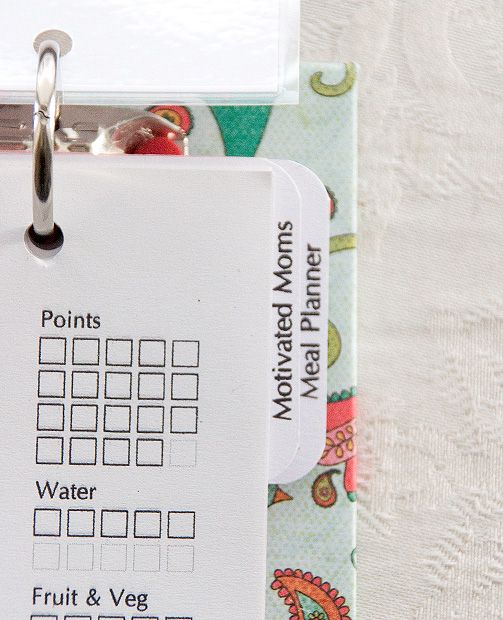 Next up are my
Motivated Moms
trackers - printed on lilac paper for fun:
The next section is for meal planning and it's a system I've not actually tried yet so I'm not sure how it will work for me. It was inspired by
this blog post
. Basically I've gone through the recipe books that I cook from (all Weight Watchers books) and made little cards referencing the recipes that we like: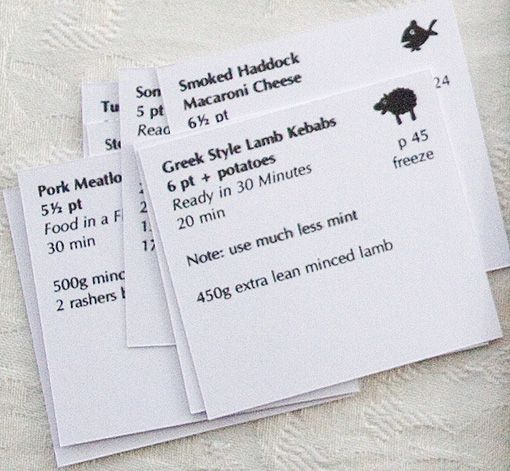 Each card has the name of the recipe, how many points it is, which book it's in (and on which page), how long it takes to cook, any notes I have and then at the bottom is a list of ingredients that I need to put on my shopping list. I've not listed all of the items in the recipe because most are basics that I will always have in the house - I've only noted the ones that will need to be bought in in preparation for making that meal. On the top right is a symbol showing if it's a recipe made with beef, lamb, poultry, pork, fish or vegetarian.
The idea is that each week I will choose 6 recipes and jot the ingredients onto my shopping list and pop the cards onto the front of the meal planner - I've used double sided tape to stick some punched circles on, the cards slot in behind the circles:
The rest of the cards are stored behind in a cello envelope - I just stuck the envelope to the meal planner with the adhesive on the flap:
So each night I will flip to my meal organiser, decide which meal I'm making the next day, take whatever necessary out of the freezer to defrost, and return the card to the back of the meal planner.
So that's my organiser! I had considered including my to do list but decided I prefer to take it everywhere with me (I use an A6 spiral notepad). I also considered including my weekly shopping list but prefer to leave that in the kitchen drawer where my family is used to finding it. But what I love about this organising system is that it is totally customisable and can evolve with my needs!