As you know, I'm
desperate for decorating projects
but limited by the fact that we'll be selling the house within the next year or so. I decided to tackle a relatively simple and cheap project - a valance for the kitchen window.
I found this fabric at
Abakhan Fabrics
in Preston. Unfortunately I threw away the selvage that had the fabric name and manufacturer on it. It cost me just over £6 for a 2.3m length and it's decorator weight - bargain!
I used iron-on hemming web to hem the sides and top and then ran out of it so I had to sew the bottom. I had to get the sewing machine out anyway for the box pleats at the top. Then I bought a 1.8m strip of wood (perfect length, didn't even have to cut it) and Grant screwed it to the wall. To finish I hot-glued the valance onto the wood.
As you can see from the way the light shines through the fabric I hung the valance higher than the top of the window which gives the impression that the window is taller than it actually is.
So, what do you think?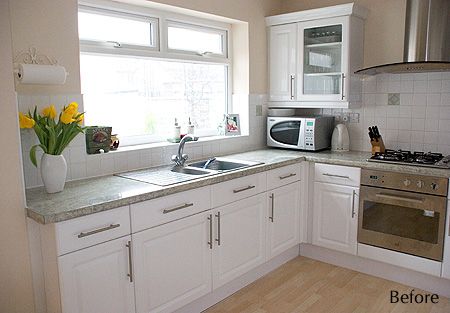 I might repaint my little apple crate white or yellow, although in real life the greens aren't as different as they look in this picture. I just fancy a change.