Remember when I
blogged about my charcoal metallic nail polish
recently? I'm not kidding you, that cheap nail polish stayed perfect-looking for TWO WEEKS before it started to chip a little at the cuticle on one of my small toes! I find my nail polish lasts so much better now that I've started using a base / top coat. I use Sally Hansen Double Duty. I always thought base and top coats were something that sounded nice but didn't really make a difference until I had a professional pedicure and my nail polish stayed perfect looking for two weeks, then I was sold and went right out and bought some! I also find my nail polish lasts better if I do a proper full pedicure on myself rather than just paint my nails.
Anyway, here is the latest colour I bought. I have been wanting a sparkly turquoise / teal for a while because I'm obsessed with that colour lately. Did you notice my toes in
my last post
? Don't you love how you can indulge a love of colour with some £1.78 nail polish and a £3 vest top? Here's how my toes look today - LOVE!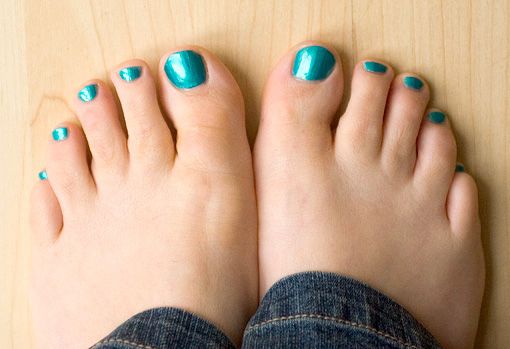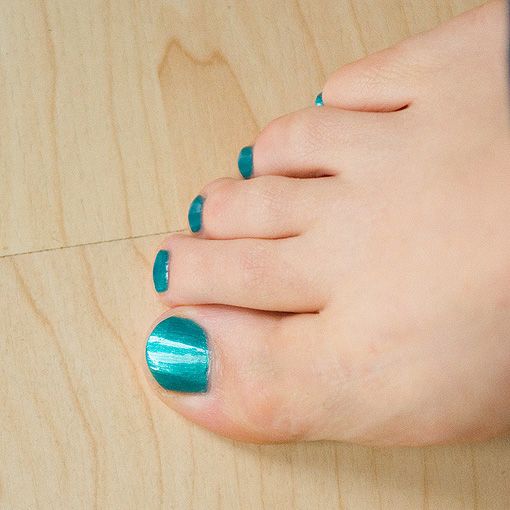 And yes, you did read right when I said £1.78. It's
Collection 2000 brand
, their Hot Looks range and I now have Intense, Bongo Beat and I also have Minx which is a really sparkly pinky purple that I haven't worn yet.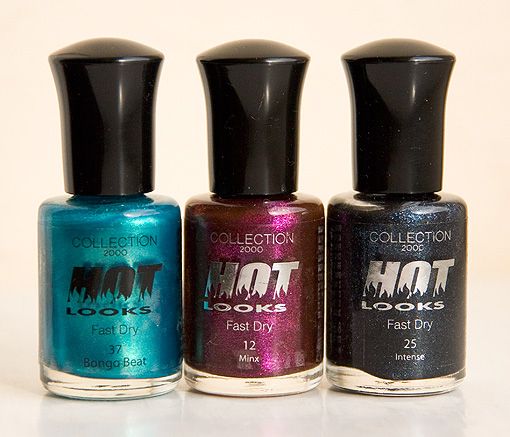 They're not huge bottles, only 8ml, but I really like that - I rarely finish an entire bottle of nail polish before it goes thick and nasty anyway, and I'd rather get two small bottles of two different colours than one big bottle. The brush is a good one and works well and the consistency is good and you only need two coats. But best of all ... did I mention they're only £1.78? Sold!