Okay, first I have to say that I do NOT have a fashion gene. My friend Rachel was born holding a Vogue magazine, but I have spent a lot of time learning from other people's blogs, studying the outfits of people who look pulled together and getting advice from Rachel.
Now that I've done that, I've learned the basic rules for looking (and feeling) put-together and styling outfits for myself is becoming easier. I decided to demonstrate the tips today. You guys must know how much I love you by the number of photos of myself I am putting out there today. I do NOT like photos of myself but hey ho, this is me, take it or leave it (see my feigned nonchalance?)
Okay, let's start with a basic outfit: jeans, white t-shirt and flip flops:
This outfit is very basic and a little boring. The white t-shirt doesn't do much to hide my troublesome middle section. It's very easy to make it a lot more flattering and interesting.
STEP ONE: do your hair and make-up. This isn't about being vain, it's about making the most of yourself, presenting your best side and feeling more confident and pulled together.
Before (SEE how much I love you guys? I inflict this kind of image on you. You're welcome.)
After (I just have to say, my hair is like a wild animal. There is not enough product in the world to tame it so I just let it do its wild thing. This is after gelling. I know, it doesn't look much different but I feel like I made an effort.)
Okay, so you've done your hair and make-up but the outfit still needs help. It's time for ...
STEP TWO: layering. This isn't about creating bulk, it's about adding interest. You can layer tank tops, knitted vests, jackets, blouses, shirts or cardigans. If the weather is hot, try a very lightweight tank or camisole with a lightweight blouse over, with the camisole peeking out at the neckline and hemline.
Here's the outfit layered with a couple of vest / tank tops:
I decided on a lightweight, short-sleeved cotton cardigan as it's flattering and hides my middle section:
Okay, so you have your layers sorted, what comes next?
STEP THREE: accessorise. This means adding bangles or bracelets, a necklace, earrings, maybe a ring, and definitely some cute shoes. If you do like wearing flip-flops you can find pretty colourful, beaded or embroidered versions at inexpensive prices. In winter you can skip necklaces and bracelets and wear funky earrings, rings, scarves and even hats.
Look 1: turqouise and brown with brown leather wedges.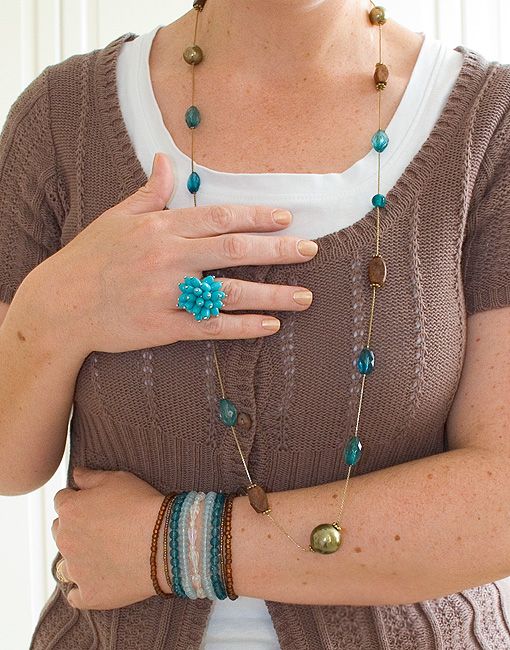 Look 2: black (with a little pop of colour) with black wedges.
Look 3: simple and classic gold accessories with bronze stiletto sandals.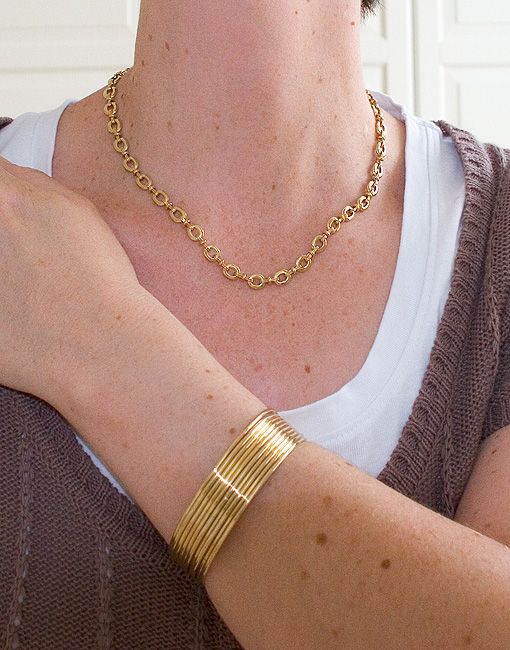 Look 4: bold and chunky silver accessories with silver Mary Jane shoes.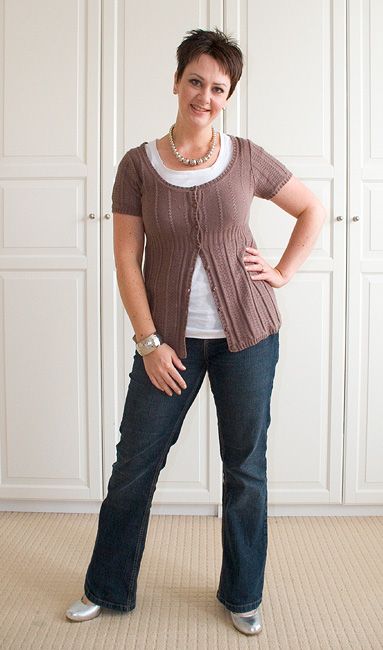 Look 5: pink and brown accessories with pink peep-toe heels.
So, if you can remember these three steps you will always look and feel pulled together and ready to face the world!
STEP ONE: do your hair and make-up
STEP TWO: add some layering
STEP THREE: accessorise (including shoes)
Before and after: which look would you rather run errands in?