I've been wanting to upgrade our coffee table from the cheap Ikea one we had for ages that was chipped and really too small for the space or our needs.
A while ago I saw these pictures on a blog called
The Painted Hive
: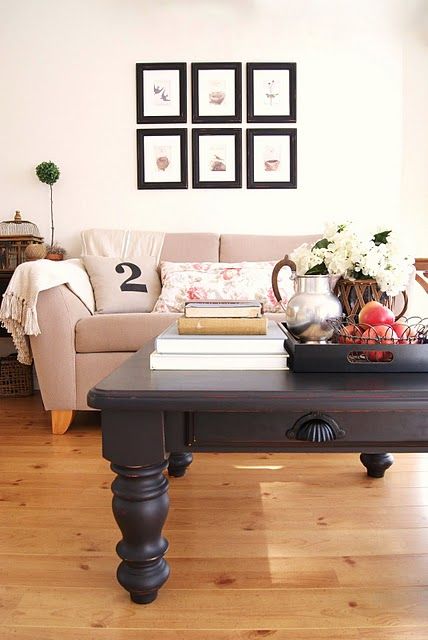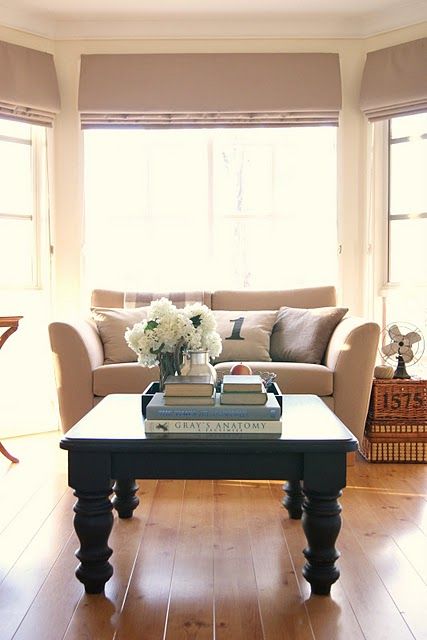 I fell in love with the look of such a chunky painted table. Then I saw this picture on a blog called
Better After
: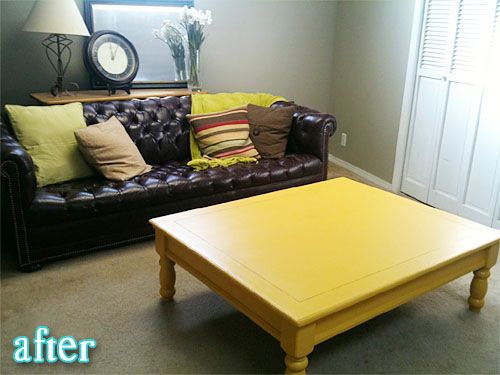 That was it ... I wanted that table! I thought it would look just perfect in our living room (but not in yellow).
I didn't want to buy a new table, I wanted to buy an old one and make it over. I scoured eBay for weeks and weeks. I just couldn't find one that was what I wanted. I even looked at kitchen and dining tables, thinking I could cut the legs shorter but no luck. I eventually bought a different style coffee table for £11.
Then, a couple of weeks later, I found the perfect table on eBay! It was being sold by someone who lives over an hour away but I was determined to have the table. I emailed the seller asking if they would end the auction early and accept £15 from me (I was prepare to go up to £30) but I never heard back so I just had to wait out the auction and bid on it in the usual process. I won the table for £17! And best of all, the seller works in Preston so I met her there after college and got the table. I was absolutely thrilled! Here's how well it fills the space in our living room (it is 3ft by 4ft - 90cm by 120cm):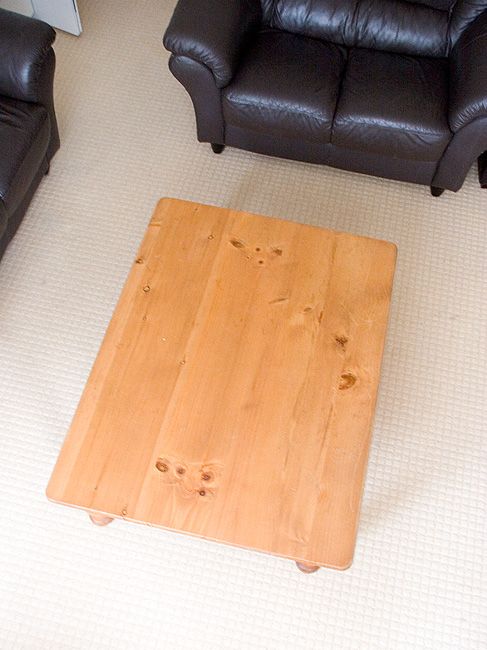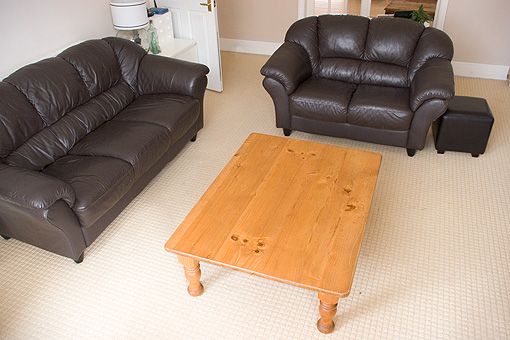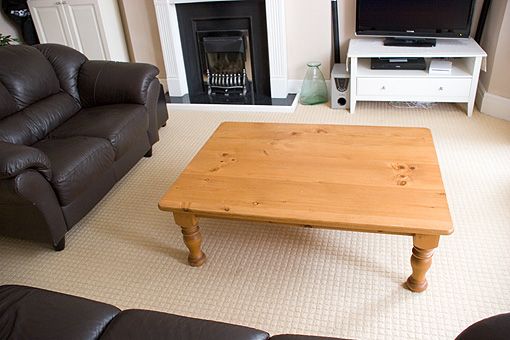 (Excuse the For Sale sign that we hadn't put up yet, and my aerobic step!)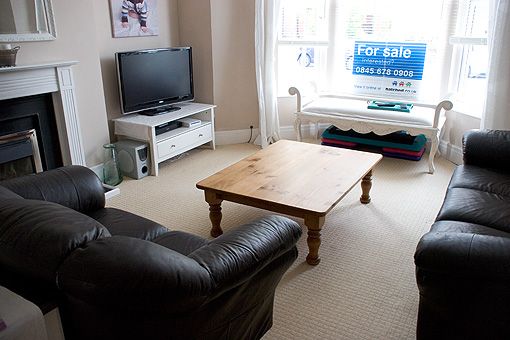 Look at those beautiful chunky legs!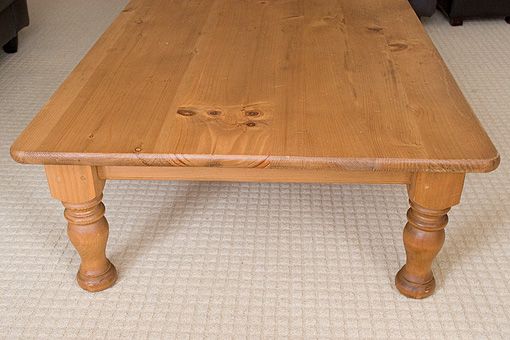 I set out painting the table. First, I flipped it over and primed the legs. The next day I started painting them with oil-based satin finish paint by Crown as it is really hard-wearing. I had to wait 16 hours between coats so it took a few days to complete all of the coats.
When the legs were done I flipped it right-way-up began all over again, priming the top then using a roller to apply three coats of paint, waiting a day in between each coat. I was eager to get it done but I took the time to do it properly as I know the table will be hard-working - we like to put our feet on the coffee table plus the boys climb on it and play with their toys on it. I didn't want to be "precious" about it which is why I didn't use my usual antique white emulsion.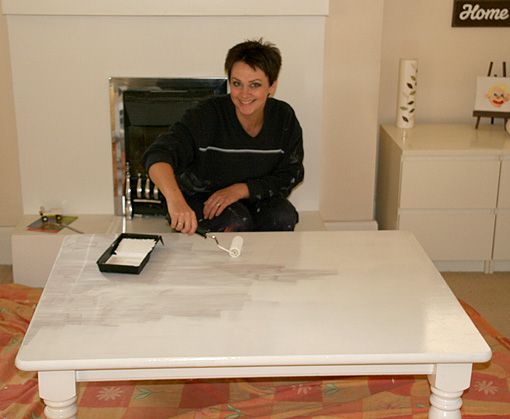 Eventually it was done and we could move it into the living room. I LOVE IT! It has already collected a small chip on the side where the paint has come off in a tiny spot but as it becomes naturally distressed I'll get the sandpaper out and distress the edges so it looks like it's meant to be that way. But for now we'll enjoy our pristine white coffee table. You'll notice that I also painted
my green tray
turquoise!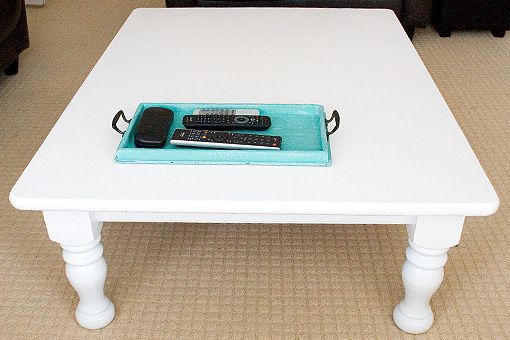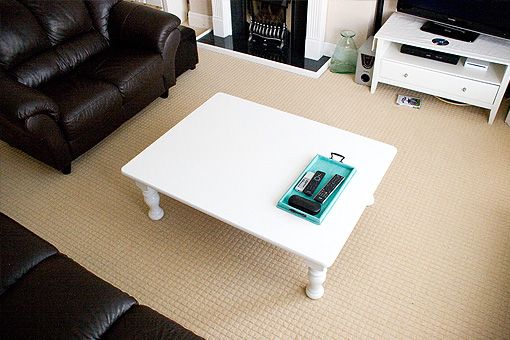 I am so in love with this table. It is nice and big and also nice and low. And do you want to know the best part? I sold the other table (the one I'd settled for) for £27! So basically the table I ended up with cost me £1 plus the cost of the paint!