The morning after we arrived in Germany we went into Balingen so Grant's parents could go to the bank. Grant, Daniel, Noah and I wandered around while they were busy. The weather was drizzly and chilly but we had fun anyway.
Unlike in England the pedestrianised high street was pretty much empty as everyone was at work. It's a lovely little town with a water feature running the length of the shopping area - a little cobbled canal with bridges, buckets to tip, a dam to open and close, etc. The kids loved it.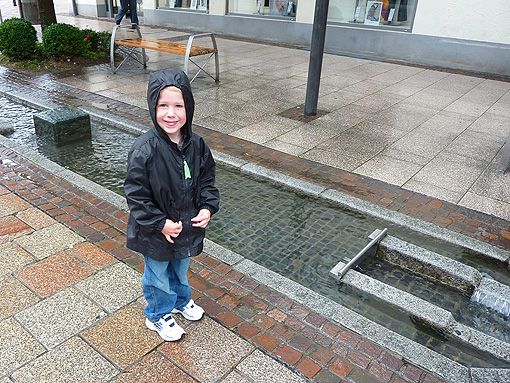 There was also a cute music feature of metal squares that you could stamp on - I'll let the video explain:
Although the town centre has changed and been upgraded it's still the same town that my mother-in-law walked in as she pushed Grant in his pram as a baby.