Before the summer holidays the kids and I used to play a game called "What we're looking forward to". We'd take turns to list all of the things that we were anticipating doing in the summer, including our favourite forms of free entertainment like blowing bubbles outside, having picnics and visiting the beach.
We didn't actually get down to the beach much this summer but one of the nicest days out that we had was at Beacon Fell. I'm already missing the warm weather as autumn settles over us!
But enjoying free things to do doesn't just have to be about being outdoors. Did you know that
Pizza Hut
was running a promotion over the summer allowing kids under the age of 12 to eat free at their restaurants? Well, I didn't know about it at the time but I do now ... and it's not too late to take advantage of this offer because they've extended it until January!
For every adult main course or adult lunchtime buffet purchased, an accompanying child can choose from either a FREE 2 course kids meal (which includes a drink) or a FREE kids lunchtime buffet (which includes pizza, pasta and salad). And we have until 9 January next year to get down there and enjoy the offer.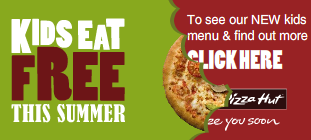 As if the Kids Eat Free promotion is not enough, take a look on the bottom of any Pizza Hut Restaurant receipt and you will find an offer code. Enter this code at http://www.pizzahut.co.uk/familyadventures to get great deals on a wide range of family activities and adventures including holidays, theme parks, zoos and more. Perfect for keeping the kids entertained during the half term holiday that is coming up!