Product packaging is designed to be eye-catching. Bright colours, different shaped bottles, bold logos. This makes for visual clutter in your home, not to mention information overload - you're being advertised to even after you've purchased your new shampoo, as it continues to tempt you with promises of what it will do to your hair even while you're in the shower.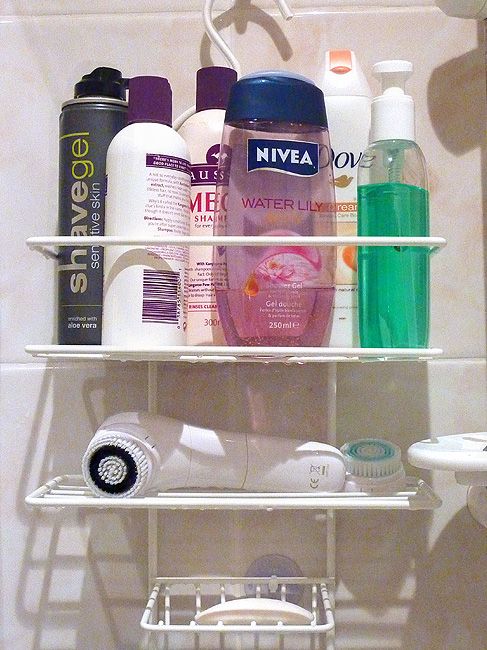 I had had enough with the visual clutter. Removing the labels from my body wash and face cleanser bottles helped a little, but not enough - they were still all different sizes and shapes and sizes and my shampoo and conditioner didn't have labels to remove, the logos and information are printed right there on the bottle.
So I bought some 200ml pump bottles of hand sanitiser for 99p each, poured out the hand sanitiser and replaced it with (left to right) shampoo, conditioner, moisturising body wash, refreshing body wash (I like to switch between the two) and face cleanser.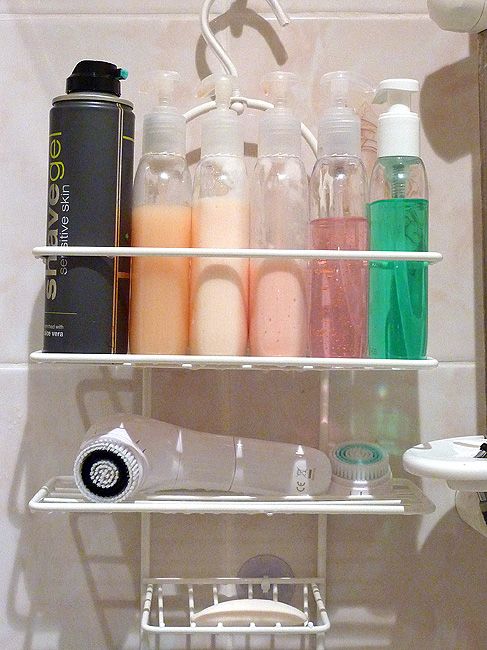 Aah, much better! And more convenient too, to grab a bottle and pump out the product rather than mess with lids to flip up or remove.
I could have bought pump bottles on eBay but it actually worked out cheaper to buy the hand sanitiser and use those bottles.
Here's how I organise the rest of my shower.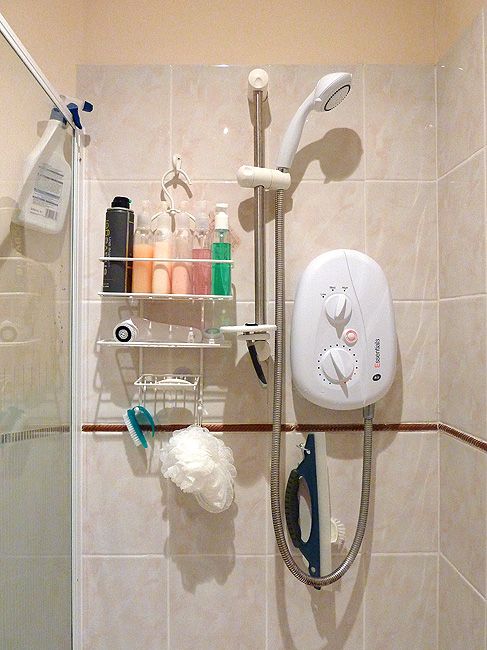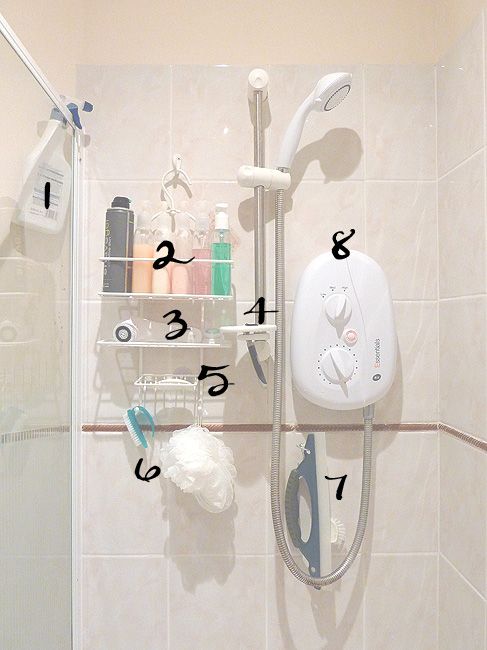 The white hanging caddy is from Ikea - Grant installed a hook to hang it from as we couldn't hang it from the shower unit.
1 - Bathroom cleaner. Handy to reach over and use to clean the shower while you're in it.
2 - Shaving gel, shampoo, conditioner, two body washes and face wash.
3 - My
treSonics facial cleansing brush
with regular brush on and sensitive brush next to it.
4 - This is the soap holder that comes with the shower unit - I slip the handle of my razor through the hole and it becomes a razor holder.
5 - Bar soap for pits, bits and feet.
6 - Nail brush and puffy.
7 - Brush and squeegy for cleaning the shower.
8 - These electric shower units are pretty standard here in England. They're handy for never running out of hot water!