After having supper at the hotel restaurant we turned in for the night and actually all got a decent night's sleep. We woke up on the day of departure at about 7am, showered and dressed and went down for breakfast. Noah was in a bit of a mood, but eventually he deigned to eat a muffin - look at how messy he was with it! Don't ask me why he doesn't have a plate?!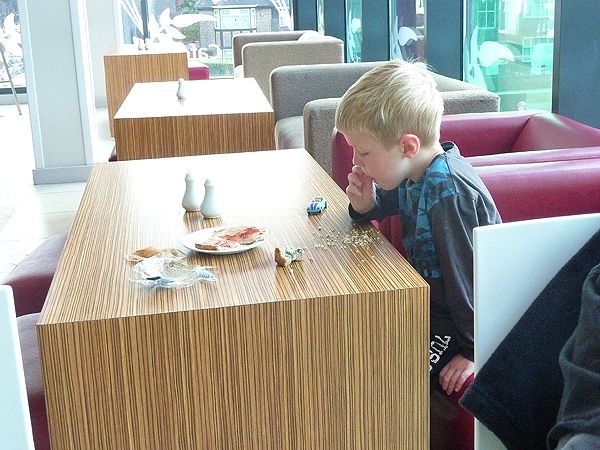 He wouldn't sit at the table with us, but nearby at this coffee table where he could watch the planes out of the window except that I guess the wind direction had changed because there were none flying nearby like there had been the night before.
Daniel enjoyed the buffet breakfast: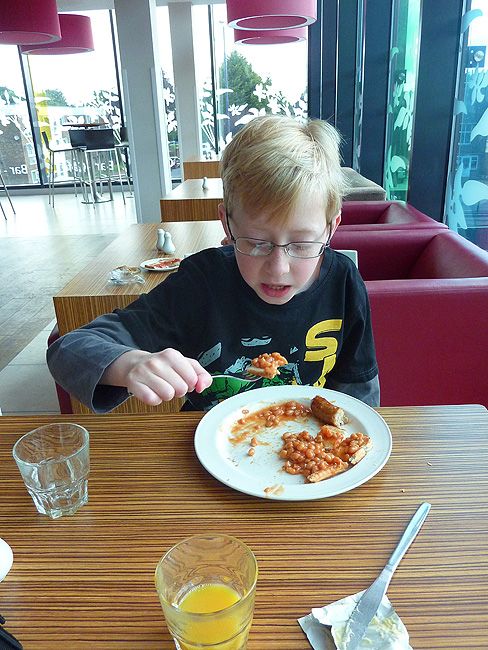 After breakfast we gathered all of our luggage, checked out and waited for the shuttle bus to take us 15 minutes to the terminal from which we'd be departing.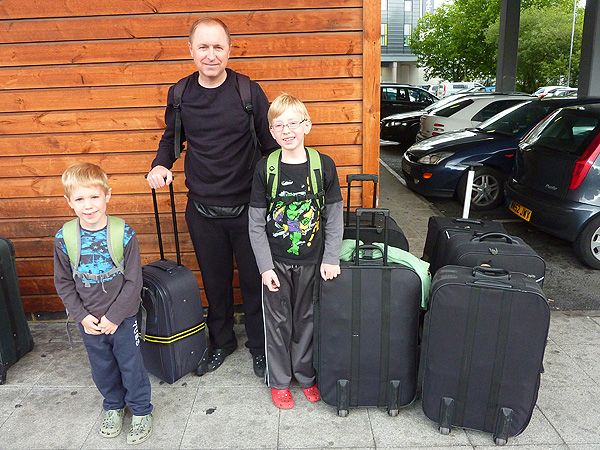 Do not judge the tracksuit, belt bag and crocs! When you face 25 hours on a plane you have to do what you have to do to stay comfy!
At the airport we went straight through checkout and security without any glitches, and had a short wait at the gate: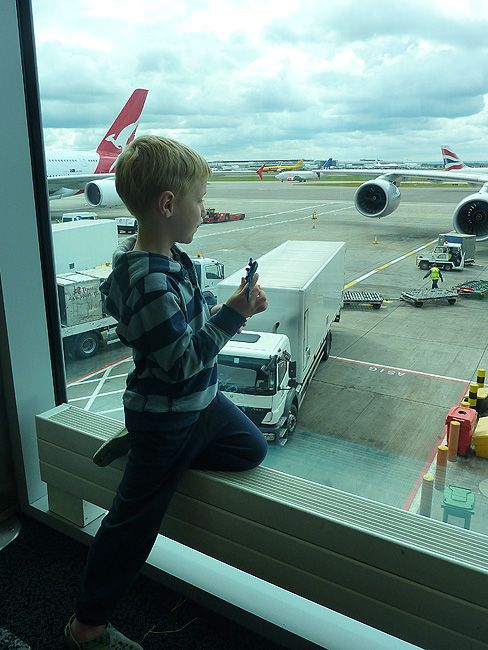 Daniel wasn't as anxious as he looks here!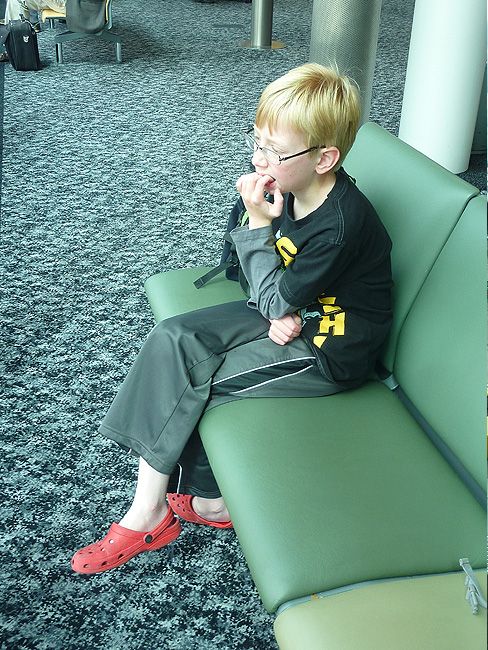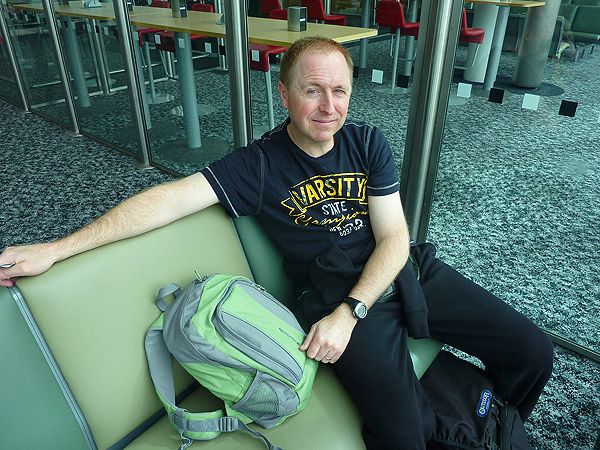 Our plane, an
Airbus A380
.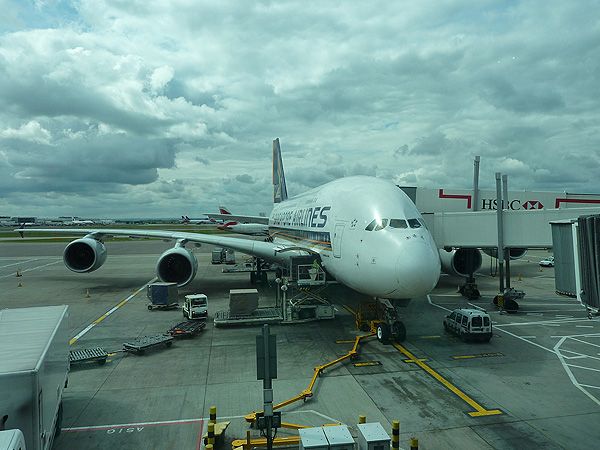 I have this thing where if I am out and about and see a group of people taking pictures of each other I always offer to take one of all of them together. I did this at our gate and the man offered to take one of all of us in return: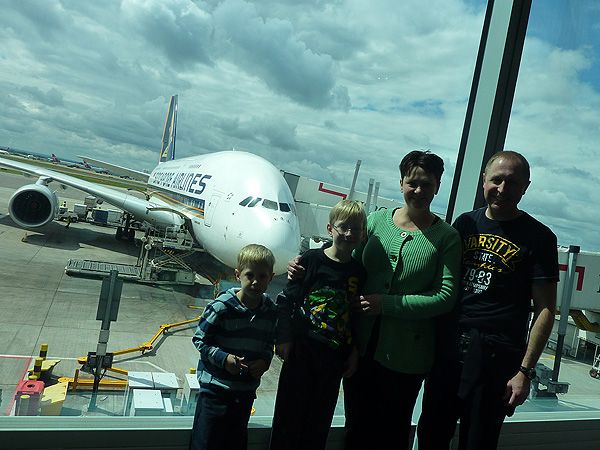 On the plane - we had 4 seats together in the middle:
Very comfortable, and with a great screen with games, TV shows, movies, etc.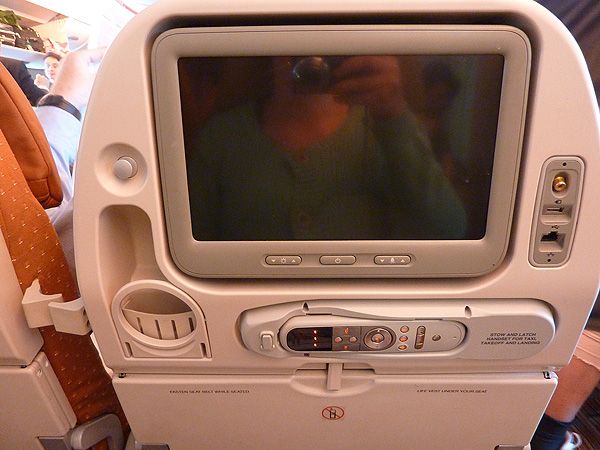 Enjoying our first meal:
I pretty much watched TV shows and read magazines the whole way, only dozing for about 20 minutes at one point. The kids enjoyed the games and shows and Grant watched movies. Noah slept and if I remember Daniel did too: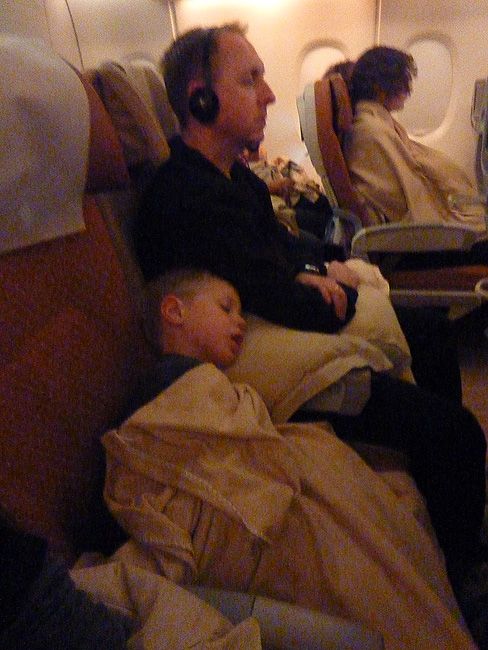 The flight was as comfortable as possible for economy class and although it wasn't pleasant (I hate flying and our first leg was 12 and a half hours) it wasn't as bad as I had been dreading. We flew Singapore Airlines and their customer service is excellent.
Toward the end of the flight Noah was feeling sick, poor thing. He sat with the airsick bag for a while and eventually puked - neatly into the bag. The cabin staff whisked it away and brought him some water. He didn't cry. It was hardly even a blip on the radar and he felt better afterwards.
By the time we landed I was feeling pretty nauseous myself. We had a 1 hour layover at Singapore. The heat and humidity (at about 5am local time) hit us as we stepped off the plane. The airport was massive but we walked straight to where we were going, went through security and waited at the gate. We used the loo and brushed our teeth. There was free internet there so I quickly logged onto Facebook and my blog for a quick update.
On the plane we found it was only about a third full so we quickly staked out three sets of three seats. Daniel and I stretched out on 3 seats each for some sleep and Grant watched some movies while Noah slept on the 2 seats next to him. After Daniel woke up Grant lay on his three seats and slept: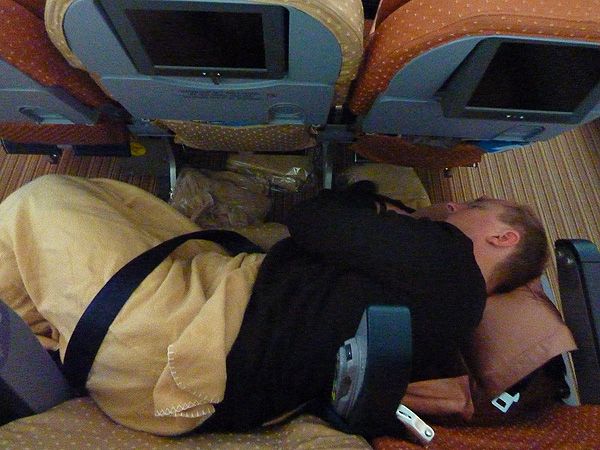 And yes, it was as uncomfortable as it looks! But a total relief to lie down and get some sleep. Noah slept pretty much the whole flight except for the last hour or two.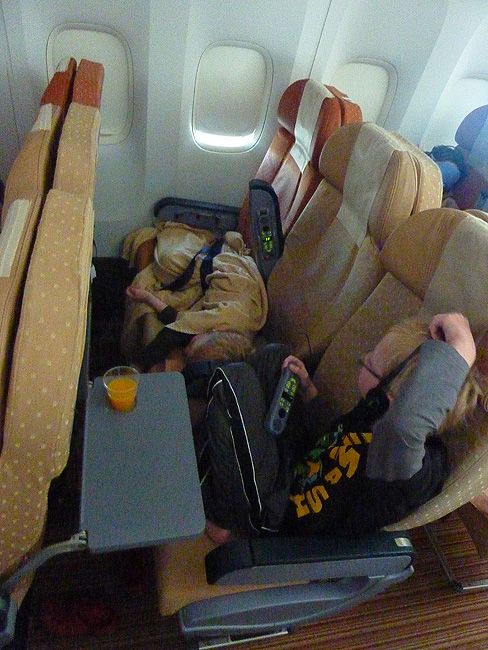 The technology wasn't as fancy, but similar games, movies and TV shows were provided: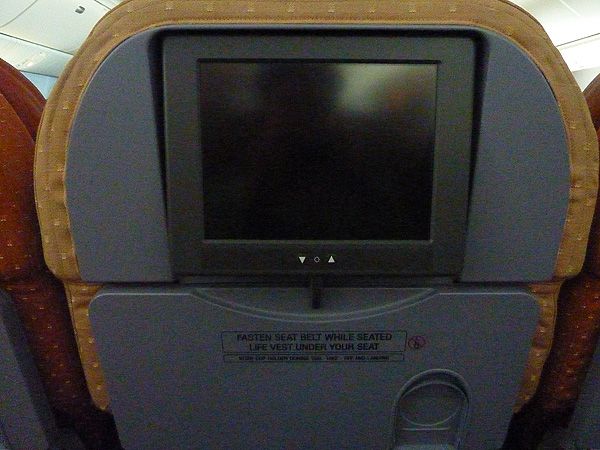 Imagine our delight after such a long journey to read this screen: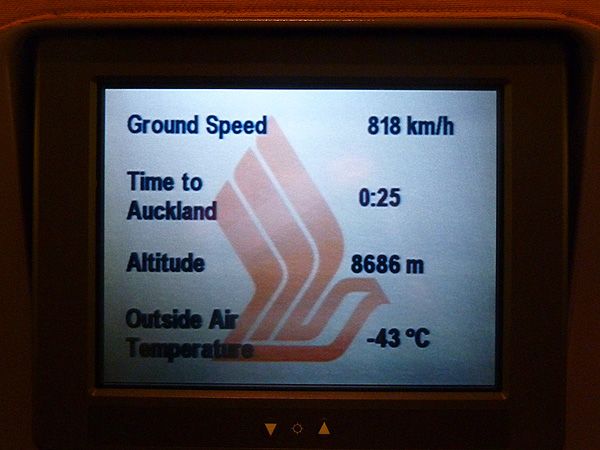 And at long last we were in New Zealand!! It was 10pm and had been raining. We went smoothly through passport control and customs and retrieved our luggage. My friend Amanda was there to meet us and luckily it wasn't raining as we loaded up the car.
I expected to feel absolutely shattered but was actually feeling okay besides nausea. We drove to her house, visited a bit, had showers and then went to sleep. The boys were wide awake and played in their room until they were ready to sleep, then they put themselves to bed.