It's 7am and I've been up for an hour saving and cropping photos to make this post (hello, jet lag). Before writing about New Zealand and our first day here I wanted to back up a bit and talk about our last week in England.
It was a busy one, which was good as it helped the time go by faster. We'd spent the weekend cleaning the house and running last minute errands. Grant was due to finish work on the Tuesday afternoon but he came home Monday morning because he'd found out that the two rest days they'd recently taken away from him (he had to police a protest) weren't going to be paid for, they had to be taken as leave. So that was his abrupt departure from Lancashire police! It was just as well as we still had lots of cleaning, packing and things to do so it was great for me to have help.
On Tuesday he collected a hire car and we used it to go to his leaving do, a meal out at a fabulous Chinese restaurant. He was so well thought of by his colleagues, it was lovely to see everyone wishing him well. His sergeant made a speech and presented Grant with a large photograph of his whole team, some other snaps of colleagues and a beautiful Police brand watch.
On Wednesday we rushed to Tesco for a few things, then my friend Laura arrived. While Grant had the boys and returned the hire car Laura took me out to a hotel spa for a massage and facial which was
amazing
and just what I needed by then! Here she is with the cream tea we enjoyed afterwards (well, no tea, we had hot chocolate and scones with jam and clotted cream - how English!)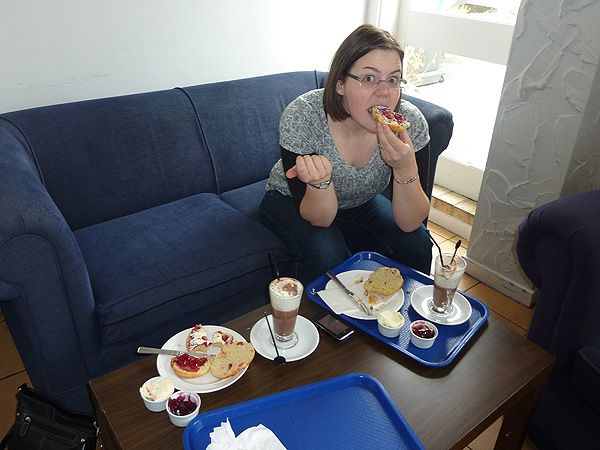 By the way, this is how we were living by then - all rooms upstairs had been cleaned and closed off and Grant and I were sleeping in the living room: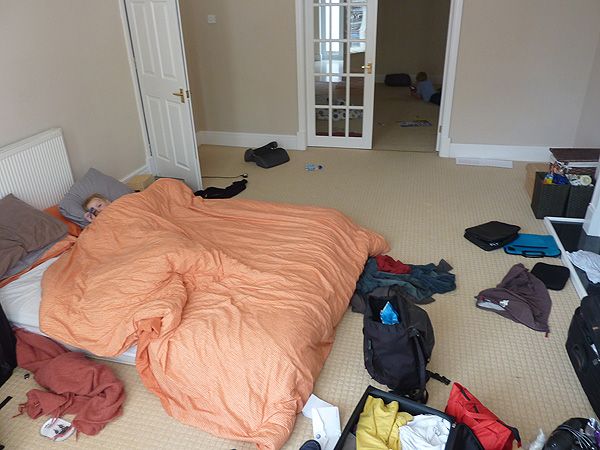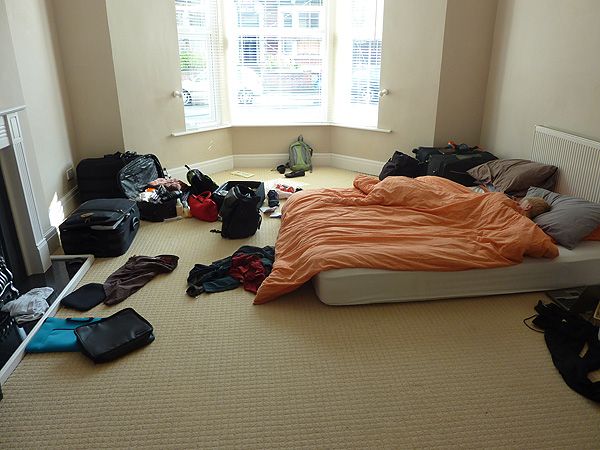 On Thursday we finished packing, collected another hire car and waited for someone from Freecycle to collect the last mattress, then we got into the car and left St Anne's. And I promptly burst into tears.
I wasn't even feeling particularly emotional, it was just like a pressure release. Had a little weep and felt better for it. We returned some borrowed items to a friend and headed down to Cheshire (about an hour away) to spend the night with Tim and Laura: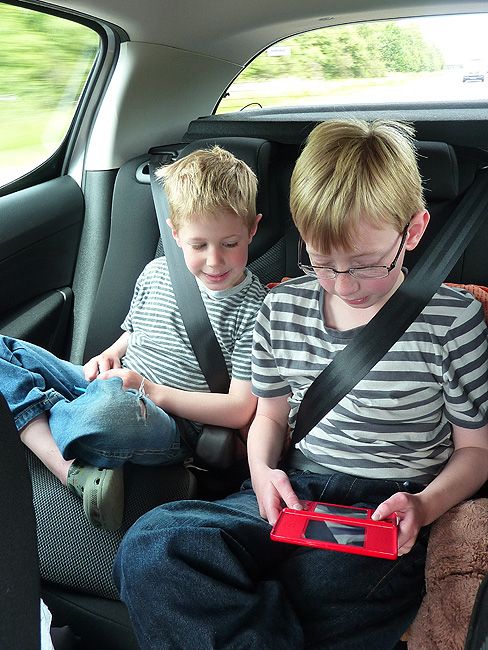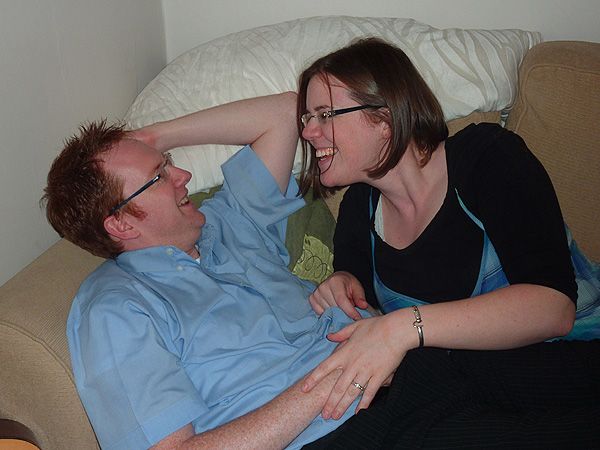 The next morning they left for work and we packed the car and headed down to Surrey to spend the night with my cousin Di. And of course I forgot to take photos!
The next day we loaded up the car for the last time and drove to Heathrow where we checked into a Travelodge hotel - cheap and basic, which is all we needed.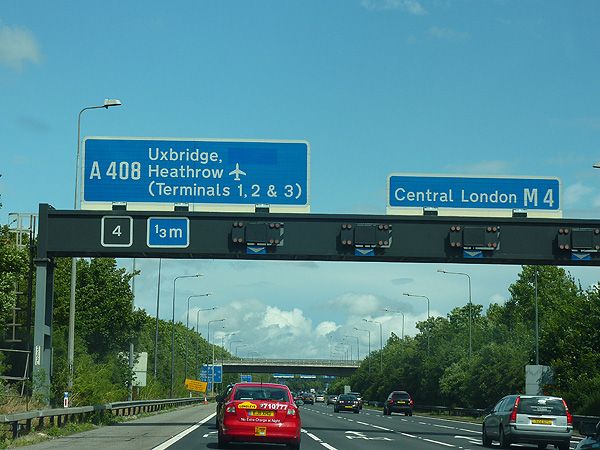 Grant returned the hire car and walked to the hotel. We chilled there for a little while until supper time. As much as we'd loved spending time with friends and family right before leaving, it was a relief to just hang out as us and be alone as a family right before our big adventure.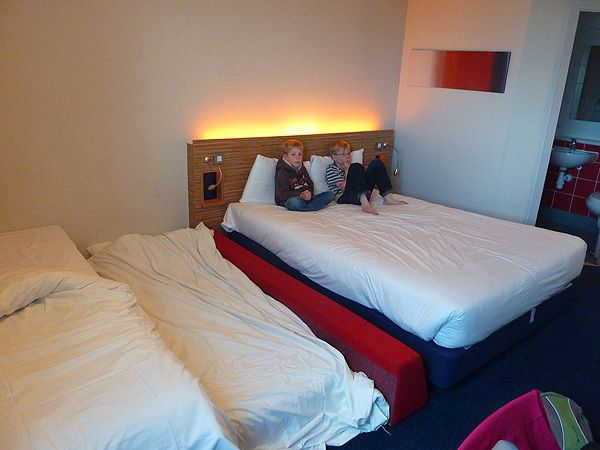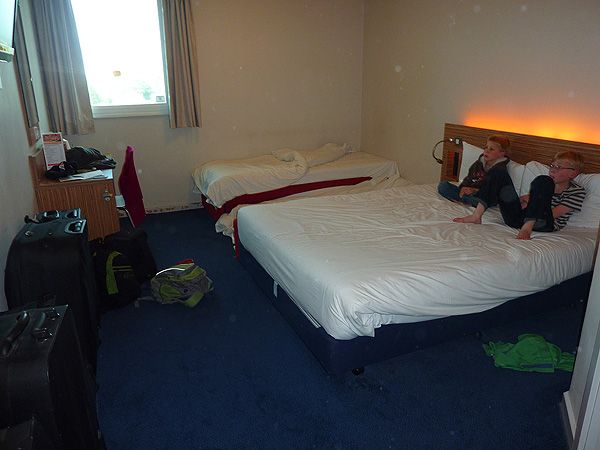 Our luggage all lined up - 5 suitcases and 4 backpacks: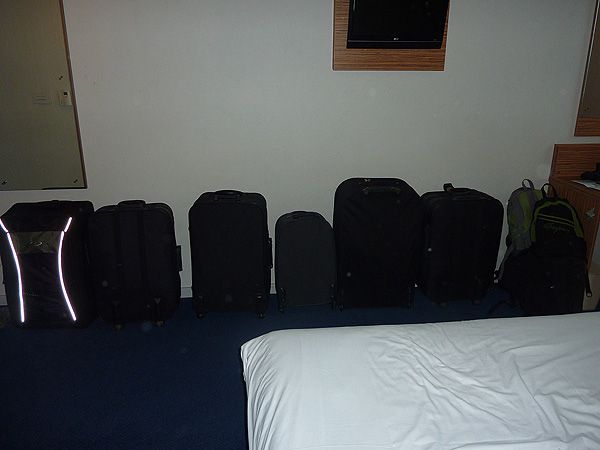 View from our window - the last of London that we'd see: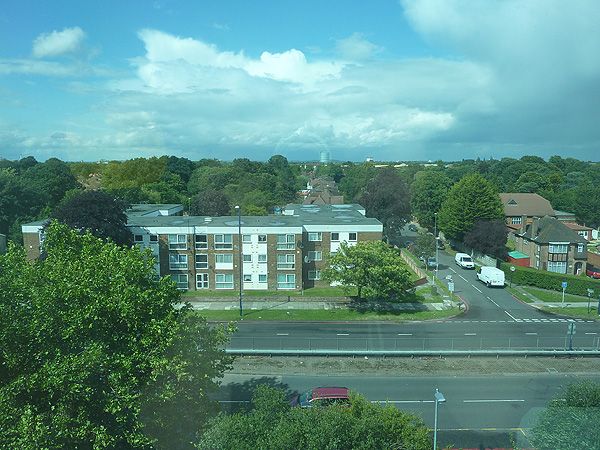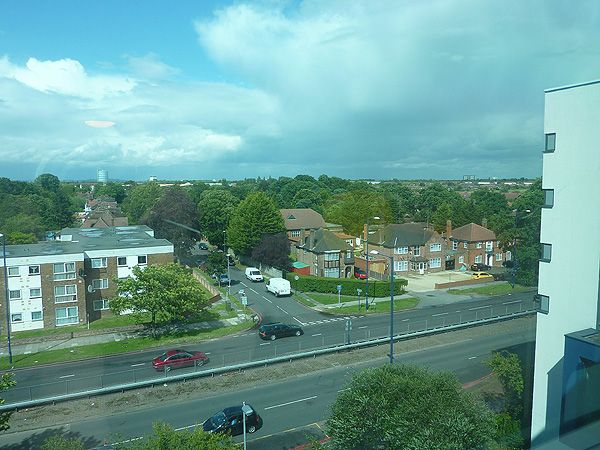 Being right close to Heathrow airport the planes (which land every 1 to 4 minutes!) flew practically past the hotel windows. It was so amazing to see and I wish I'd got pictures. You'd wonder how much noise from the planes we would hear but we couldn't hear any from inside the hotel, thanks to the epic double glazing - check out the gap between the panes of glass: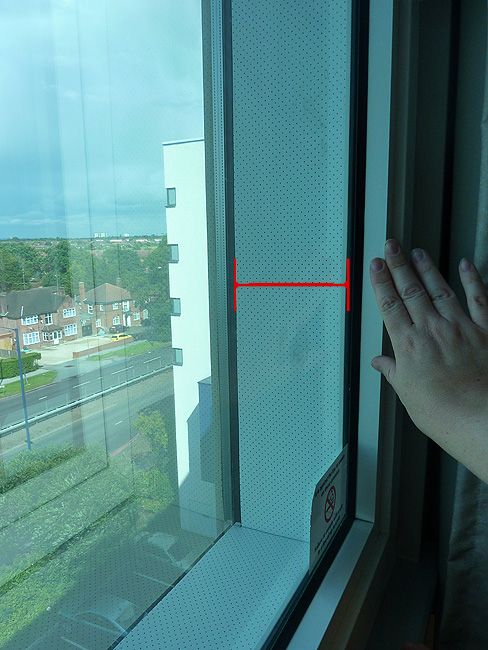 Chilling out watching TV: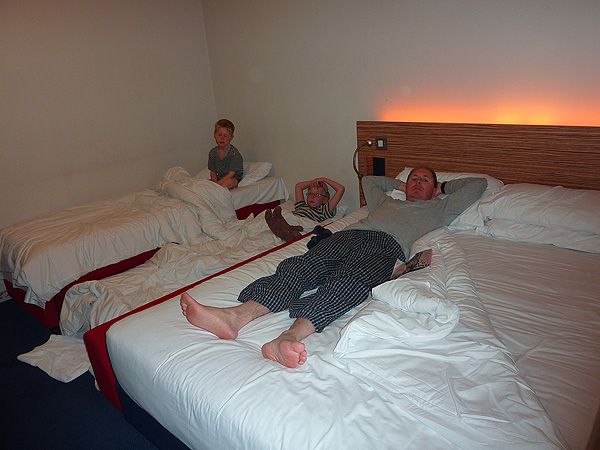 I'll try to post later about the day we left and our journey. Right now I need to go and take a shower, we have a busy day ahead of us!