We've had a busy, sociable weekend with ups and downs, laughter and tears. On Friday after school we gave the boys their pocket money and they wanted to go to the dollar store and The Warehouse, so off we went. We also drove up Pukekohe Hill to check out the view.
We had borrowed some Lego from my friend Ruth, including some Lego City pieces that were fully built (a big helicopter, fire engine, etc). The boys had dismantled the vehicles over the last couple of weeks, so Grant went online and found the instructions and spent literally two hours rebuilding them, in preparation for returning them.
Once they were finished Noah went to touch them and Grant whisked them away from him, searching for a place up high to store them safely so they couldn't be dismantled again. He saw a vehicle I had previously confiscated from Noah sitting on top of the cabinet above the fridge and decided he'd store the Lego there too ...
... but what he hadn't realised (you can't see it from usual standing angle) is that the cabinet doesn't extend all the way to the wall and there is basically a big hole behind it, into which he was dumping the Lego!
I was actually busy looking for something in the fridge when I heard this huge crash and suddenly shrapnel was raining down on me. I had such a fright, but when I saw the look on Grant's face I couldn't control myself, I was laughing hysterically. It was so funny! Poor guy was staring in disbelief going, "Nooooo!" as he figured out what had happened.
Luckily they hadn't smashed completely so it didn't take as long to rebuild them. And the comedy value is priceless - I laugh out loud every time I think of it.
On Saturday morning we returned the Lego and headed off to the North Shore to visit with my Aunt and Uncle (one of my mom's brother's) and two of my cousins and their spouses and kids. We had such a lovely day visiting with them and the kids had a blast playing together. We had the most heavenly
potjiekos
for lunch (my mouth is watering just thinking of it!) and I brought brownies and German apple pudding and ice cream for dessert.
On the way home the boys were horrendously behaved, to the point where we were tempted to stop the car on the side of the motorway and put them out. Daniel had earlier said that he was having so much fun with the cousins that he had hoped we'd forget about him and Noah and leave them behind. Believe me, by the time we got home I was wishing I had!! They'd actually been pretty badly behaved for a couple of days running up to the weekend too - stroppy, bad-tempered, disrespectful, bickering, disobedient, defiant.
On Sunday morning, when we were getting ready for church, things escalated to the point where there was yelling, fighting and I ended up sobbing in the bathroom. There was no way we were going to make it to church and frankly it was more important to iron out our problems and all get on the same team.
Grant had some stern words with the boys and they all tidied the house while I pulled myself together, then we apologised to each other and we all sat together for a family meeting.
We talked about what was worrying the boys, what we all expected from our family, what we wanted and what they thought their punishments should be if they were badly behaved. Grant and I told the boys we'd be severely limiting TV watching and would have none at all for that day.
We all chose an activity we were looking forward to doing in the school holidays (
Miranda hot springs
) and set a goal of earning it. Our family goal is Respect - respect for each other, for ourselves and for our home. When we're all working hard towards our goal we'll enjoy the hot springs as a day out.
After our meeting I threw together a picnic lunch and we drove out to Sunset Beach. There was a lot of foam from the week's storms and you could see evidence of the tsunami by the flotsam and jetsam way up high from the usual tide line.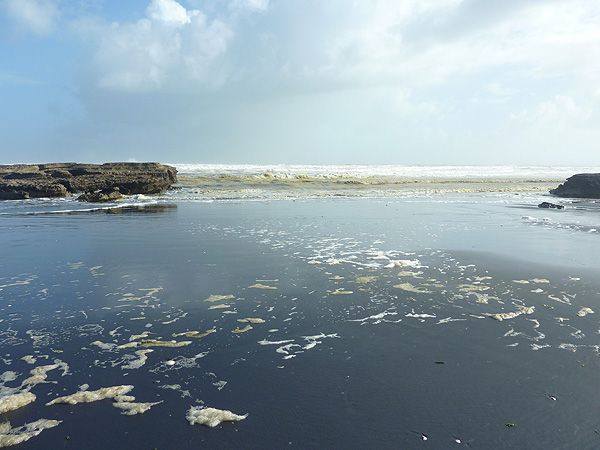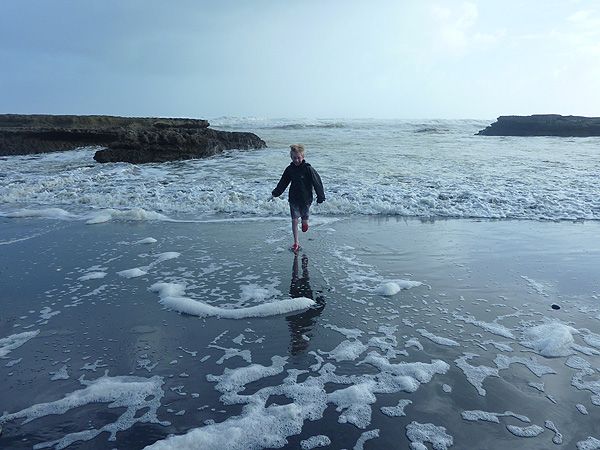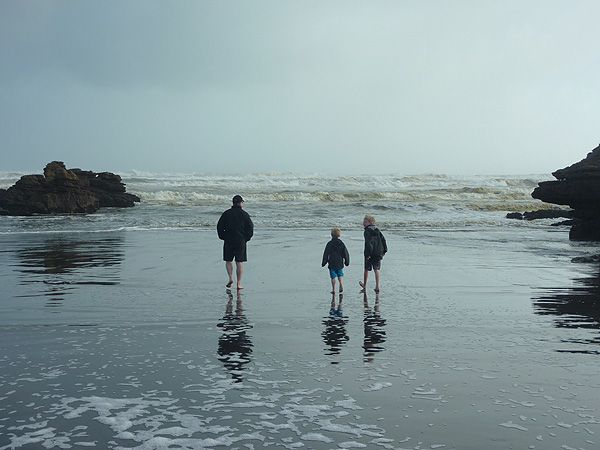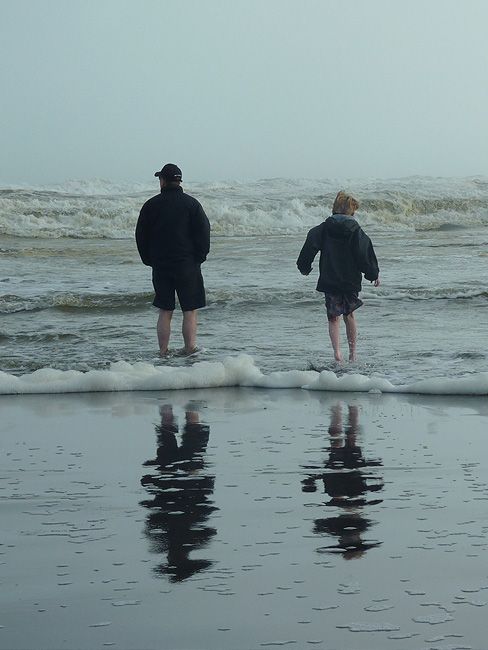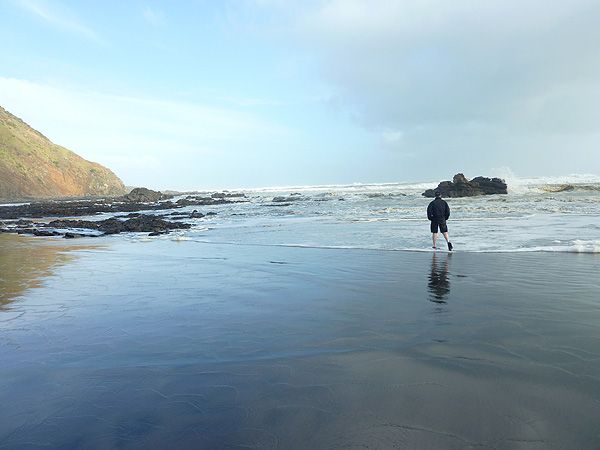 It started raining while we were on the beach but we kept walking. When we saw more rainclouds approaching we turned back and headed to the car for our picnic.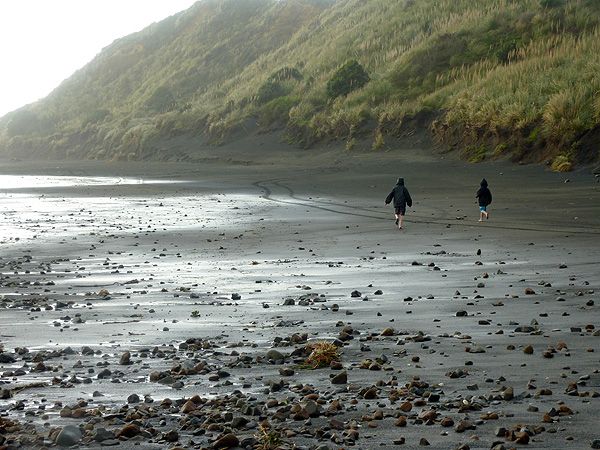 In the afternoon Amanda and her family came to visit and stayed for supper. I made lasagne and macaroni cheese, with steamed carrots and corn, and Amanda brought sticky toffee pudding and ice cream for dessert - yum!
Daniel was still displaying stroppy attitude (he'd already been sent to his room once during the evening for turning the TV on when he knew he wasn't allowed to) and as Grant and I walked our guests down the driveway, leaving the boys inside, we heard Noah start crying as if he'd been hurt and we knew Daniel had done something to him. Daniel showed his face at the door and I told him to go to his room and wait for me there and he burst into tears and stormed off.
Grant went to see to Noah and I went to Daniel's room. He was hiding in his closet crying, but I told him I wanted to hear his side of the story. Turns out he'd made as if to hit Noah with a pillow and Noah had ducked and hit his head on something. I asked him why he had gone to hit him with the pillow in the first place and he said because he was angry.
He then had a complete emotional breakdown. I've never seen him so hysterically upset. He said he hated New Zealand, he was homesick, he wanted to go back to England, he was missing his friends, he hates that everything is different all the time here. He's obviously been bottling things up for a while and it all blew up. It was incredibly painful for me to watch my child in such distress, knowing there was very little I could do to ease his pain. It's making me cry now just thinking of it.
Grant and I had thought the TV watching was causing the bad behaviour but it was his underlying unhappiness that was causing it, and the TV watching was his only escape. Poor guy - far be it from me to take away his one pleasure when he's struggling so bad, so we let him watch his show after talking things through.
We are all struggling without our homely goods, and I'm sure he'll feel much better once our stuff arrives and we are more settled, although Grant goes away in a month's time, and I'm sure that will be fun. (Not.)
Today he felt much better and I explained to him that as uncomfortable and scary as it is to address those horrible feelings, you can't avoid them and by surrendering to them they actually pass more quickly (something I have had to learn the hard way). He is generally pretty good about talking about his worries but I don't think he was even aware himself of how much things were getting to him.
Both the boys have been so great throughout the actual move, I was surprised at how well they both coped and how they just went with the flow. I guess it is inevitable that there was trauma for them and it's just coming out now.
Grant and I chose this but the kids didn't. Grant and I were prepared for what was ahead and I did my grieving and letting go over the last two years. But these are big feelings for little kids to deal with and they're crashing down on them now. If you're so inclined, please remember my sons in your prayers as they transition and as they do without their daddy for 5 months when he goes away to college.