I thought I'd share how I organise things in our various closets and drawers, starting with the walk-in wardrobe in the master bedroom.
We have some shelves at the left hand side, a shelf along the top and hanging space.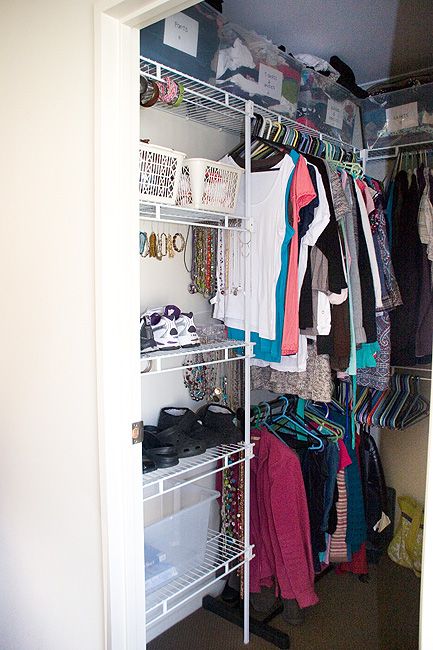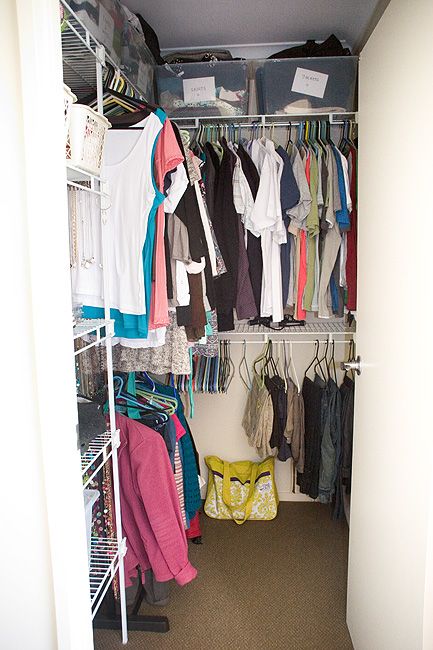 Starting at the top I have my favourite Ikea plastic tubs filled with clothes in a size that I am too big for. I need to lose my emigration weight (when life settles back to normal) to fit them again but they are ready and waiting for me.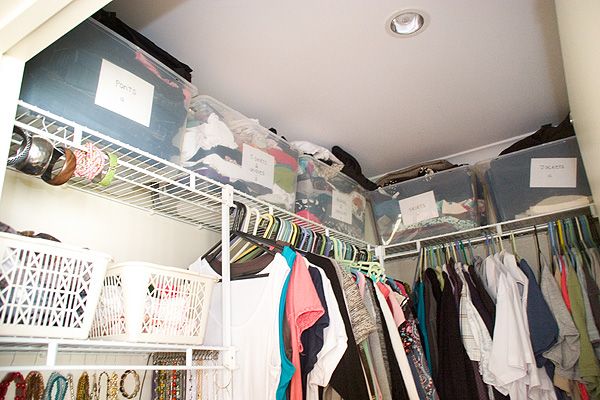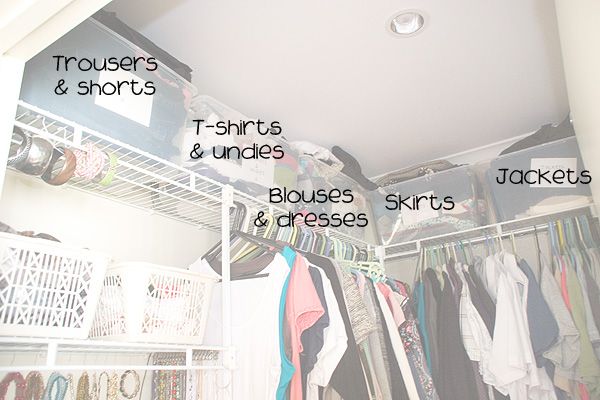 The hanging space straight ahead is Grant's. Of course, some of his clothes are with him at college at the moment but not a lot.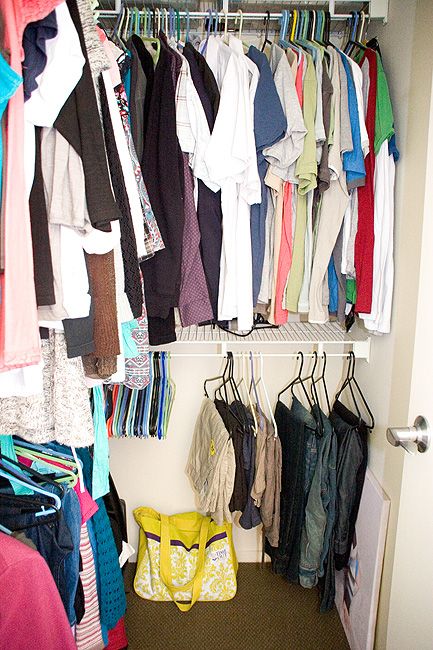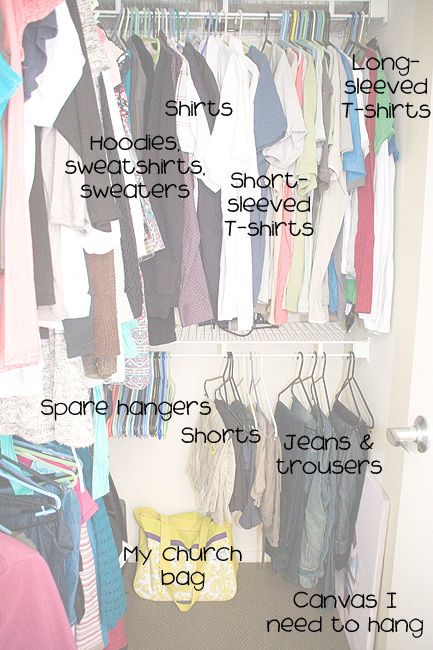 In case you are wondering why I have such a bright church bag, it's one from
Time Out For Women
(there are a few of us at church who use them).
The hanging space on the left is mine.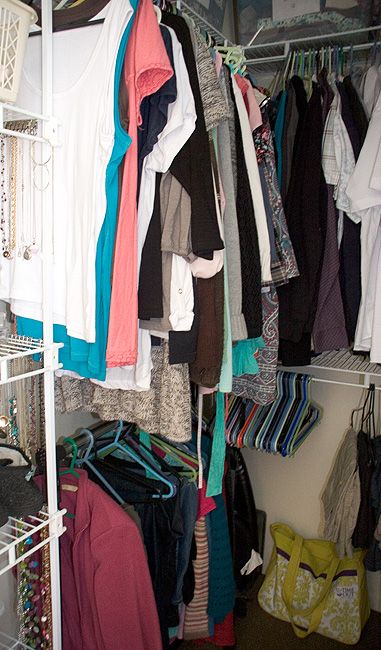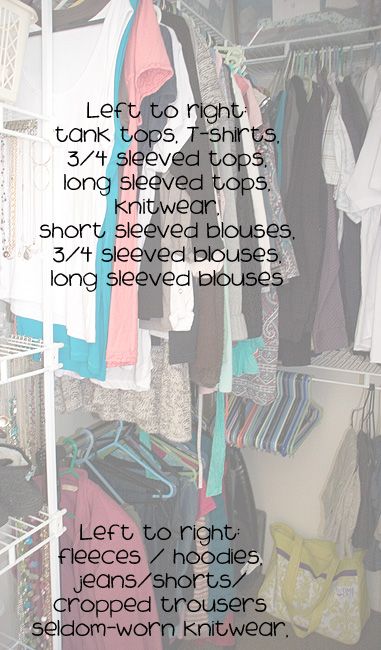 The hanging space was single-level and meant for long items but I wanted a double rail for shorter items (my long items are in the boys' closets which you'll see later) so I added a portable hanging rail at the bottom.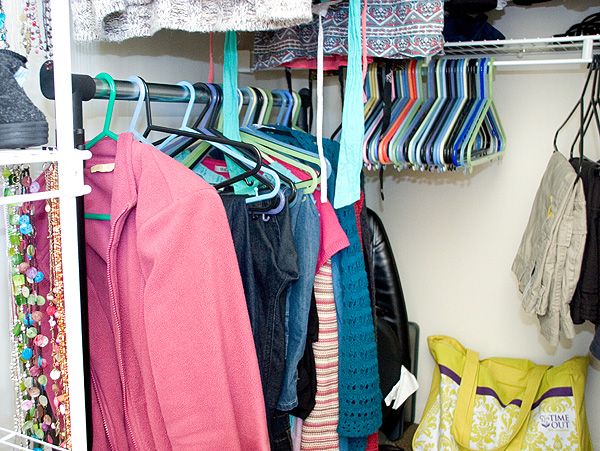 This is the corner at the bottom. It has the shiatsu massage chair thingie (don't laugh, it's
awesome
) and the flood-and-fire-proof safe which holds important documents.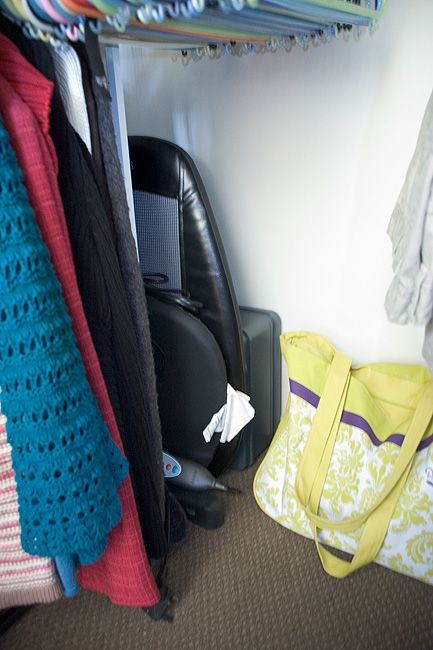 Okay, on to the shelves.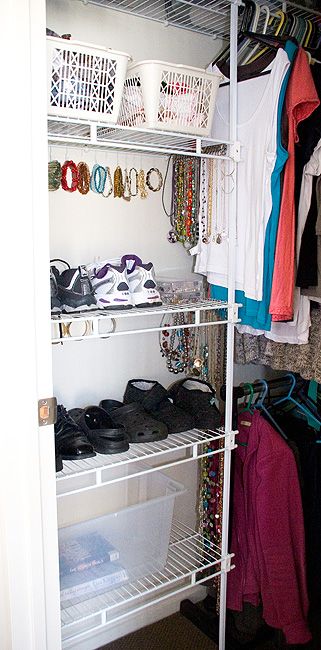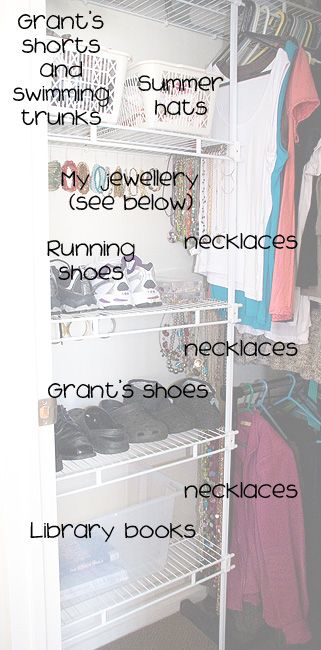 There are only two library books in the plastic tub at the moment because as I finish them I put them straight into my wheeled shopping bag ready to return to the library.
The very top rail holds my cuffs and biggest bangles on little hangers I made out of jumbo paper clips: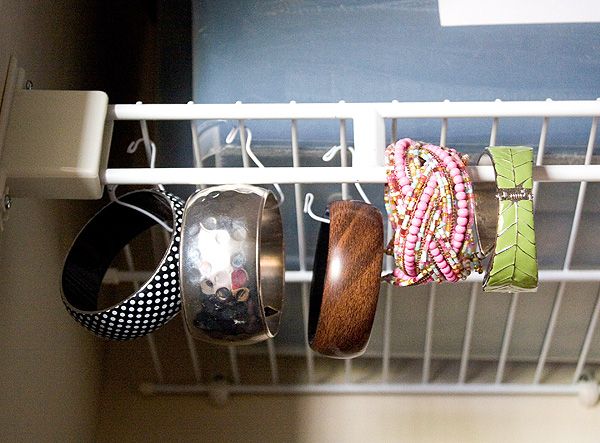 As detailed above, the baskets hold shorts, swimming trunks and hats. Hanging below are my bracelets and bangles on hooks made from paper clips, with my necklaces on the right: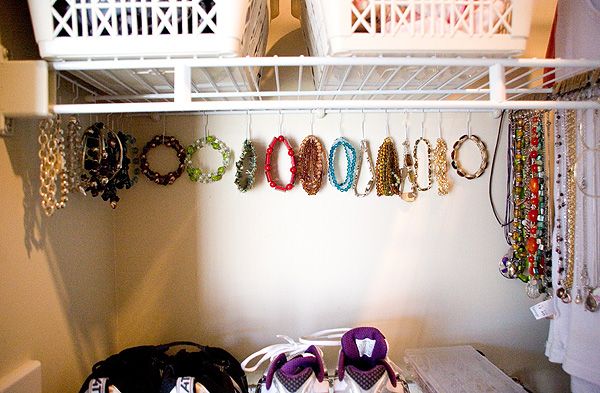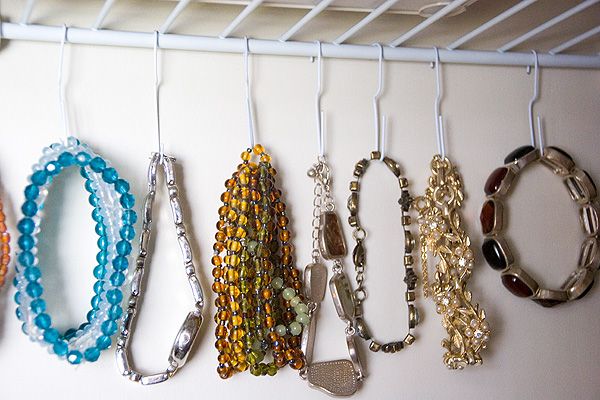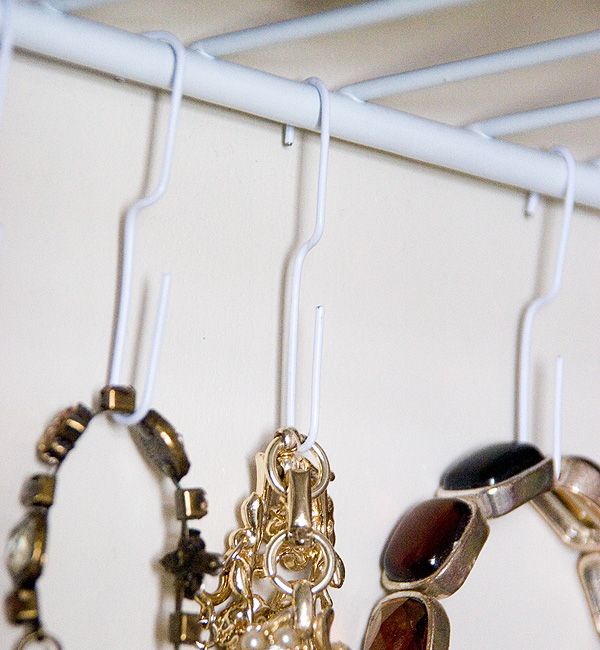 You can also see how I hang my hoop earrings - I am wearing the other pair I have: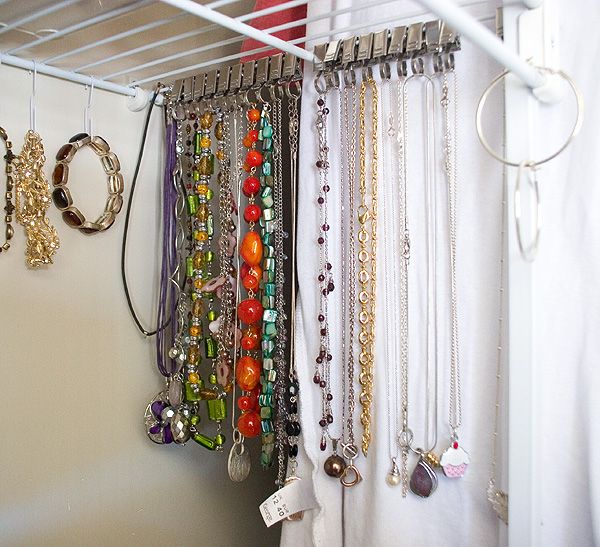 The necklaces hang from Ikea curtain clip hooks: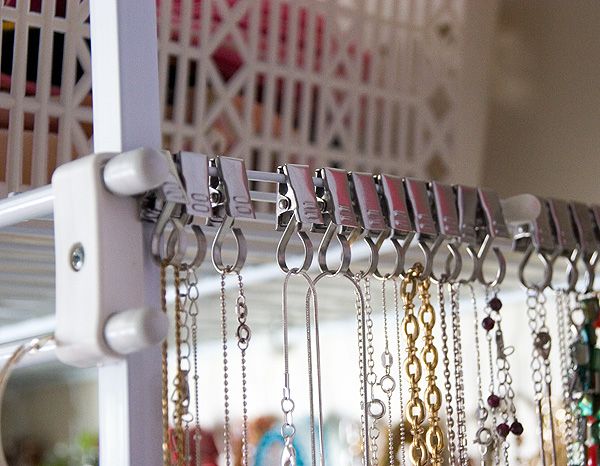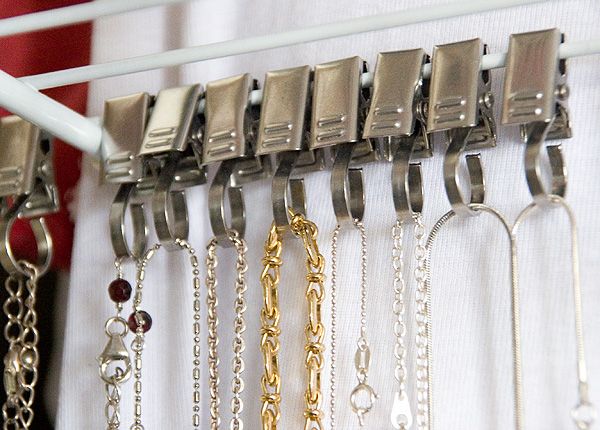 Below that hang some bangles, again on hooks made from paper clips: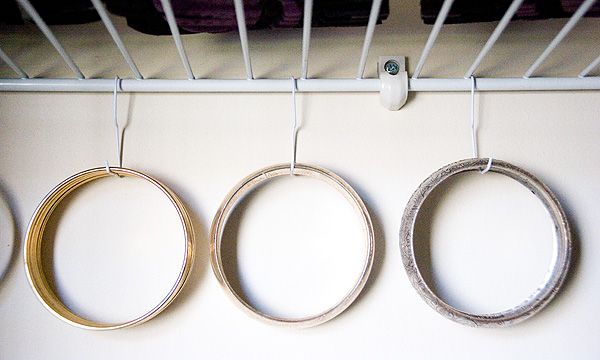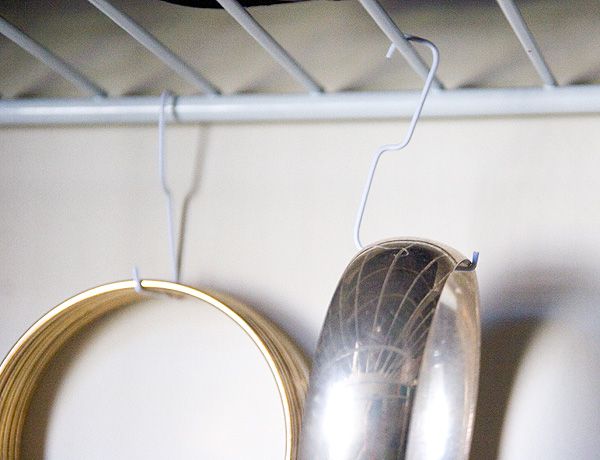 The top two shelves have short necklaces hung on them:
And the second-from-bottom shelf has long necklaces and spare clip hooks hung on it: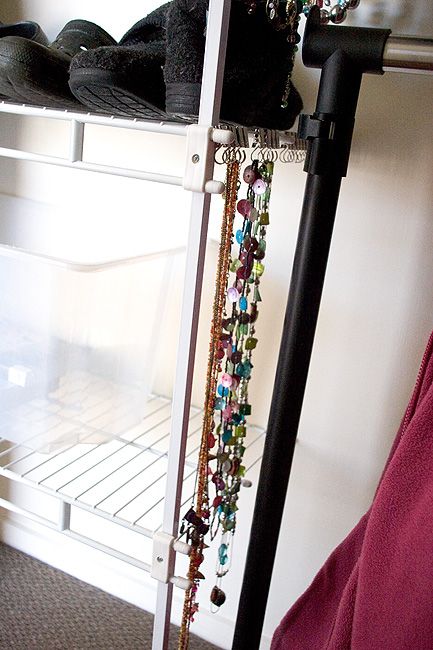 You may have noticed the little plastic boxes to the right of my shoes: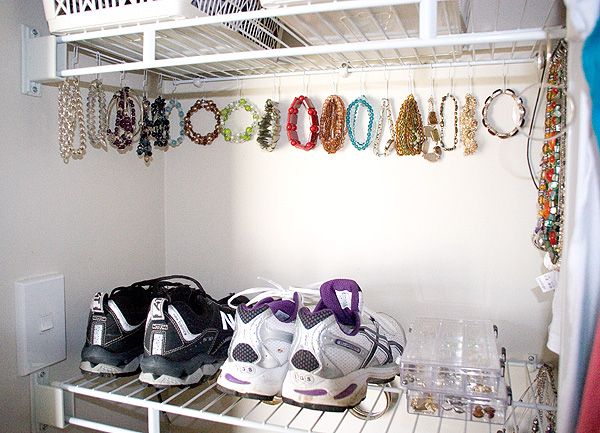 They are bead boxes and store my earrings, toe rings, pins and pendants: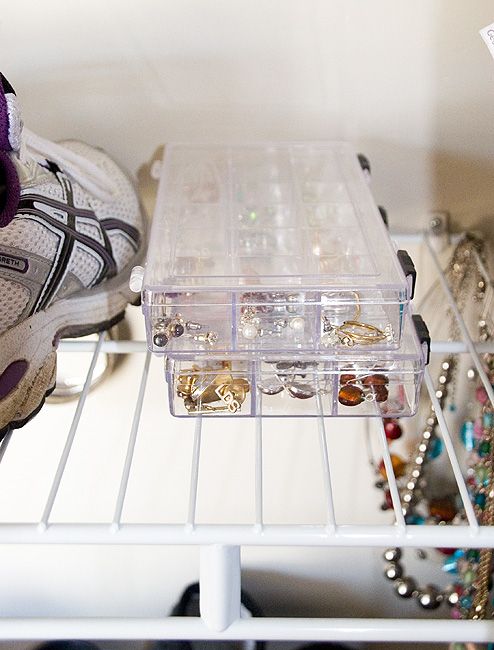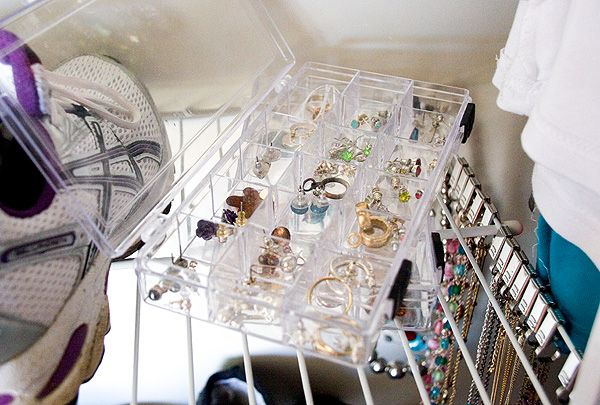 The back of the closet door has hooks which hold belts and light scarves. My woolly scarves languish in a big plastic box in the garage along with our winter hats, coats and gloves. We didn't need them this last winter here in NZ as it didn't get cold enough!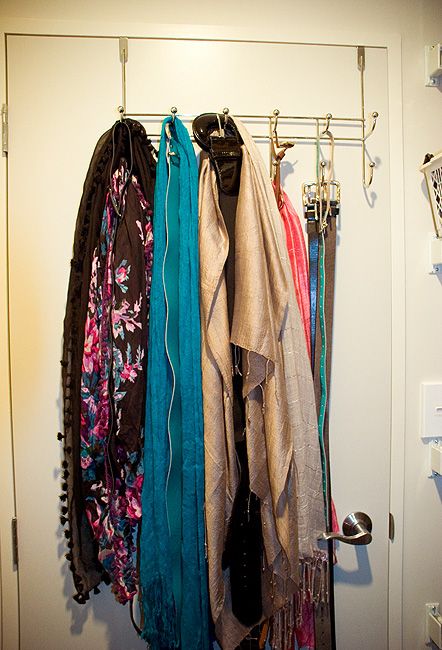 I hope that was interesting and / or helpful! Let me know if you are interested in seeing how I organise other closets and drawers in my home, or if there is anything specific you'd like to see organised.