I can't help it, it's another organising post! One that's been requested: how I organise my photographs. I've broken it into two parts: physical prints and digital files.
Physical prints
I never get prints made nowadays, and haven't for years - I'll explain why later in this post. But in the past, the first thing I would do when I received prints was write the date and names of the people in the prints (and sometimes the place) on the back. (I know there are special pens for this purpose but I always just used a ballpoint pen, being sure to only press lightly.) I do this because if a photo ever comes loose and falls out of an album at least my descendants will know who is in it and when it was taken.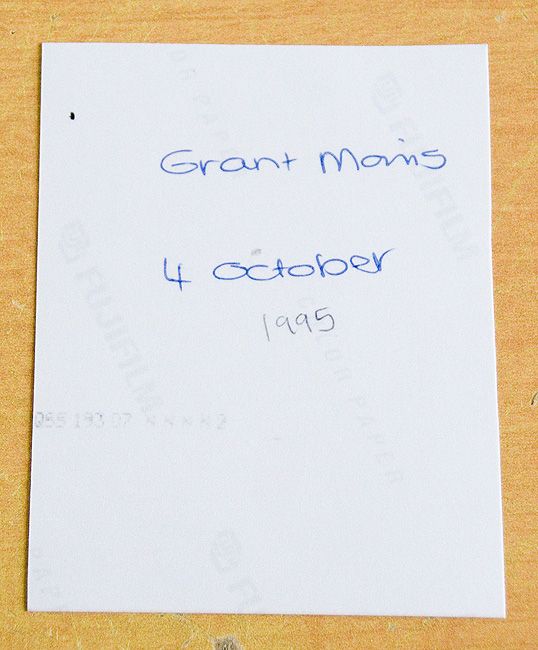 In case you wanted to see the other side of the above print, here it is - awwww!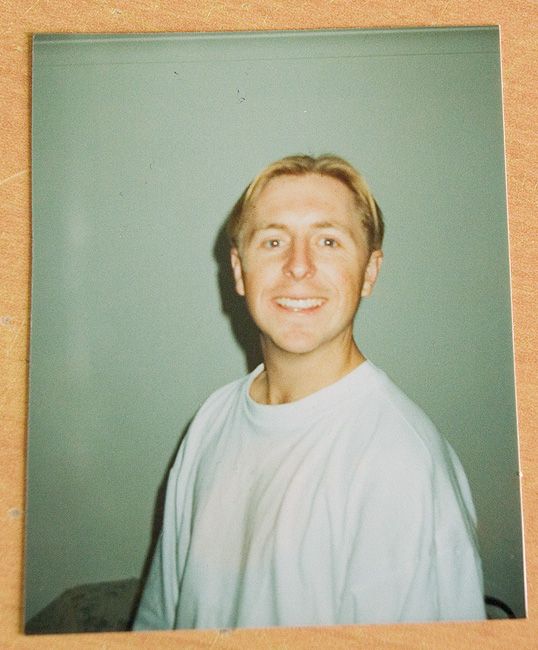 The photos would then go into albums immediately. My photo albums are all in thick plastic-coated ring binders (from Amazon -
here is a link to them
) and they live on the Expedit bookcases behind our couch.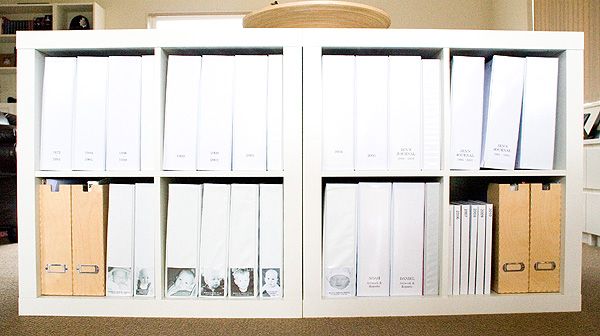 These are some of the boys' scrapbooks - every photo of Daniel from his first 4 years (almost completed), and every photo from Noah's first year (almost completed).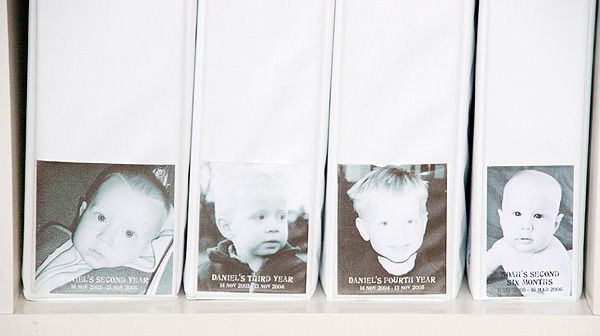 These are our general photo albums. Some hold multiple years, some only one, depending on how many pictures I took that year: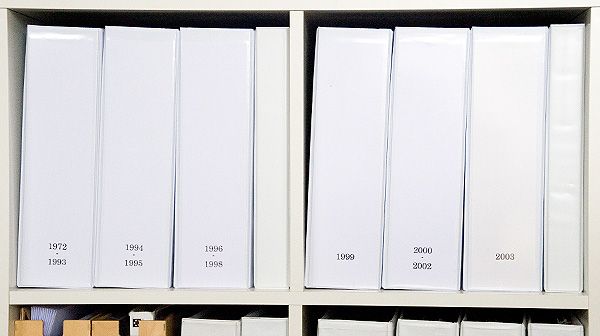 I used to scrapbook every photo so when I received the prints I'd slip them into the plastic page protectors of my (ring bound) scrapbooks, planning layouts so I didn't accidentally end up doing a double-page spread, single-page spread, then double-page spread. Oops, what would become of the extra single page? Planning out the scrapbook prevented this from happening.
Here are some pictures awaiting scrapbooking and only because I want to finish Noah's first year scrapbook. (Why yes, he is turning 7 in March, why do you ask?)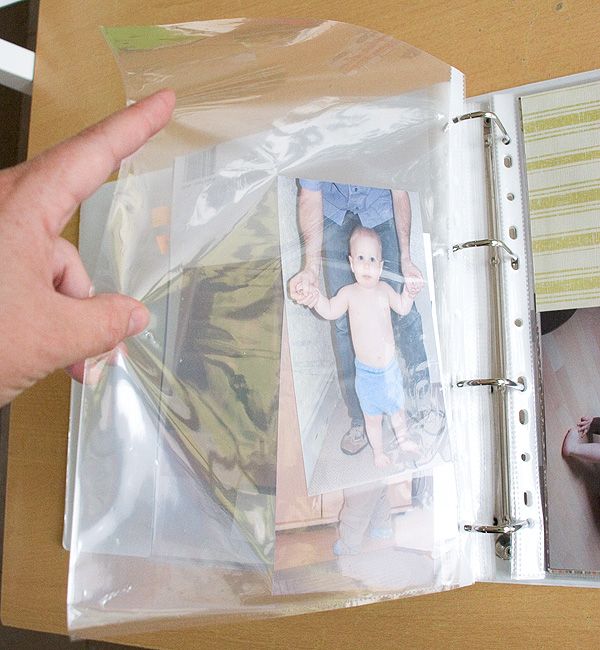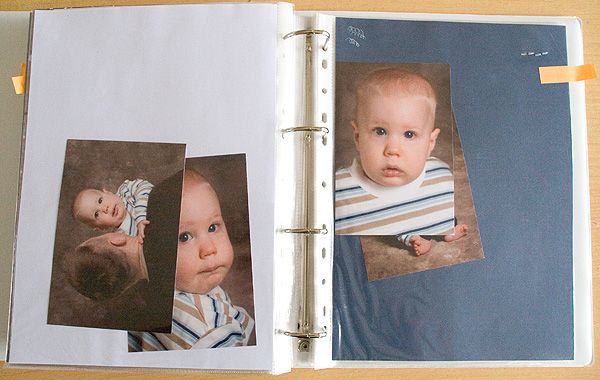 Some of the photos in our general albums are scrapbooked: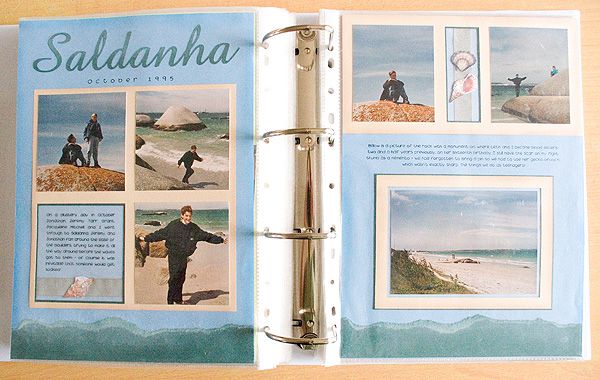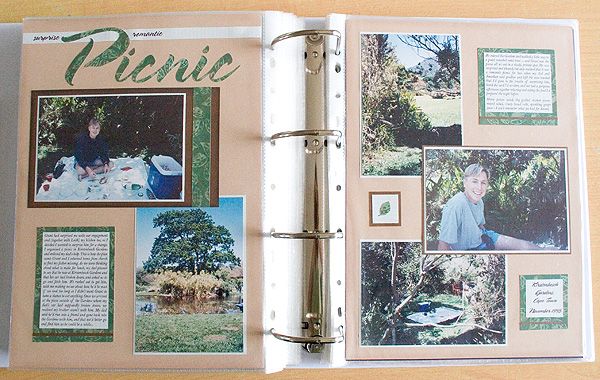 When I stopped scrapbooking a few years ago and switched to just sticking the photos onto neutral cardstock in the same albums. I use regular glue stick (it's luckily acid-free and doesn't damage the photos).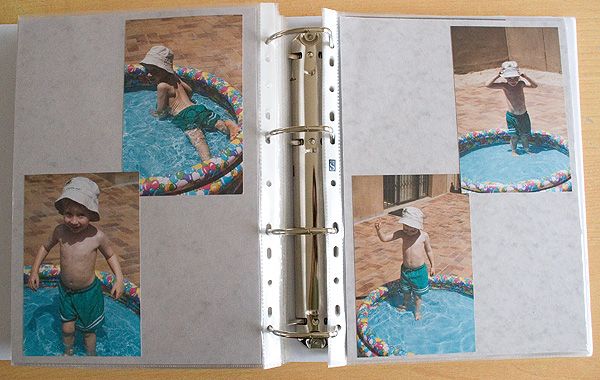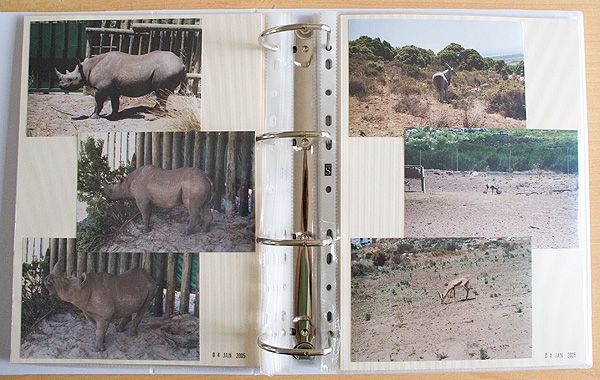 Some have the date stamped in the corner of the page: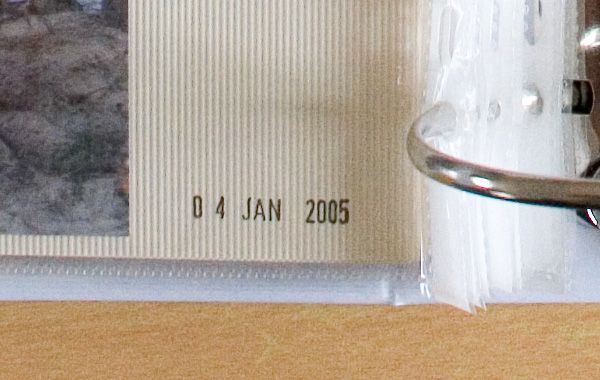 Others have it hand-written: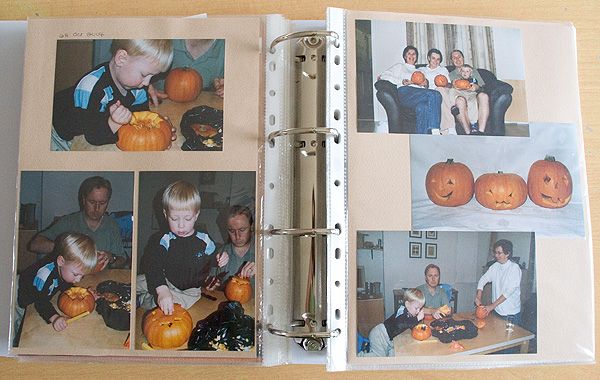 Aww, look at Daniel!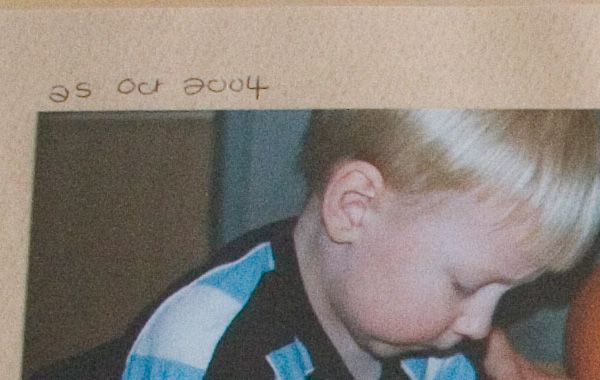 Some pages have short descriptions included with the photos. These pictures were taken after I sold my first business (an online scrapbooking products store) - this is all of the remaining stock, in our car, on its way to the new owner.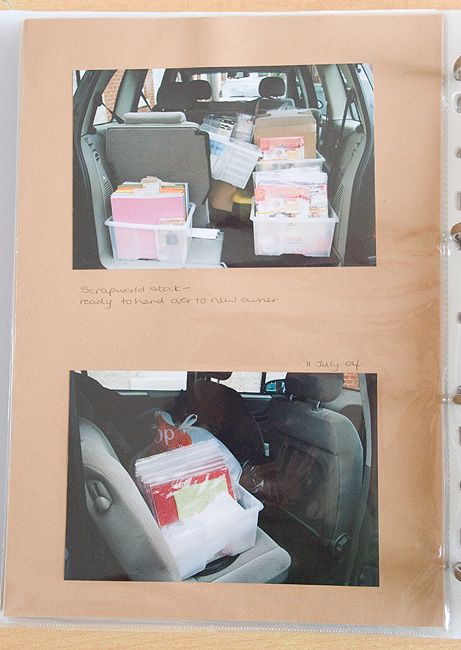 The beauty of this system is that if I ever do want to scrapbook the photographs I can pull them out, create a layout with them and slip them back into the same slot in the album.
Here is an instance where I have a scrapbooked layout next to plain photos on cardstock.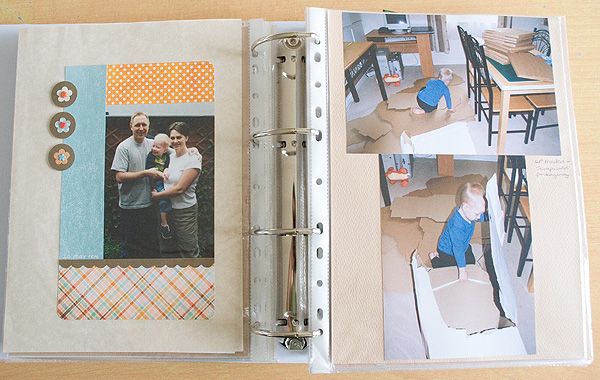 I could really have become hung up on creating the "perfect" photo albums, choosing matching cardstock throughout, consistently typing captions, etc. I could have let this perfectionism paralyse me ... and my pictures would still be sitting in a box.
Remember the quote, "Perfection is the enemy of completion." You know what? My albums aren't perfect ... but I am okay with that. Because they do exactly what they are supposed to do: showcase our memories in a way that is accessible. They may not be perfect, but they are
done
.
Okay, I mentioned above that I no longer get photograph prints made. It's because I have switched to
Blurb books
and I couldn't be happier!
The software is free and easy to use. You build your book offline using their templates and when it is ready you upload and order. I build our photo book throughout each year and when the year is done I order it. Done and dusted!
You can see them on the bottom right hand corner of our bookcase: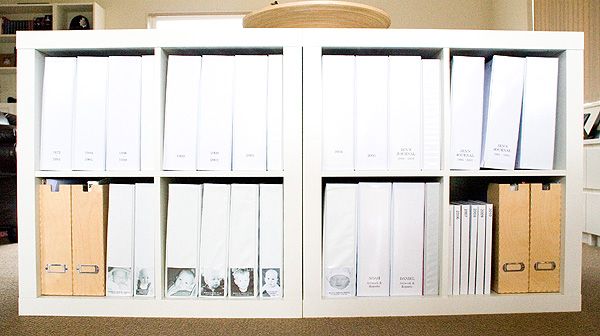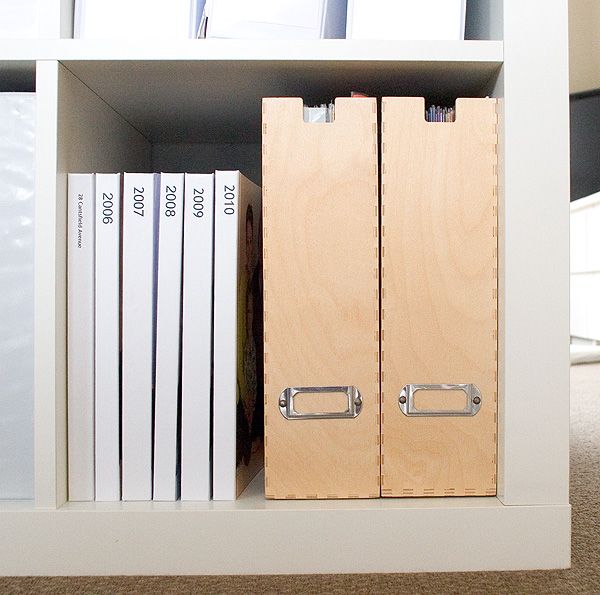 Isn't that awesome? I have the entire story of our house-before-last (
more details here
) as well as five years' worth of photos in such a small storage space. Each book is 8x10 inches
.
Here are the books laid out on the floor. Doing these books also forces me to take a family photo each year, for the cover: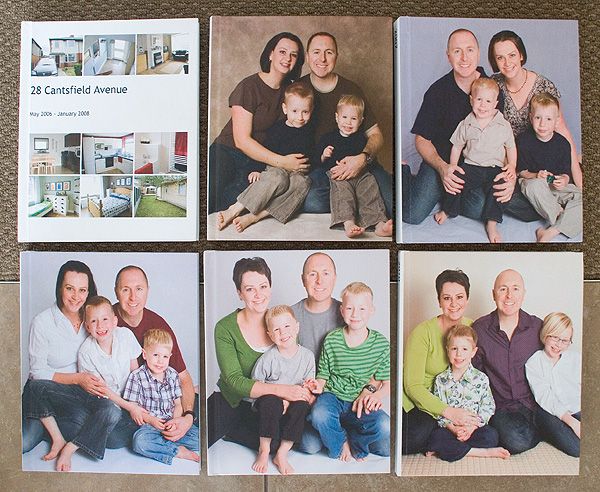 There are tons of templates to choose from for the pages, then you just drag in your photos. You can create pages with as many or as few photos as you need, and type in the date and descriptions.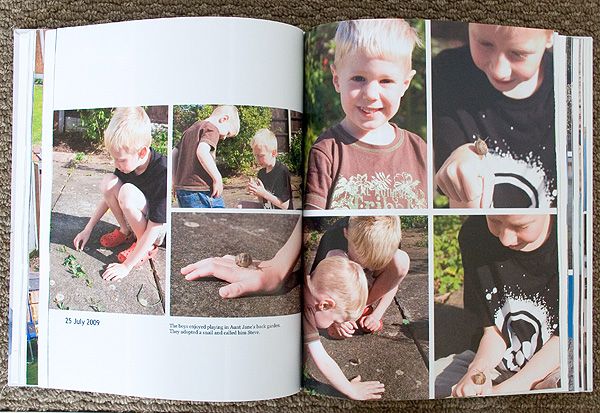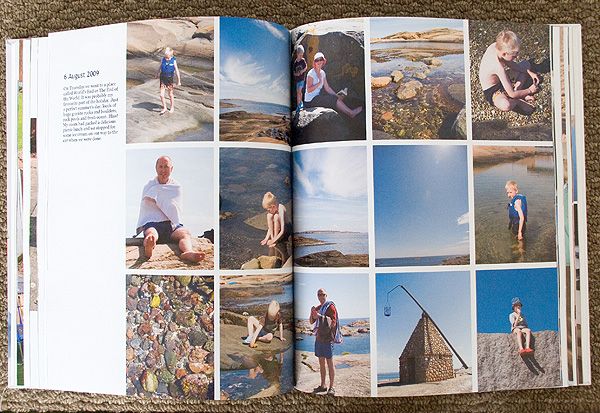 You can also include text-only pages: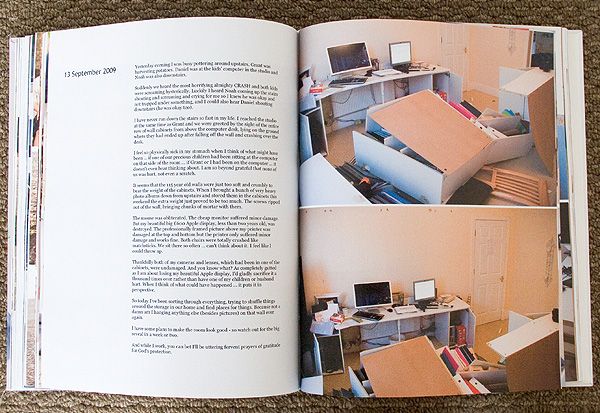 Or multiple pictures and no text: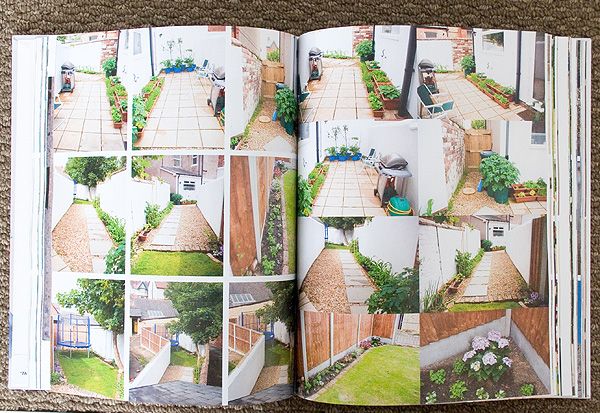 On the left-hand page here I wanted to record an anecdote about Noah (he had asked me what the crunchy bits in peanut butter were and when I asked him what he thought they were he said, "Metal?") so I took a photo to go with it: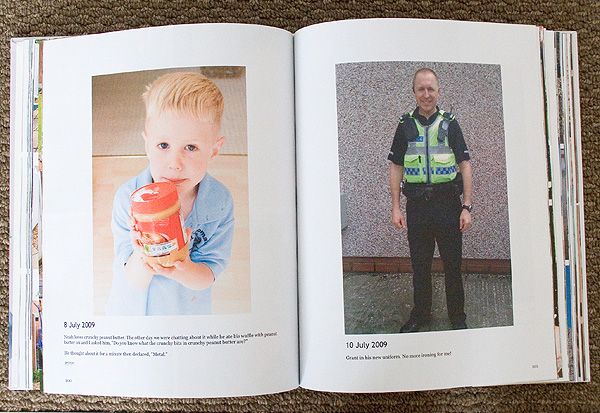 Each year I also create a slideshow, put it onto DVD, create a matching sticker for it and put it in an adhesive DVD pouch inside the front cover. I include a little sticker in the corner reminding me which song I chose for that year's slideshow. (
Click here for the 2011 slideshow
.)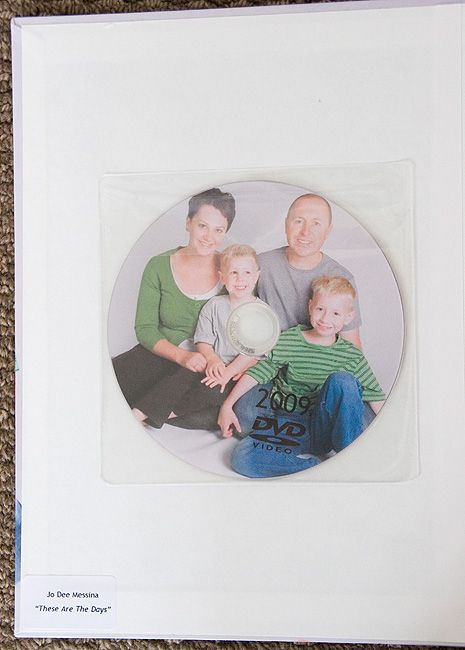 Ordering these books actually works out cheaper than ordering all of the pictures as prints and then putting them into albums, and saves me tons of time. They also take up a lot less storage space and are easier to handle.
Love
them. I haven't ordered my 2011 book yet but it's epic - literally twice the size as previous years! Last year was a big year. So our book ended up being 417 pages long (they only make them up to 440 pages long) and is the most expensive available (the prices vary depending on how many pages you have). I still think it's a bargain at NZ$145 including shipping (that's around US$115 / £75 / R925). Now I just need to earn some money so I can order it!
If you click here
you can get 15% off your own Blurb book - bargain!
Digital files
So the
Blurb
books takes me nicely to talking about digital files. As you have noticed from the ones I share on my blog, I take
thousands
of pictures a year (2,192 last year, to be exact). I need to be organised with them and this is how I do it.
Firstly, I download them from my camera frequently - within a day or two of taking them. I edit each one and save them onto my hard drive. By doing so, I don't run the risk of losing them if my camera card goes corrupt or I lose my camera, they are available for backup, I can blog them, and I can start building my Blurb book so it's not one huge task at the end of the year.
The most important of the above reasons is
they are available for backup
.
PLEASE PLEASE PLEASE BACK YOUR PHOTOS UP!!!
Sorry, was I shouting? I feel kind of strongly about it. I'd hate for you to lose records of precious memories if your computer crashes. And yes, it can happen to anyone. Even you.
Grant frequently backs up our hard drives onto an external hard drive.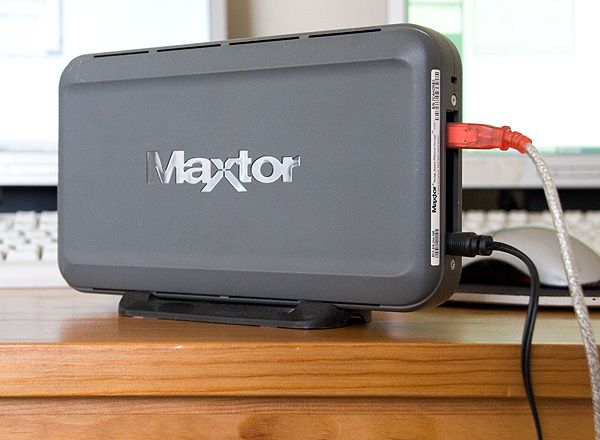 I also write the image files to DVD. Here's an old one.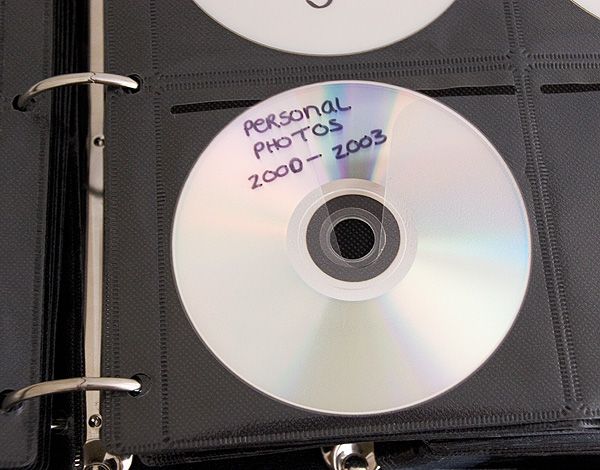 And I store them online. I still need to find an inexpensive and reliable online backup facility, so in the meantime I store them with
Photobox
, the company I used to order photo prints from in the UK. Every time you placed an order with them you got extra storage space.
EDIT: Thanks for the suggestions - we are currently on a capped bandwidth ISP so we have purchased a second hard drive which Grant keeps in his locker at work rather than backing up online.
Okay, that's enough about backing up photo files. (BACK UP YOUR PHOTO FILES!) Sorry, okay, now I'm done.
As mentioned above, I open, edit and save every single photo I take (I shoot in RAW). Here is how I save them.
EDIT: I've been asked if I keep my RAW files - no I don't. I only keep the edited jpegs.
On our computer we have a folder called "My Pictures".
Inside that folder I have more folders - one for each year and some extras (the "Documents" one contains scans of our passports etc, "New from cam" is a folder where I can just drag in pictures from my camera with the intention of editing them later, "Slideshow files" contains templates for our yearly slideshows).

Inside each year are folders for each month, and one for the slideshow files.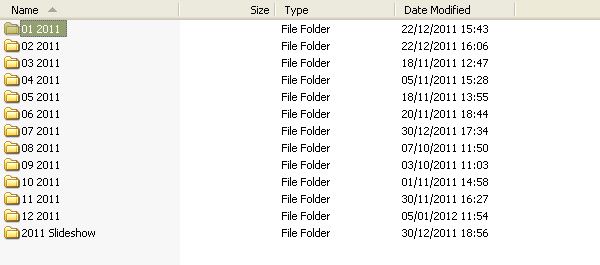 Each photo file is labeled with the date in reverse order (YYYY MM DD) and a brief description and a number (01, 02, 03, etc).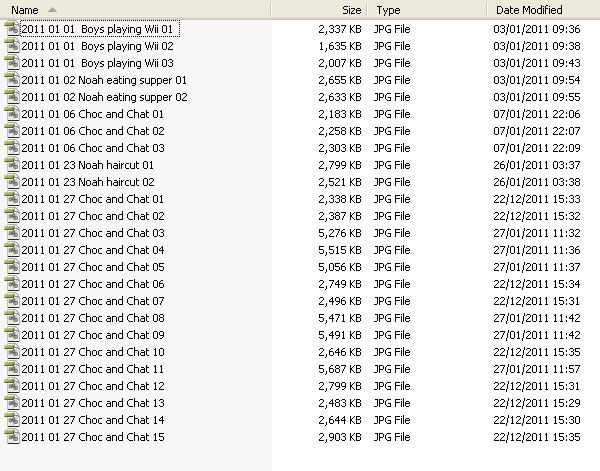 Here's how September's file looks: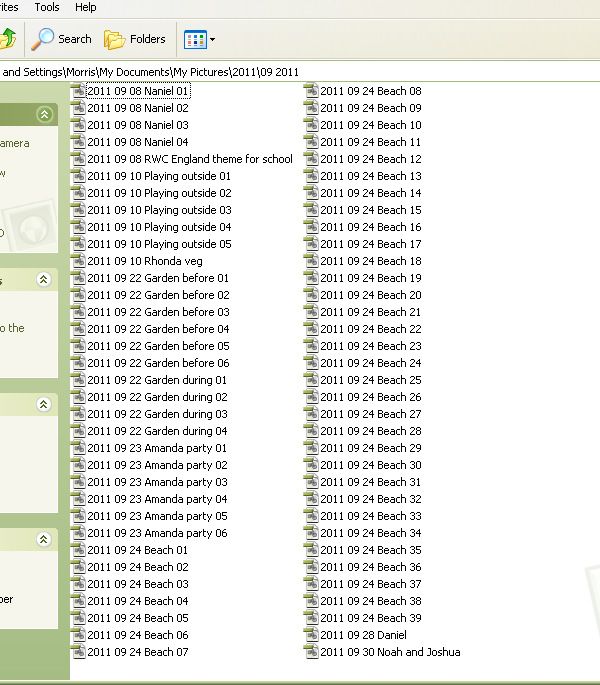 This was October: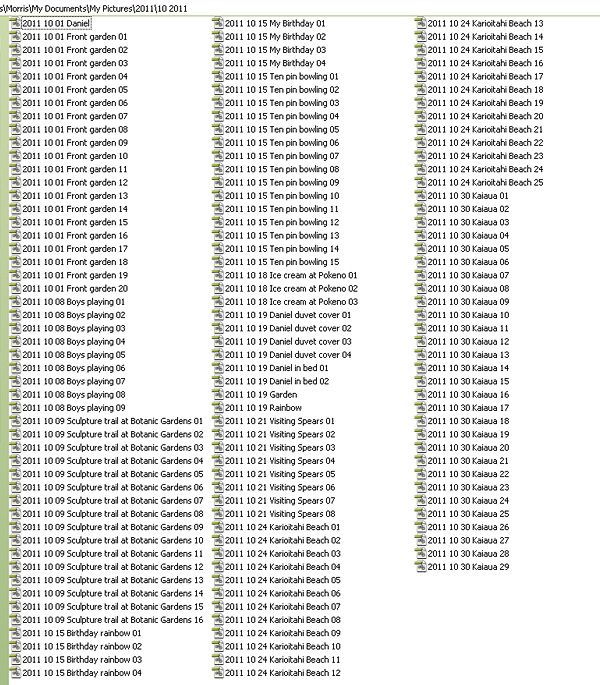 Doing the date that way means that they will also appear in correct date order. Adding a brief description makes your images searchable. Want to find the photo of you singing karaoke but can't remember when it was? Run a search on your computer for "karaoke". It'll turn up.
So that's how I organise my photos. I hope some of this has been helpful. I know what it's like to feel overwhelmed by all of your photographs! Just keep in mind the entire point of taking photos in the first place: you want to capture and record memories and occasions and
enjoy them later
. Which you can't do if they are stuck in a box somewhere or lost on your computer or, heaven forbid, lost forever due to hard drive failure. (I didn't tell you to back your files up again! But you should!)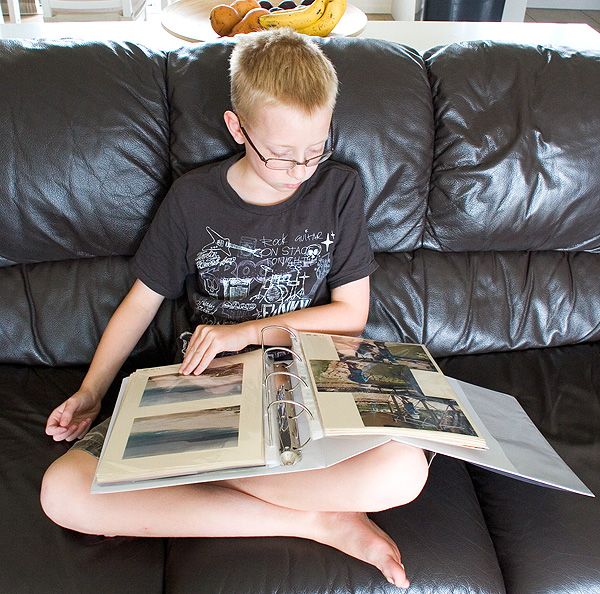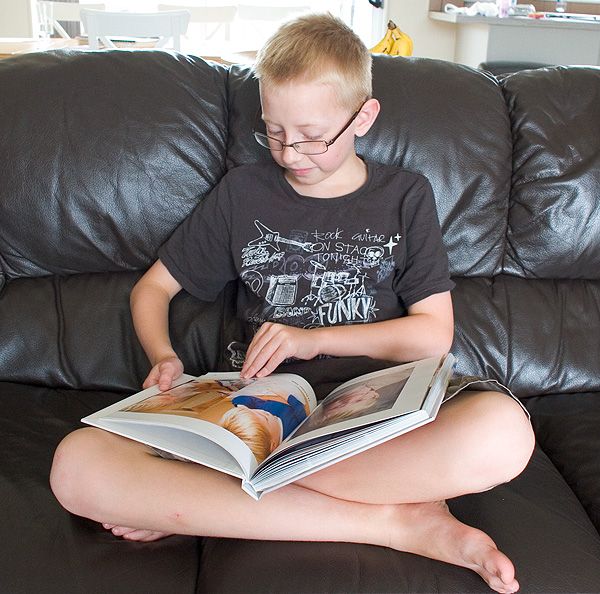 (See how much more manageable the Blurb book is?)