I love trying new recipes and am always bookmarking delicious sounding ones on the internet and tearing them out of magazines. They can quickly get out of hand and turn into clutter if I never actually use them though. I thought I'd share how I organise and use them.
Recipes that I rip out of magazines go into plastic sleeves in a ring binder: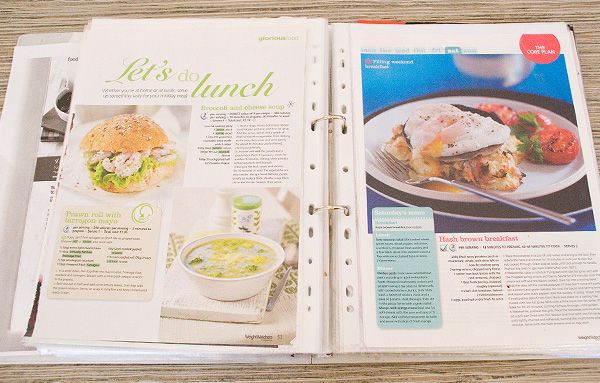 I love
Pinterest
, but I don't pin recipes. They get saved in my computer bookmarks, sorted into categories: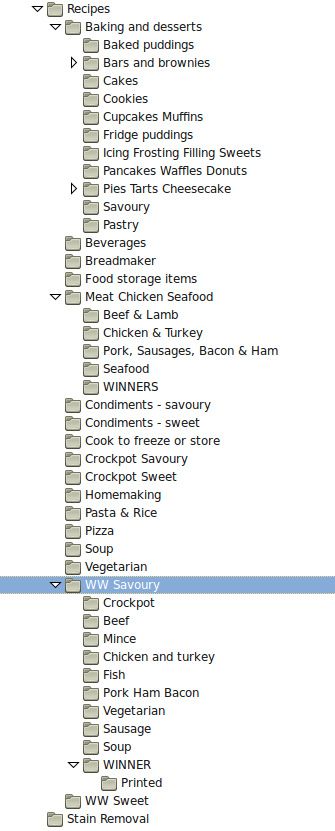 This makes it much easier for me to sort and find (with the Search function) particular recipes.
But it doesn't help to just file or bookmark recipes and never use them. So every once in a while I will pull recipes out of my binder, and I will go through the bookmarks and copy and paste a bunch of recipes into a document and print them out. I highlight ingredients that I might not have in the pantry and which I might need to put on my shopping list when I plan to cook that dish: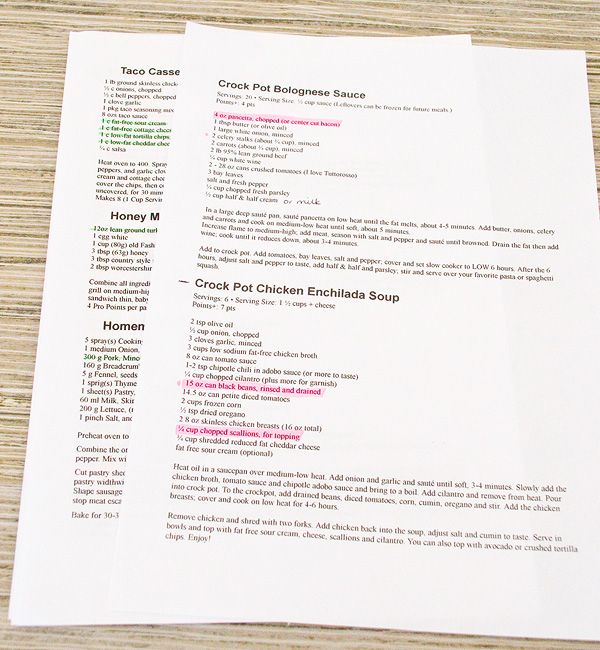 This stack of papers goes into my kitchen drawer and I pull it out every day and plan some meals from it.
When I've made the dish I tick the recipe and add any notes - alterations I've made, what everyone thought of it, that sort of thing: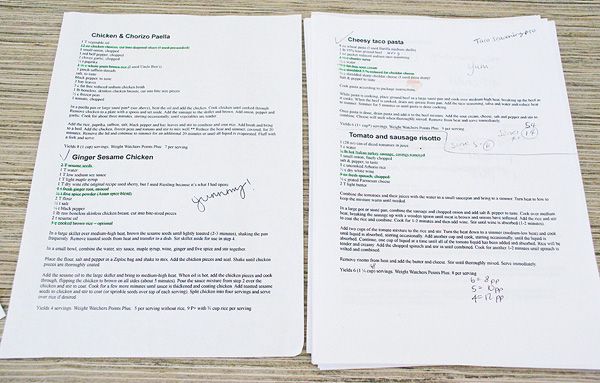 I also move the recipe bookmark into a folder called WINNER (as you can see I'm currently cooking Weight Watchers recipes but I have other WINNER folders in other sections):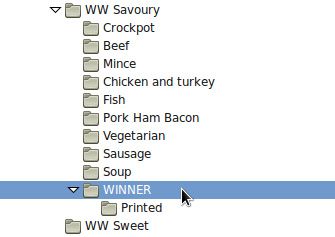 Every now and then I copy and paste the WINNER recipes into a page template that lets me print two recipes per page, fold the page in half and slide them into these little half-page sized plastic sleeves: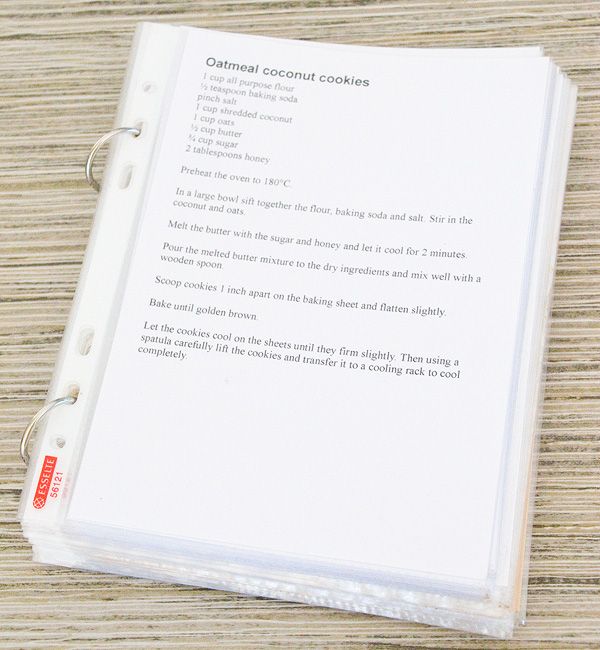 You can see the size here - it is A5, or half a regular sheet of paper: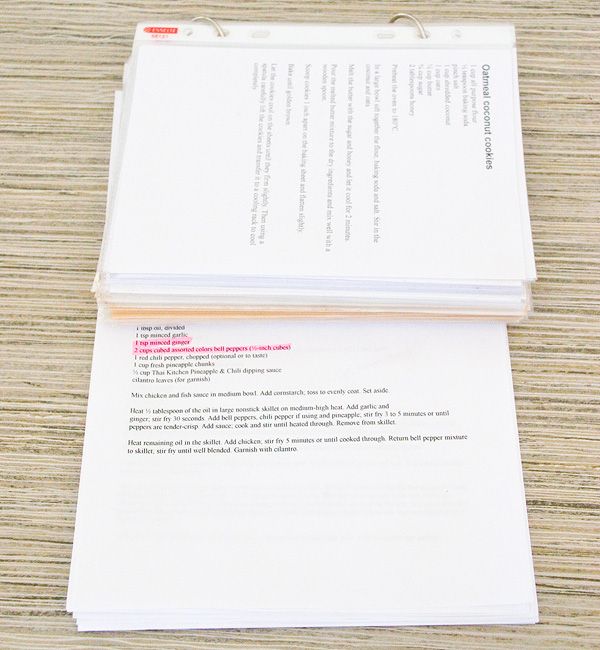 The plastic sleeves are held together by book rings: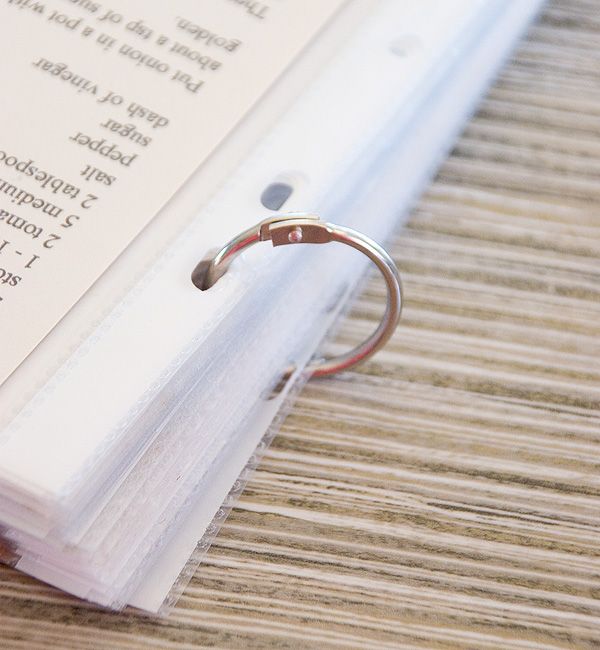 This is my official recipe file, the one I use again and again. A recipe only goes into this file if it's a winner and I know I'll be making it repeatedly. It's easy to flip through the file, and the pages are plastic so I can wipe spills off them.
White pages are desserts and baked goods: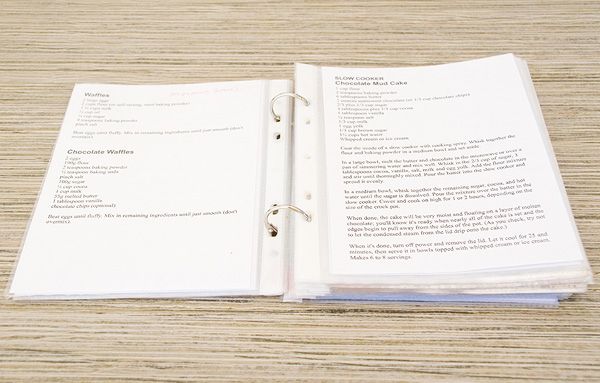 Beige pages are regular recipes, like pizza dough, salad dressings and meals: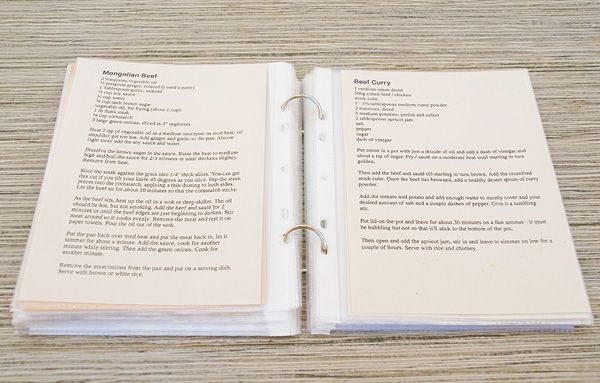 And tan pages are Weight Watchers recipes: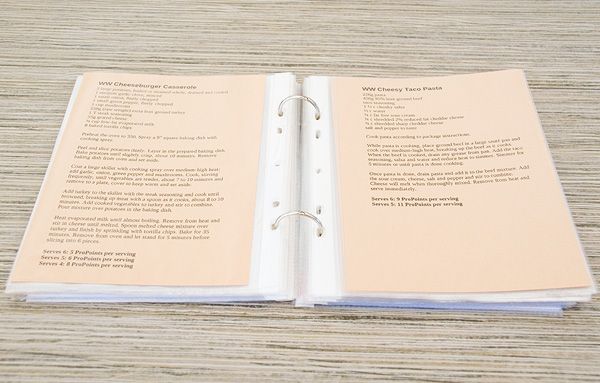 Going back to my stack of printed and marked recipes, I cross the recipe out once it has been either printed and put into my official file, or if we didn't like it. When all recipes on the page (usually only 2 fit) are crossed out, I can throw away that page: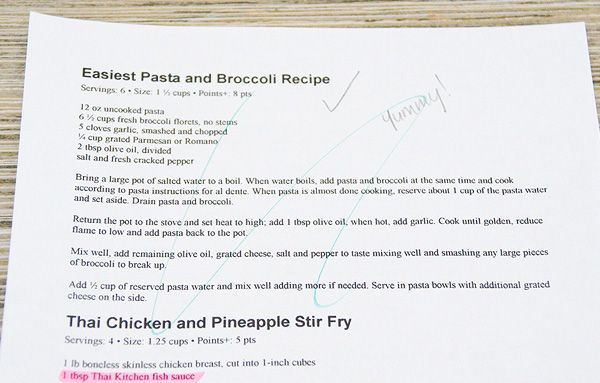 Once I have printed the recipe and put it into my official file, the bookmark gets moved into the folder within WINNER called Printed. I keep the bookmarks here so that I can email them to friends or link to the recipes from my
What We Had for Supper
blog.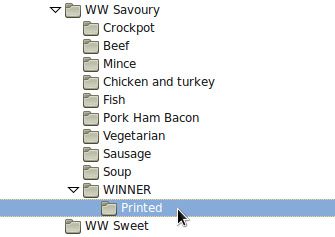 What about recipe books? I have a few and I am slowly typing up the recipes that I enjoy out of them and putting them into my official file. I include the recipe book and page number on recipes I've taken out of books
(by the way,
in the UK and here in NZ
the new WW programme is called ProPoints, not Points Plus like it is in the US)
: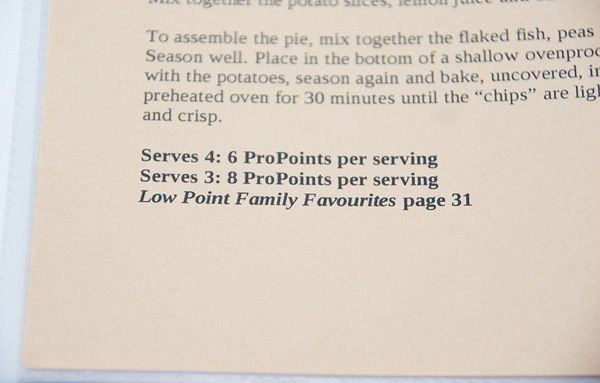 Okay, that whole explanation sounds a lot more confusing than it actually is!! I promise it's a simple system ... but most importantly, it works for me and keeps me trying new recipes rather than just collecting them. Hopefully it will help someone reading this too.