I've been pretty stressed this week and the pamper party was just what I needed. My friend R did a smashing job of making the evening fun and special. Here are the details.
I forgot to take a picture of the adorable sign on an easel outside her front door, with polka dot ribbon. This candle display was directly opposite the front door inside:
When you entered her home there was a table where you took a name sticker, signed a guest book and put your name into a glass vase (more on that later.) You can see the table here, with a black cloth on.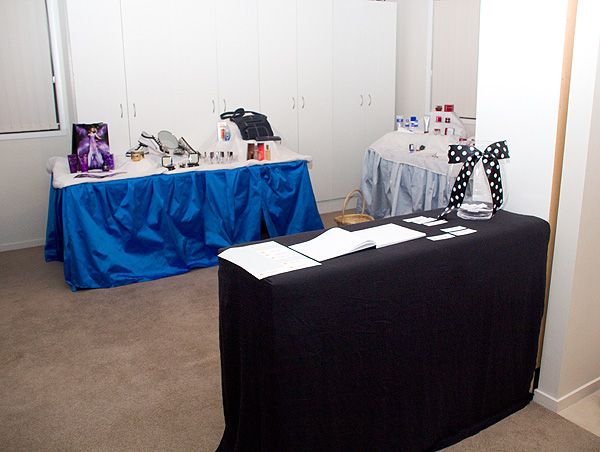 In the room behind the table were two more tables with Avon products on display to look at and test.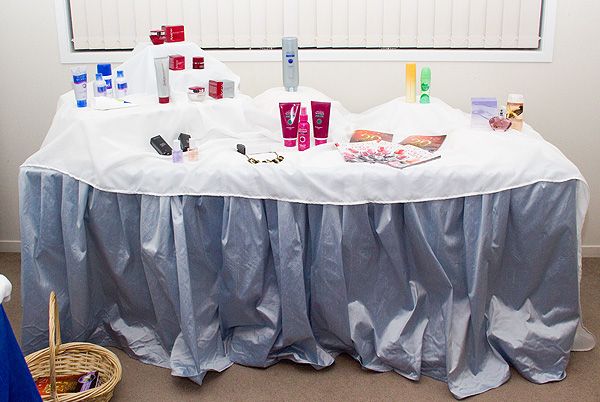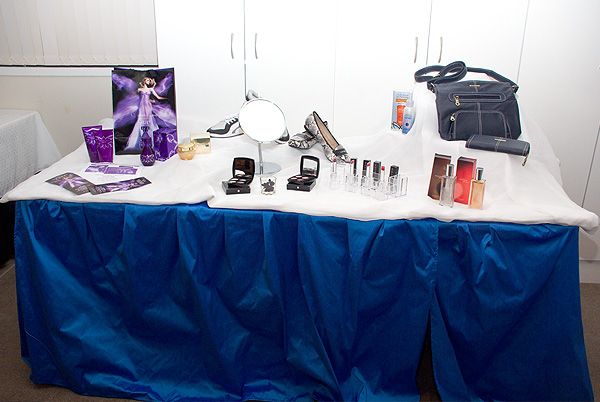 In the dining area was a buffet table (more food was added after I took this photo):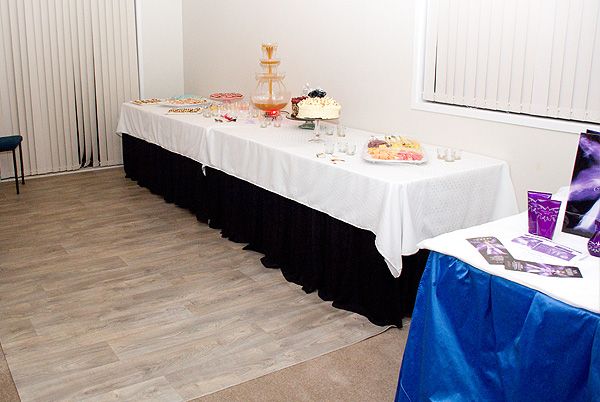 Mmm, the food was good! Here is what we ate during the evening.
Polka dot sugar cookies:
Polka dot cupcakes, mini pancakes with strawberry jam and cream cheese frosting dots, fruit platter:
I took this photo before the food was uncovered (obviously!) - I could not stay away from these delicious French bread rounds with cream cheese, smoked salmon and chives; they were so yummy:
This punch fountain was awesome!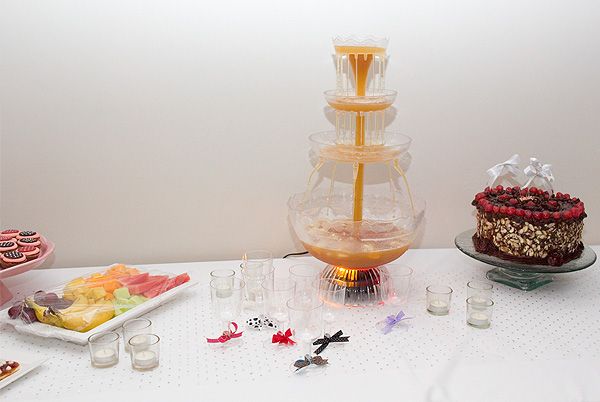 R had sourced a bunch of different polka dot ribbons so we each knew which glass was ours:
R baked this heavenly chocolate cake: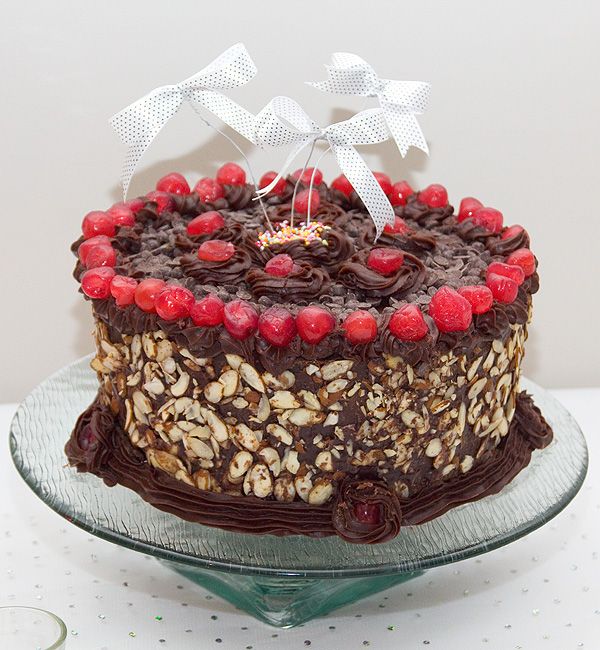 Here it is a little later in the evening - how rich and delicious. Grant was a very happy bunny when I brought a slice home for him.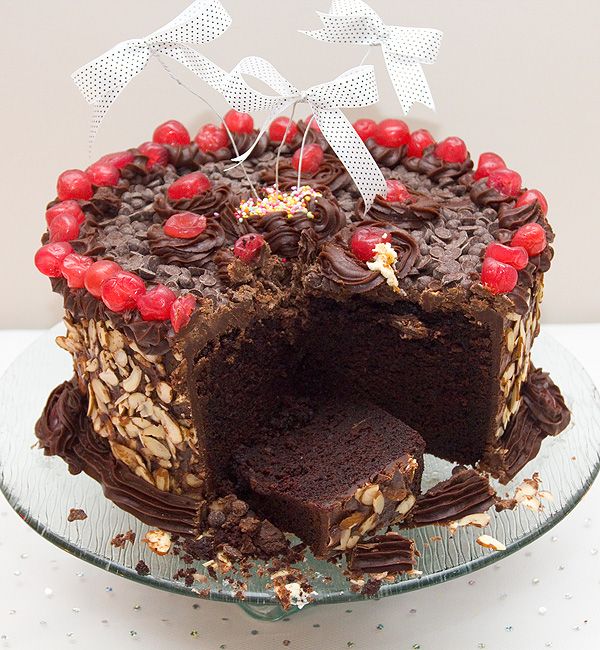 She also baked this carrot cake: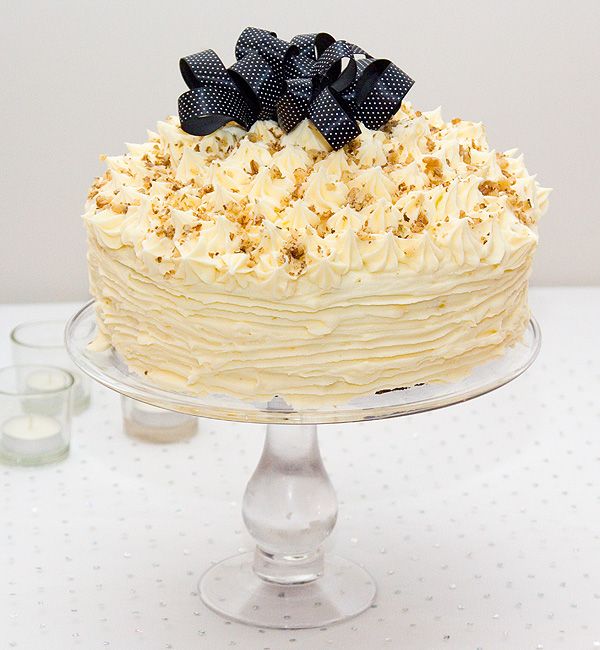 Mmmm! I brought a slice home for Noah but he didn't want it so I ate it for breakfast. I have no regrets. Well, at least until I stand on the scale on Sunday morning :P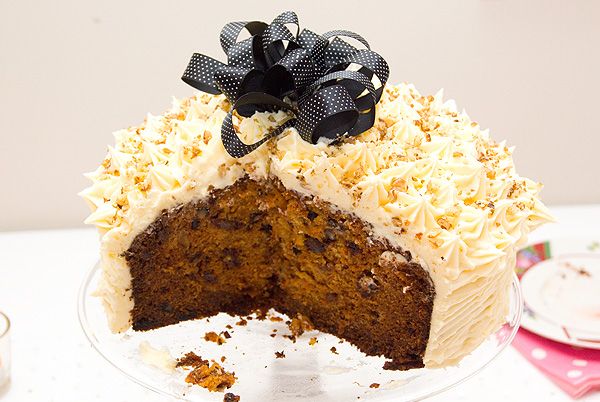 We also had crackers with cream cheese and sweet chilli sauce. I forgot to photograph the little quiches too.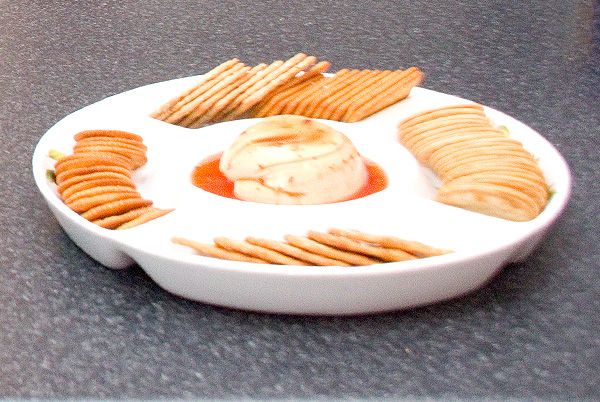 Of course we had polka dot napkins!
After chatting for a bit, four names were drawn out of the vase that we'd placed our name cards into upon arriving. I was lucky enough to be one of the first names drawn. The four of us made our way to R's craft studio (she homeschools and teaches art) which had been totally transformed into a spa: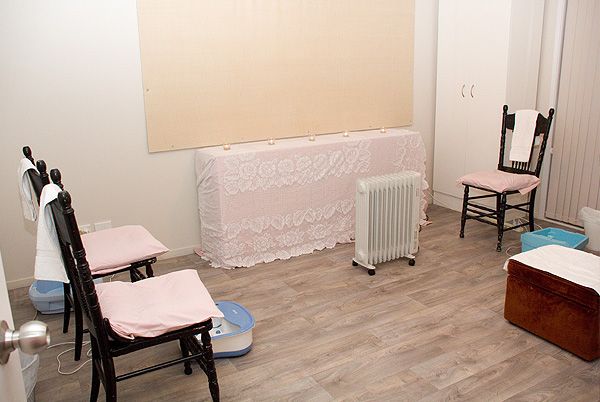 Two chairs ...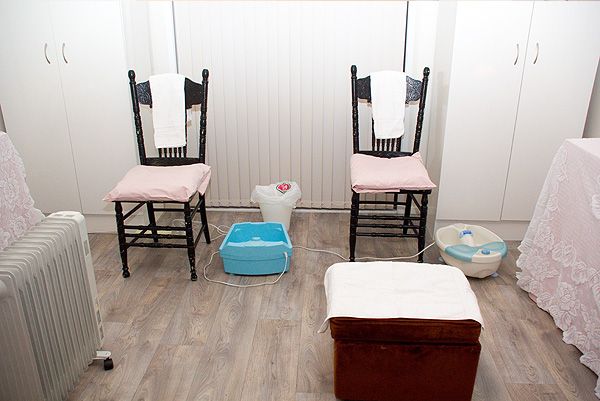 ... facing another two chairs.
Candles, crystal and lace ...
... and goodies lined up for our pedicures.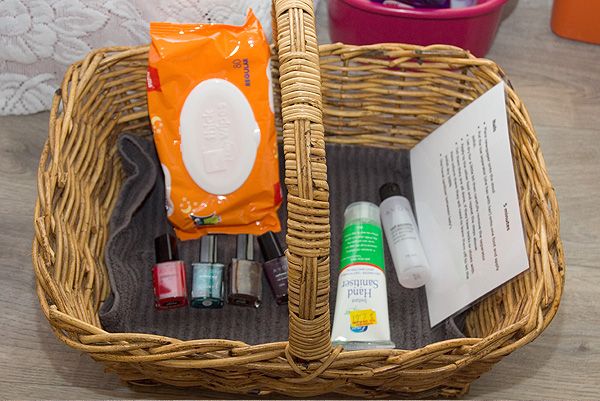 We had three lovely teenage girls do our pedicures for us: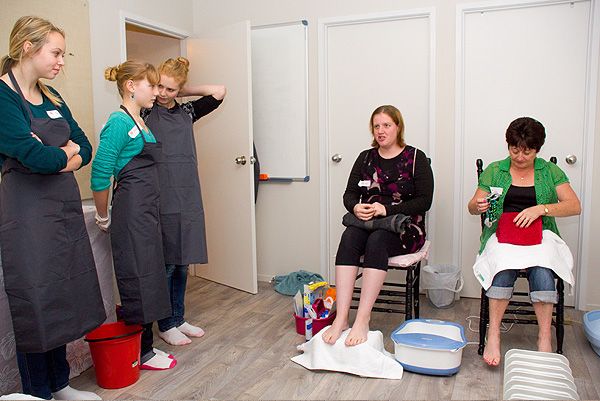 First we had an exfoliating foot mask on:
Then it was wiped off ...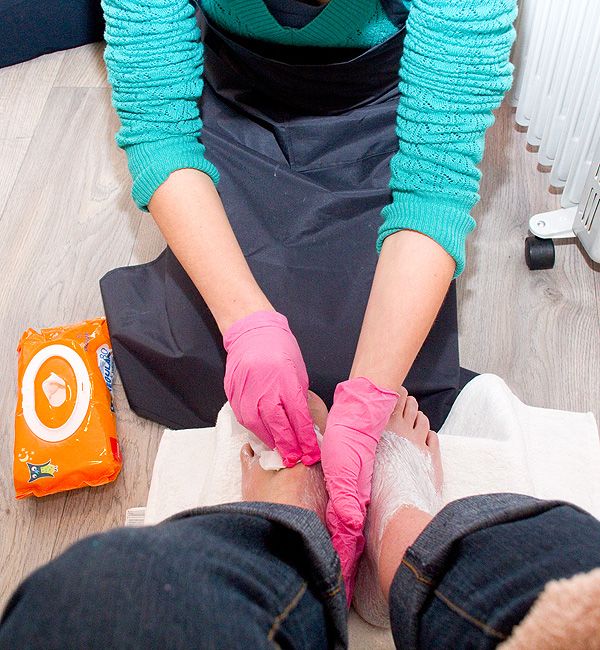 ... then we got to soak our feet in foot spas.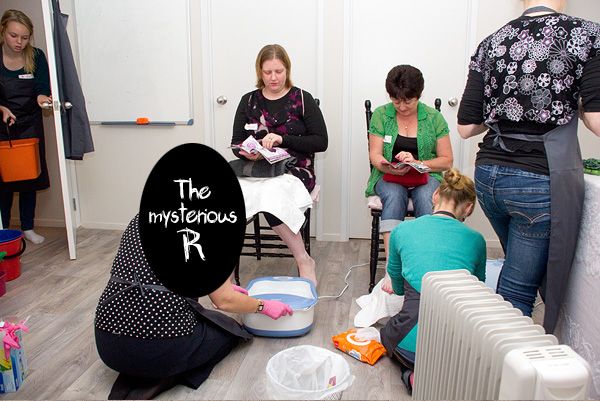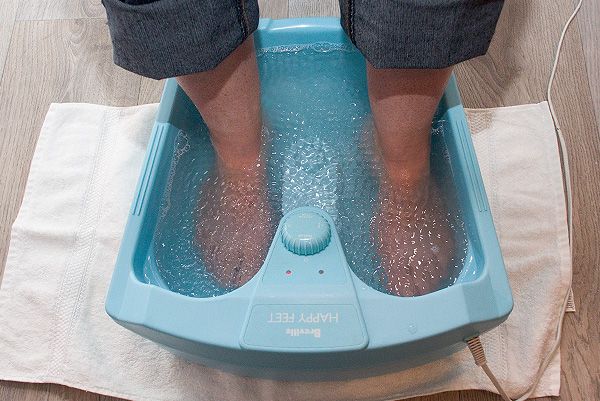 We had Avon catalogues to browse while we were being pampered. (Holy unflattering top!)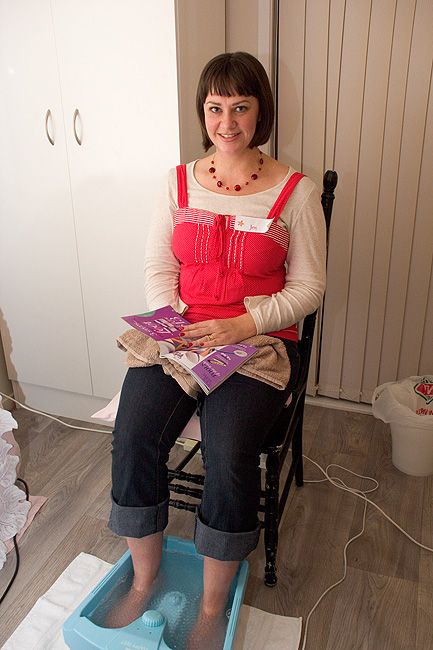 Here's my friend Ruth:
Apparently using the jacuzzi function isn't a good idea when you have soap in the water! The bubbles were climbing up this lady's legs.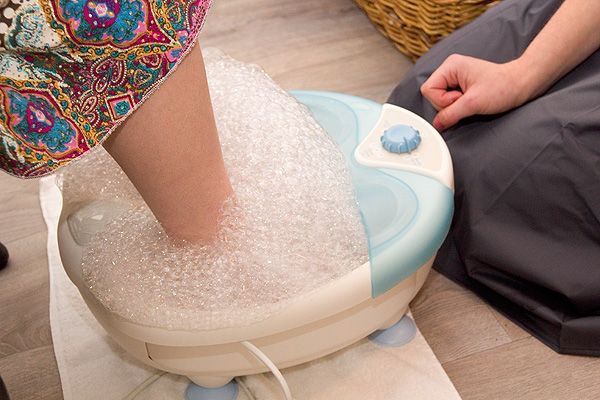 After the spa we had our feet moisturised and our toenails painted: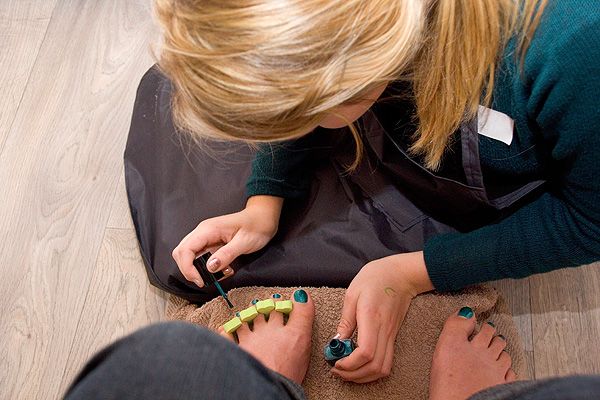 Guess which one is R ...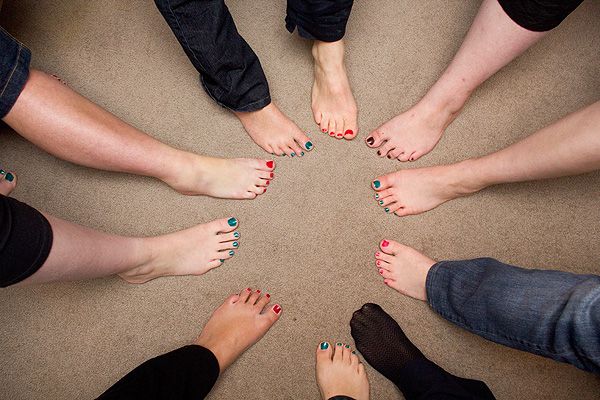 As each lady got finished she left the spa room and another entered, until everyone had had a turn. While we had our pedicures R came in periodically with snacks and treats, and those who were awaiting their turn or who had had their turn got to eat, chat and play with the Avon products and place orders if they wished. It wasn't a sales party at all but it was nice to be able to ask Mata, the Avon rep and R's neighbour, questions about products.
At the end of the evening we gathered together in one room ...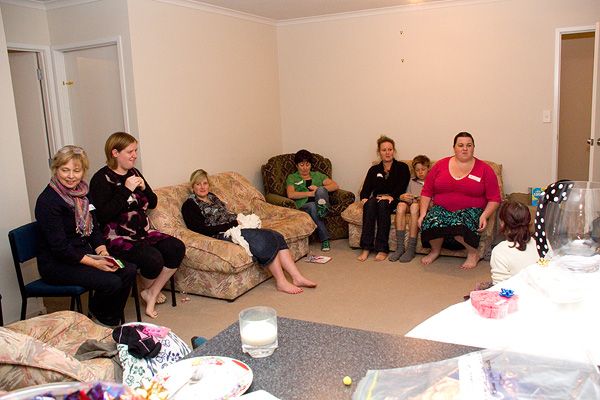 ... and R had a little prize draw. Here are some of the prizes we had - (a foot spa was also added):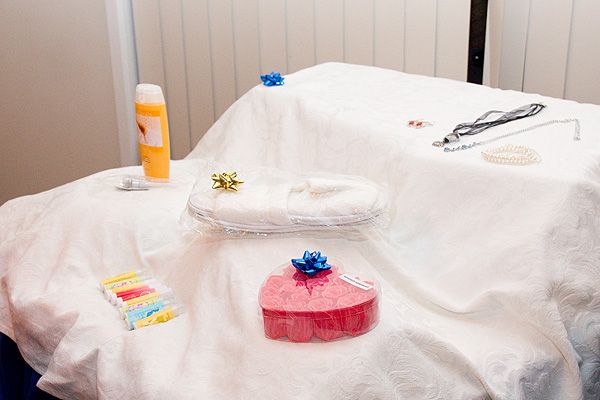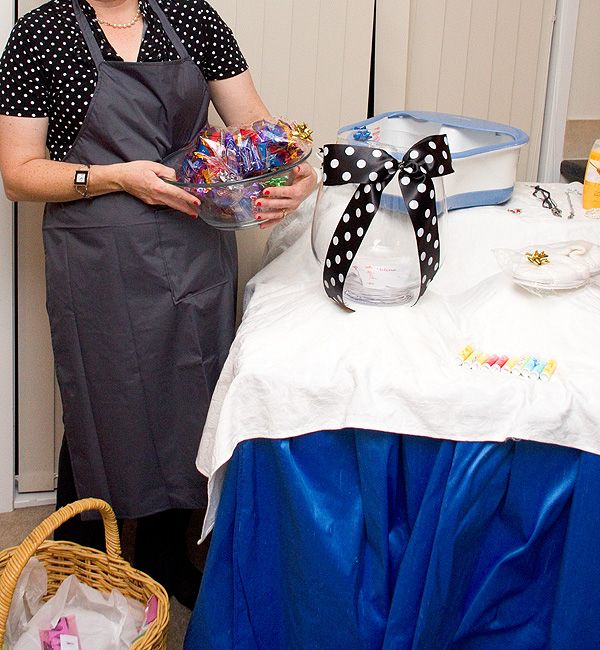 One by one she drew names out of the vase ...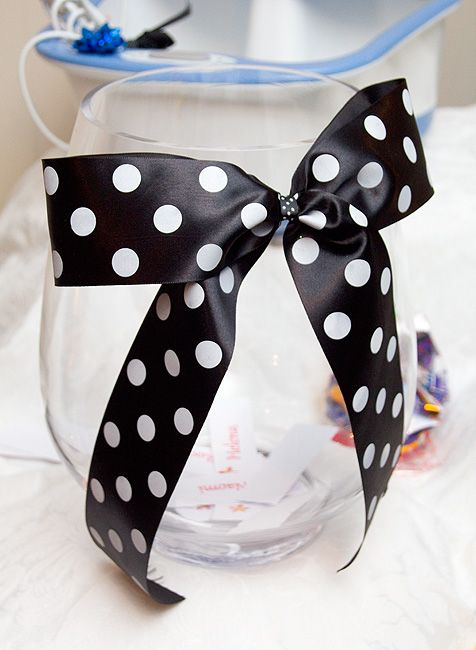 .. and when your name was picked you got to go and choose a prize. There was a foot spa, some jewellery her mom had made, hotel slippers, lip balms, chocolate, rose soaps, shower gel and eyeliner. My name was chosen near the end and I chose a marshmallow flavoured lip balm.
Our party favours were little pedicure kits:
All in all it was a wonderful evening and I'm so grateful to everyone who made it special! R put a lot of thought and effort into it and it really showed.