I say "my" ensuite because for some reason Grant prefers to use the bigger bathroom so the ensuite is only used by me. It is a tiny room, only 178cm by 195cm (5'10" x 6'4") and it holds a shower, toilet and basin which sits atop a wall-hung cabinet.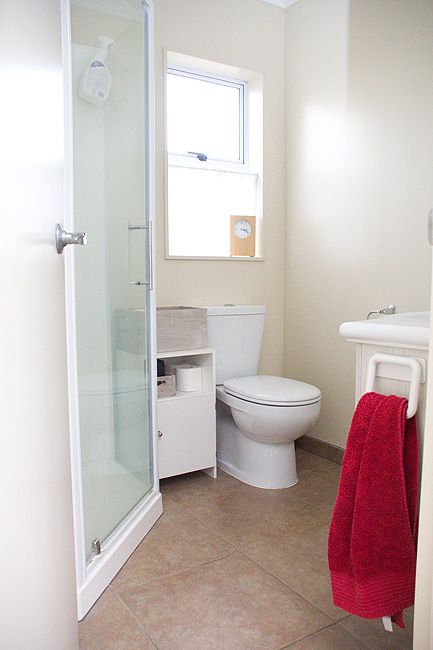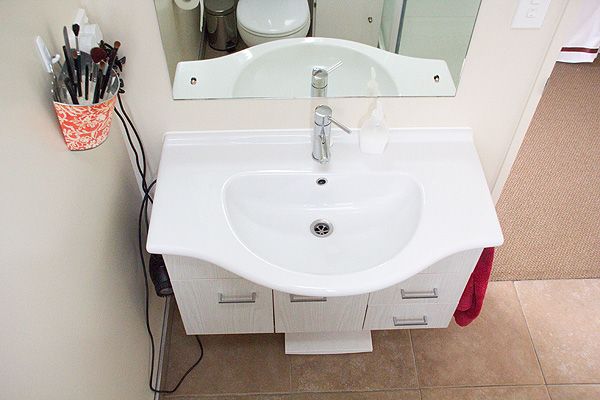 I've also added a little white cabinet (which used to be in the kitchen of our last house in England,
with the bread machine on it
). It fits perfectly between the loo and the shower. I also have a little stainless steel bin (trashcan) and toilet brush in the corner, and a clock on the windowsill.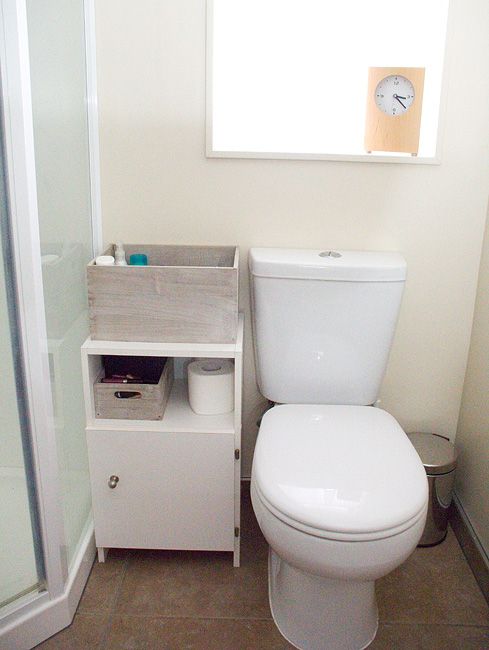 Here's how I've organised the cabinet.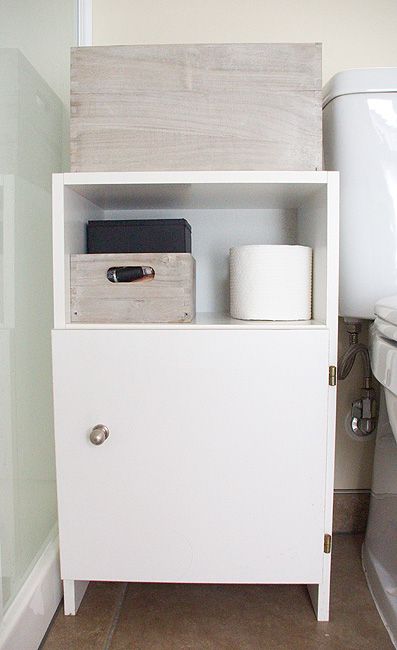 The grey-washed crate on top holds my everyday essentials: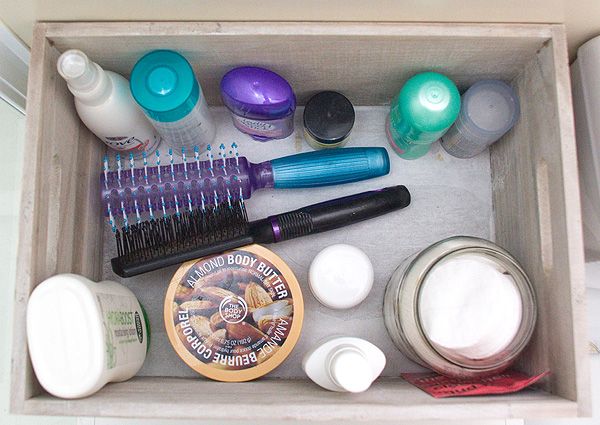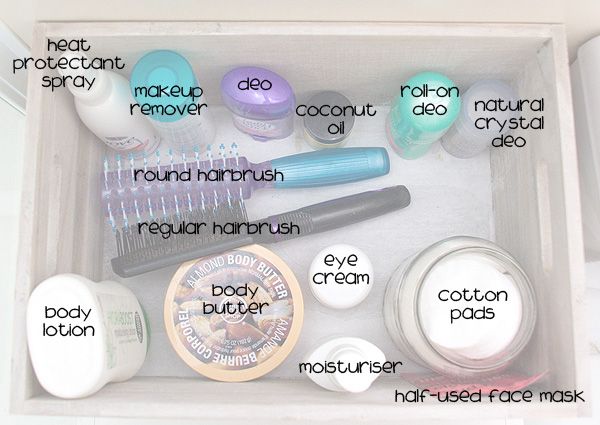 The shelf holds a matching smaller crate and two spare toilet rolls.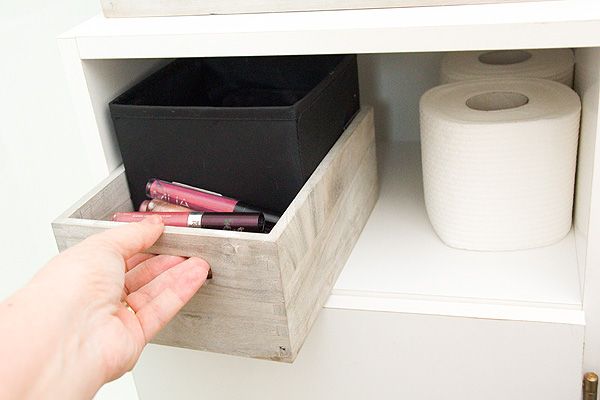 The small crate holds my lip products and some essential oils in a pouch. The small black square compartment is a drawer storage thingie from Ikea: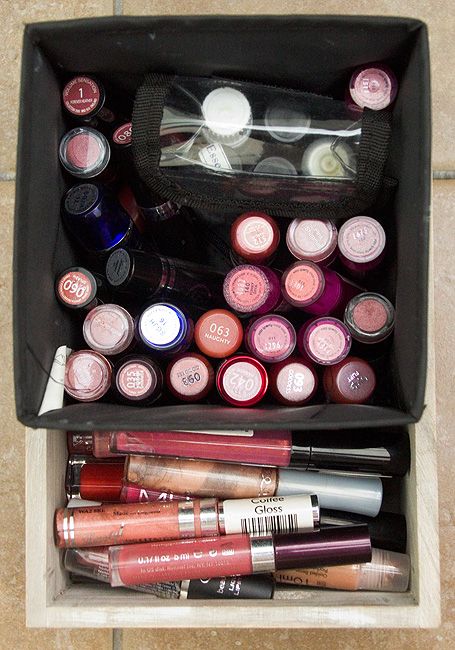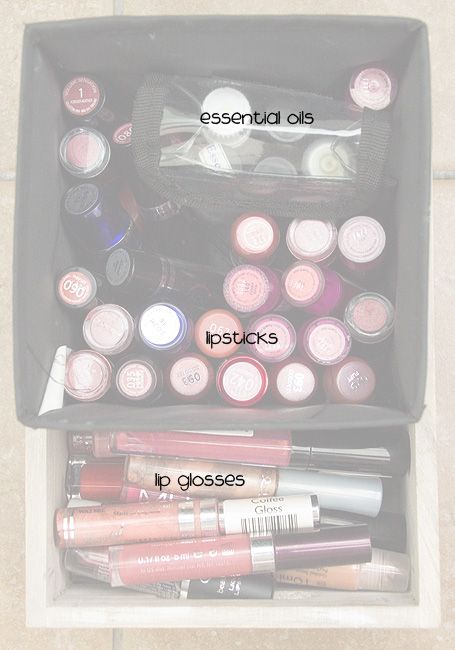 This is the inside of the cabinet. I don't have much in it. The shelf riser is from the dollar store.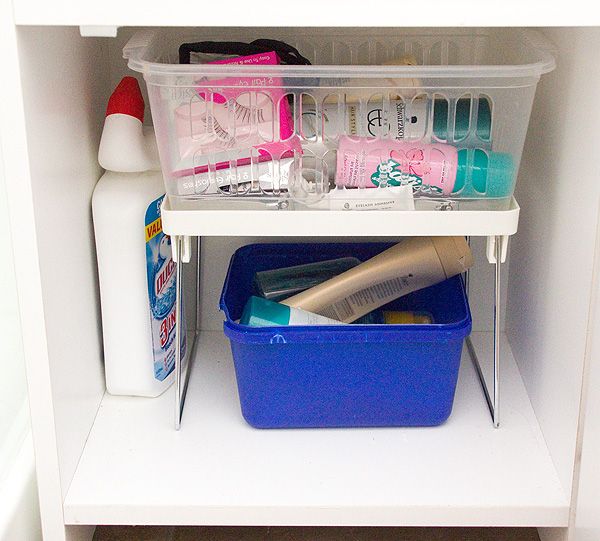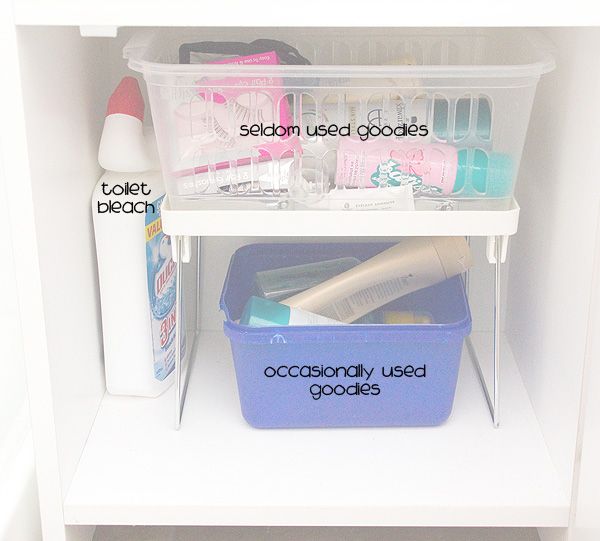 The top basket holds things that I hardly ever use, like hair clips, hairspray, spare nail clippers, dry shampoo and fake eyelashes.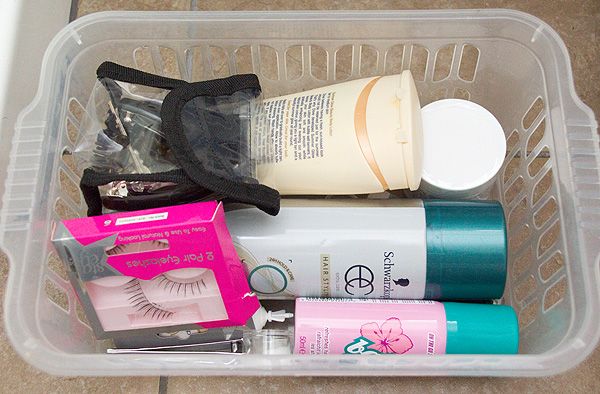 The ice cream container at the bottom contains things I use sometimes but not daily, like sunscreen, tanning lotion, cream cleanser and hair gel.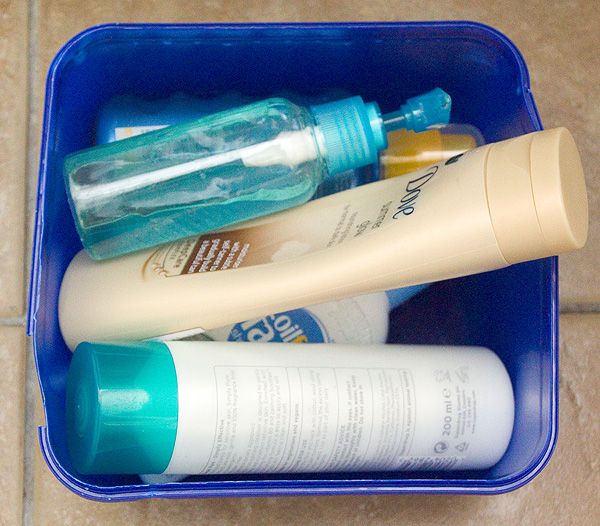 Okay, moving around to behind the door. There is a heated towel rail, where I obviously store my towel. On the back of the door there is a hook and I keep my hair band and shower cap there (I wash my hair every 3 days).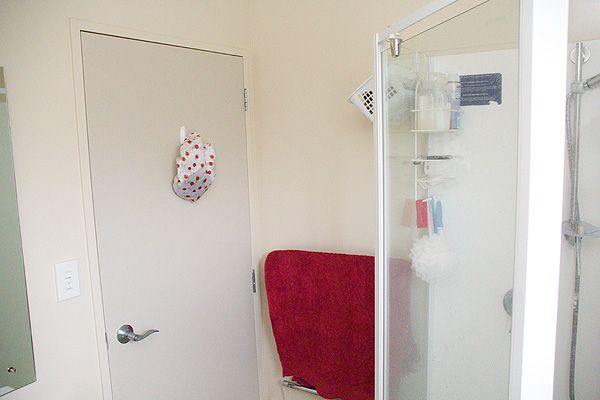 Ooh la la, how do you like my dollar store shower cap?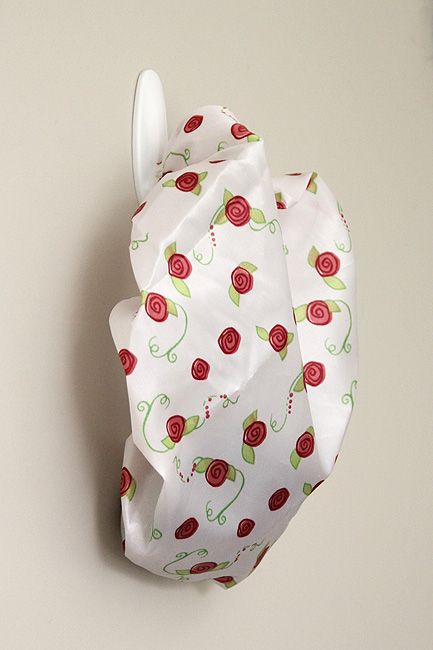 On the side of the shower I have used a dollar store hook ...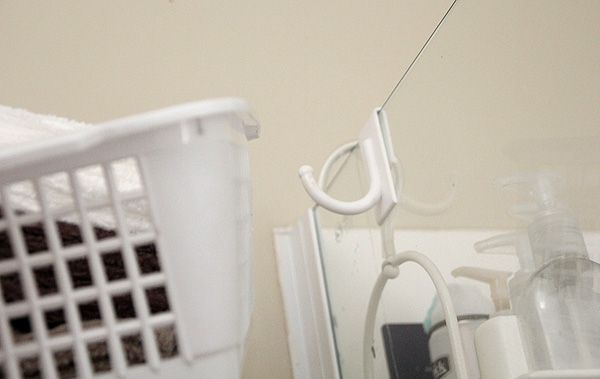 ... to hang a plastic basket full of face cloths. They are out of the way but accessible from the shower.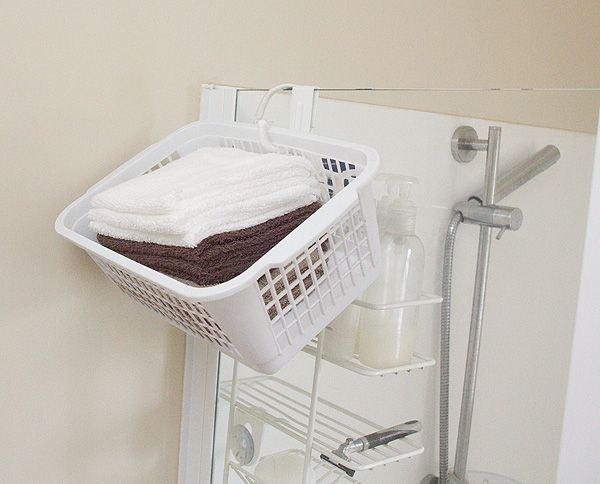 Inside my shower hangs a shower caddy from Ikea. *sob* I miss Ikea. Organisation is pretty much as in my
shower organisation post
. My beloved Neutrogena face scrub is usually in the shower but I left it in the bathroom by mistake after my bath last night and I had to use regular face wash in the shower this morning, which was tragic.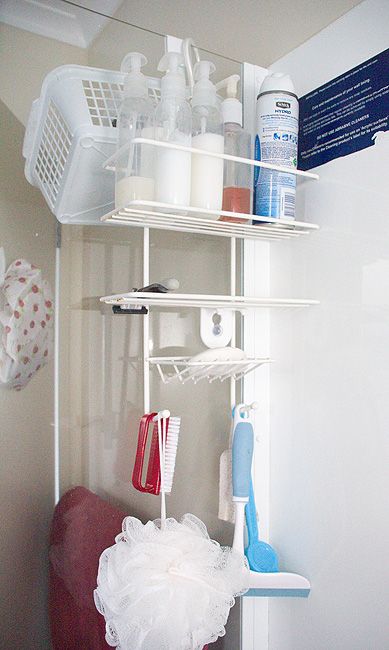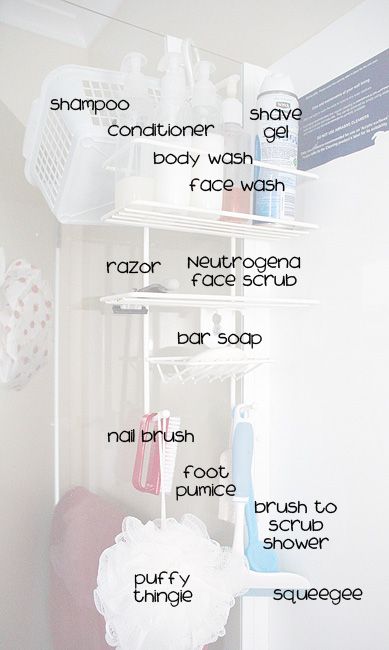 The shower cleaning spray hangs on the other side of the shower - you can just about see it here.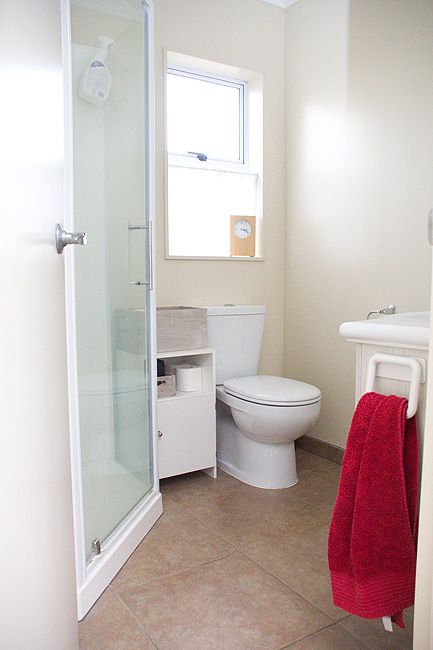 Okay, swinging back around to the basin you can see that I like to keep the basin completely clear of items except for the hand soap. This makes giving it a quick wipe much easier.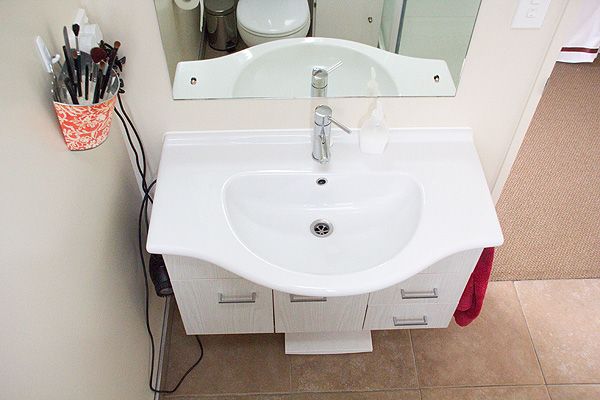 You can see how I store my two big hair clips on my hair straightener cord. I repurposed this little tin wall planter which used to hang in the hallways of our houses in England holding cellphones and keys, which you can see
here
and
here
. I covered it with some fun red floral paper (which looks more orange here, but in real life matches my red towels). Filled with rice it makes the perfect makeup brush holder. It also holds a nail file and along the back there are tweezers. It's hung from a clean-release hook so no damage to the walls.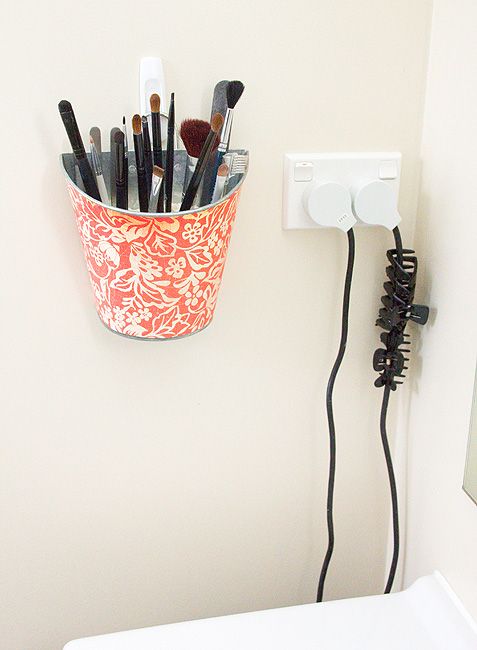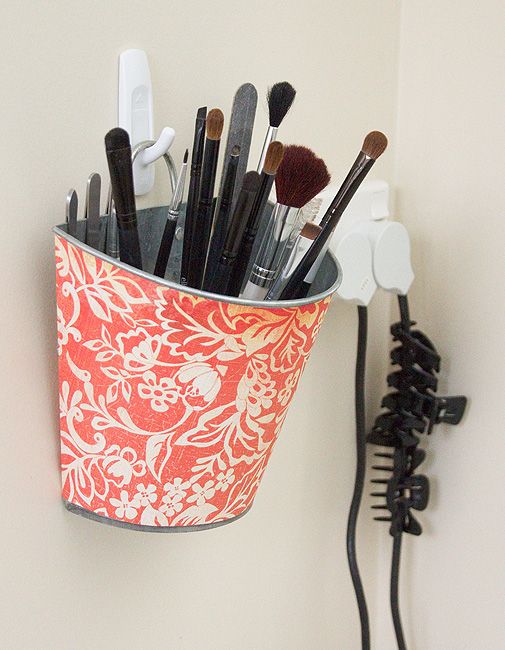 This was really hard to photograph but I hope you can see how I've hung my hair straightener and hairdryer on the side of the cabinet with hooks. The hairdryer's cord is wrapped around it, but the straightener's cord just trails on the floor. It doesn't bother me too much.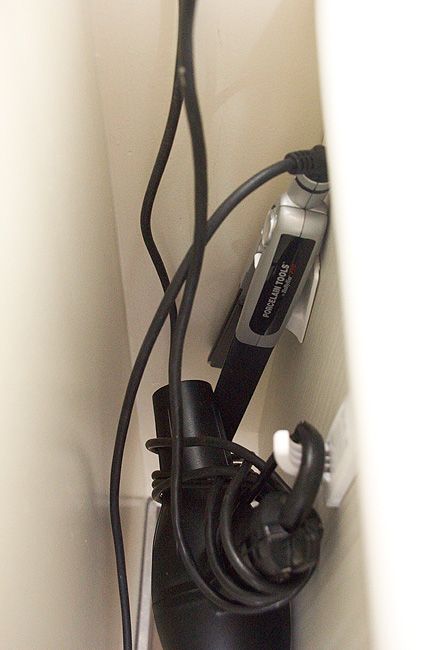 I appreciate the lack of legs on the wall-hung cabinet. It makes the room look a bit bigger and makes cleaning the floor easy. I store my digital scale under the cabinet. We are not friends this week. (But it's my own fault as I have been naughty.)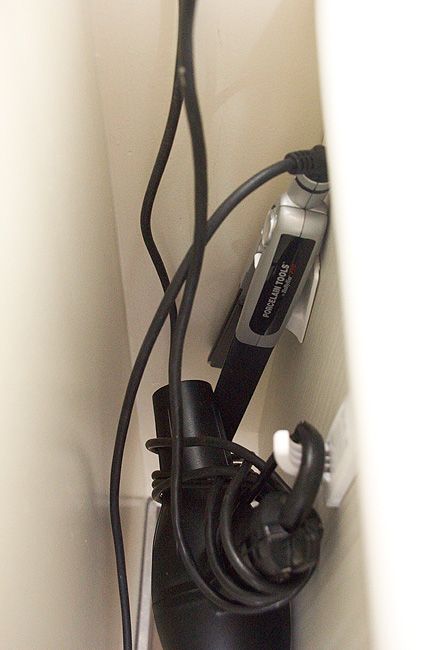 The top drawer holds my toothpaste and toothbrush and a basket containing my most used makeup essentials - mascara, eyelash curler, eyeliners, foundation, concealer, eye primer, etc.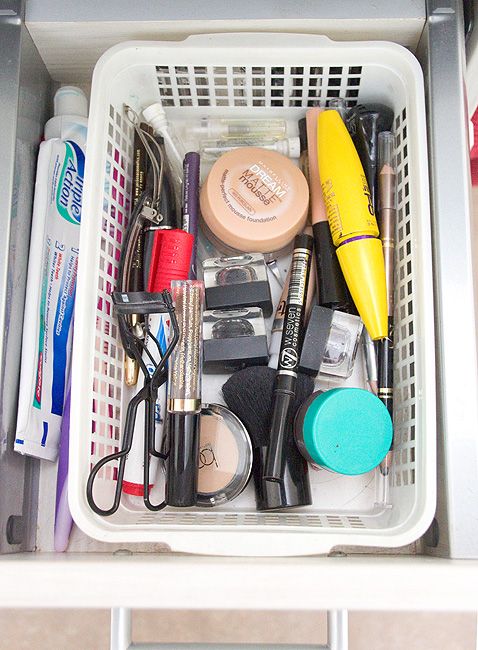 The bottom drawer holds a plastic jar of cotton buds, comb and hair scissors (I trim my own fringe / bangs), floss, pantiliners and the little green container holds my
DivaCup
which I love. I haven't bought tampons or sanitary towels since about 2008.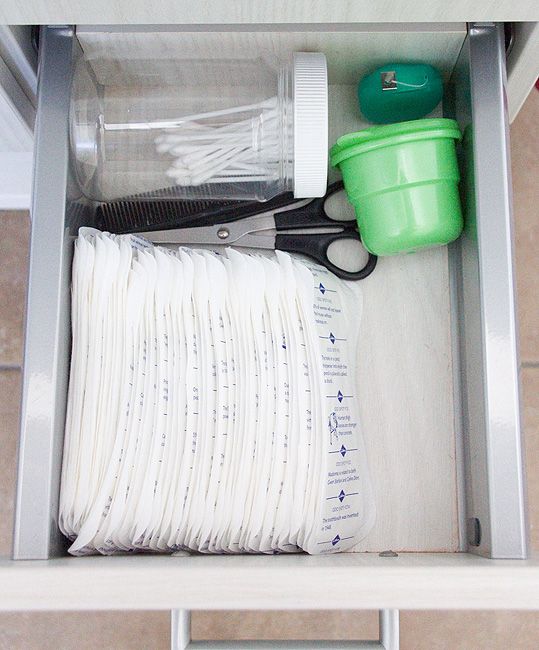 Okay, into the cabinet. I found these awesome stacking containers at a clearance store called Payless.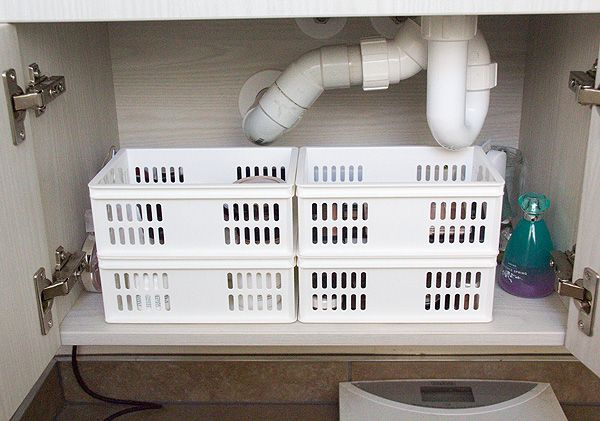 The front is stacked two high, but the back is single container height because of the pipes. Here you can see the front top containers have been removed.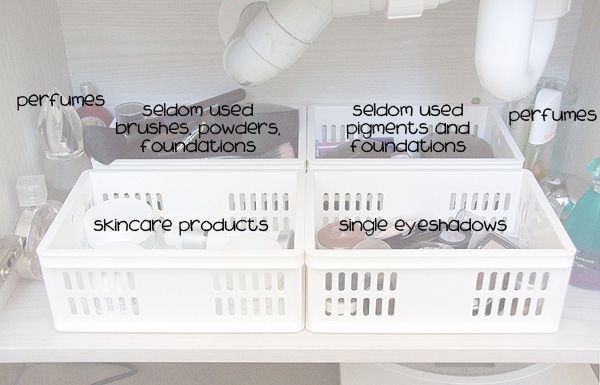 The top front baskets hold my blushes and eyelas quads, duos and min palettes.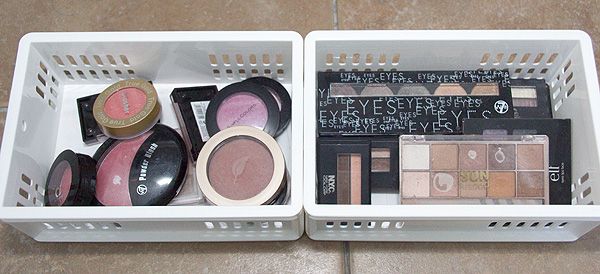 They are easy to pop onto the basin when I'm getting ready.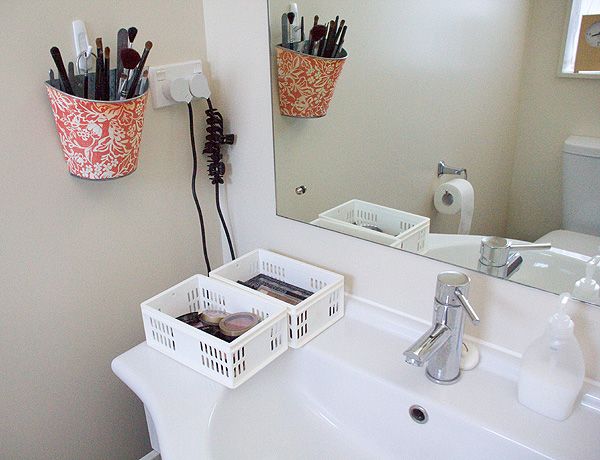 So, that's how I organise my ensuite! I hope it was helpful and / or interesting. Let me know if you have any questions, or requests for any other organising posts.