Yay, I'm glad you guys liked the "what I ate" post I did earlier in the week. Showing you what I eat in a day keeps me on track; here's what I ate on Tuesday. I didn't photograph my glasses of water with the meals - just know that I drink water throughout the day - and I tried a different way of photographing the food but although I think it looks nicer it doesn't show portion size very well so I've since switched to birds-eye-view-of-the-plate style.

Breakfast - between 8:30 and 9:00 - 5 ProPoints / Points+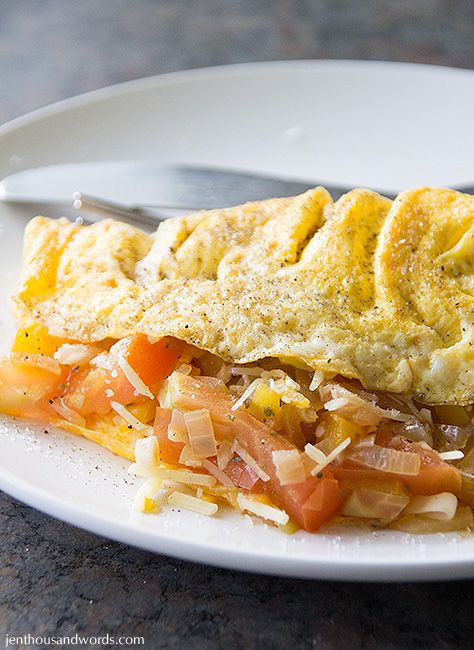 I stir-fried some finely-chopped onion and yellow pepper, adding garlic and half a diced tomato towards the end. I put it into a 2-egg omelet with some Parmesan cheese and sprinkled it with salt and pepper.
Lunch - around 12:00 - 5 ProPoints / Points+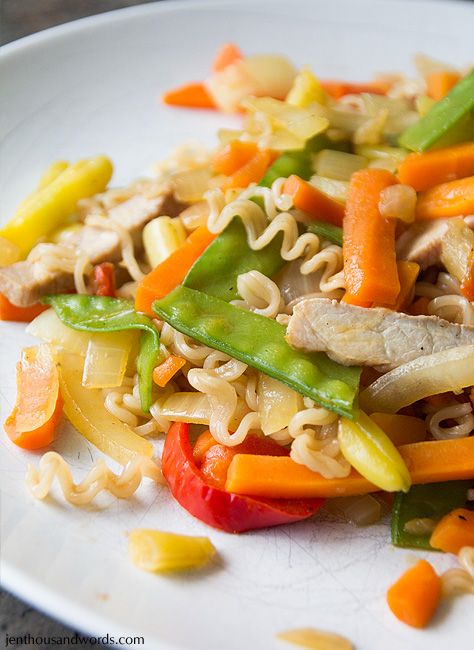 I buy bags of frozen stir-fry veges to have on hand for lunches (and the occasional dinner). I usually add in things like onion and cabbage - this time I just added onion. I also mixed in half a pack of low-fat instant noodles and some leftover pork loin chop (from dinner the night before) and sprinkled soy sauce over it all before devouring. I like stir-fry because you can eat a huge plate of food and it's zero points unless you add in goodies like the noodles and meat - but you can easily control how many extra points you add.
Afternoon snack - between 3:00 and 3:30
- 4 ProPoints / Points+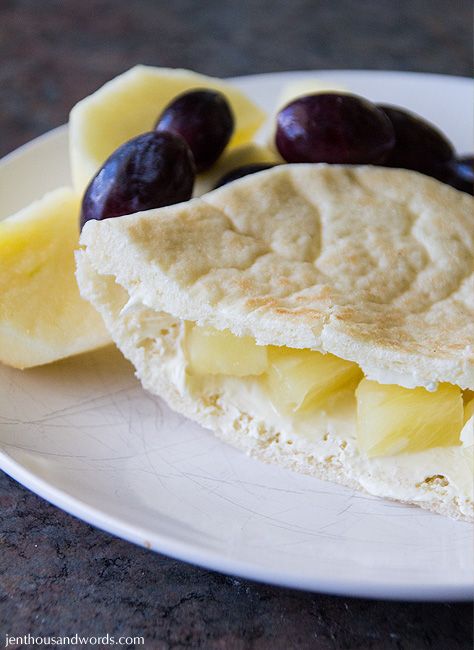 I had half a pita bread stuffed with some low-fat soft cheese and pineapple, with grapes and a peeled and sliced apple.
Dinner - between 5:30 and 6:00 - 10 ProPoints / Points+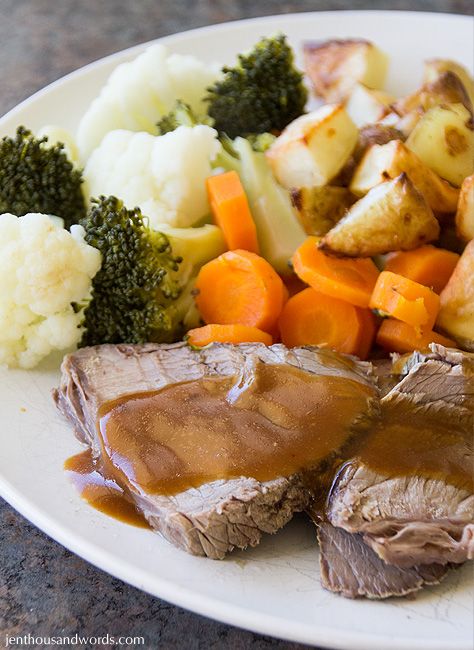 Roast beef (done in the crockpot) with gravy, steamed broccoli, cauliflower and carrots, and roasted potatoes. I wash and dice the potatoes, toss them in about half a tablespoon of olive oil and some coarse salt, lay them out on a baking sheet and bake until crispy and my family
loves
them. Because I use so little oil over the entire batch I just count the potatoes (but then, I never eat my weekly points).
Evening snack - usually around 9:00 or so - 5 ProPoints / Points+
I had chocolate cereal with skim milk, and a banana.
Total ProPoints / Points+ for the day: 28
Servings of fruit / veg: 8