My friend Karen and her family arrive from the UK today and I'm so excited! They are here for two weeks and I'm sure we'll jam a lot into that time.
One of the ways that my guests decide what to do and where to go is with the activities file I've put together. It's just a ring binder with plastic page protectors in it, which makes it easy to add to, and it has details of places we have been.
Each page has the name of the place, a Google Maps image showing the route from here to there so that guests can see where it lies in relation to our home, a few details about the place, and four photographs that I've taken there.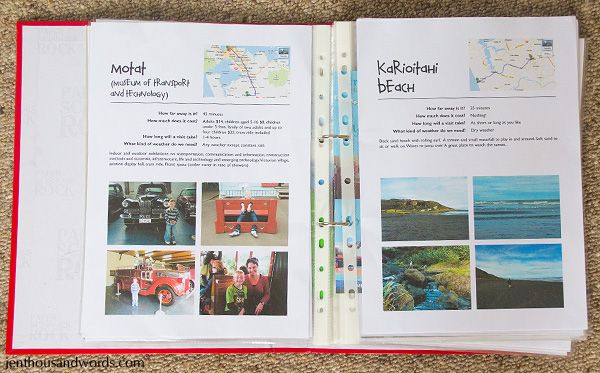 If I have a brochure from the place I include that too, like this one from Hamilton Gardens:
Here is a screenshot of the top of one of the pages (I make them up in QuarkXpress) so you can see what kind of details I include:
At the very back of the binder I have a few sheets where I jot notes about visits that we've had: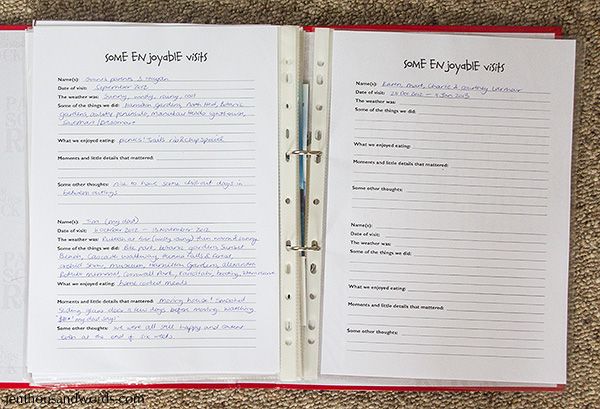 The details I record are:
Name(s) of our visitors, date of their visit, what the weather was like, some of the things we did, what we enjoyed eating (there always seems to be one stand-out food for each visit, for example during Leith's visit it was pies!), moments and little details that mattered, and other notes.
I also file any thank-you cards that we receive from our guests.
This activities file is handy for guests but is also useful for ourselves - if we are planning on going somewhere as a family but can't decide where to go we can just flip through the file and perhaps get some ideas. (We also have a list of places to go that we haven't visited yet and as we visit them I add them to the file.)
Do you have any sort of guest book? What does yours include?