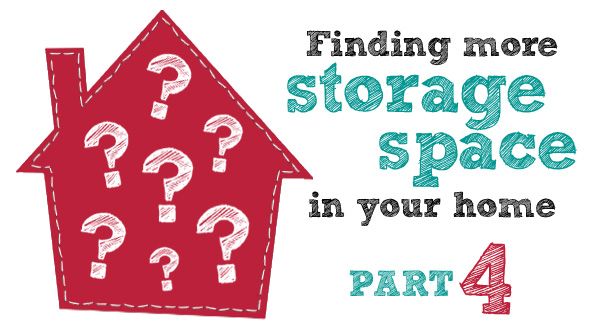 In today's post we'll look at vertical storage in a different way so you can begin to find more and more storage spots in your home as you think about your vertical surfaces differently.
Walls are filled with things like windows, doors, bookcases, fireplaces and furniture but there is still usually some wall space left and you can utilise it for storage. Shelves are the obvious storage solution for walls but there are plenty of other creative solutions.

Hooks can be added anywhere – either single hooks all on their own, individual hooks placed in a row, or pre-made rows of coat hooks or Shaker style pegs.
You can also buy a huge assortment of hooks which have a special adhesive tab at the back that can be released without marking your walls, making them perfect for those who are renting. They come in sizes from teeny tiny to large and rugged, can hold a myriad of weights, and finishes range from transparent plastic to brushed nickel.
Here's an example of using hooks creatively. Big coat hooks become storage for saucepans, pans and lids, freeing up precious cabinet space.
Source
Using hooks to organise coats is pretty obvious but don't forget to maximise your space there too by raising the top row of hooks as high as you can reach and installing a bottom row for kids' coats or handbags.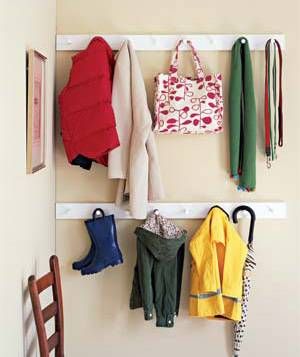 Source
Here the top row of hooks holds the smaller items like hats and the bottom row is for coats
: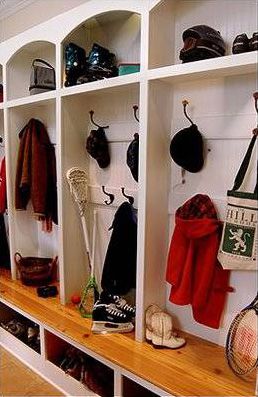 Source
This person has maximised storage space by installing hooks on the wall for coats and then adding a little wooden box above each hook, for hats, sunglasses etc. A photo on each box indicates whose box and hook is whose: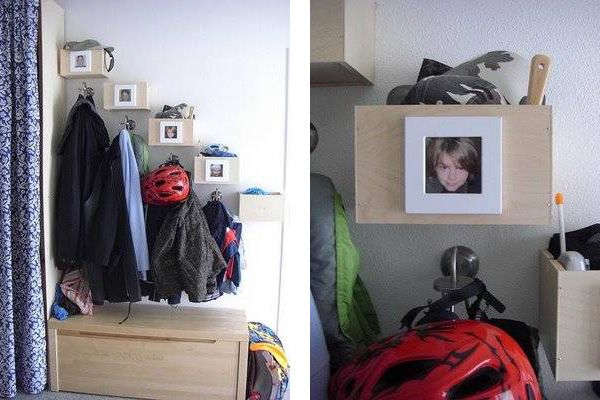 Source
Ironing boards can be hung on purpose made hooks which screw into the wall. Some hold just the ironing board:
Source
Some hold your iron as well:
Source
Some hold ironing products too, like spray starch or lavender water: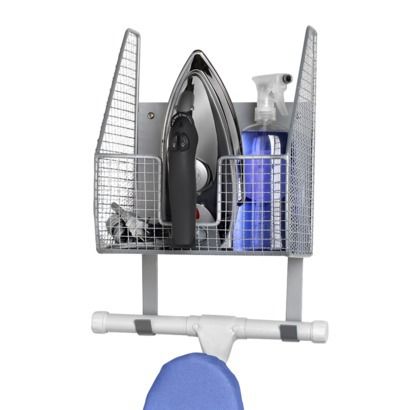 Source
They are also available in a version that hangs on the back of your door.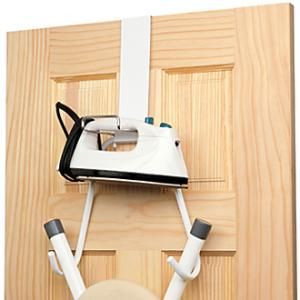 Source
Or simply use some hooks or Shaker pegs and make your own.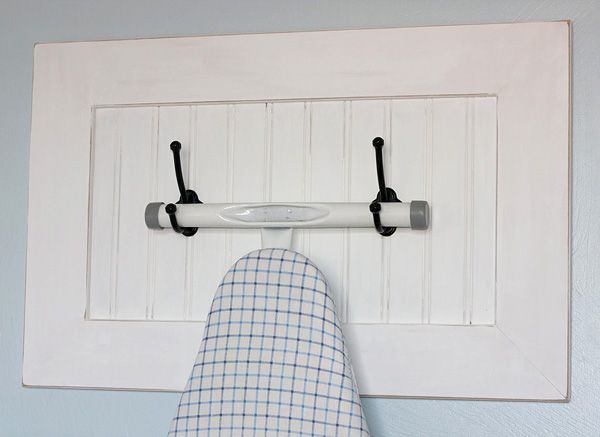 Source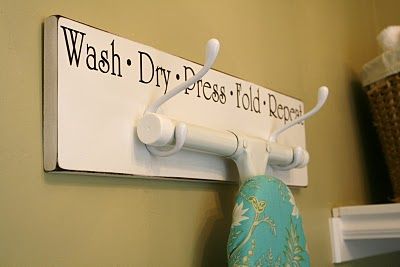 Source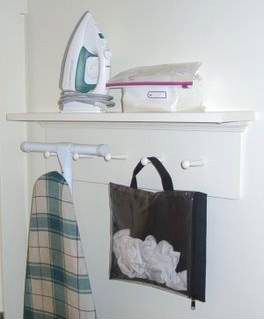 Source unknown
Don't forget to think about where you're storing it, as covered earlier when we were talking about storing things logically. Could you install an ironing board hanger on the side of your wardrobe in your bedroom?
Speaking of making your own racks of hooks, why not get creative with your hooks. This row of hooks is made from old doorknobs.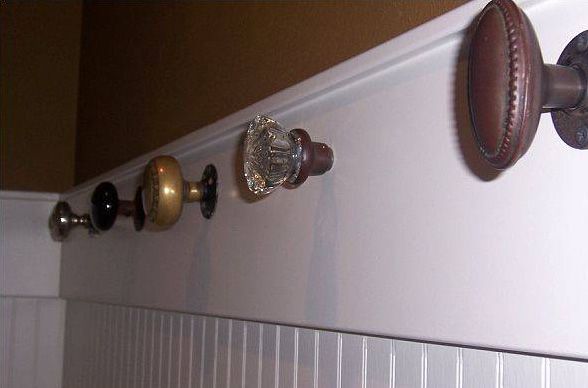 Source unknown
Or how about some old silver spoons:
Source
Or even vintage wooden hangers:
Source
These are old valve handles spray-painted funky colours: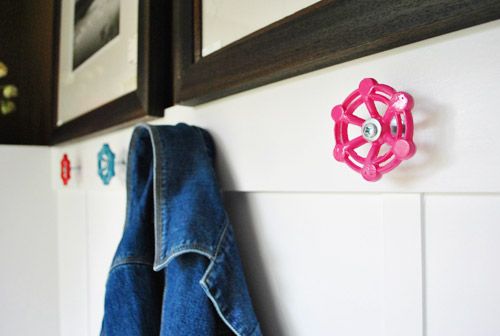 Source
Pretty much anything that sticks out can act as a hook!
If you don't want to drill holes in your wall, why not add a couple of small picture hooks and hang a cooling rack (available at Ikea) from the hooks. Now all you need are some S-shaped butcher hooks to hang just about anything on the rack.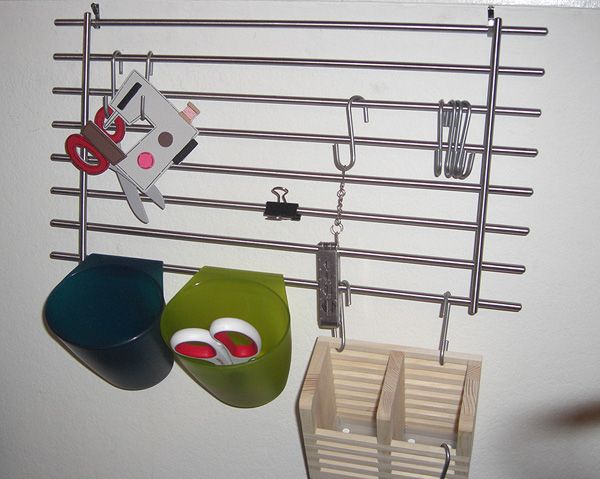 Source unknown
Here I used a 99p coat hook rack, which took about 2 minutes to screw into the side of my wardrobe, for belt storage
.
I used tiny little hooks on the sides of the cabinet in my ensuite (in our last home in England) to hang my necklaces, freeing up drawer space and keeping the necklaces from getting tangled.
I currently have my makeup brushes stored in a planter (half-filled with rice) hung from the wall on a removable hook: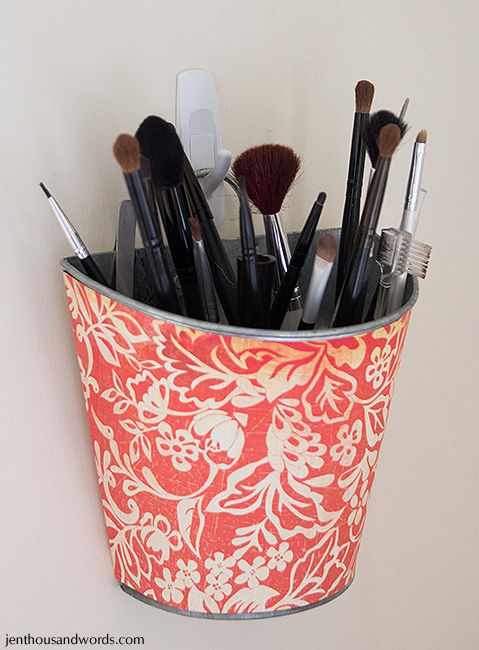 Removable hooks hold a plastic basket above the bath, which contains the kids' bath toys (yes, they still play for ages in the bath together!)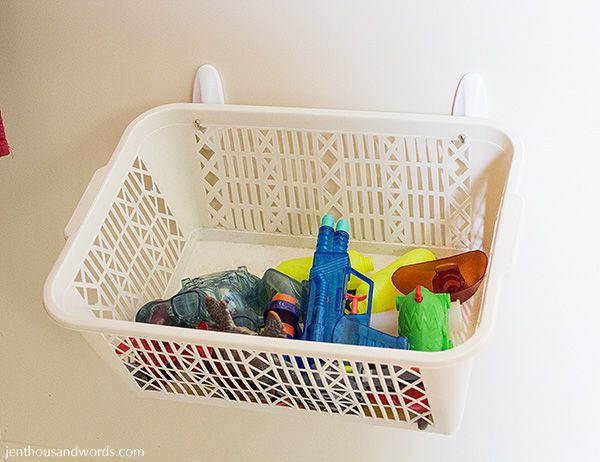 We installed a double row of hooks in our UK house vestibule - one row for Grant and I and a lower one that the boys could reach:
A removable hook above the bath taps holds a toiletry holder: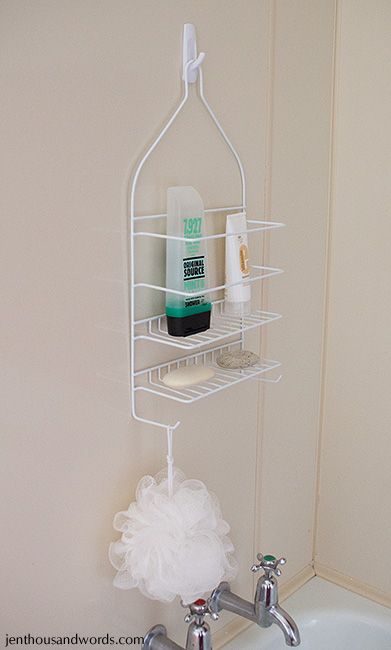 These hooks on the side of the airing cupboard hold my hair styling tools: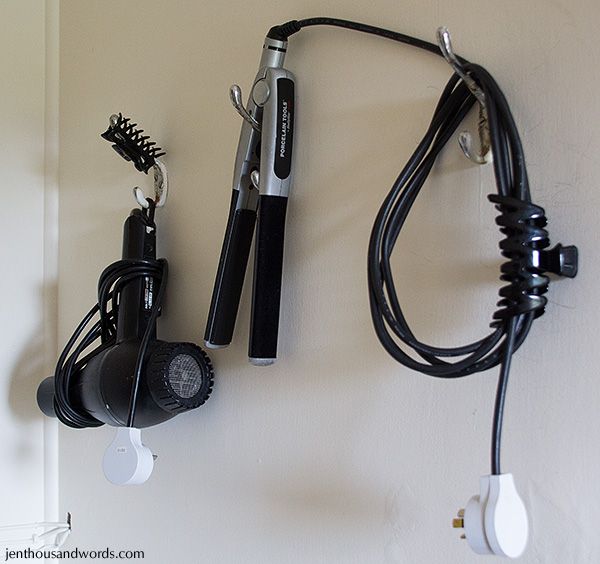 Part 1 - Logic for your life
Part 2 - Categorising your space
Part 3 - Go vertical
Part 4 - Hooks
Part 5 - Pegboard and towel rails
Part 6 - Doors
Part 7 - Magnets, ends and bottoms
Part 8 - Tension rods and nooks
Part 9 - Maximising cabinet space
Part 10 - Think outside the (storage) box