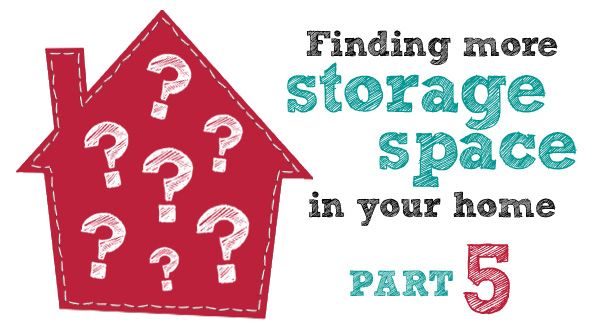 Today we'll continue to look at ways of finding storage space on vertical planes - walls and doors.
Pegboard is a very versatile version of wall storage. It can be customised and changed to your heart's content.
When you think of pegboard you might picture this (this is how it's sold):
Source
And of course you can buy a variety of purpose-made pegboard fittings: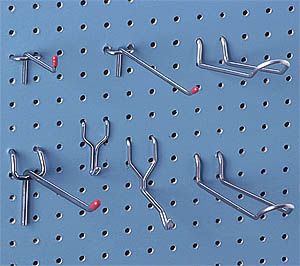 Source
The resulting storage would look like this:
Source
While neat and tidy, it's hardly cute and inspiring, is it? Fine for the garage but not really attractive in the home. Luckily pegboard is easily customised, making it suitable for any room in the house.
Why not paint it with chalkboard paint and use it in the kitchen? Note the chalk outlines of each item - if one is missing you'll know which one and where it goes.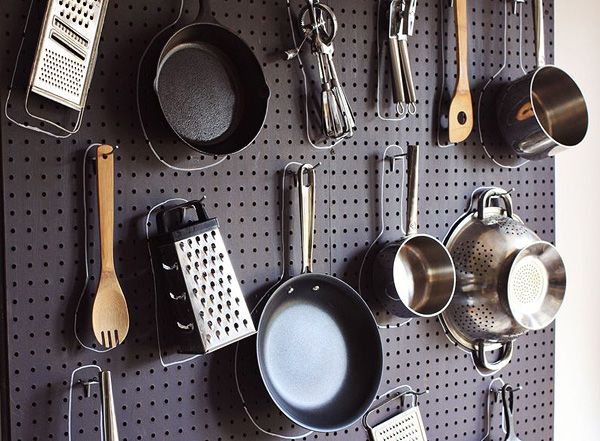 Source
Or how about painting it white and adding a frame. Perfect for a craft room.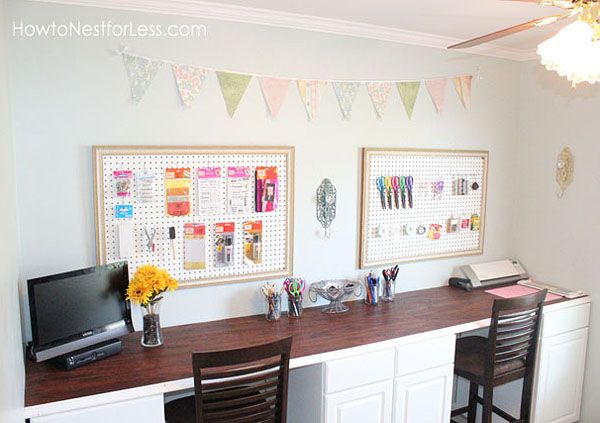 Source
If you click on the source of the picture below you will find a tutorial on how to frame out your pegboard.
Source
But why stick with white? If colour is more your thing then feel free to go mad with the tester pots. Also note the empty plastic containers that have been attached with zip ties for pen storage.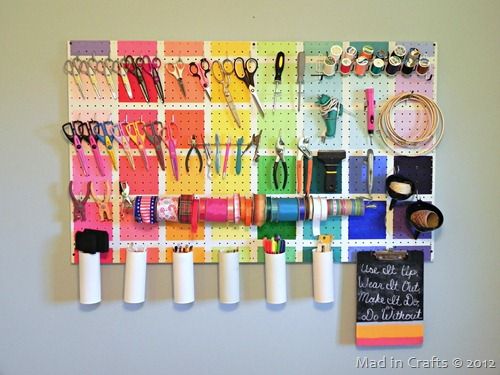 Source
If you don't want to shell out for the pegboard fittings (or use zip ties as mentioned above) then why not create a colourful and customisable display with coloured pencils and string:
Source
Pegboard can even be used in your closet. Painted the same colour as your wall it will virtually disappear but sitll offer lots of useful storage.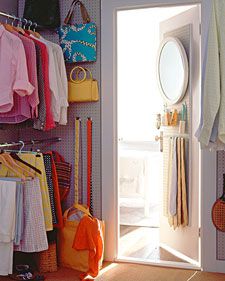 Source
How much more versatile is the pegboard in this utility room, rather than pieces of furniture to hold the tools?
Source
Have I sold you on pegboard? If not, don't worry, there are other ways of using your walls.
Towel racks are not just for towels. They can be used to hang things off and prop things up.
This crafter uses a towel rail and laundry hooks to keep crafty bits handy and visible: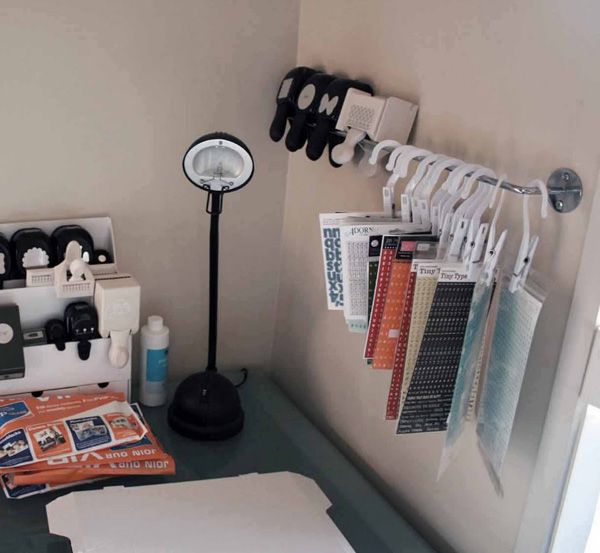 Source
Small towel rails are handy for storing pot lids: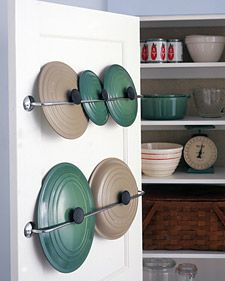 Source
Or why not use one at the sink or in the laundry room to hang spray bottles: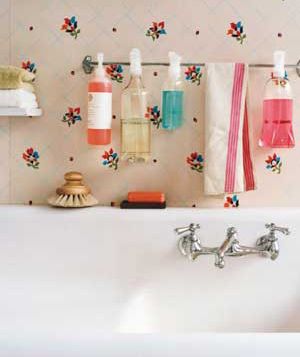 Source
Keep all of our baking utensils handy on a towel rail, creating an adorable display at the same time: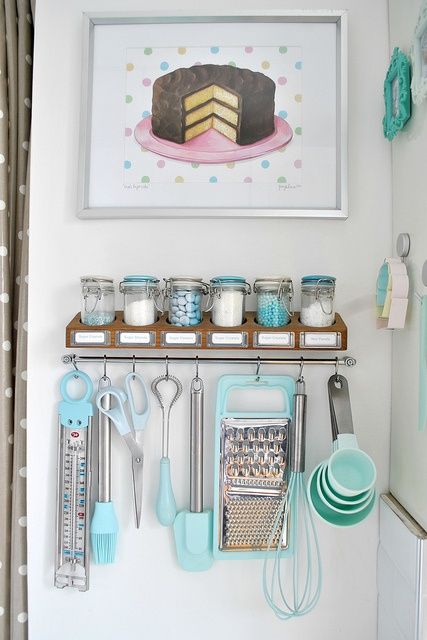 Source
A towel rail provides useful storage in a utility room or shed: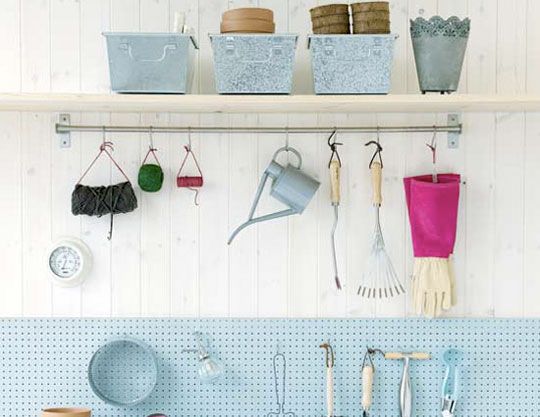 Source
Endless possibilities arise when you combine towel rails and S-hooks - in this case the combination creates jewellery storage: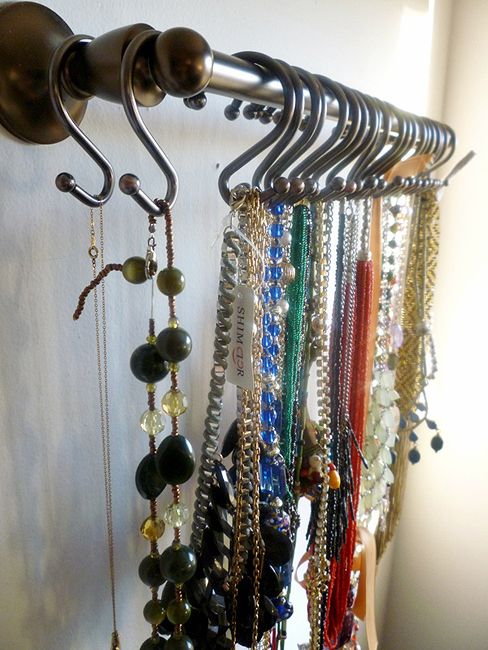 Source
Back to the craft room and some craft punch storage:
Source
These towel rails are narrow enough to fit unobtrusively behind a door but provide lots of handbag storage (again coupled with S-hooks):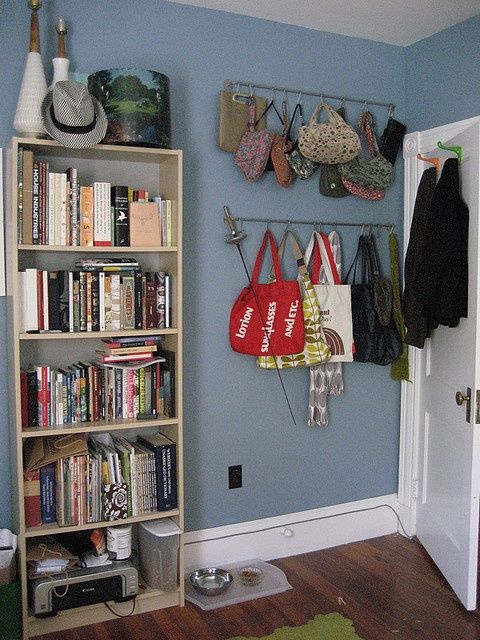 Source
A single towel rail is the perfect place to store a beautiful quilt: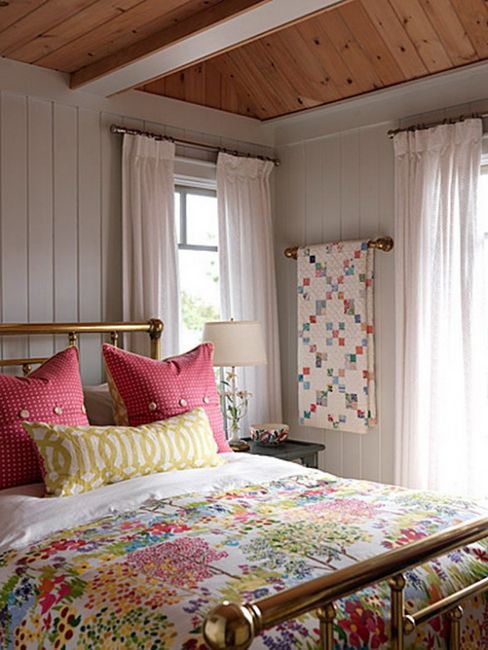 Source
Attach a towel rail underneath a wall cabinet in the laundry room for a drying rack: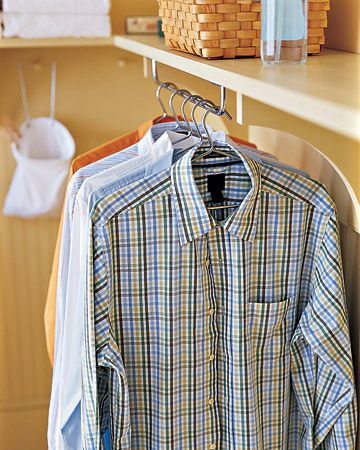 Source
Have a lot of headbands? Install a small towel bar: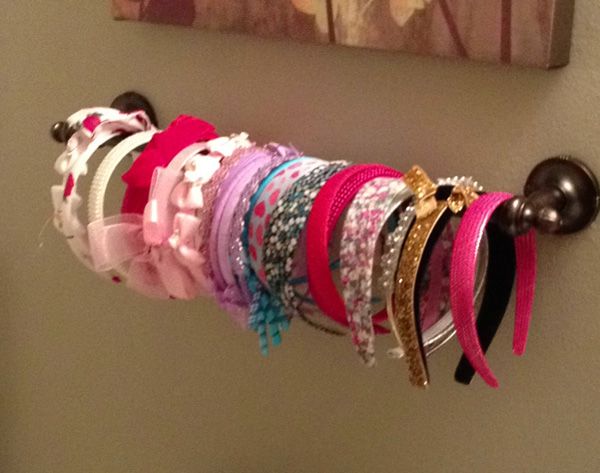 Source unknown
Get out those S-hooks and hang a bunch of baskets for heaps of storage: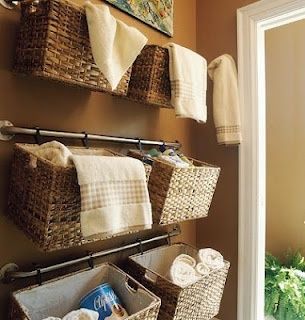 Source
Use a double towel rail and add some fabric for decorative book storage:
Source
Use a towel rail and S-hooks to keep your pots and pans handy: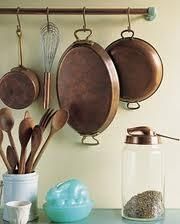 Source
If you don't have a towel rail, use a branch to create one beneath a shelf: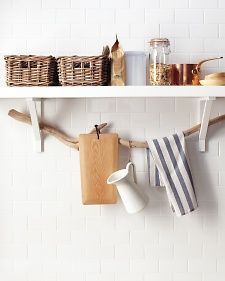 Source
We attached a towel rail from the ceiling to hang a shower curtain: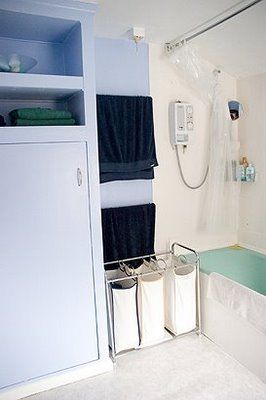 A small towel rail hot-glued to the side of a bedside cabinet provides a place to store a book: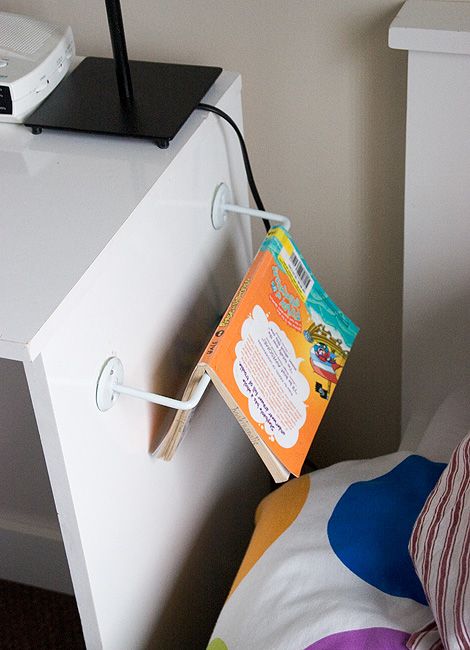 Part 1 - Logic for your life
Part 2 - Categorising your space
Part 3 - Go vertical
Part 4 - Hooks
Part 5 - Pegboard and towel rails
Part 6 - Doors
Part 7 - Magnets, ends and bottoms
Part 8 - Tension rods and nooks
Part 9 - Maximising cabinet space
Part 10 - Think outside the (storage) box
In Melbourne, for hydronic heating experts,
Click here!