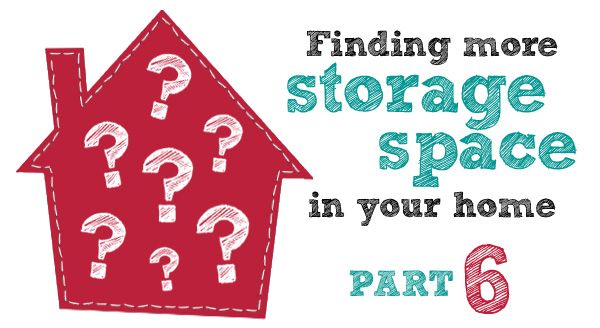 Ready for more vertical storage?

Think of how many doors you have in your home – I'm talking external doors, internal doors, cabinet doors, wardrobe doors, and cupboard doors. Doors provide more vertical space for storage. All you need are some hooks, rails or specialist hanging organisers which can be bought for very little outlay.
Look no further than your hardware store for clamps that can be screwed onto a cupboard door and hold often-used tools: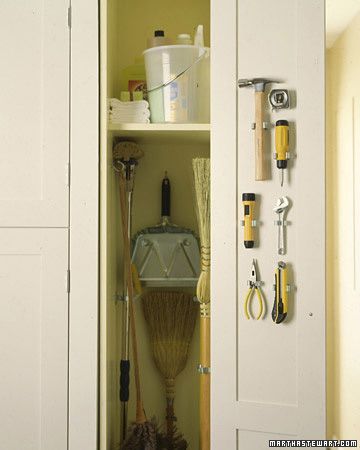 Source
While you are at the hardware store, why not pick up some pipe brackets: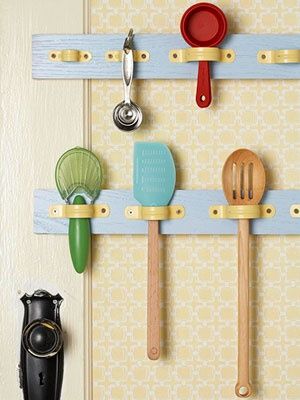 Source
You can buy various shelves and hooks that hang from doors - large ones and small ones.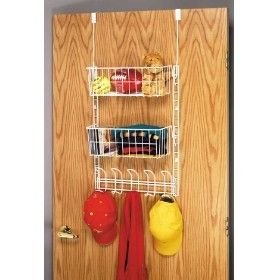 Source
Door-hung shoe organisers can be used for so much more than just shoes. The pockets provide a lot of storage. Here you can see one being used on the back of a laundry room door to store pre-wash treatments, scissors, lint rollers and other necessities:
Source
unknown
They are also perfect for the craft room - just think of all of the goodies you could store in one ... or even two!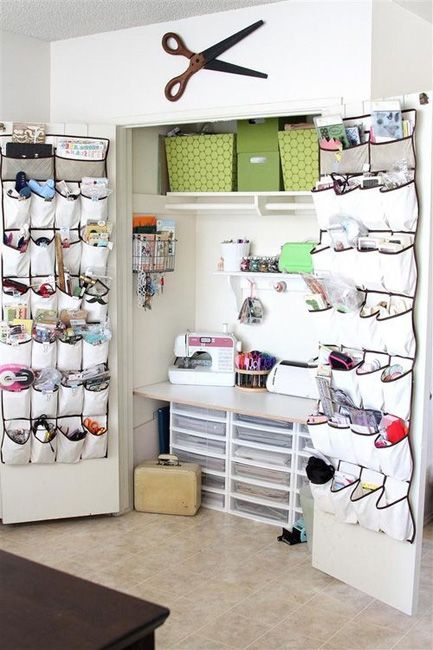 Source
They are also excellent for organising cords:
Source
They are extremely handy inside the pantry: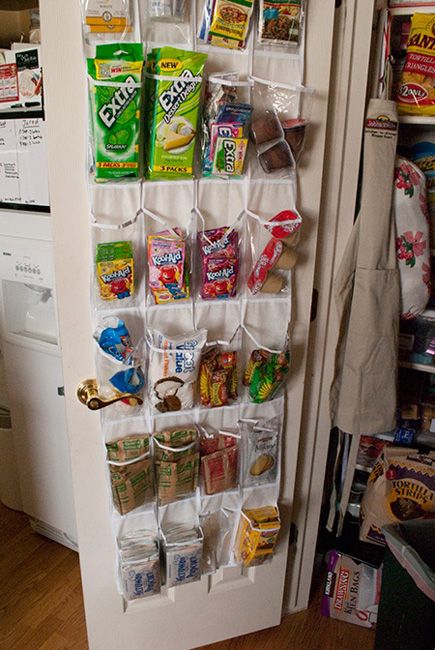 Source
How about storing all those water bottles?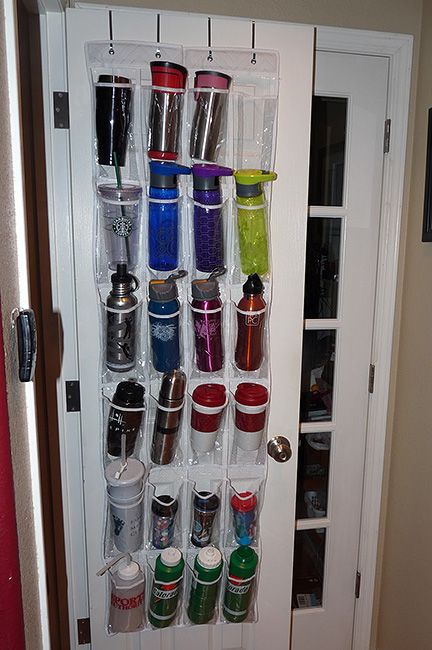 Source
Cut a shoe organiser shorter for use inside kitchen cabinets: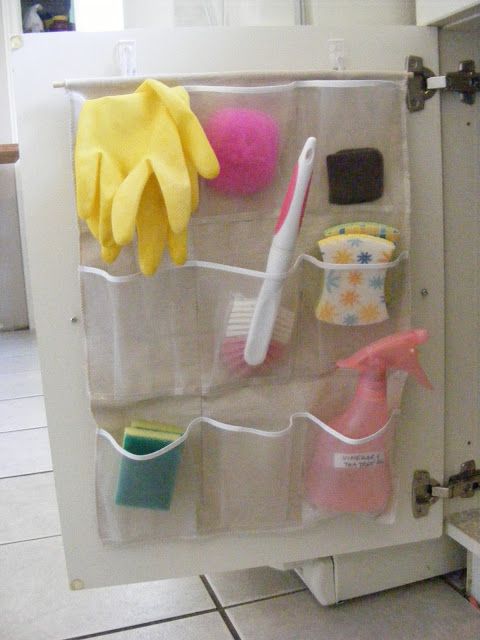 Source
You can even dress up your doors with fabric or patterned paper. Add a couple of hooks for more storage:
Source
If you are handy yourself, or have access to a good carpenter, why not turn your door into a bookcase:
Source
Source
unknown
Slightly less ambitious, simply add shelves to the inside of a cupboard or cabinet door:
Source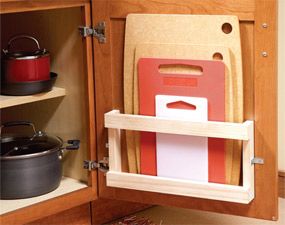 Source (tutorial)
Source
You could turn the inside of one of your kitchen cabinet doors into an organised command centre: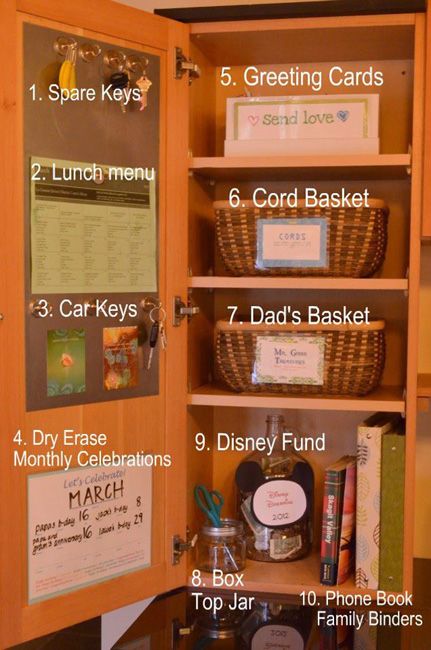 Source
And another kitchen cabinet door could be used to store your measuring cups and spoons:
Source
The outside of doors can hold hooks for extra storage: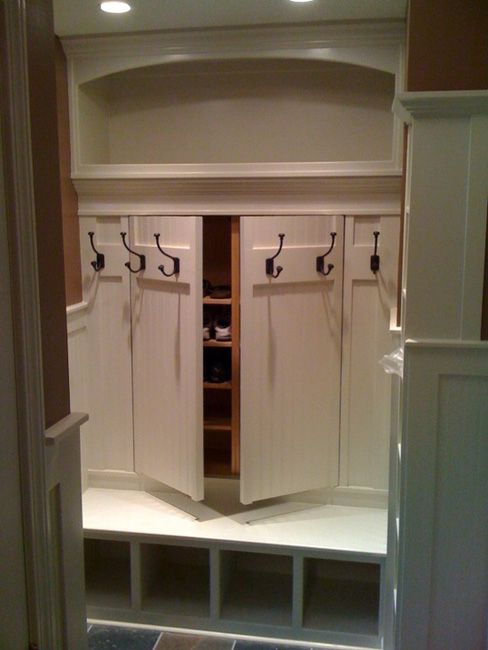 Source
Have a lot of gift wrap supplies? Why not create a gift wrap station inside a closet door?
Source
Get creative with your containers - this is a wooden magazine holder that's used to store hair styling tools inside a bathroom cabinet: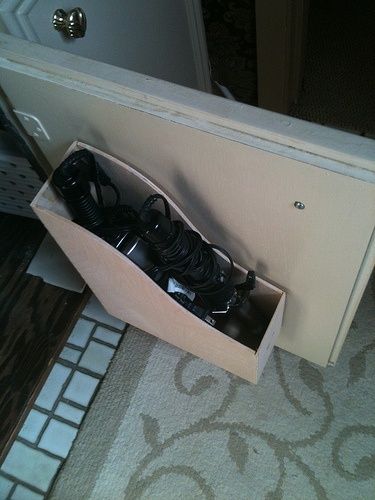 Source
Don't forget towel bars - here they are used inside a linen cupboard: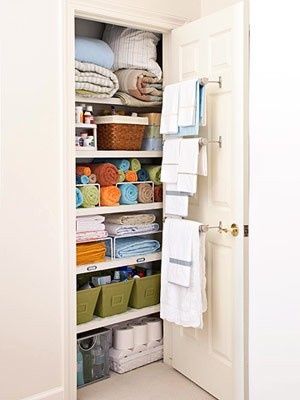 Source
Use corkboard or chalkboard paint to add functionality to doors: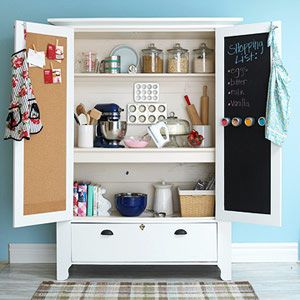 Source
Or simply add a couple of hooks: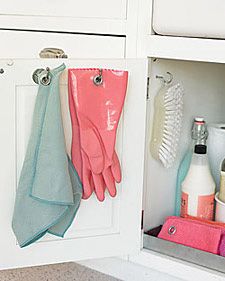 Source
A simple over-door hook rack provides storage in our guest room - our visitors have a place to hang wet towels and other goods: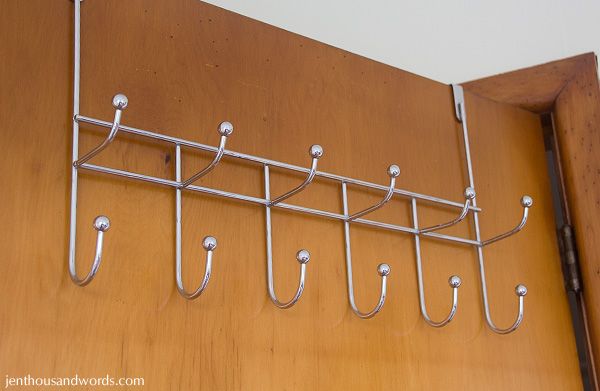 In our last home I stored my scarves on the same hooks behind my closet door: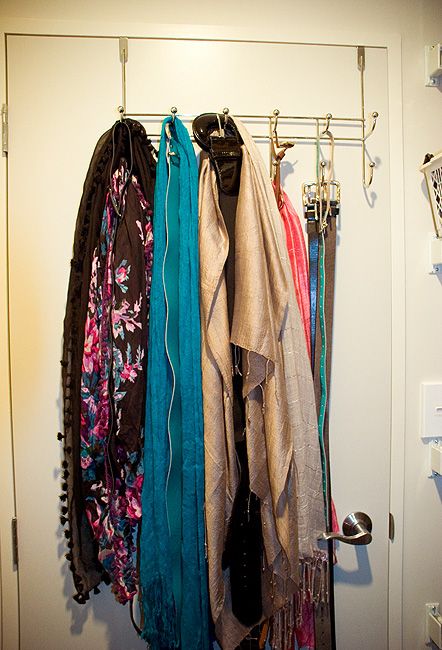 I used a shoe organiser inside our pantry to store odds and ends: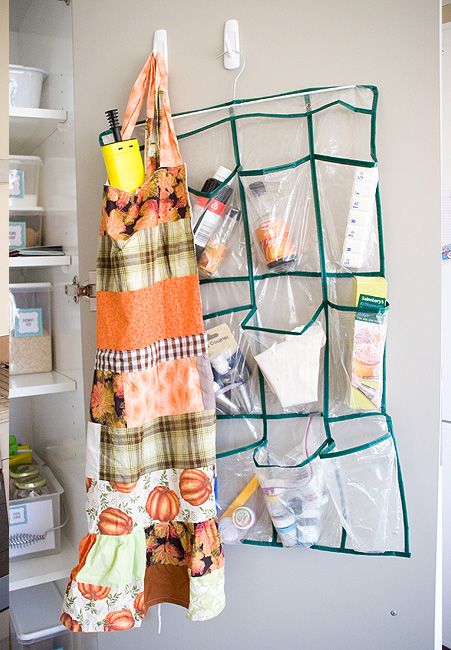 A single over-door hook provide

d a place to store my handbags in our last home: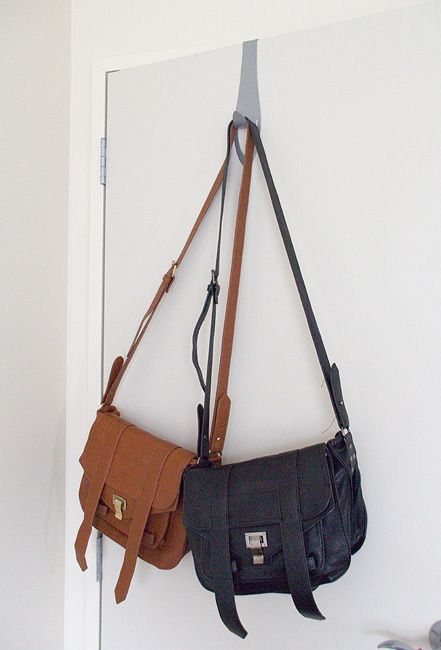 A fli

p-flop holder I made to go on the back of the garage door: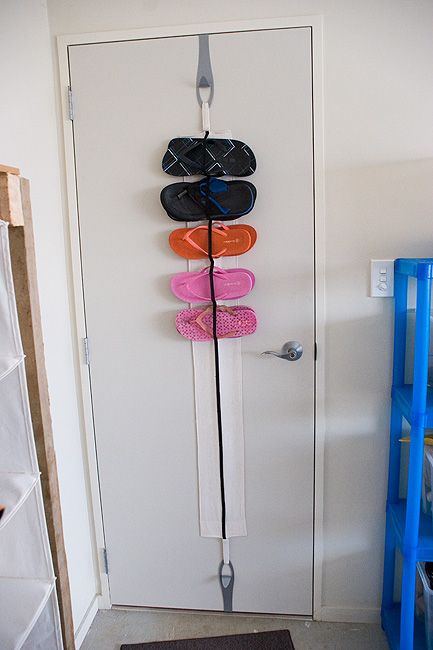 Corkboards and hooks in my craft cabinet (two houses ago):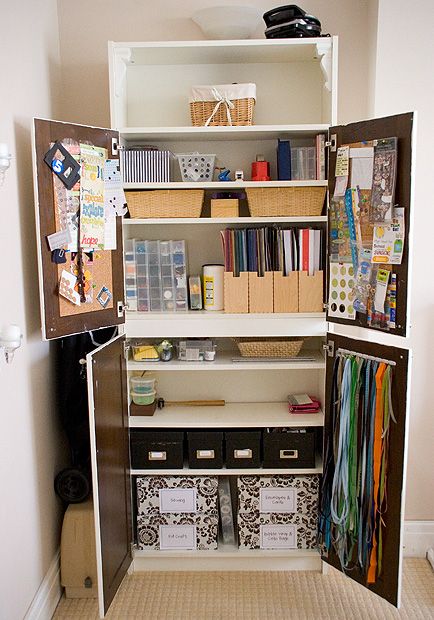 Hooks inside a cupboard hold sun hats: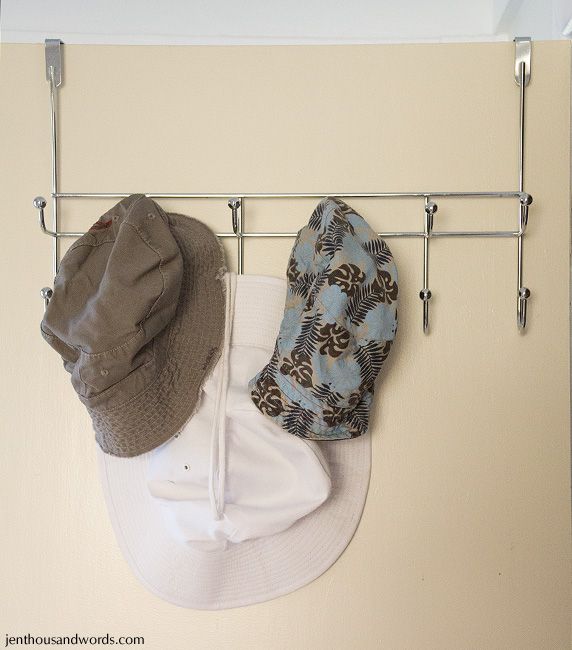 I have a couple of cork strips glued inside the cabinet next to my desk: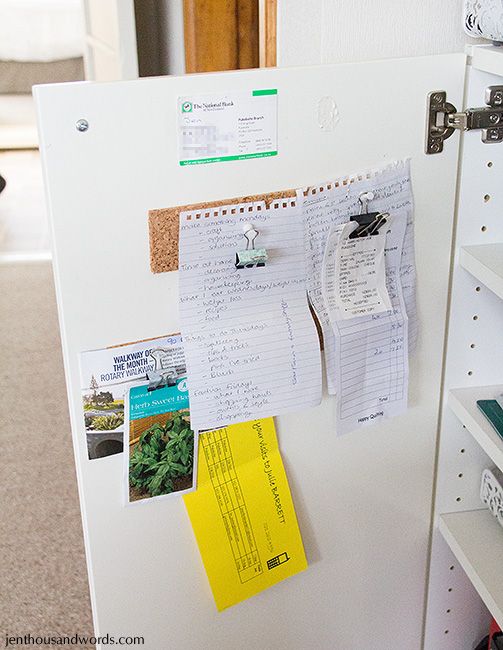 Part 1 - Logic for your life
Part 2 - Categorising your space
Part 3 - Go vertical
Part 4 - Hooks
Part 5 - Pegboard and towel rails
Part 6 - Doors
Part 7 - Magnets, ends and bottoms
Part 8 - Tension rods and nooks
Part 9 - Maximising cabinet space
Part 10 - Think outside the (storage) box