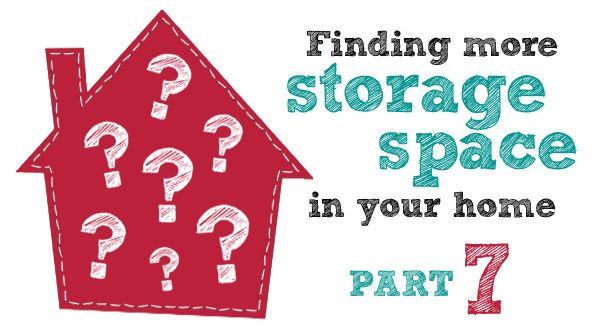 Today we're still looking at vertical storage space. How many ways are there to defy gravity? More than you would think! But in this post I'll cover the last two ideas, then next time we'll move onto something else.
Magnets are available as pre-made knife strips, small or large craft magnets, or self-adhesive magnet strips.
If you have a problem with cups cluttering up your counter space, why not hot-glue some craft magnets to plastic cups and they can be stored right there on the fridge.
Source
Self-adhesive magnet strip stuck on the side of a drawer interior is the perfect place to store bobby pins: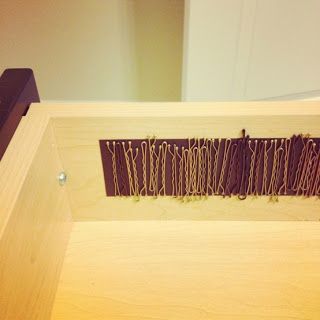 Source
While we're in the bathroom, add a magnet inside your medicine cabinet and you'll always be able to find your tweezers: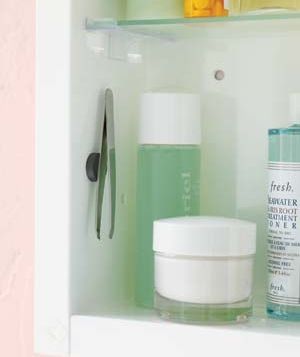 Source
A sheet of metal in a frame makes a display of makeup - just glue craft magnets underneath each little case: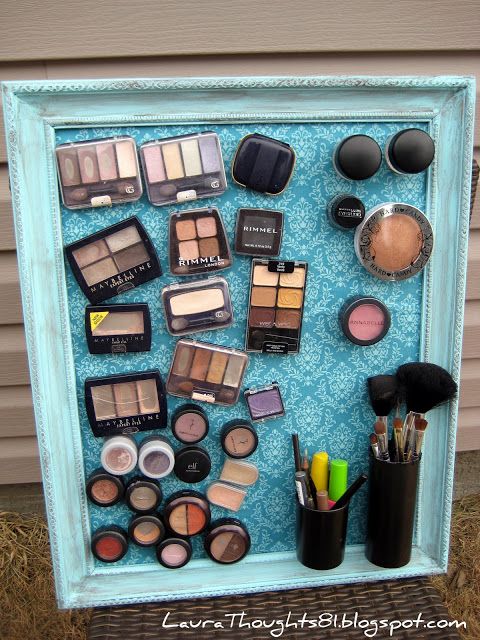 Source
Another bathroom idea - screw a small screw into the back of each toothbrush and they can be stored on a magnetic knife strip:
Source
If you use Stickles or equivalent glitter glues you will know that the little nozzles can clog up with dried glue. This won't happen if you store them upside down. Add a magnet to the bottom of each bottle and they will stick to a cookie sheet tied underneath a shelf: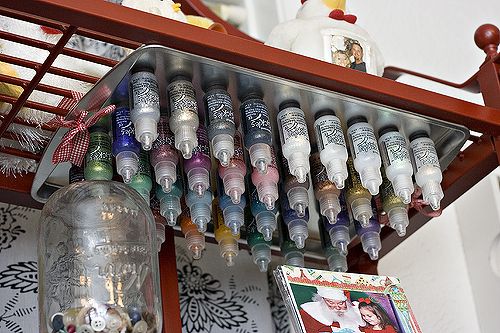 Source
Magnetic knife strips are handy for more than just knives - use them to store drill bits or other tools in the garage or shed: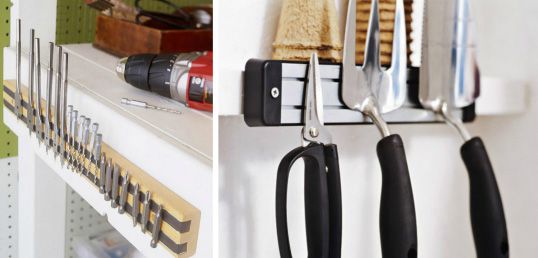 Source
If you have vintage toy cars that are all metal they will stick to a knife strip too: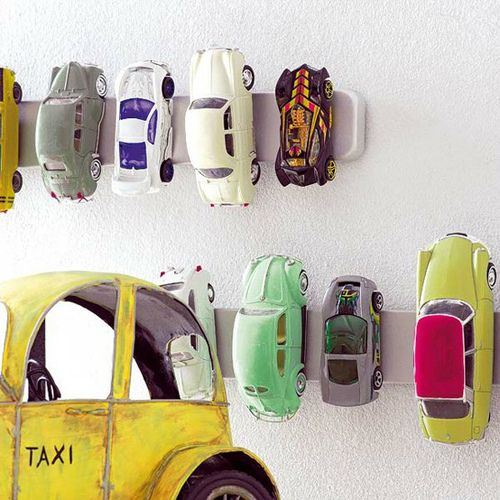 Source
Magentic knife strips + small metal storage tins = spice rack:
Source unknown
Or use them for, you know ... actual knives. This time the strip keeps knives from shifting around in a drawer: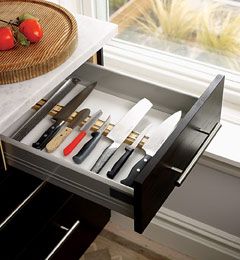 Source unknown
A magnet glued to the inside of a light switch plate provides a handy place to stash your keys - no hooks needed: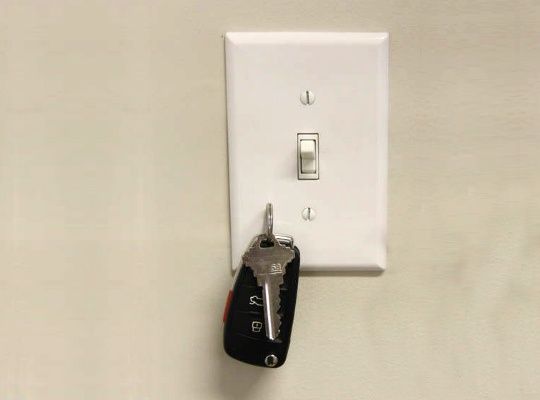 Source

Don't forget the sides or ends and bottoms of kitchen cabinets, and sides of wardrobes and cupboards. They usually offer a lovely blank area to hang magnetic racks, hooks, rails or any of the other storage solutions we've just covered.Use clean-release hooks if you don't want to drill holes into the furniture.
The end of a run of cabinets (or side of an island) is the perfect place to store a knife block, freeing up a drawer or some counter space: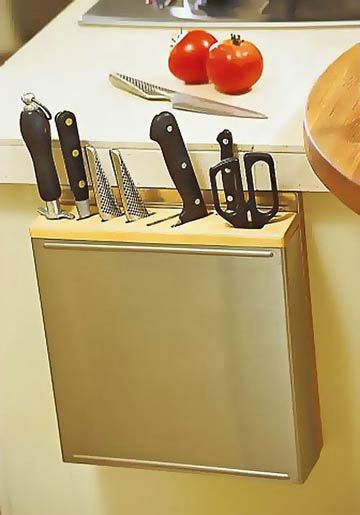 Source unknown
Or how about a couple of hooks for dish towels or aprons: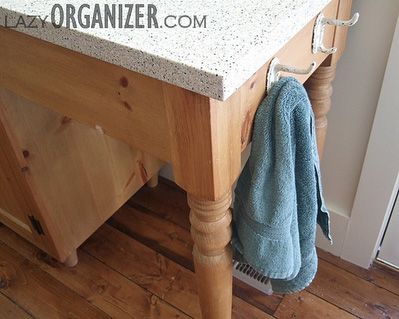 Source no longer available
A small rail with hooks provides all kinds of storage: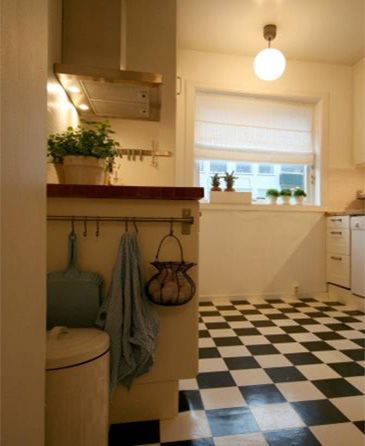 Source unknown
A tall cupboard in a kitchen provides even more storage when the side is used to hang utensils: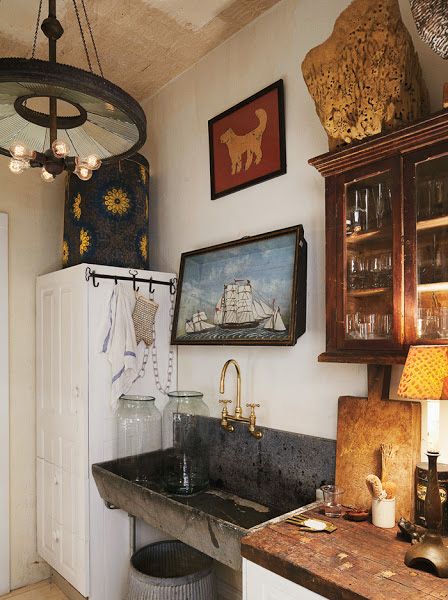 Source
Knives storaed on the side of a cabinet are easily accessible for adults but out of the reach of children: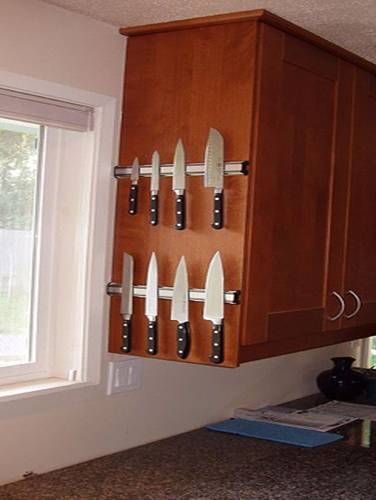 Source unknown
Overhead cabinets can provide even more storage when you use the space underneath them. This wine glass holder is made out of PVC pipe:
Source
Add a couple of cup hooks and S-hooks and you have built-in banana hangers: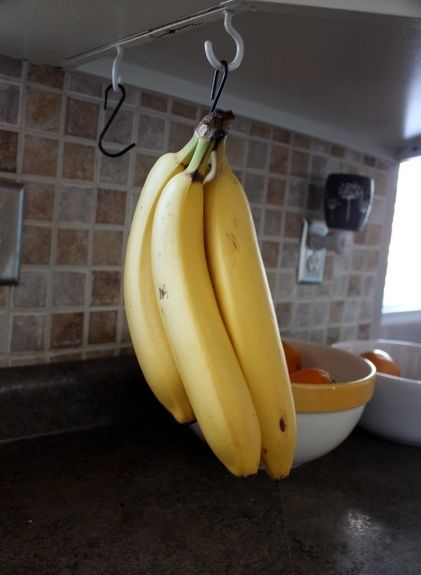 Source
This wall-mounted planter, used as a fruit bowl, could also be added to the side of a cabinet:
Source
These spice jars have their lids screwed to the bottom of a shelf - you could do the same underneath a cabinet: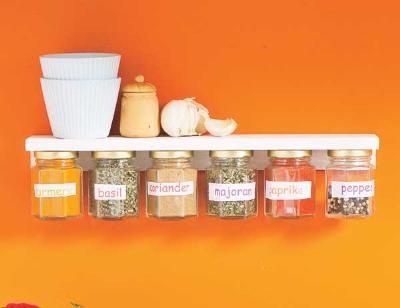 Source
Look at this ingenius fold-down shelf attached to the side of a wall cabinet:
Source
This wine rack is probably intended for a wall but the end of a run of cabinets provides the perfect spot for it: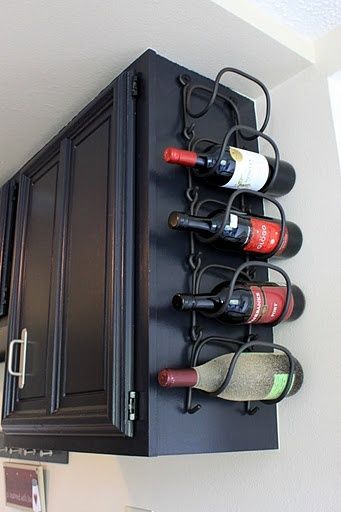 Source
But this priciple isn't just for kitchens. You can add extra storage to the sides of wardrobes, desks or cupboards around your home.
This desk has storage on the side for files and folders:
Source
The sides of this chest of drawers sport spice racks in which books are stored: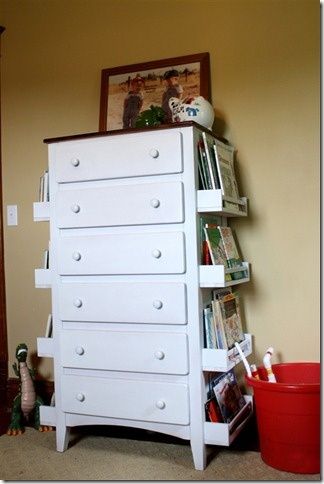 Source
This desk claims a little extra storage with the addition of a hook for a handbag, and a toothbrush mug used in this case for pencils, scissors and keys.
Source
A shelf rack attached underneath a craft room cabinet and filled with tumblers holding stationery: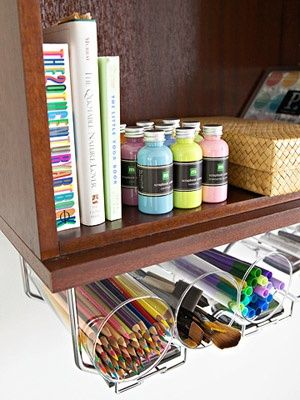 Source
These magazine holders are attached underneath a shelf but you could do the same underneath a cabinet:
Source
Even the sides of your garden planters can provide storage - add a letterbox to store trowels, gloves and other gardening tools: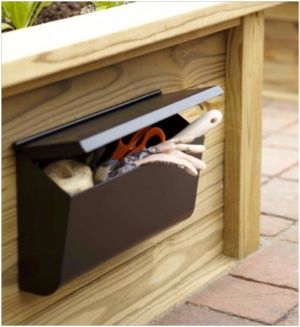 Source
Our fruit is stored in a chicken wire basket that I've hung from underneath the cabinets, freeing up counter space and making it easier to clean the work surface:
In one of our previous homes there was a gap down the side of the tall kitchen units. I installed a small bar and hung a shoe organiser there. It provided storage for bottles of water, sunscreen, shoes and other odds: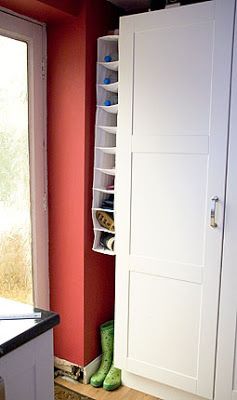 The side of our fridge cabinet is the perfect place for our
dry-wipe calendars
: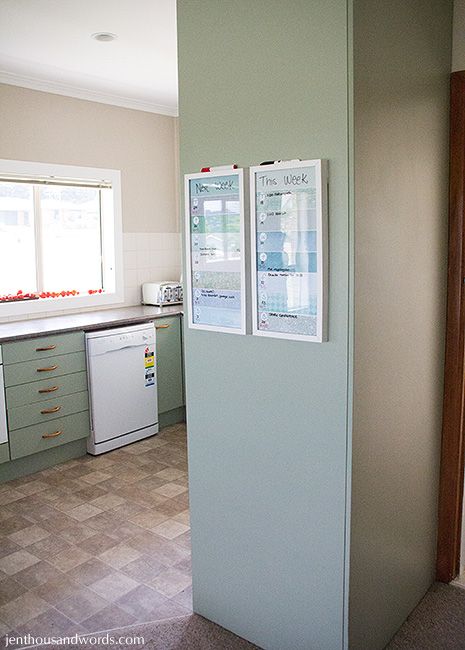 In our last home I stored my hairdryer and straighteners on hooks on the side of my bathroom sink cabinet: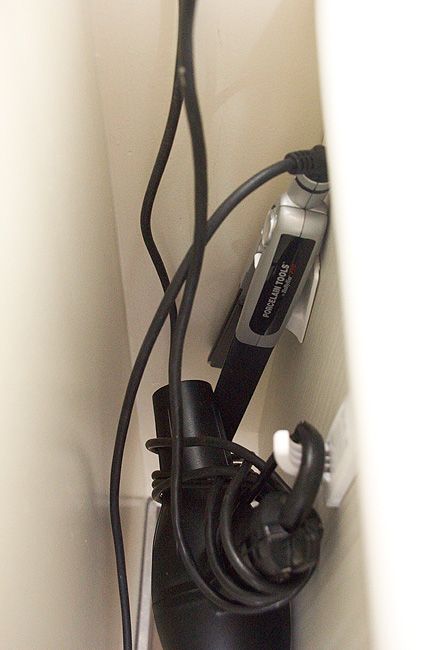 The sides of the wall-mounted bathroom cabinet in a previous home provided the perfect spot to hang my necklaces:
This letter rack is hung on the side of the cabinet next to my desk. It holds my
small recipe file
,
command centre
and notebook.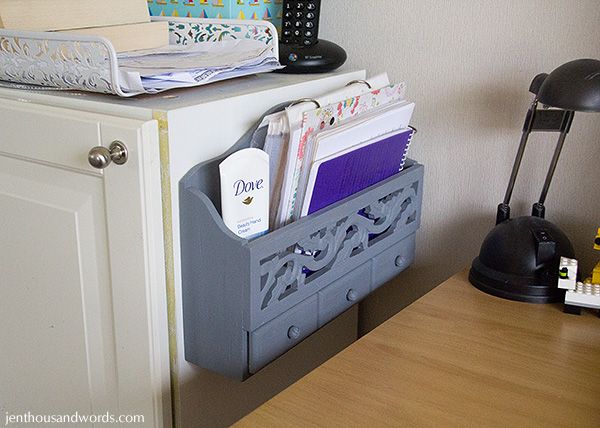 I stuck some magnets just inside the lip of the top bathroom drawer - now we always know where the tweezers are:
I hope you are finding this series helpful. Have you used any of the ideas yet, or do you plan to? I'd love to hear from you!
Part 1 - Logic for your life
Part 2 - Categorising your space
Part 3 - Go vertical
Part 4 - Hooks
Part 5 - Pegboard and towel rails
Part 6 - Doors
Part 7 - Magnets, ends and bottoms
Part 8 - Tension rods and nooks
Part 9 - Maximising cabinet space
Part 10 - Think outside the (storage) box