I've never tasted store-bought almond milk and haven't even seen it in the supermarkets here, but I wanted to try it. So I made my own. It's really easy - if I can do it in my decrepit state, then anyone can.
Even if you are fine with dairy and don't
need
to switch to almond milk I'd still recommend it as it's delicious! I've not tried it over cereal but I love it in banana smoothies or oatmeal porridge.
If you can't drink cow's milk then almond milk is a great alternative to soy milk (which has its own health questions) or rice milk. (I did try making rice milk but found it a little starchy / gummy tasting.)
You can make as much or as little as you like in one go but I find it easier to deal with small batches at a time. So for this post I'll start with one cup of almonds (which will make about 1 pint / 500ml almond milk).
You can use roasted (unsalted) or raw almonds. I've tried it with both and the only difference is slightly in the flavour. I like both.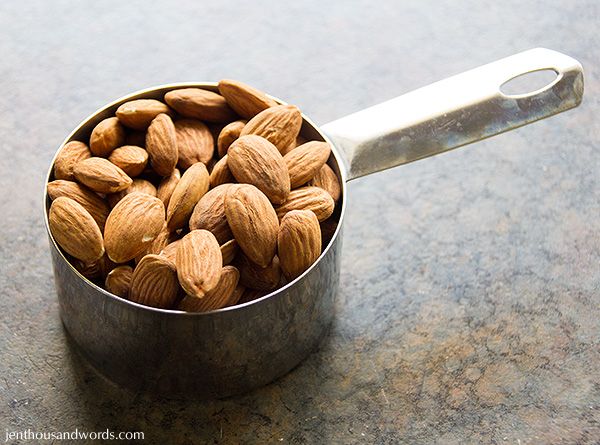 You need to soak the almonds for 48 hours. Just put them into a container (I used a jam jar) and cover with water and put into the fridge for a couple of days.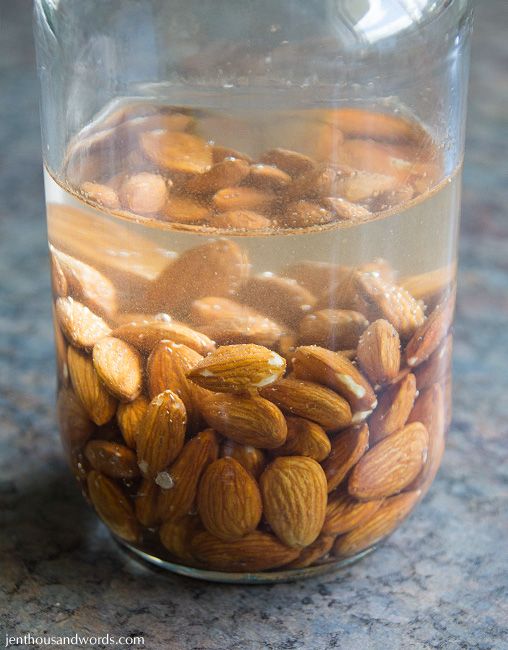 After soaking the water starts to look a little cloudy.
Drain the almonds. You might find that they've swollen and become wedged in the jar - just dig them out with a spoon.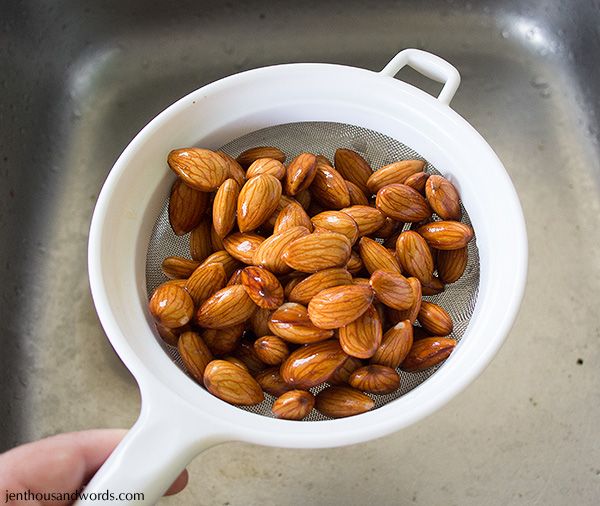 Put the almonds into a blender.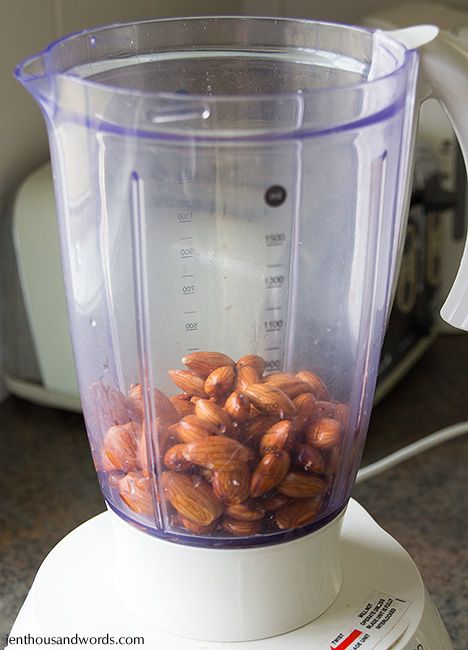 Add 2 cups of water.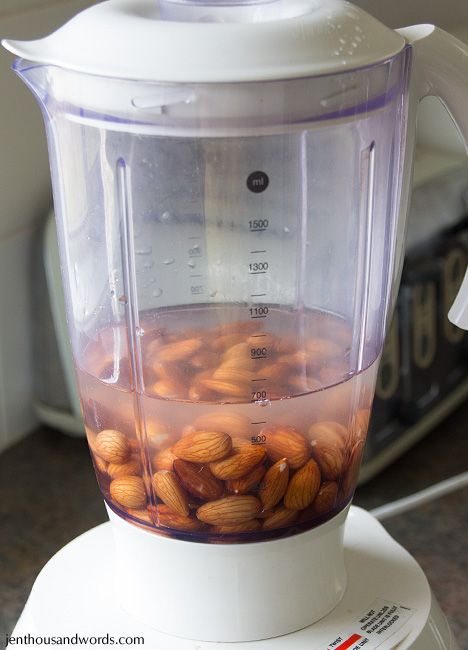 Then set your timer for 5 minutes, turn on the blender and leave it until the timer rings.
While the nuts are blending you can prepare your jug. I used my Pampered Chef mixing bowl as it has a nice wide mouth - any kind of bowl or jug will do. Place a sieve over the top and drape a piece of clean cheesecloth over that.
Here is the blended nut / water mixture.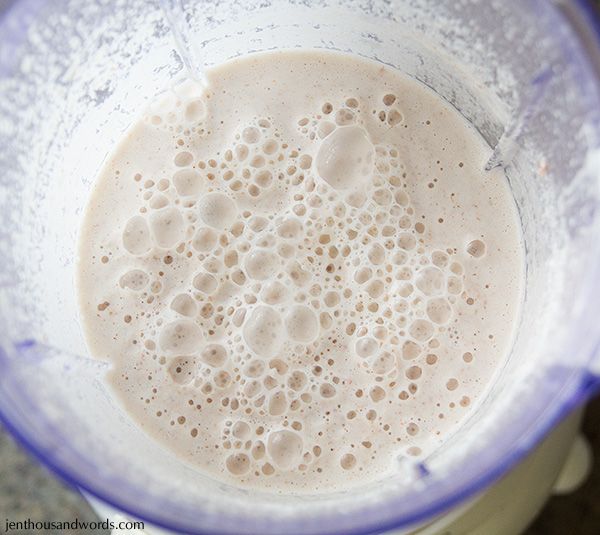 Pour some of it into the cheesecloth.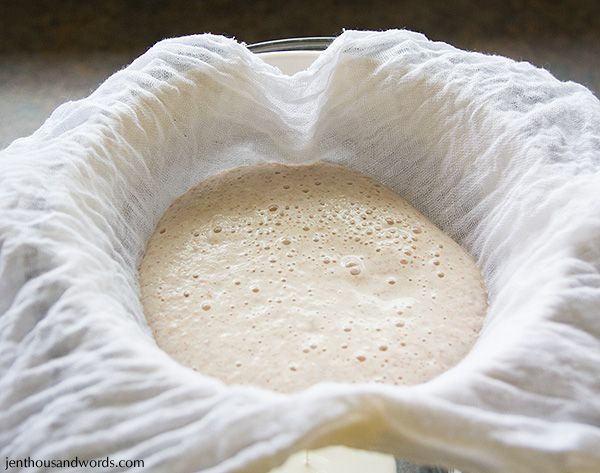 The liquid will start to drain out of the bottom.
After a while it will stop pouring and start dripping - here you can see a drop caught on camera (beneath the sieve):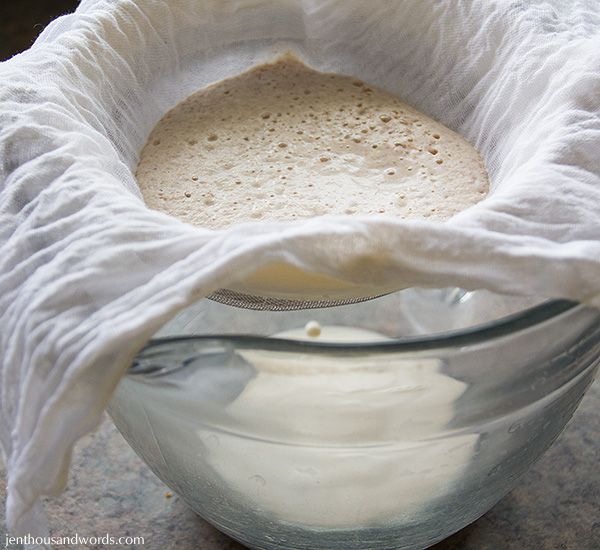 The residue in the cheesecloth will look like this - you can see on the right where I've tilted the cheesecloth, how the paste comes together:
You need to bundle the paste up in the cheesecloth, twisting the top, and squeeze all of the liquid out: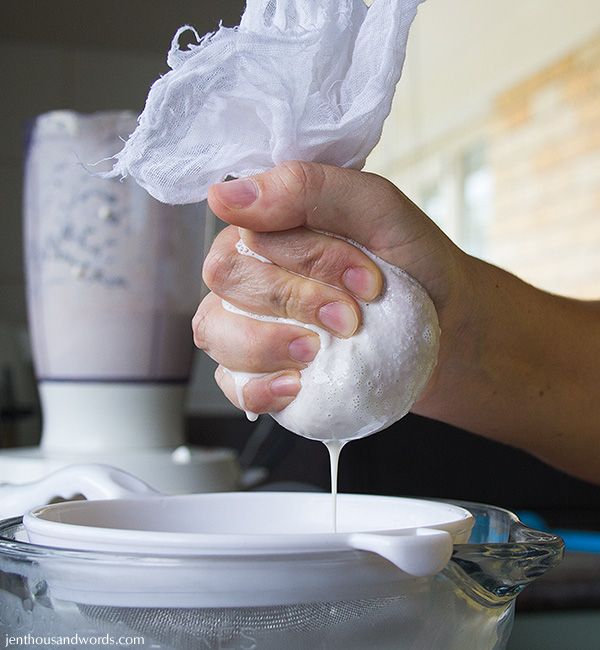 Keep twisting the top tighter and squeezing until you get as much liquid out as you can. This is easy if you work in small batches but becomes harder if you do a lot at a time.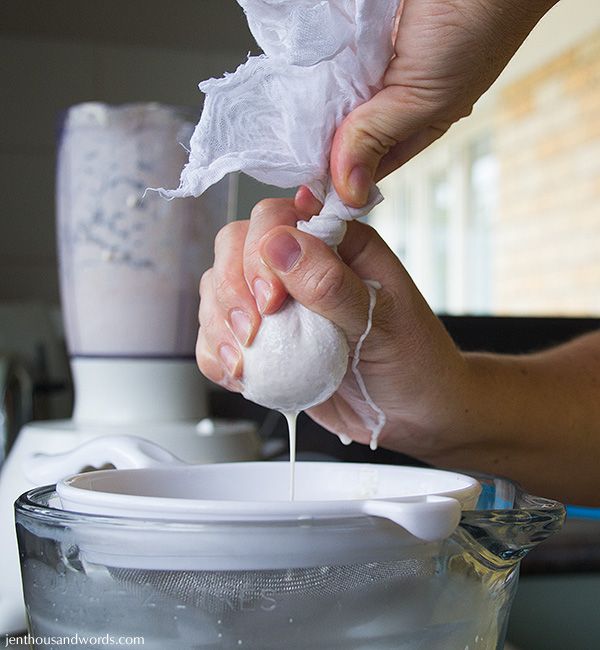 This is what's left behind after squeezing - almond meal.
Tip it into a bowl (don't throw it away).
Put your cheesecloth back over the sieve ...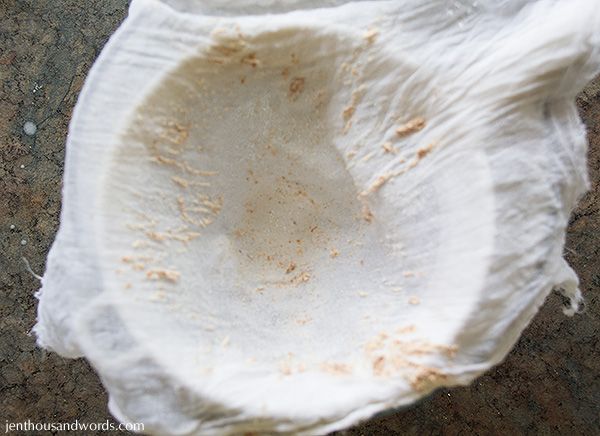 ... and do another batch of draining / squeezing. I did three batches out of the 1 cup almonds / 2 cups water that I had blended.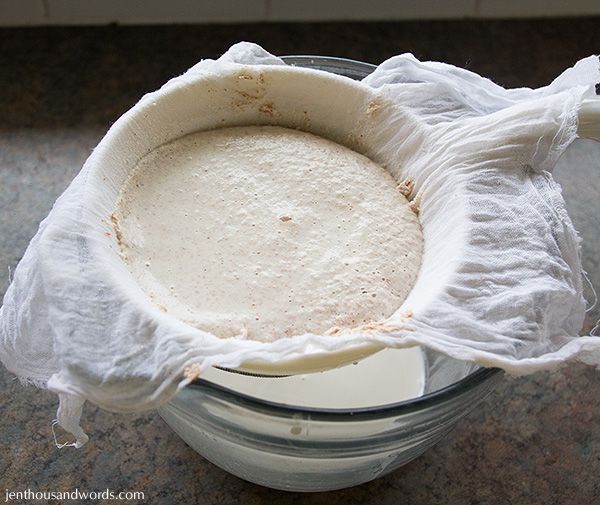 This is what is left in the blender.
Add half a cup of water and swish it around, then drain and squeeze it.
And this is how your beautiful almond milk will look!
I like to add about a quarter teaspoon of vanilla extract to it. You can add the extract during blending or mix it in afterwards. Some people like a pinch of salt in there too.
If you prefer thinner milk feel free to add more water.
And what about the leftover almond meal?
You can dry it out on a cookie sheet in the oven but I just put it into the fridge in a container as-is. I like to put it into my
banana smoothies
. I've also baked with it (flourless chocolate cake) and put it into my
porridge
.
Have you tried homemade almond milk?
How does it compare to store-bought?
Have you ever made your own? If not, are you likely to now that you see how easy it is?
I'd love to hear from you.