This recipe was from a camping cookbook that my mom had when I was a teen and I swear that's what this dish was called: Macaroni Moosh.
It is a delicious pasta dish with bacon (or ham), eggs, tomatoes, and cheese - and yes, it is really good as breakfast too. I may not have the recipe exact but this is how I make it.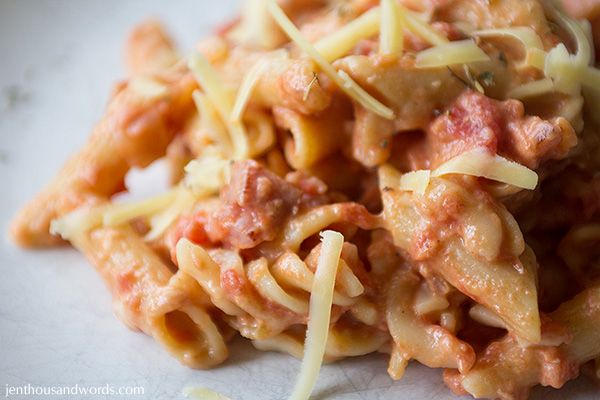 Macaroni Moosh
250g macaroni [you can use any type of pasta]
4-8 rashers of bacon [depending on size and how much bacon you like; can substitute ham]
1 onion, chopped
1 can of crushed tomatoes
3 eggs
1 cup of grated cheese
garlic
mixed herbs
Cook pasta and drain. Cut bacon up (I
use scissors
) and cook until done but still soft. Remove from pan. Fry onion in bacon grease until translucent and soft. Add garlic and a little mixed herbs and cook for a minute more. Add bacon back into pan, add tomatoes and simmer until warm. Mix in the pasta.
Beat the eggs in a bowl then add to the pot. Mix constantly over medium heat until eggs are cooked and the mixture is mushy and thickened. Remove from heat and stir in grated cheese. Serve.