Why make your own pizza? Because you can totally customise it make your crust as thick or thin as you like; add as little or as much sauce, cheese and toppings as you like; use pesto or aioli or ranch dressing instead of tomato sauce; or customise different sections of the pizza to each family member's taste. Plus it's really cheap. Not to mention tasty!
Whenever I want a recipe for something standard like pizza crust or salad dressing I add the words "amazing" or "world's best" in Google. That is how I found this pizza base recipe - it was called "world's best pizza crust" or something like that.
It is indeed very good!
I just put my breadmaker machine container onto my digital food scales and set it back to zero after adding each ingredient, hence the weights next to the measurements. Much easier than messing about with measuring cups and spoons.
For those on Weight Watchers, the entire dough recipe is 54 ProPoints / Points+ - add points for your cheese and toppings, depending on how much you use.
Pizza Dough
1 cup (210g) warm water
2 tablespoons (45g) honey
¼
cup (45g) olive oil
½
teaspoon salt
3½ cups (415g) bread flour
1 package / 1½ teaspoons yeast
Add to breadmaker in order recommended by manufacturer. Run dough cycle.
It's as easy as that.
You can now divide your dough into separate pizza portions and freeze it if you wish. Or you can freeze it after rolling it out. Or you can freeze it after pre-baking it. Or you can freeze it after prebaking and loading it. Or you can freeze it after your entire pizza is fully cooked, it's up to you.
Or you can just eat it on the day you make it.
Just so you know how far the dough goes, I make two pizzas in cookie sheets that are 15 inches x 10 inches (39cm x 25cm). Like I said, this amount of dough makes two, which is enough for a meal for our family of four, plus leftovers (I often make a salad with it). You can certainly stretch the dough to a third or even fourth pizza if you like your crusts thinner, or halve the recipe.
I like to use my little non-stick fondant rolling pin to roll the dough out directly in a cookie sheet that I've rubbed with a little butter.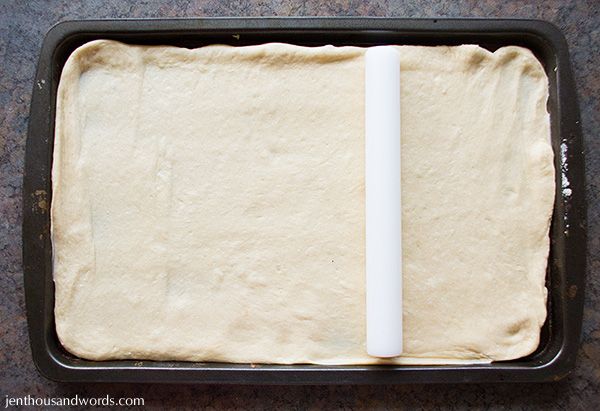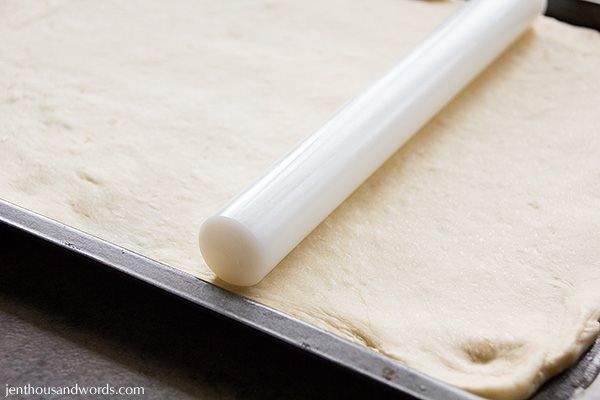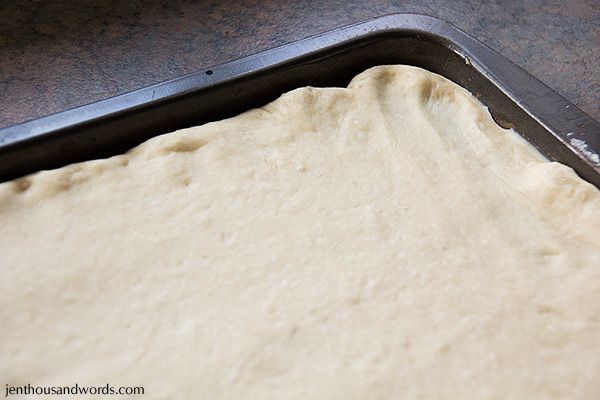 Pop it into a preheated oven (180°C / 350°F) for 10 minutes. This ensures that the crust of your pizza is baked through and not soggy, and that the toppings don't overcook in the final bake. There will be air pockets, just flatten them. This seems to happen whether I prick my dough or not.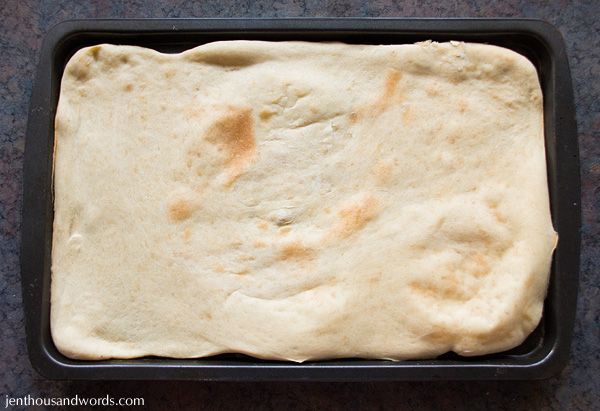 Slather with tomato sauce (or alternative like pesto, aioli or ranch dressing). I make my own pizza sauce with tomato paste, garlic, oregano and a little water, freezing any extra for future pizzas. I use my silicone basting brush to smooth it over the crusts.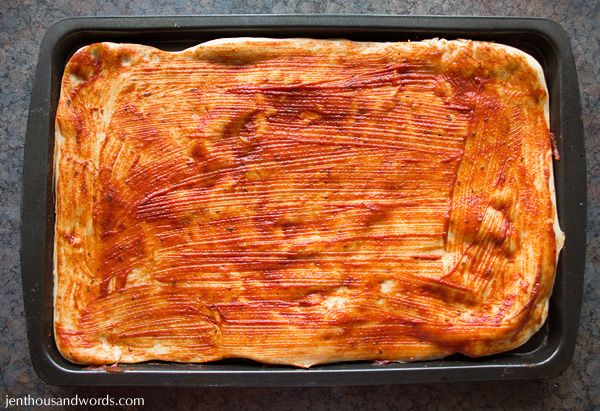 Top with cheese - it has to be mozzarella!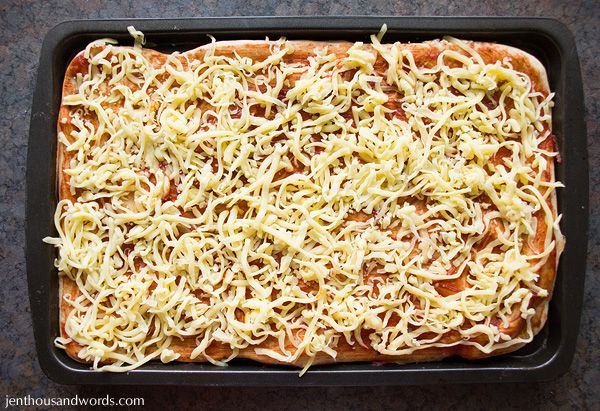 Layer on your toppings. We usually have ham and pineapple but I also love spinach and feta.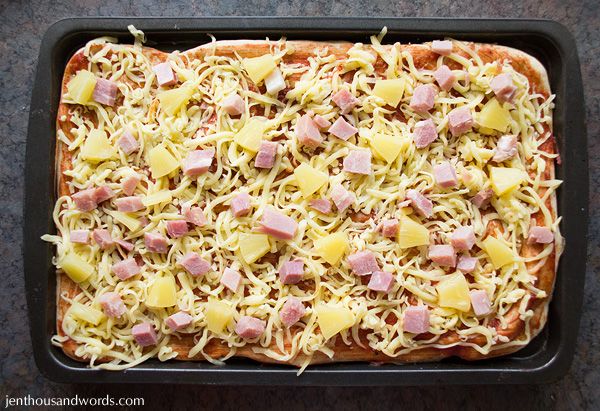 All ready to go into the oven for the final bake.
Bake for about 13 minutes, depending on how "done" you like the cheese. I like it golden and bubbling but sitll soft. (In my opinion the pizza take away chain that starts with a D always overcooks the pizzas and they become dry.)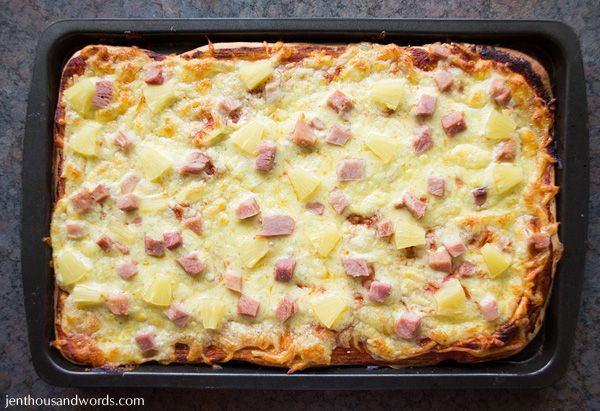 Enjoy!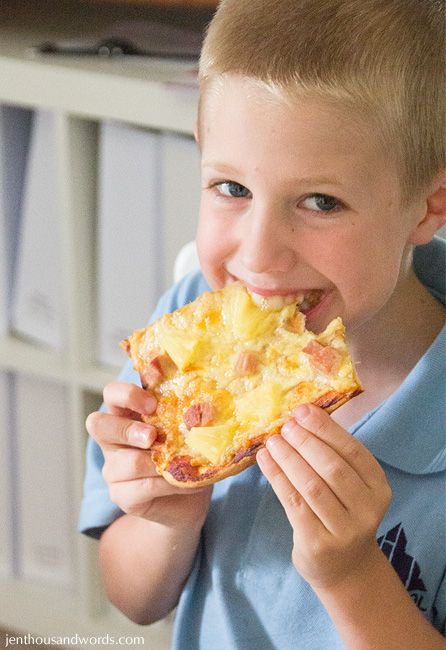 The boys LOVE homemade pizza and always ask for it. I love it because it's easy and all of the ingredients can be frozen - and I always have cans of pineapple in stock - so it's easy to pull together. The ham used here was leftover Christmas ham that I diced and froze in pizza perfect portions.
Here you can see how thick the crust is. We generally like thinner crusts on takeaway pizzas, but like it this way with homemade as this particular dough is so delicious and we can bulk up the cheese and toppings to match.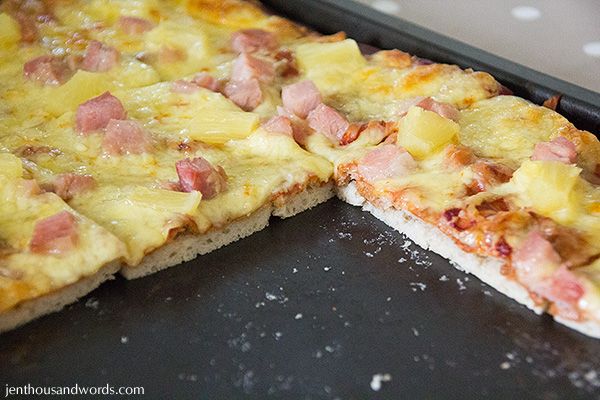 What do you like on your pizza?
Do you make homemade pizza?
are you likely to try this recipe, or do you have a favourite alread?
I'd love to hear from you :)