If you look at the source of the items of clothing I show in every single what-I-wore post you'll notice that a lot of them are thrifted or from eBay. In England thrift stores are called charity shops; here in New Zealand they are referred to as opp shops (opportunity shops) and can be charity run or private companies. But I like the term "thrifting".
On Friday my friend Carley and I went to
SaveMart
in Onehunga, which is a huge second hand clothing store, and I thought I'd blog about the experience even though I forgot to take many photos while we were shopping, like I had meant to.
You have to be in the mood to do any thrifting. In regular shops you'll have a few styles and they come in a variety of sizes. In thrift stores every single item in there is unique. The best thrift stores (in my opinion) organise their clothing like this: skirts together, size 8 together, size 10 together, size 12 together, etc. Then jeans - each size together. Dresses - each size together, etc. That way you only have to look at your size (and one size up and one size down if you're being thorough, as sizing varies greatly and items "not in your size" might actually fit) rather than sort through every item.
Sadly, SaveMart just sticks all of the dresses, all of the jeans, skirts, knitwear, etc together and you have to flip through them and then if sometimes takes your fancy you have to see if it's your size. So basically you're looking at every single item in each category that you are interested in. And most of the time you find things that you love but they aren't in your size, grrr.
Luckily Carley and I were very much in the mood as we'd been looking forward to our shopping day for a while. We headed out right after dropping the kids at school. Carley drove this time and we chatted the whole way there, which was about a 40 minute drive. This is a quick snap of the warehouse that SaveMart is in: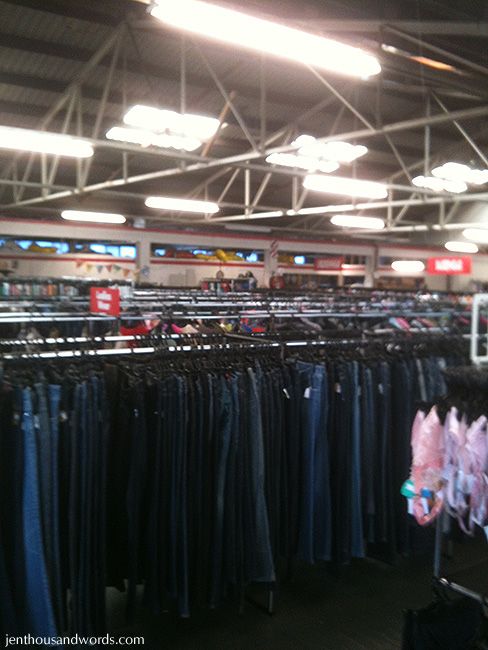 We headed straight for the shoes and I was thrilled to immediately find two pairs of shoes that fit me and filled gaps in my shoe wardrobe! I got a bit of a shopper's high and put them into my trolley as fast as lightning!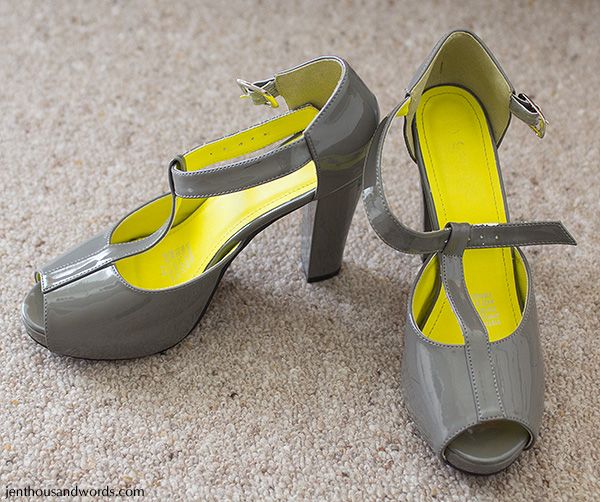 The shoes cost $8.99 per pair. (For those who are squeamish about wearing used shoes: I buy very lightly-used shoes and I have rubbing alcohol / surgical spirits in a spray bottle at home and I spritz the insides - this kills any nasties.)
We moved on to dresses, flipping through the extensive racks, then went to try a bunch of items on. I think in my first fitting room stint I tried on 13 dresses. I bought these two:
This one was $8.99: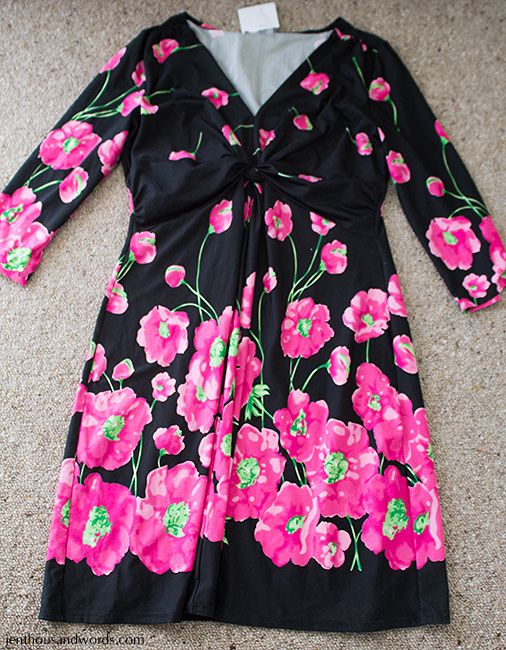 This one was $12.99. It is a Bittermoon designer dress - they normally go for over $260! I sure scored a bargain there.
Our next area of interest was skirts. I tried on 9 skirts and bought this Max one for $3.99 - it was marked so low because the zip had come apart but I have already fixed it and it works fine now. It was brand new and still had the original $89 price tag on it - score! There were actually two of them (with identical faults) and Carley bought the other one and mended hers too.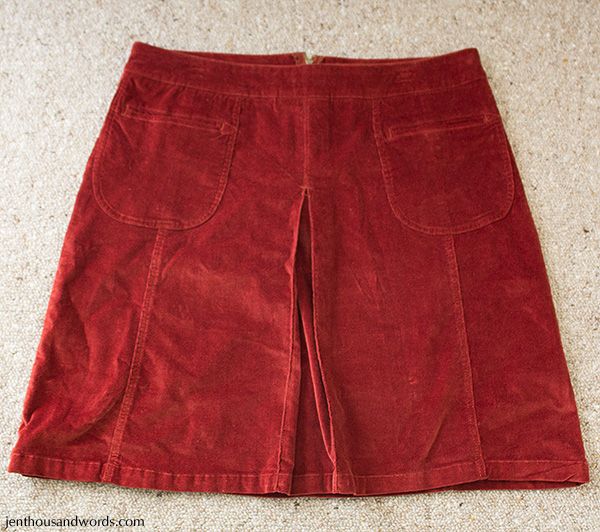 I also tried on five pairs of jeans and bought one for $8.99: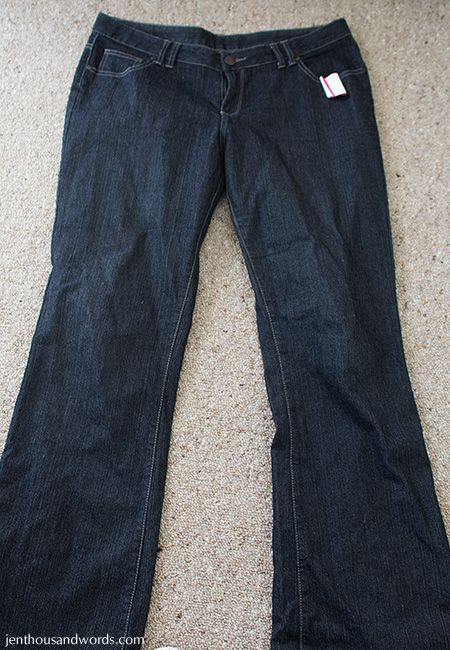 And a cardigan for $9.99: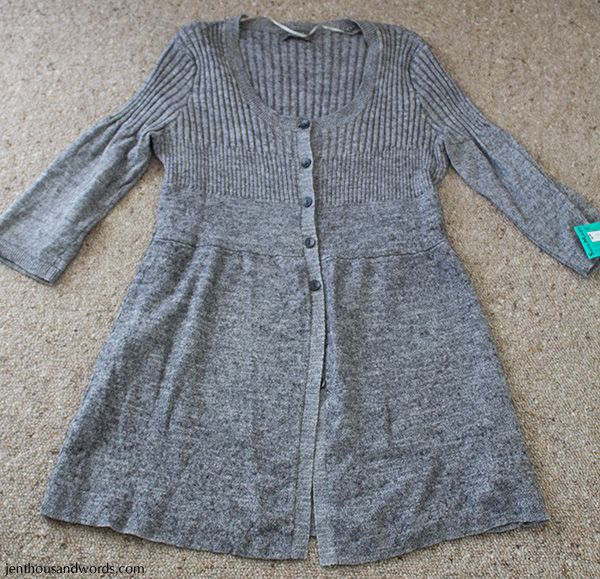 I wanted to get some tops and tried a whole bunch on. These are the ones I ended up purchasing:
Gingham blouse for $6.99: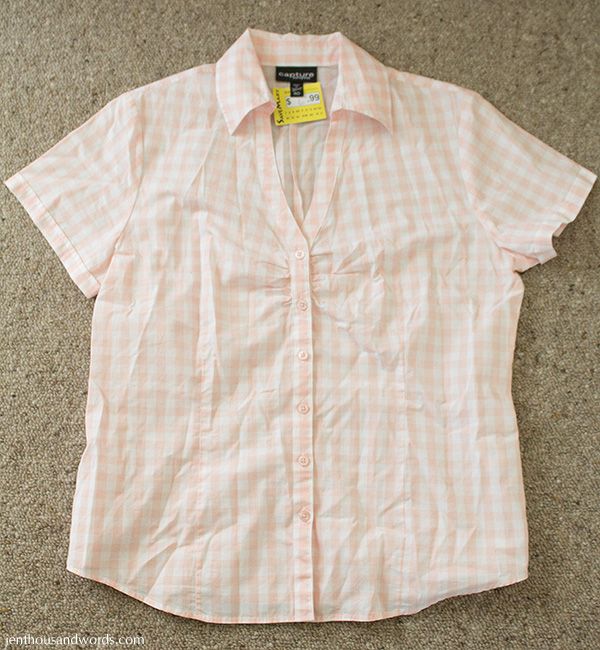 Another shirt for $6.99: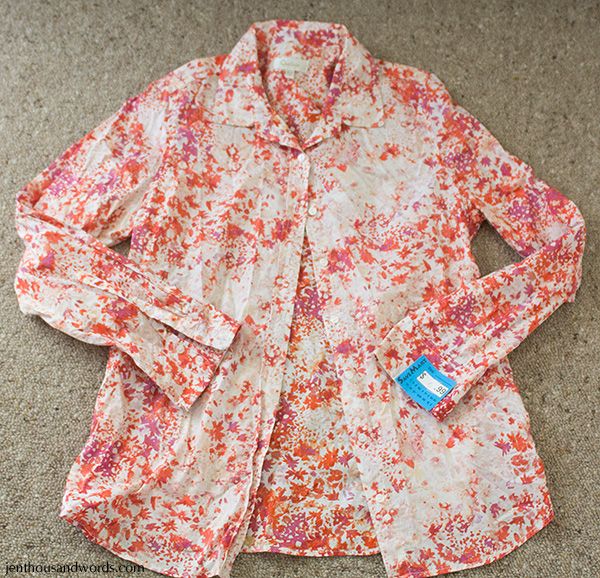 You know I'm obsessed with turquoise so I had to have this shirt - also $6.99:
And this brand-new navy and white T-shirt was also $6.99.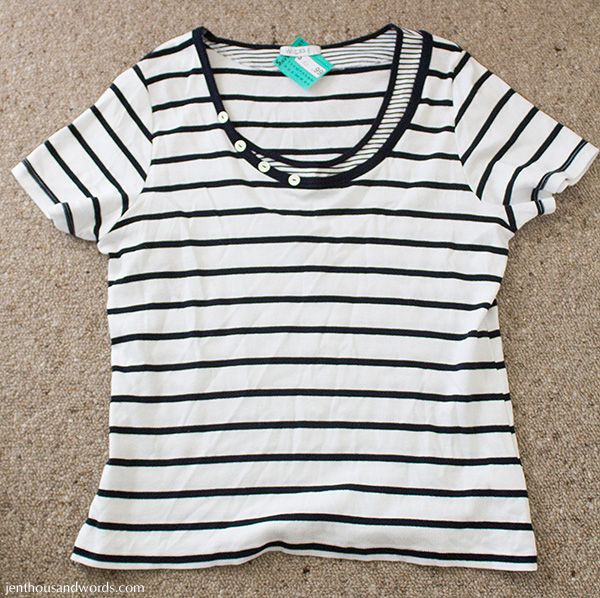 Overall I was pretty pleased with my haul! I had packed a lunch and we ate on the way home as by that time we were starving. We'd spent about 4 hours shopping and I was exhausted after that. But what better way to occupy my mind while resting than planning outfits with my new items of clothing?
I highly recommend thrifting if you have the patience to sort through racks and try everything on. Be sure to look out for these items in future what-I-wore posts :)
Do you buy second hand clothing?
What is your favourite bargain that you've found?