When putting together lunches, I like to ensure there are carbs, protein and at least two portions of fruit or veg included.
Some ideas for carbs:
crackers
potato salad
bread or rolls
breadsticks
rice cakes
cereal
potato chips
corn chips
pretzels
croutons
bagels
pasta
rice
pita bread
tortilla wraps
baked goodies
rice
couscous
popcorn
Some ideas for protein:
egg
lentils
quinoa
prawns / shrimp
tuna and other fish
nuts
cottage cheese
beans
yoghurt
sausages
cheese
ham and other lunch meats
chicken, pork or beef
meatballs
For fruit or veg don't forget that you can use fresh, canned, frozen, or dried. Add dips to keep it interesting.
I usually put Grant's lunches together during the day and pop them in the fridge. When he comes home I empty his lunch bag and put the fresh lunch into it, then put the whole bag into the fridge for him to grab in the morning.
I include a main meal, a snack, and a dessert every day. Right now Grant is avoiding sugar so sadly I can't bake yummy treats but instead the desserts are generally fruit or yoghurt.
Here are a few examples of recent lunches - Grant has access to a microwave at work, so he can take leftovers and reheat them: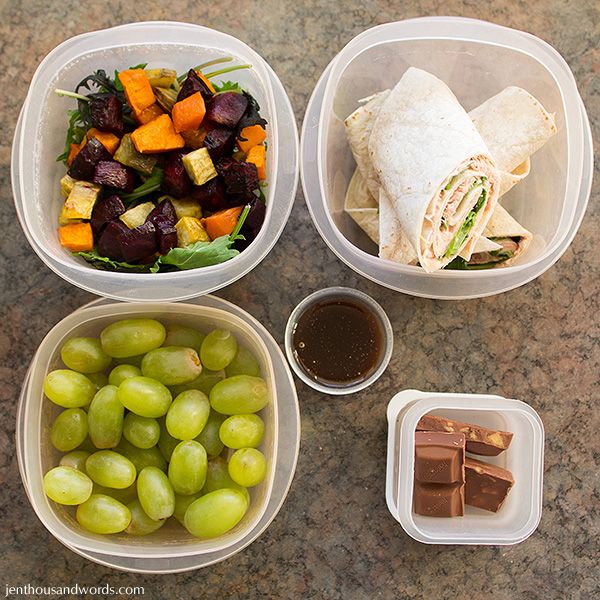 Main:
salad with
roasted winter veg
, balsamic dressing, tuna wrap
Snack:
seedless green grapes
Dessert:
chocolate (before he went sugar-free)
Main:
leftover butter chicken and rice, homemade kiwi fruit chutney (that container leaked)
Snack:
crackers and Camembert cheese
Dessert:
seedless black grapes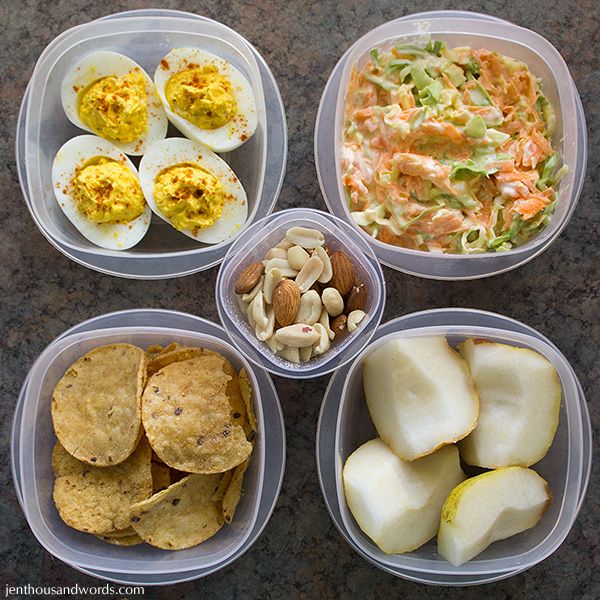 Main:
deviled eggs, coleslaw, corn chips
Snack:
peanuts and almonds
Dessert:
a fresh pear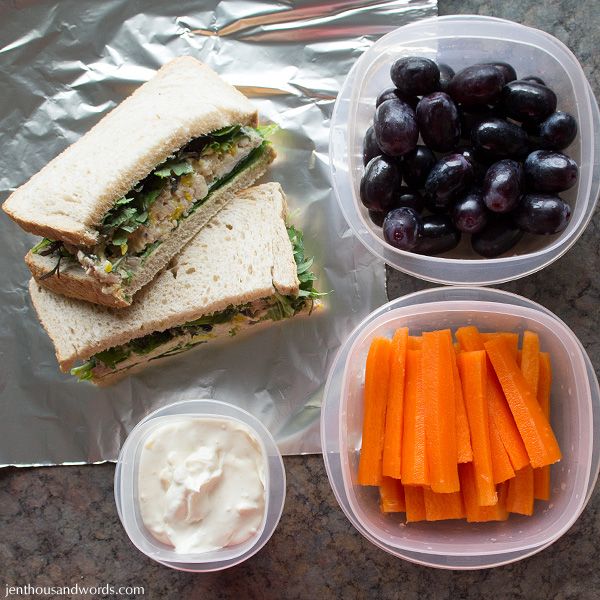 Main:
curried chicken and salad sandwich on wholewheat
(this was very popular with Grant - it was leftover roast chicken mixed with a little mayonnaise, chutney and a pinch of curry powder, with mixed salad leaves)
Snack:
carrot sticks and dip (low-fat cream cheese mixed with onion soup powder)
Dessert:
seedless black grapes
Main:
hot dog (the bun had ketchup and mustard in, the sausage was wrapped separately so he could warm it in the microwave
Snack:
celery sticks and a boiled egg with salt (blue container)
Dessert:
mandarin and two kiwi fruit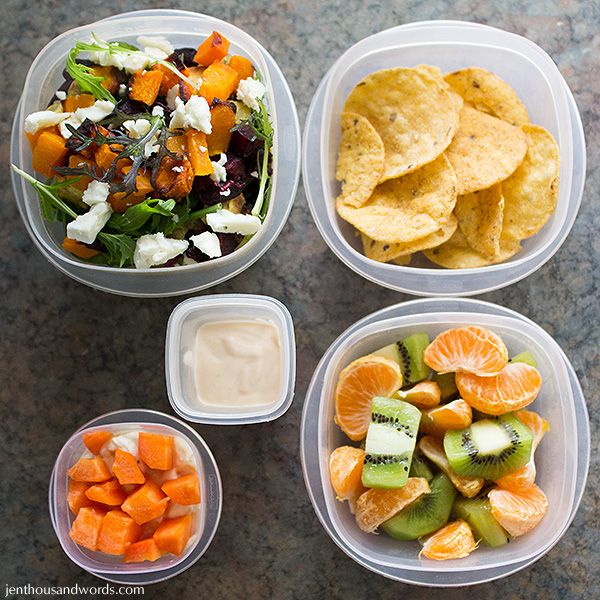 Main:
salad with roasted winter veg and feta cheese, Spur salad dressing, corn chips
Snack:
carrot sticks in a container of dip
Dessert:
mandarin and two kiwi fruit
Main:
tuna pasta salad with extra jalapeno
Snack:
boiled egg and black seedless grapes
Dessert:
fruit yoghurt
Main:
leftover lasagna
Snack:
cashew nuts, seedless black grapes, mandarin
Dessert:
fruit yoghurt
Some more that I don't have photographs of:
Main
: leftover beef curry with rice and homemade kiwi fruit chutney
Snack
: salted peanuts
Dessert
: yoghurt
Main
: salad with roasted winter veg, aioli, a roll with silverside beef
Snack
: cashews
Dessert
: a few blocks of chocolate
Main
: vegetable soup, crackers and Camembert cheese
Snack
: cashews
Dessert
: yoghurt
Main
: French bread, cheese, ham, coleslaw, potato salad
Snack
: salted peanuts
Dessert
: a few blocks of chocolate
Main
: pumpkin soup, salad with feta and balsamic dressing
Snack
: cashews
Dessert
: grapes
Packed Lunches, part 1
Packed Lunches, part 2
Packed Lunches, part 3