It can feel a little intimidating to take on the project of decorating a bedroom for boys. The good news is there are plenty of cool decorating ideas that will allow you to create a
warm and cozy atmosphere
without spending too much on bedroom furniture.
Choose a Design with Plenty of Storage Space
Boys tend to be messy, and it may feel like you are clearing up after all of the time. A good solution is to add built-in storage into the design of their bedroom. This could include things like shelves and brightly coloured storage boxes that actually add to the visual appeal of the room. It is much easier to prevent mess when there is a space for things like toys and art supplies to be kept.
Choose Furniture for the Bedroom that is Going to be Fun

Kids just live for fun, so it is worth keeping this in mind when decorating their bedroom. Use plenty of bright colours and don't be afraid to add a little bit of zaniness. As well as choosing colourful furniture, you can also use brightly coloured rugs and bedding.
Decorate the Bedroom Based on the Hobbies and Interests of Your Boys

If you want your boys to really love their bedroom, you can design this space based on their interests. This could involve things like covering the walls in stars and planets if your kids enjoy astronomy or buying bedroom furniture that resembles racing cars. You could also base the design on their favourite superhero (e.g. Superman), but this can be tricky because superheroes tend to go in and out of fashion as boys get older.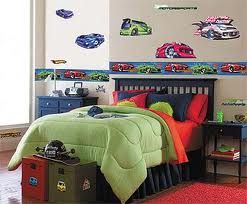 Allow Your Boys to Suggest Their Own Decorating Ideas
If you allow your kids to take part in the decision making process, they are far more likely to be satisfied with the end result. You don't have to agree to every idea, but it is nice to allow them to add their own little touches. The nice thing is they may come up with some really great ideas.
Allow Your Boys to Flex Their Creativity Muscle
It can be a nice idea to allow your boys to show off their own creativity and personality in the design of the room. You don't have to allow them to cover the walls in marker pen, but you could create a space on the walls where they could add some graffiti or other artistic efforts. Adding a bit of
quirkiness to a bedroom
for boys can really make it feel like a special space.
This is a sponsored post