I thought it would be fun to share some of our renovating and decorating work from years gone by. If you're a close friend or reader from the beginning of this blog (are there any still around???) you'll have seen these before.
In South Africa we owned two houses consecutively, and both were brand new. Once we moved to England the first house we were able to buy was around 108 years old, and in need of renovation. The bathroom was a decent size but was very dated with mismatched green wall tiles, carpet and bathroom suite, and peach walls, one of which had old, faded wallpaper.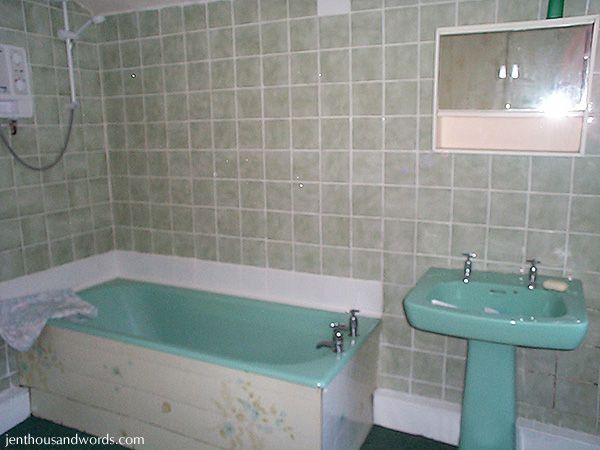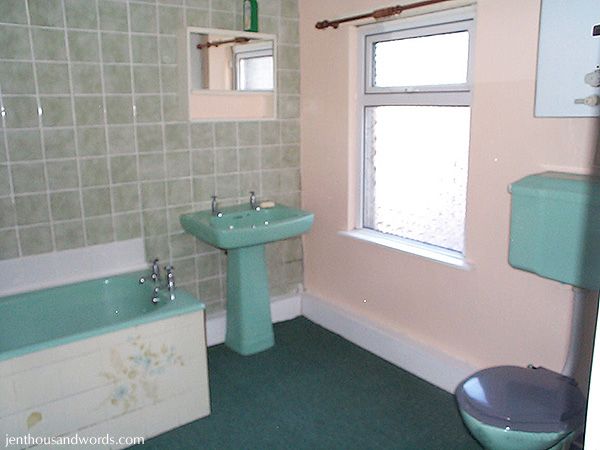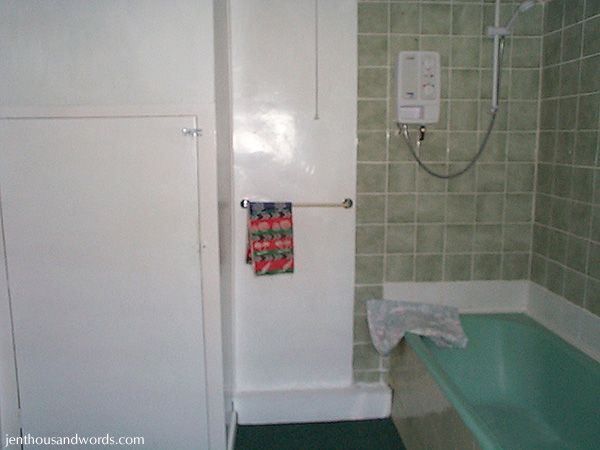 This was the tile-effect wallpaper: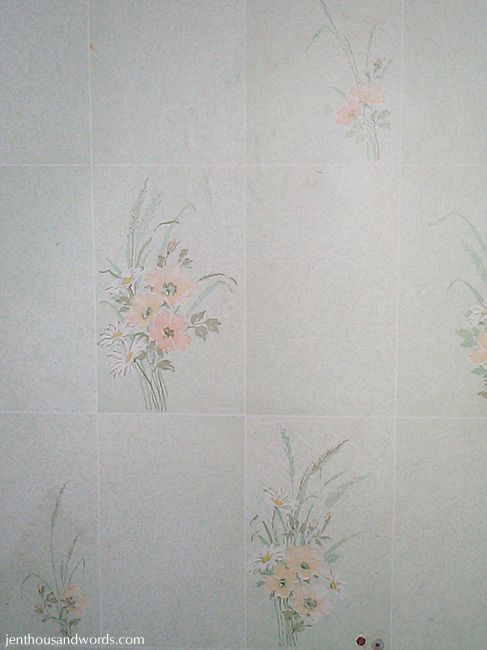 We were super strapped for cash, though, so gutting and refitting the bathroom was out of the question. We had to patiently save up for even the cheapest item. I'm pretty proud of what we achieved, despite being on such a tight budget.
The first thing we did was fit a rail to the ceiling so we could hang a shower curtain and use the shower.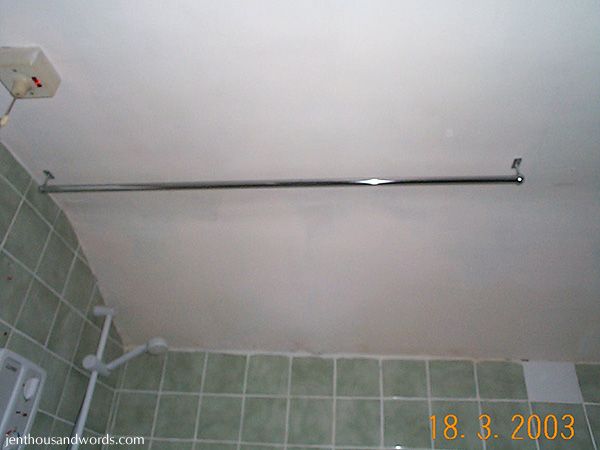 Stripping wallpaper doesn't cost anything, so that's what I tackled next, doing a little each evening while Daniel, who was a toddler, was in the bath.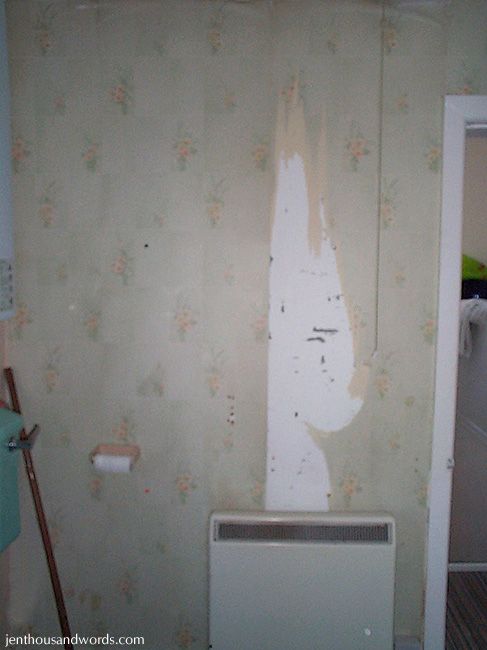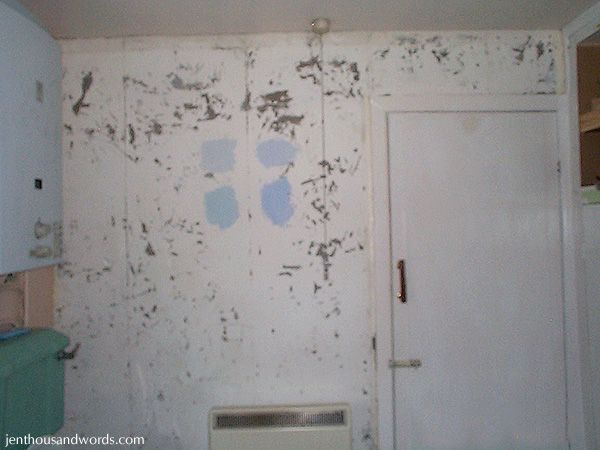 The next project was painting the tiles. They were in sound condition, but very dated and there was a row of white tiles along the bath and one near the ceiling.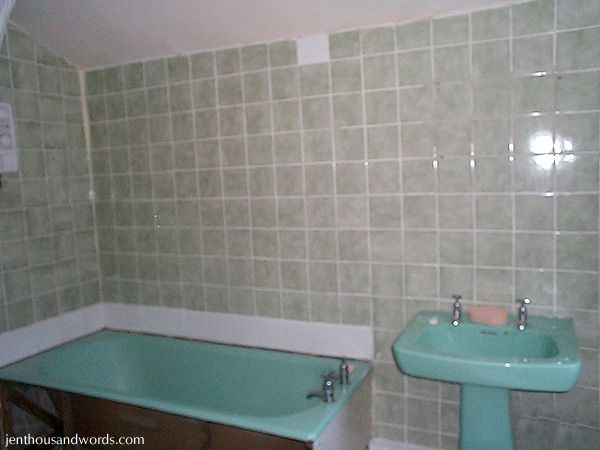 We chose a tile paint-and-primer-in-one and rolled on four coats. It made such a huge difference! And as a bonus: no more cleaning grout as it was all sealed.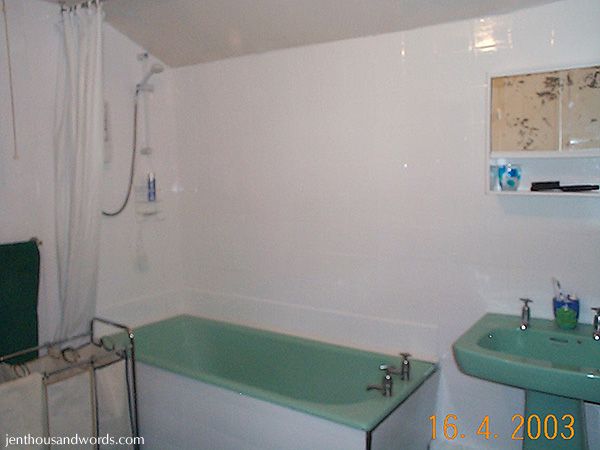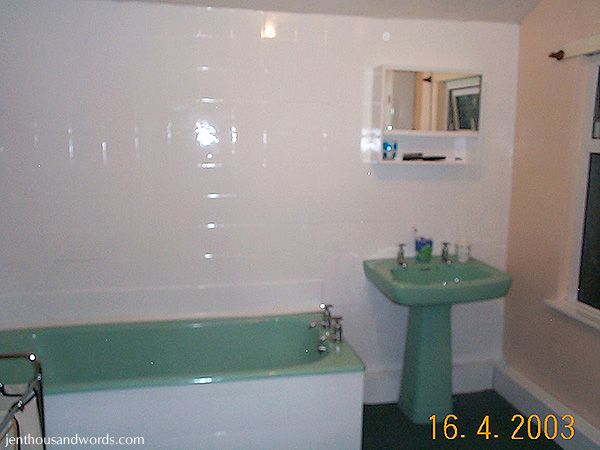 I used the same paint to freshen up the existing bath panel as we couldn't afford to replace it.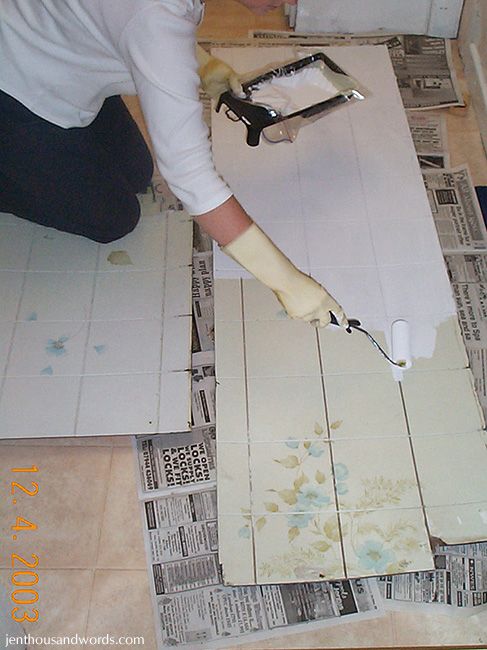 Switching the toilet seat with a new white one brought things a little more up to date.
The top of the cupboard was simply boarded up (as you can see in one of the photos at the top of this post), so Grant opened it up, framed it out and built a shelf.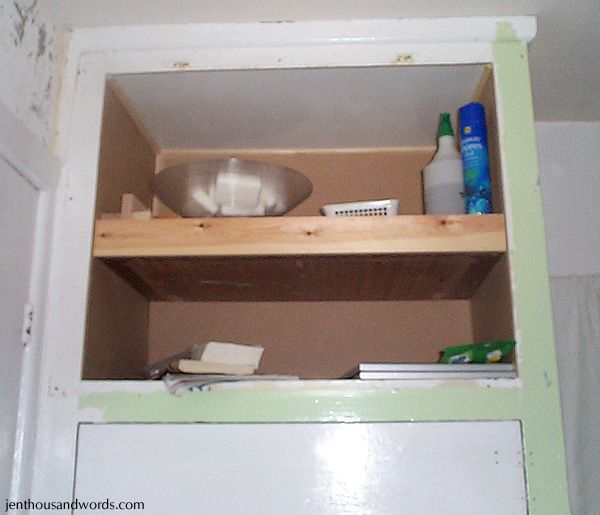 I bought a little fabric that I thought would match the green suite and made a Roman blind - my first attempt ever!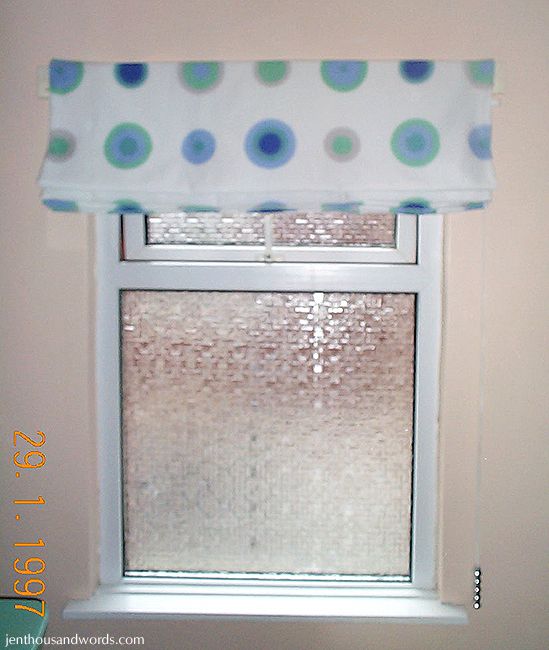 When we had enough money to buy some paint and accessories, I went shopping, choosing a very pale blue paint. I echoed the circles in the blind fabric with a toothbrush holder that I found at Matalan, and by docoupaging circles of blue vellum onto a little stool that I painted white. The frames were from a discount store and the pictures in them were greeting cards I'd had for years. I replaced the light pull cord with ball chain from the hardware store, adding a silver handle.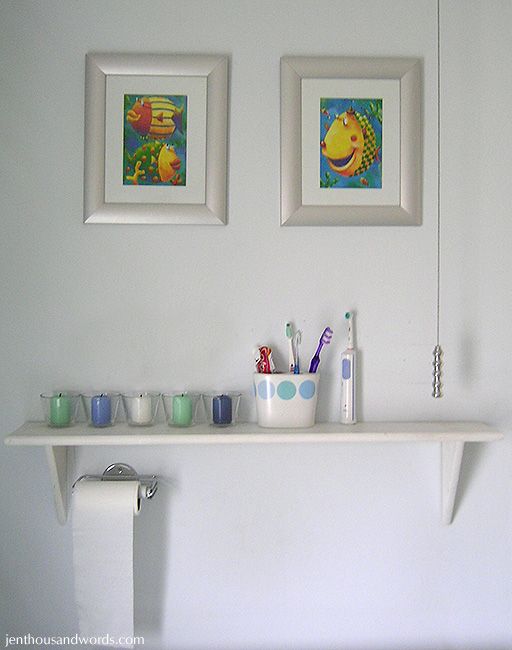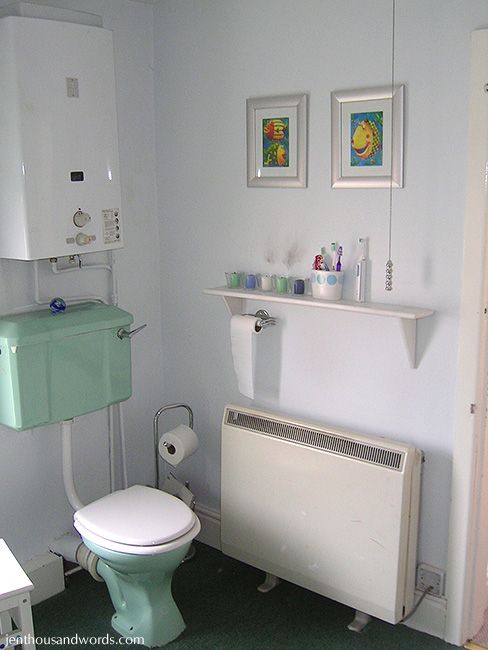 The circle theme continued in a wall-mounted bathroom cabinet I found at Ikea.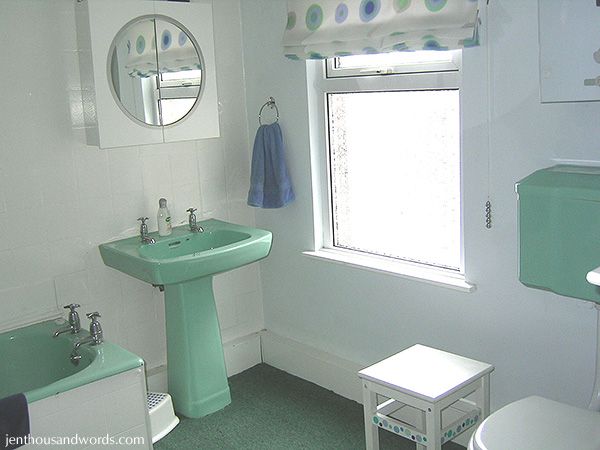 We installed a shaving mirror and some metal storage shelves in the shower / bath. We also added an extra towel rail to the wall next to the bath, and one on the back of the door.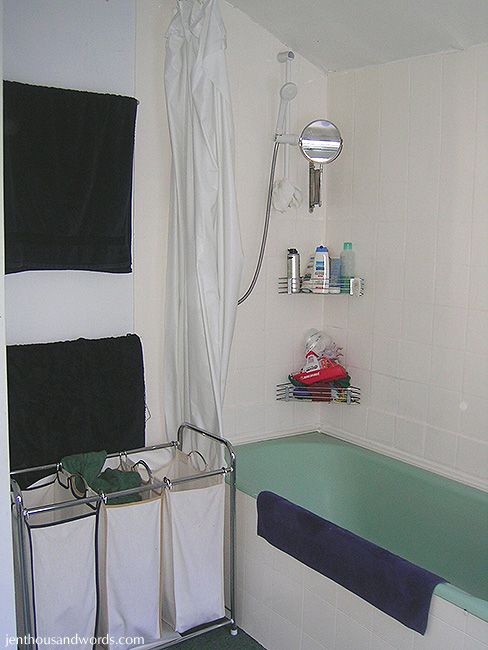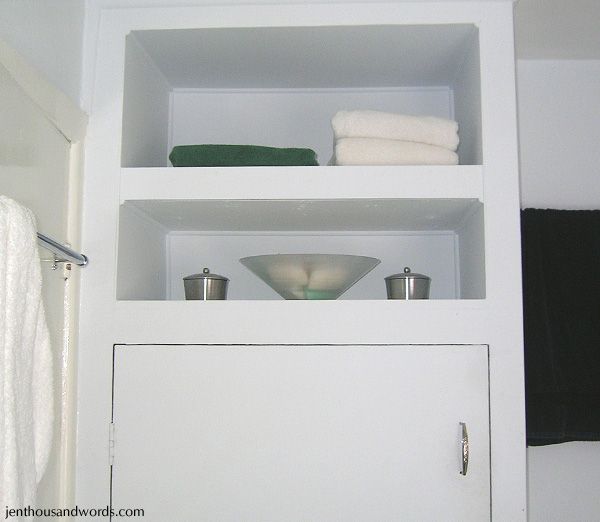 That was Phase 1. Much later on, after we'd been working on other home renovation projects, we returned to the bathroom. The carpet had to go! We ripped it out and replaced it with white and grey mottled vinyl. We decided to repaint too - the original paint was matt and showed too many marks, and the colour was just too pale. I picked a darker blue out of the blind fabric, one in a hue that balanced the green suite, and bought paint in that colour, in semi-gloss finish. This is what we ended up with.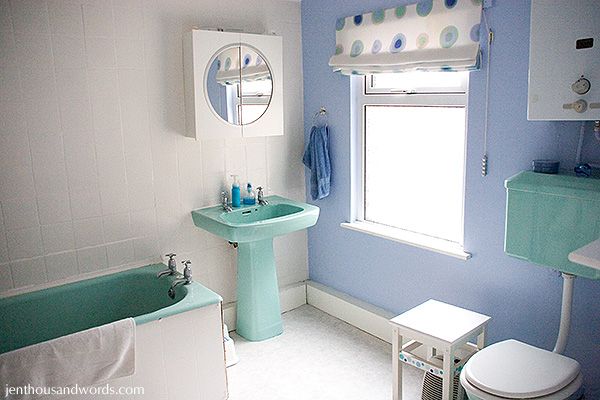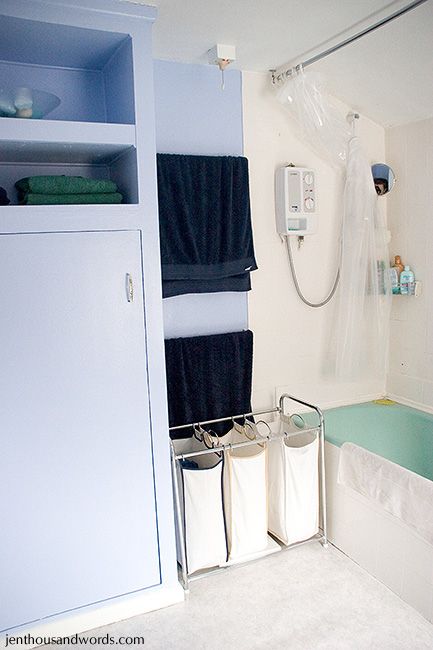 Before and afters: