I was thrift shopping a little while ago and found this beautiful rust-coloured throw.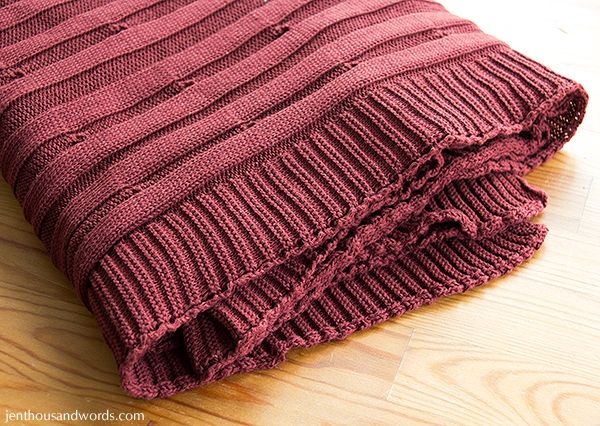 I loved the colour and the cable knit pattern (which is shown inside out in the pic above) but had no use for it as a blanket. I immediately decided to refashion it somehow - initially I had thought of making a skirt, but then realised that when folded in half the throw was the perfect length (from my shoulder to mid-thigh) for a tunic.
It took a while for me to actually tackle it because I was nervous. I got performance anxiety - I wanted it to turn out like the idea in my head and didn't want it to go wrong. So I kept putting it off, because once I started I might mess it up and then it would be game over.
Does anyone else do that??
Anyway, I decided to Just Do It (thanks, Nike). And guess what ... to my surprise it was pretty easy and it worked!!
This isn't a tutorial, it's more like me showing you how I did it. I didn't really know what I was doing, I just made it up as I went along. But it turned out to be super easy.
I started by folding the blanket in half with right sides together and laid it on a table. I didn't lay it on the carpet because I didn't want the knit to pull in any direction, but lie naturally.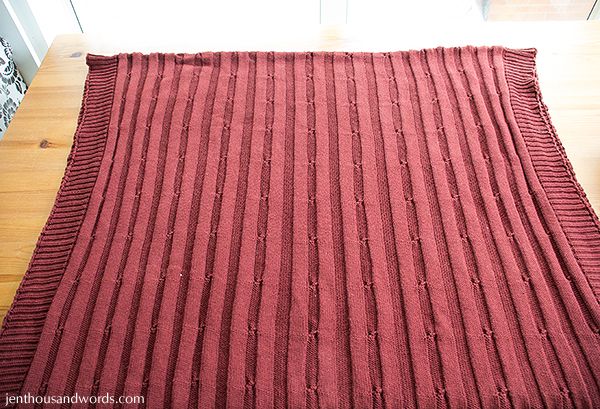 I then cut a slit in the middle for my head to go through.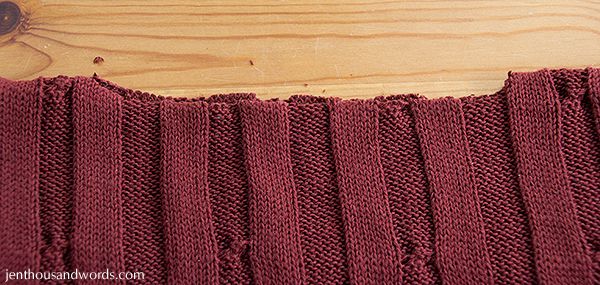 I put the throw on poncho-style and made sure that the original fold line was directly at the top of my shoulders.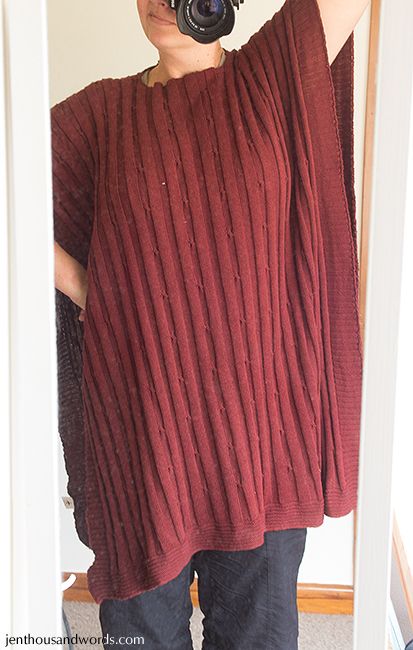 With a pin I marked where the sleeve edge should be.
Then I took it off and made a little cut for the armhole, with some seam allowance. At this stage I had intended to make it sleeveless with a rolled hem, but changed my mind later - I will explain in a bit.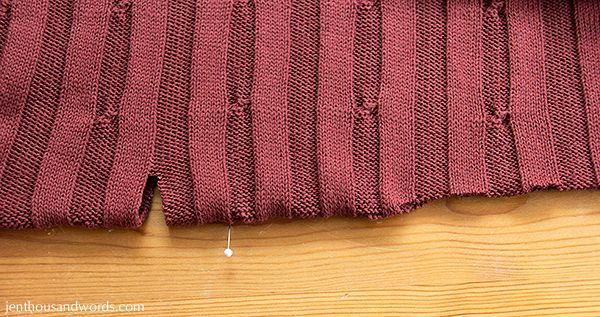 I used a T-shirt to kind of guide my cut as I cut the armhole. I didn't worry too much about the width of the tunic at this stage, just took the cut right out to the sides.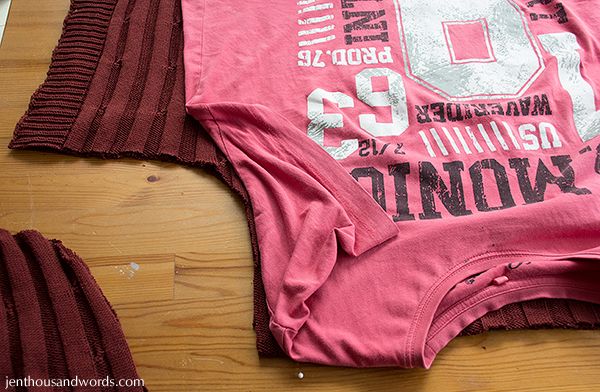 I put the tunic back on again and decided how wide I wanted it to be, and pinned it together.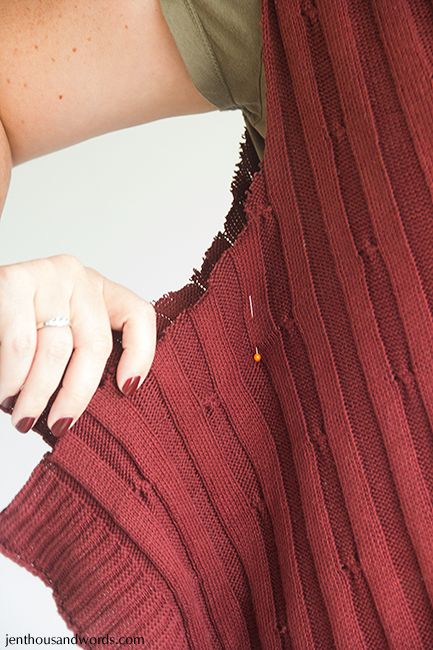 I also pinned where I wanted the front neckline to descend to.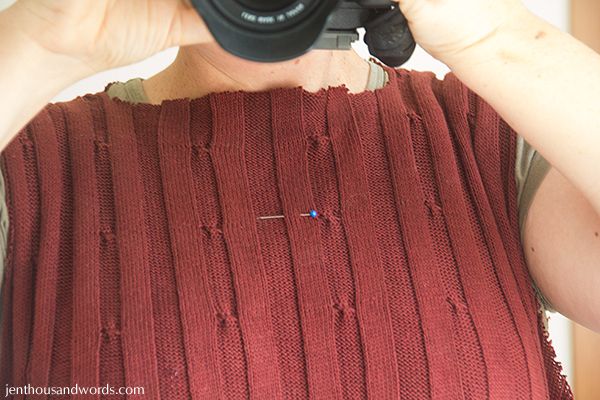 I removed the tunic and laid it on the table again. Then, leaving some seam allowance, I cut the front neckline lower half way ...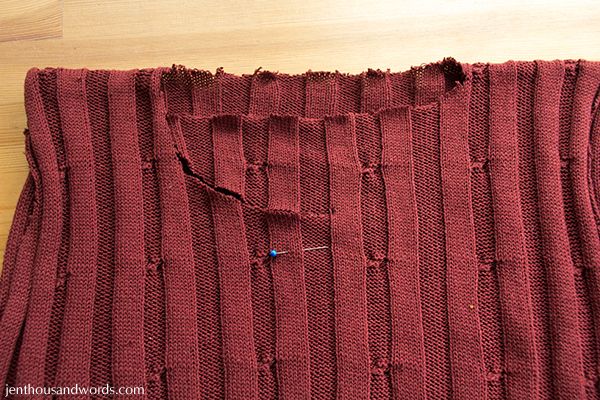 ... flipped that piece over and continued cutting the neckline.
To finish off the neck hole I simply sewed a rolled hem.
It came out ... okay. A bit of buckling and warping but nothing a scarf won't cover. At this point I decided that I wanted to put sleeves in instead of finishing the armholes the same way.
But first I had to give it a bit of shape. Starting at the point that I'd pinned I sewed the sides with a straight seam in an A-line shape and cut off the excess. I wasn't too particular about fit as I knew I could take it in if it was still too loose - I'd rather it was too loose than too tight because I knew I would be layering it over pants and tops, plus, you know, winter weight.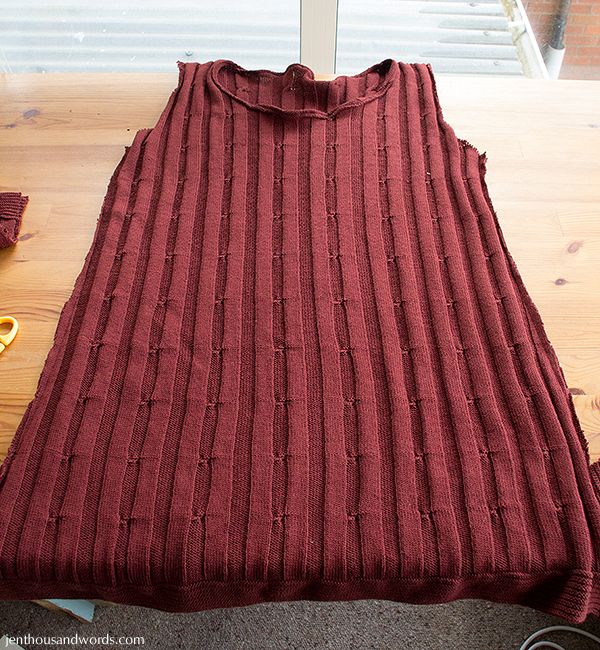 Using some of the excess that I'd cut off I fashioned a couple of sleeves, just sort of making it up as I went along. They are sewed closed at the bottom; the top is folded over. (In this pic you can see the imperfect finish to the neck hole.)
To attach the sleeves I turned them right side out, put them inside the tunic, lining the edges up, pinned it and sewed it. You can see me sewing it here, and can just glimpse the sleeve inside the neckline.
And you know what ... nobody was more astonished than I when it all worked out and I ended up with an actual wearable tunic!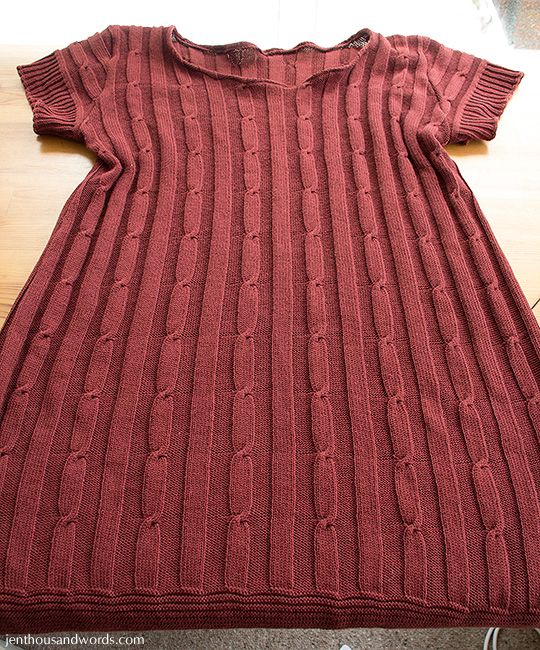 I even braved the 95% humidity and heat and styled it in an outfit to show you how I'll wear it this winter. I nearly died of heatstroke. The things I do for you people.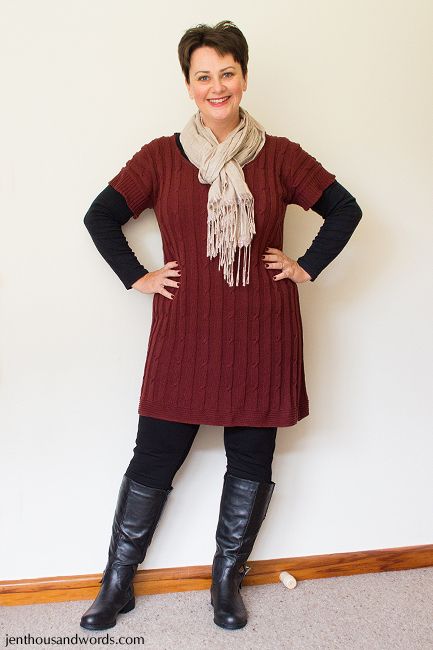 I'm looking forward to wearing it this winter as it's so comfy and really, what could be warmer than wearing a blanket?
The lesson for the day: just do it. Just dive in and tackle that project that's intimidating you. Who knows - you might actually get it right!