White cleaning out my computer I found files for an old activity that Grant and I organised in 2006. It was a church activity and I found the idea somewhere on the internet but I can't remember where.
I thought I'd share my notes and a few photos from the activity - perhaps it will give you some ideas for a ward, Relief Society or youth activity.
The theme is Itty Bitty. Anyone who knows me knows I love miniature things, so the concept caught my fancy. Here are the posters I created to advertise the activity - some information printed out on cardstock with little plastic magnifying glasses glued over the words (I'm sorry, this is the largest photo I have)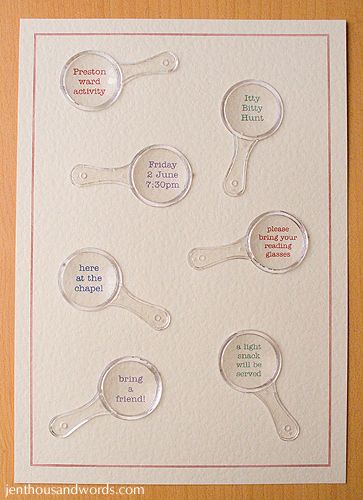 .
We also handed out printed invitations, which looked like this:
At the activity we divided everyone up into teams. How many teams and how many members in each team will depend on age ranges and the number of people who show up - use your discretion.
Each team was handed a sheet of paper, on which was printed the following information:
Itty Bitty Hunt
Here are your itty bitty clues – don't forget to turn the page over, there are more on the back. Work together as a team to find each of these little details in the building. There are 10 in the foyer; 5 in the passage; 9 in the chapel; 5 in the nursery; 2 in the font classroom; 5 in the kitchen; 4 in the clerk's office; 3 in the classrooms / Bishop's office; 1 in the library; 2 in the classroom behind the chapel; 4 in the mother's lounge. Below each picture write down what it is and where it's found – the more details you give, the more points you are likely to earn. Good luck and have fun!
Here is what the sheet looked like, filled with macro shots I'd taken around the chapel building: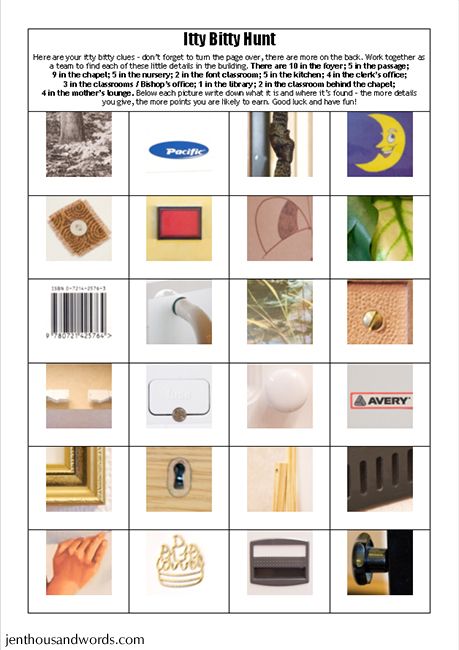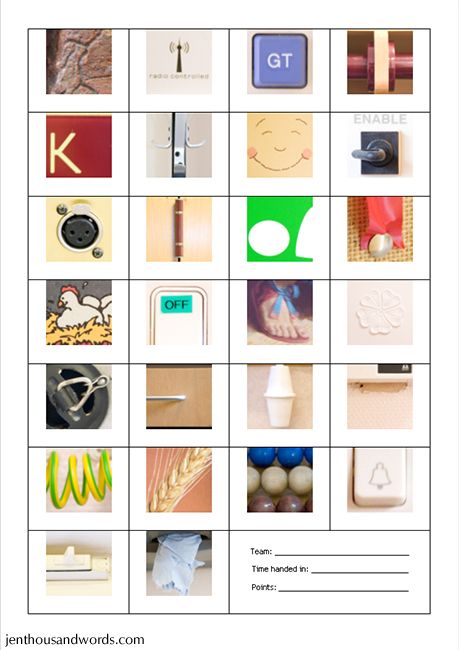 Another way of doing it would be to provide everyone with a map of the building, number the pictures, and ask them to write the numbers where the item exists on the map.
Give each team an itty bitty pencil (a regular pencil cut into two inch lengths and sharpened). As each team returns, give each member an itty bitty sticker and an itty bitty chocolate bar.
Give the winning team a prize of some sort - themed or not, it's up to you.
For refreshments serve itty bitty food - for example:
- itty bitty ice cream sundaes (2 oz. size bowls) with toppings, served with sample spoons
- tiny cookies (purchased or home made)
- itty bitty French fries (potato sticks)
- small crackers with a little piece of cheese
- miniature pizzas - 3 inches across
- tiny fruit skewers on toothpicks / cocktail sticks
- mini cupcakes
- bite-sized quiches
- mini M&Ms
- little sandwiches cut into 2 inch squares or triangles
- miniature marshmallows