The Curious Habits of Doctor Adams - Jane Robins
An interesting and compelling true crime story that I enjoyed as an audiobook. Would recommend.
A Beautiful Mess Photo Idea Book: 95 Inspiring Ideas for Photographing Your Friends, Your World, and Yourself - Elsie Larson and Emma Chapman
Nothing new in it, but enjoyable nonetheless with lots of inspiring photographs. Would recommend.
Dawn on a Distant Shore (Wilderness, Book 2) - Sara Donati
The second book of the series, which I really enjoyed and would highly recommend.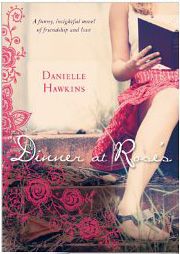 Dinner at Rose's - Danielle Hawkins
I enjoyed this book and would recommend.
Spark: The Revolutionary New Science of Exercise and the Brain - John J Ratey
A very interesting and motivating book which I enjoyed as an audiobook. Lots of amazing information on how exercise affects the brain. Highly recommend.
The Amityville Horror - Jay Anson
I listened to this book as an audiobook. I'd never seen the movie or anything and wanted to know the story. I found it interesting and creepy - would recommend if you're into that kind of thing.
The Escape Artist - Diane Chamberlain
I enjoyed this book and would recommend it - along with all of Diane Chamerlain's books.
At Home: A Short History of Private Life - Bill Bryson
A fascinating non-fiction book which I would recommend.
The Great Cholesterol Myth: Why Lowering Your Cholesterol Won't Prevent Heart Disease-and the Statin-Free Plan That Will - Jonny Bowden and Stephen Sinatra
A very interesting book which I'd urge everyone to read - essential reading if you are have any desire to maintain good cardiovascular health, whether you have been diagnosed with high cholesterol or not!! Highly recommend.
Lake in the Clouds (Wilderness, Book 3) - Sara Donati
The third book in the series; would highly recommend.
The Secret Holocaust Diaries: The Untold Story of Nonna Bannister - Nonna Bannister
Another audiobook, which I found interesting and evocative. Would recommend.