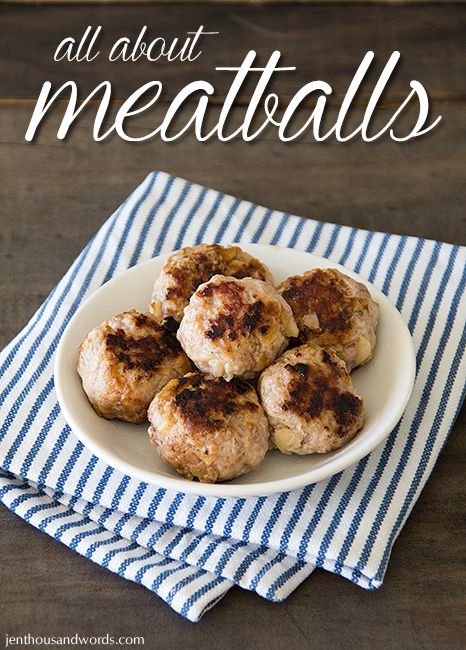 I used to think that making meatballs was a bit of a hassle. You have to add all of these ingredients, then make the balls, and then fry them in oil. I don't like eating fried foods so I didn't make meatballs for years.
I've since come to realise how easy they are, and that they are super versatile and a great way to use up inexpensive ground meat. We call ground meat "mince", so that's what I'll refer to it as in this post.
One of the benefits of making your own meatballs is that you have total control over what goes into them. You can use any kind of mince - venison, beef, pork, chicken, turkey, duck, lamb; whatever takes your fancy or is on sale at the grocery store.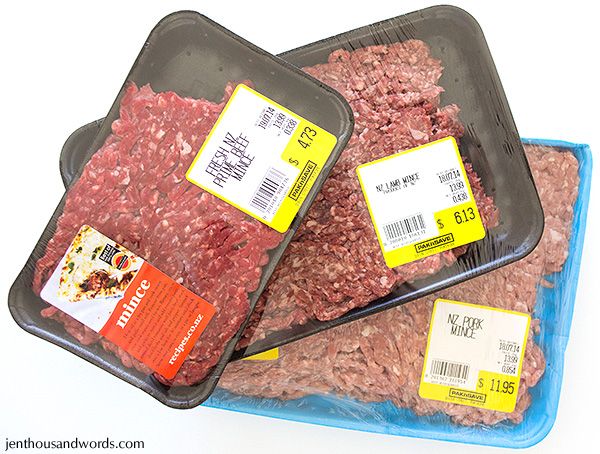 Start off by putting your mince into a big bowl. You could just go ahead and start forming the balls now - meatballs really do not need a bunch of additions. I know that many recipes say to add egg (for binding) and then you have to add breadcrumbs because the egg has made the meat too liquid. But really, if you form the balls well the meat holds together just fine as you cook it, so no egg or breadcrumbs are necessary. Good news if you have egg or gluten allergies.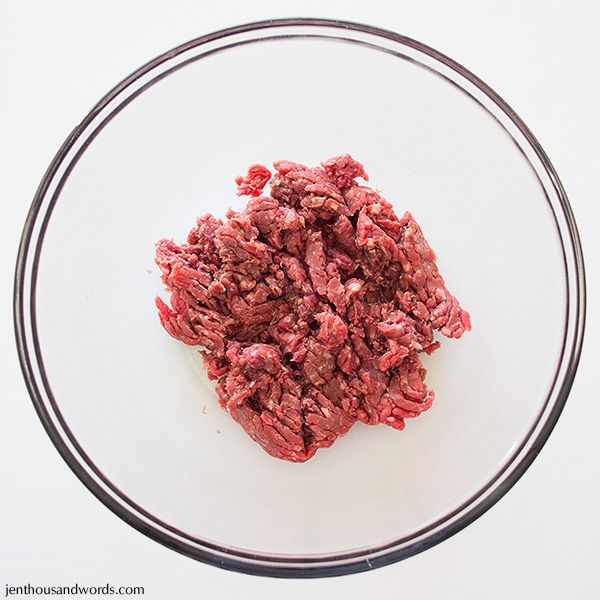 I like to add some herbs and / or spices. If you're not sure what to use, here's a quick rundown of how I use them: marjoram goes well with beef; basil and oregano add a lovely Italian flavour and suit most meats; sage goes well with pork and chicken; thyme suits most meats but is especially good with beef or pork; rosemary is delicious with lamb or chicken.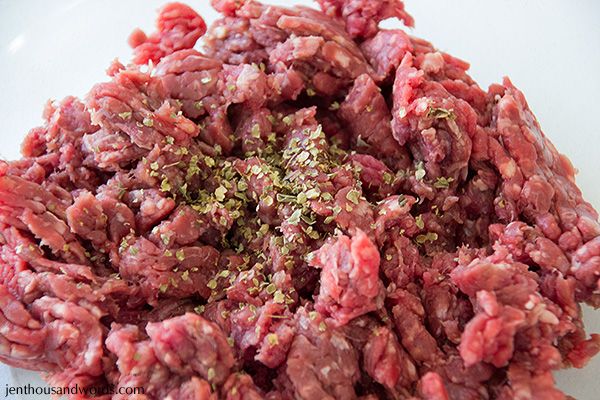 Don't forget that you can also add spices like ground chilli, curry powder, Cajun spice mix, Chinese 5-spice mix, etc.
I sometimes add finely-chopped ingredients such as fruit or vegetables, depending on the meat. For this recipe I used onion. You want to keep the pieces really small as they won't have long to cook when you cook the meatballs - or go ahead and pre-cook the additions as I have with the onion here.
Once I've mixed the meat and additions together well (I use my hands or a hand mixer - the kind you use for baking) then I move onto my favourite kitchen tools - my scoops. I have a set of four scoops. The three largest are Pampered Chef scoops and the smallest one is from Amazon. For meatballs I usually use the second smallest one, which holds a tablespoon. If I'm putting something into the meatball (more on that in a minute) then I use the second largest one, which holds two tablespoons.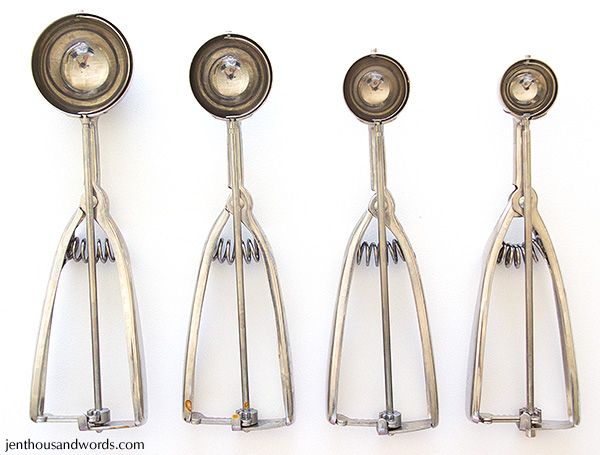 Using a scoop for each meatball means that they will all be uniform in size, which is what you want. This means that they will all take exactly the same amount of time to cook.
I scoop the meat into my hand and roll it into a ball. Sometimes I add a little something into the middle - in this case I added a small piece of cheese into the centre of the beef, for cheeseburger meatballs, making sure to seal the meat around it well.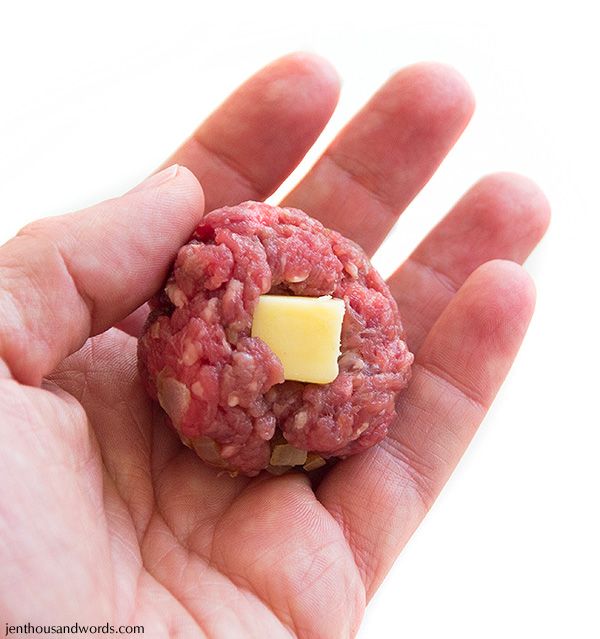 For this mixture I used pork mince, sage, and finely chopped apple (no need to pre-cook the apple).
After I roll the meatballs I press down on them a little - you can see the slightly flattened one on the left, and the unflattened one on the right.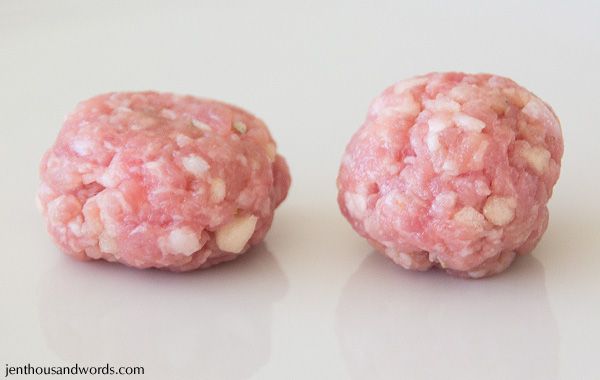 You really don't have to do this, but I like to because,
1) it creates a slightly larger surface that touches the pan and gets nice and golden,
2) they cook quicker as it is a smaller distance from the pan to the centre of the ball,
3) they are easy to turn and don't roll around the pan,
4) the meat shrinks slightly when cooked, so they pull up to a slightly more rounded shape anyway
Cooking the meatballs can be done either in a sauce (for example, a marinara sauce for spaghetti - just throw the raw meatballs in and simmer until done), or they can be baked or grilled, or done in a pan, which is what I prefer.
I don't pour in a lot of oil to fry them. Instead I brush each meatball with a little olive oil.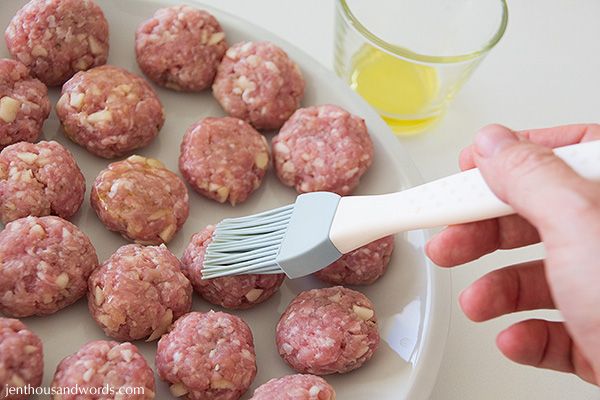 I put them into the pan oiled side down, and brush the top with a little more oil as they cook. If you are using fatty meat then you won't need to do the oiling. For small meatballs like this, which are about as thick as my thumb, I cook them for 2 minutes on each side.
Flip them over for the second side to cook, then transfer to a plate. If your meatballs are getting burnt before it's time to flip them then turn down the heat of your pan.
Once your meatballs are rolled you don't have to cook them right away. You can go ahead and freeze them, but only if your meat wasn't frozen before. If you've used meat that you have defrosted, then go ahead and cook the meatballs first, and then freeze them.
To freeze the meatballs, lay them in a suitable container ensuring that they don't touch each other (or they will freeze together).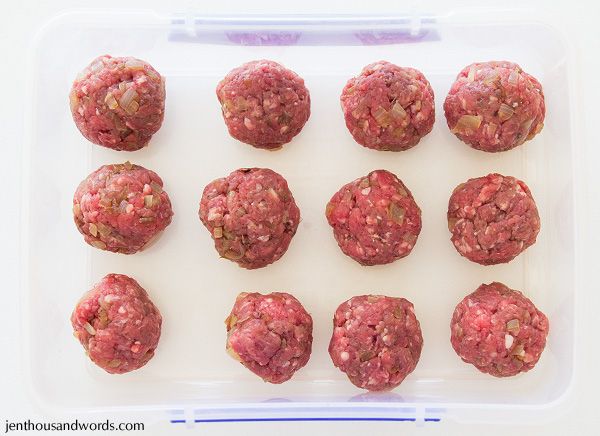 If you have multiple layers you'll want to put a piece of parchment paper in between the layers.
Don't forget to label them - a piece of masking tape works great.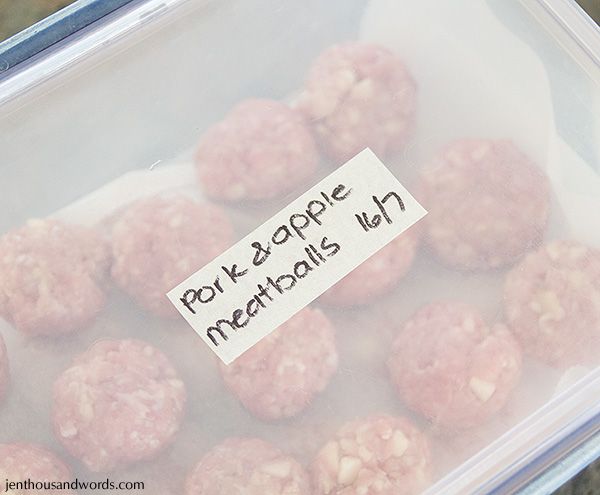 Meatballs really are versatile. They can be eaten on their own, or served in a sauce or on a kebab with other ingredients. They are great hot or cold, with pretty much any side dish or in a salad or on a sandwich. You can make them big or small, flat or round (or even baked in a loaf or in muffin tins if you don't want to roll balls). You can blend your own mix of meats and herbs and spices.
Here are a few suggestions on variations:
Chicken mince with finely chopped ham and pineapple
Mushrooms with beef or pork mince
Rosemary and garlic with lamb mince
Cranberries and sage with turkey mince
Finely chopped dried apricots and curry powder with chicken mince – serve with chutney
Apple and sage with pork mince
Spinach and feta with chicken mince
Beef, chicken or turkey mince with oregano, pepperoni and garlic for a pizza flavour
Basil and a small piece of mozzarella in turkey or chicken mince – serve with a tomato sauce with or without pasta
Mint with lamb
Lemon zest and herbs (e.g. basil, oregano, thyme) with chicken mince
Taco seasoning with beef mince – serve with salsa and sour cream
Beef and pork mince seasoned with coriander seeds, cloves, salt, pepper and nutmeg for a boerewors (South African sausage) flavour
Orange zest with duck mince
What is your favourite way to eat meatballs?
What flavour combinations can you suggest?
I'd love to hear from you!