This is not a sponsored post and I'm not being compensated in any way, it's just me indulging a bit of daydreaming about ModCloth clothes because I constantly find myself pinning them on Pinterest. I just love their style. It's so stylish and cute, and they have so many options and a whole lot of their clothes meet my modesty standards. They also sell boots, shoes, jewellery and accessories - and lots of
cardigans
, which are one of my favourite clothing items!
Here are three autumn outfits I would love to have in real life. Down here in New Zealand we are going into spring, but autumn is when it's fun to layer things, and I know that the majority of my readers are in autumn right now.
Outfit 1
I love the fabric of this skirt - it's a pattern of cameras! - as well as the colours. Aren't these boots to die for? And the subtle little ruffle and bow detail on the blouse which just elevates it to something special. I'd layer the cardigan over unbuttoned, as I usually like to wear them.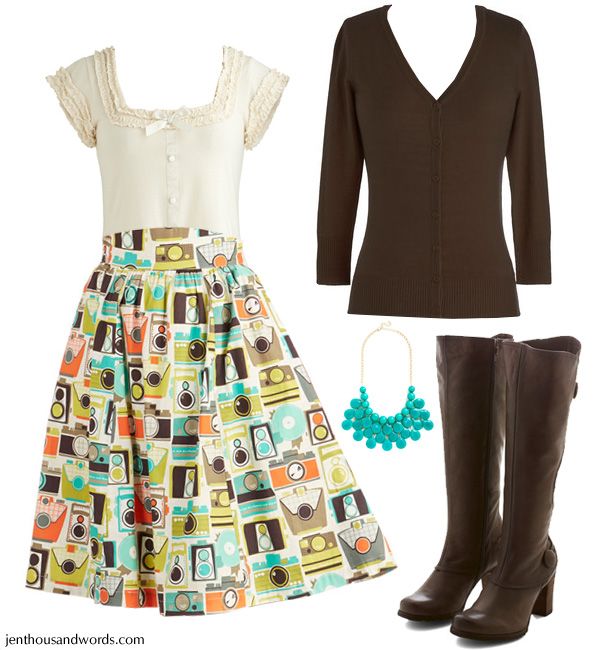 Charter School cardigan
Let's Get Baking top
Flair for the Fantastic skirt
At the Last Minute necklace
Stylish Amalgam boots
Outfit 2
I'd wear the cardigan open so you can see the colourful top. I love the sheer top (which I'd layer over a black top for modesty and warmth) and the way it is eyecatching but skims over the midsection. I'm lusting after a mustard cardi so I had to include one!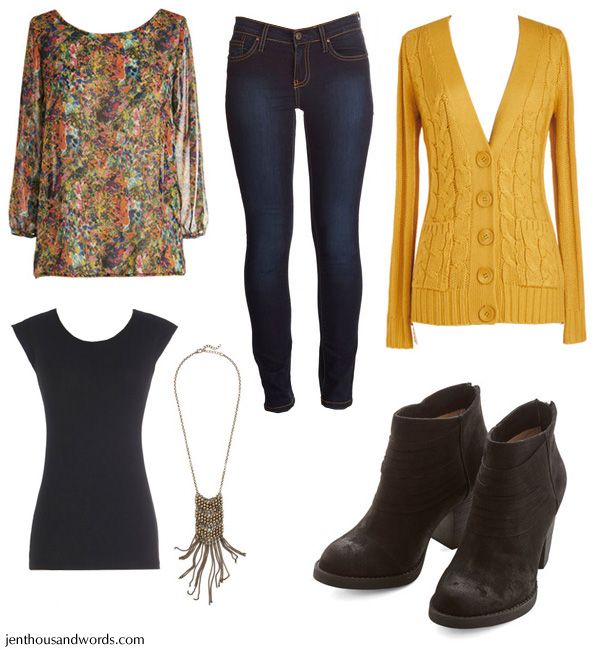 Front Row Fashionista jeans
Flash Fête Top
Tanks Very Much black T
Your Fireside of the Story cardigan
Life is Strut a Dream booties
Outfit 3
I love ModCloth's dresses most of all, and had to include this adorable one. I'd layer a cardigan over it and tights under it for warmth in autumn, although it would also be cute in summer on its own with some sandals.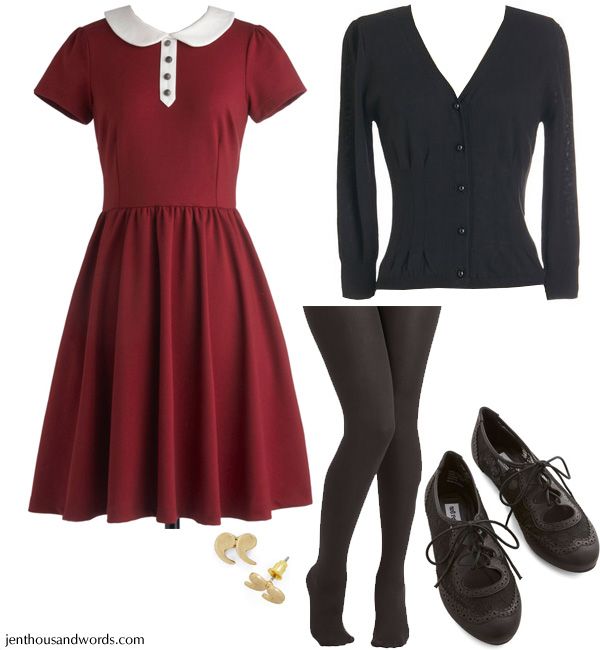 Fond Voyage dress
From Place to Place cardigan
Twee and Easy flats
With the Greatest of Fleece tights
Quote Couture earrings
I'd better stop there. I could honestly spend hours putting together full outfits just with ModCloth clothes. I hope you enjoyed these three autumn ensembles!