A little while ago I shared the following pictures of Noah's room: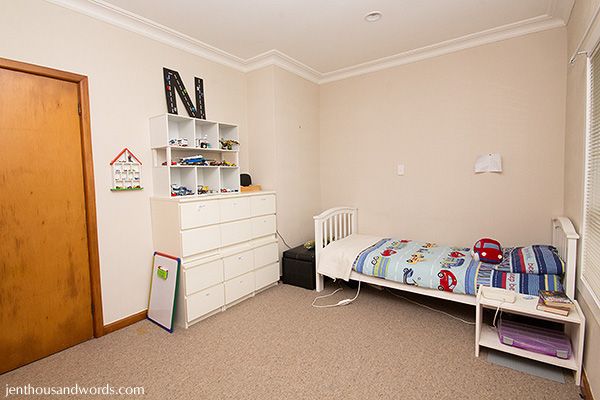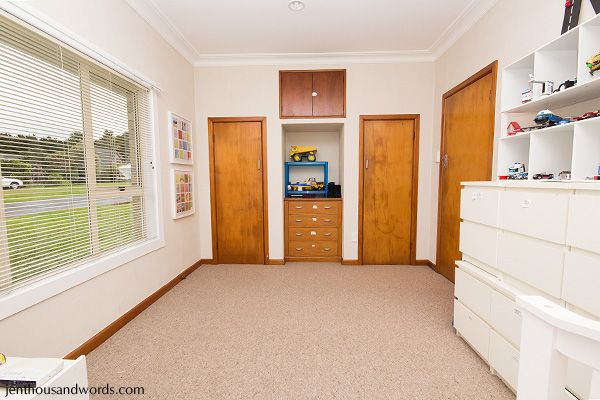 I realised that with all the shuffling and moving of bedrooms (described in
this post
) I hadn't really decorated his bedroom properly. So I made a few changes. First, the cubbies got moved into Daniel's room as he needed the storage.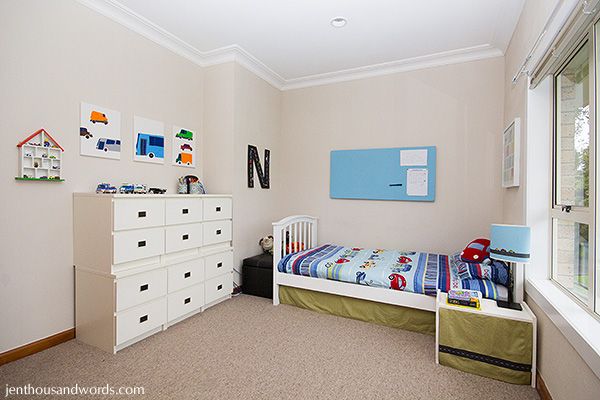 The alcove doesn't look very fancy but the big bins holding Noah's HotWheels tracks and HappyLand tracks are handy.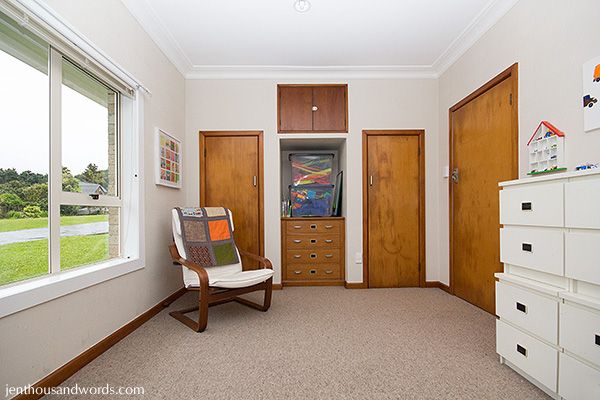 I made a skirt to go under his bed and a matching one for the bedside table, to which I added a strip of "road" with embroidered lines. The fabric was thrifted and looks more wrinkled in these photos than it does in real life, for some reason.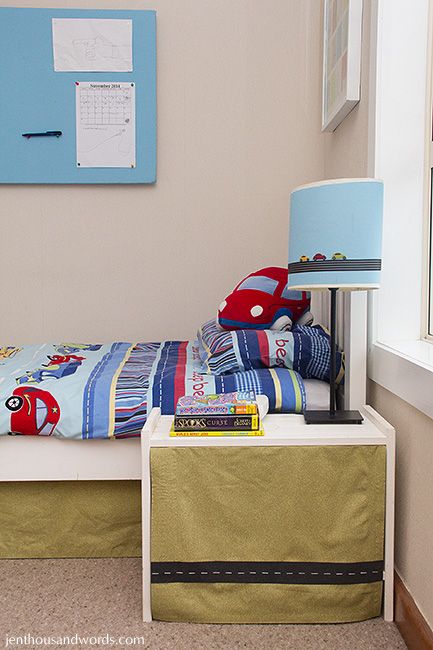 I moved one of the artwork collages (available
here in my Etsy shop
) so that there is now one on either side of the window.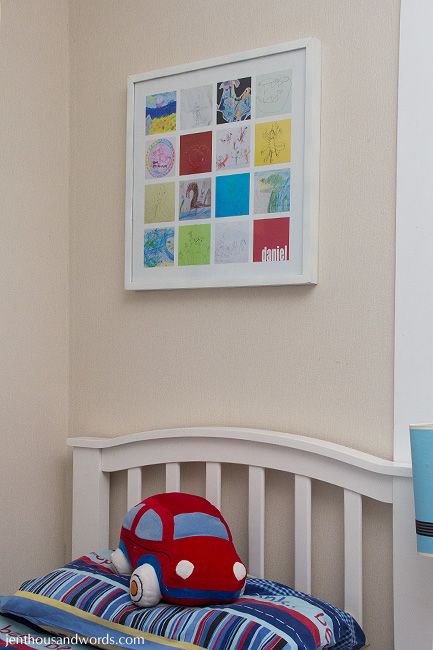 I hung his N artwork (
more info here
).
I bought some little chalkboard labels on eBay and stuck them onto the drawers with poster putty.
Noah sketched some vehicles on dollar store canvases and asked me to paint them for him, which I thoroughly enjoyed doing.
The brown storage bench in the corner holds wooden car tracks.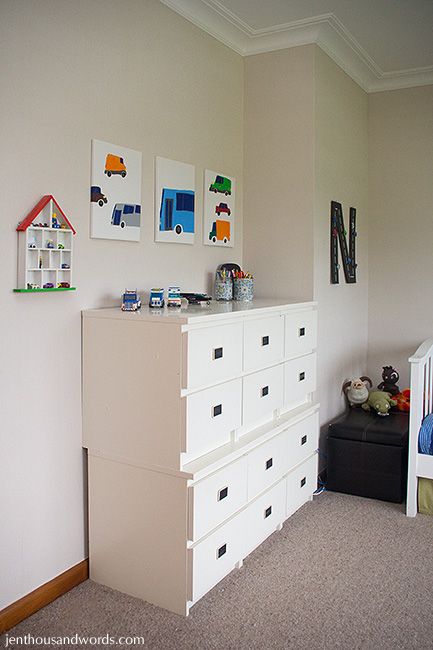 I added a band of blue fabric to an old lampshade that I had, glued on a striped ribbon, and cut out some little cars from a piece of car-patterned fabric and stuck them on.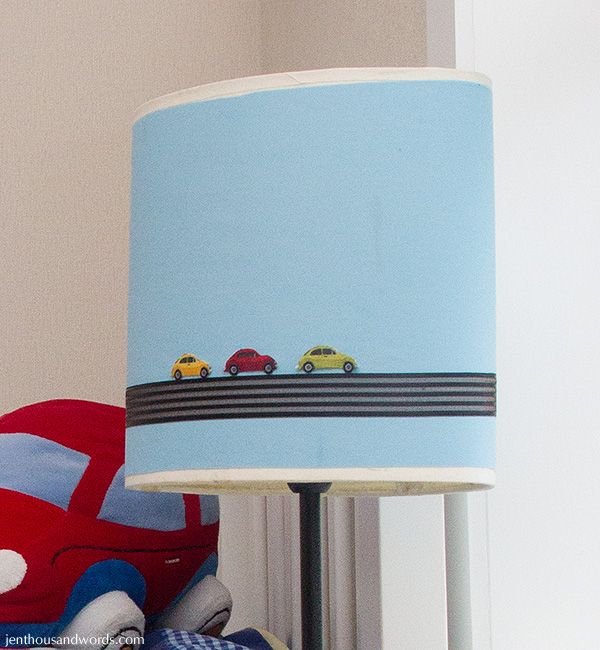 The quilt I made him (more info
here
and
here
) adds some colour to a comfy chair, where I sit in the evenings while we chat or I read.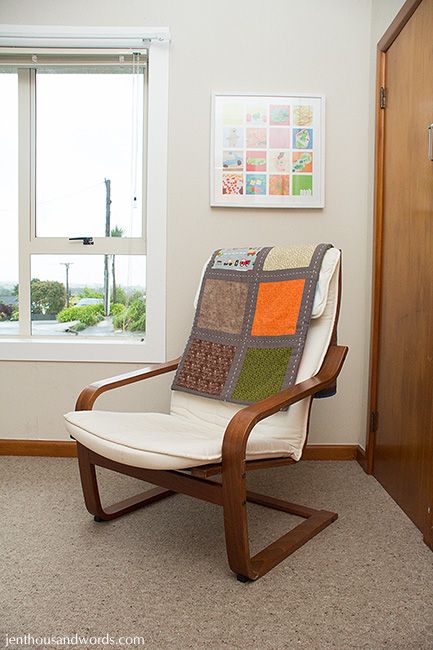 I covered the bulletin board that we had in blue fabric (also thrifted). Noah loves having a place to put up a calendar and his artwork (he's recently taken his drawings down to make room for new ones, hence the blank noticeboard).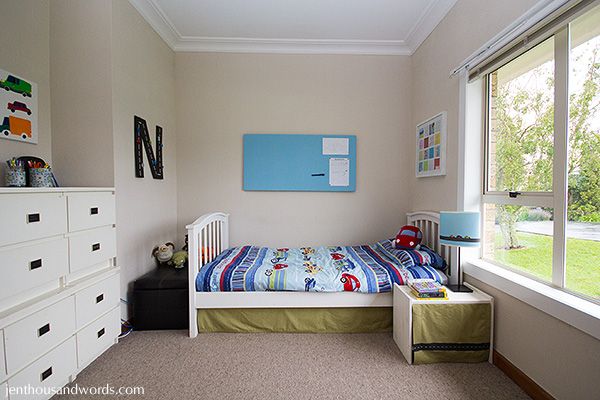 Of course, this is how it usually looks! Just keeping it real.
It was so fun to add some finishing touches to his room, and I hardly spent anything doing so.