It's that time of year again - time to get our family photo done. I take a studio photo each year for the front cover of our photo books - here are the last eight years.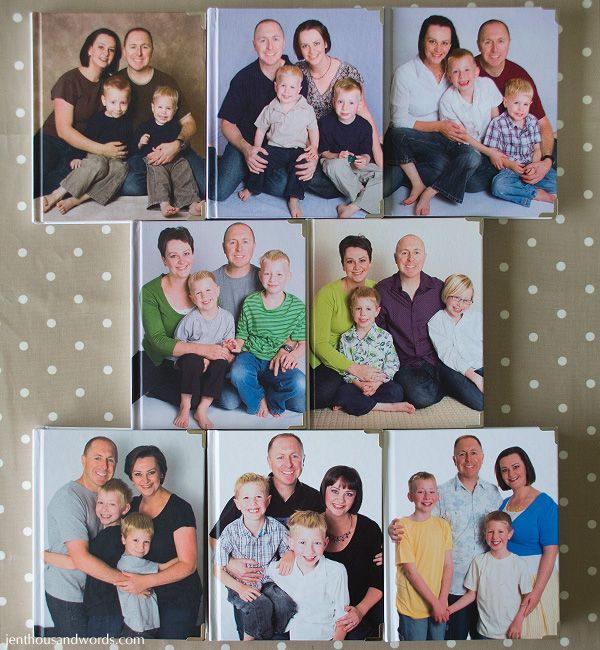 It's so fun to see how the boys grow and how we all change over the years. I set up my studio lights and use a tripod and a remote or the camera timer, unless we have a guest staying with us, in which case sometimes we ask them to press the shutter release.
Anyway, one of the most important parts of preparing for family photos is picking out outfits. Here's a tip:
Think of the clothing for the whole family as if it's one big outfit!
First of all, forget about patterns or logos with one exception to this rule: if you have only one person wearing a pattern and it's a subtle one, then you can get away with it. (You wouldn't wear an outfit with a checked shirt and a floral skirt and striped hat, would you?)
Try to keep all outfits to the same season - it will look odd if one family member is wearing a thick sweater and another is in a short sleeved summer shirt. (You wouldn't wear a pair of shorts with a winter coat, would you?)
Choose one, two or three colours and mix and match them for everyone's outfit. (You wouldn't wear all the colours of the rainbow at once, would you?)
Here is an example of a family who first got it wrong and then got it right - this is my friend Rebecca. For their first session, she had taken great care to select each child's outfit, choosing one she liked each child best in or of which the child was especially fond. Her husband selected what he felt like wearing, and she chose for herself an outfit she felt confident in. What she didn't take into account, was how all of the outfits would look together: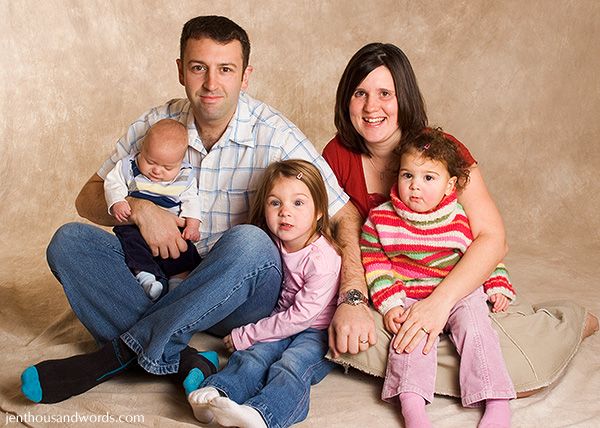 Why is it wrong? Because of the mix of short-sleeved summer shirt and long-sleeved woolly jumper, the busy stripes, checks and more stripes, the range of colours and the addition of socks. Fast-forward a few months and Rebecca asked for some help in co-ordinating their clothing. After going through her family's wardrobes to see which colours were most prolific, we decided on a combination of white, blue and pink and selected a summery outfit for each family member based on those colours. The result is much more pleasing to the eye:
Here are some of my portrait clients who got their family outfits right: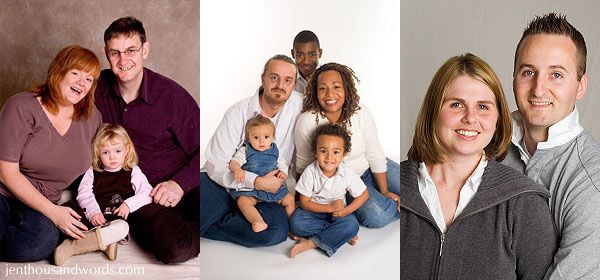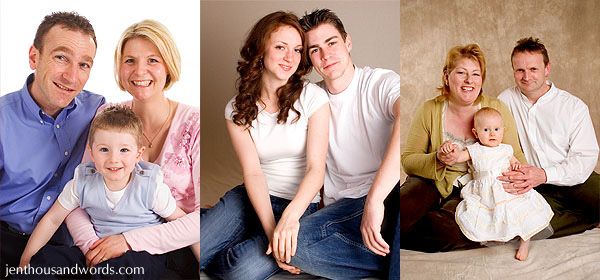 As you can see in the photo above, for our previous family photos, I chose simple colour schemes each year, paired with denim:
2006 - brown and navy
2007 - brown, navy, beige
2008 - white, red, white-red-blue plaid
2009 - green and grey
2010 - green, purple, white
2011 - black and grey
2012 - black, white, grey
2013 - white, blue, yellow
This year I began putting our outfits together by deciding that everyone would wear jeans, and I would wear a denim skirt. I then went through the boys' T-shirts and pulled out the ones without logos or pictures on the front. I selected a few items from Grant's closet that would match, and then thought of my own outfit. I put myself last as I have clothes in pretty much every colour of the rainbow and knew I could co-ordinate with anything in their wardrobes.
These are the first items I put together.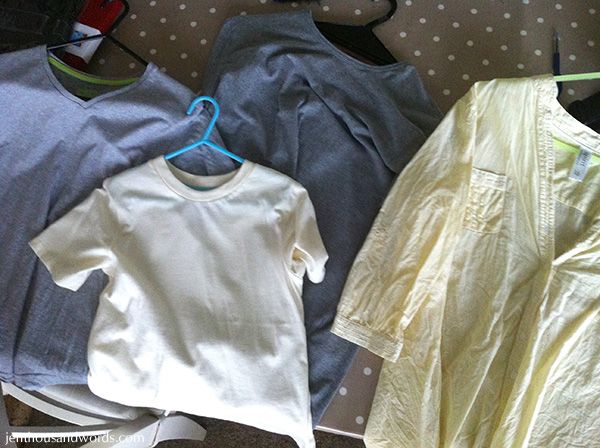 I decided against it because last year we wore yellow, and because Noah's T-shirt was such a pale yellow that it just looked cream. I wanted more colour. Next I pulled together these items, planning to put Daniel in black shorts: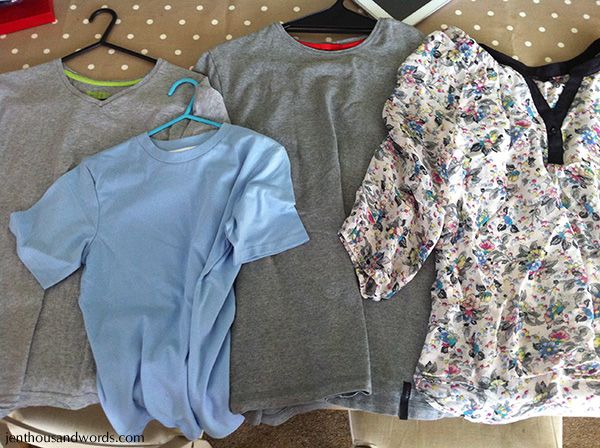 I still wasn't convinced. Then I found a plaid shirt in Grant's closet and picked out the final look - I'd wear red jewellery and belt.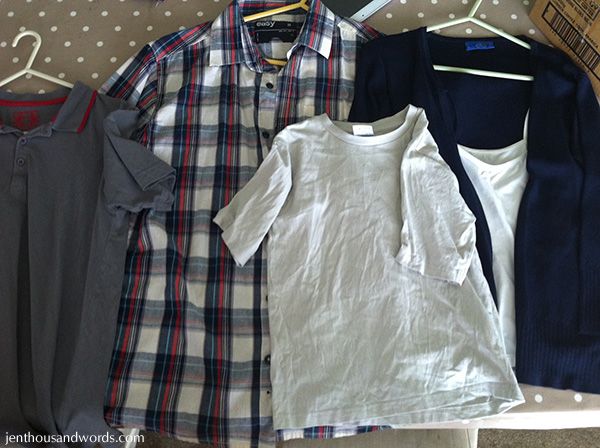 Ta-da, here is the family portrait for 2014, along with our usual funny face ones. (I'm I'm really not happy about the lighting. My wireless trigger broke so I had to use my Speedlite to trigger the strobe in the softbox, and I barely know what I'm doing with my Speedlite on its own, let alone in conjunction with studio lighting. But oh well, it doesn't have to be perfect, at least it's done.)