It's bad enough not being able to eat wheat, but when you also have bad reactions to potatoes and corn then it rules out most standard gluten free products, which generally contain potato starch or corn starch. I've had to resort to making my own gluten free products, which suits me fine as I prefer to cook from scratch rather than buy processed food anyway.
I was eating Ryvita crackers for a while, and felt okay on it, but I wanted to avoid the gluten that it contains. I also wanted some variety. I seem to be okay with oats, but the only oatcakes that I could find were pretty expensive for something so tasteless. I experimented with making my own, but wasn't thrilled with the results or how well they kept (or didn't).
I searched online for grain free crackers and found plenty of recipes but they all seemed to contain eggs, and at the time I didn't have any eggs in the house. So I experimented and came up with my own version and it is super simple and easy, with only a few ingredients.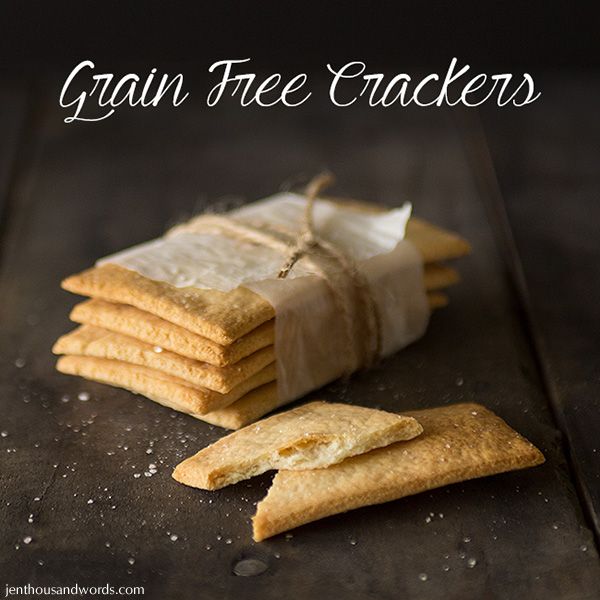 In a food processor or mixer, mix together:
200g (2 cups) of almond flour / meal
150g (1 and a half cups) tapioca starch or arrowroot
a good sprinkling of salt
2 tablespoons sesame oil
Then add just enough water, while the mixer is mixing, until it begins to clump together like dough. Remove from mixer in batches, kneading and rolling out and cutting crackers. Use a pizza cutter to make rustic squares or rectangles, or take the time to use cookie cutters for cute, uniform shapes. Just re-knead and roll out the offcuts; because there is no gluten you can't over-knead the mixture.
Lay the cracker shapes onto a baking sheet and bake at 180
ºC (375
ºF) for about 13 minutes, or until just beginning to go golden.
It's just that easy and simple. The sesame oil is the key to giving these crackers a lovely, toasted flavour. Grant's comment, when he first tasted them, was, "These taste like they should be bad for you, they're so good." And the best part is that you can experiment with other flavour combinations. I tried a batch with pumpkin, sunflower, and poppy seeds thrown in.
I also made some with olive oil (a more subtle flavoured oil than the sesame) and curry powder. These were delicious, especially with some chicken-mayo on them, although they were great with cheese too!
I've since experimented with olive oil, powdered garlic (about a tablespoon) and dried rosemary (about a teaspoon), which were a big hit with Grant. I plan to try some with taco seasoning, or oregano and garlic, or cinnamon (replacing the salt in the recipe with a little coconut sugar).
The crackers have a lovely crunch and are fairly robust, although they do crack easily if they are too thin. They seem to keep well, although they are eaten fairly quickly around here! The recipe with the sesame oil works out to be $8 per batch, and I get around thirty 7cm square crackers out of that (it will be slightly cheaper if you use a less expensive oil, although I think the sesame oil makes all the difference if you're not adding herbs and spices.) While not the cheapest, they are easy to make and have healthy ingredients. I especially like that they are higher in protein than regular crackers.
I'd love to know if you try these out!