Well, the beginning of this week was a bit of a whirlwind! What an adventure. Let me explain. (Warning: epic long post ahead, with cellphone photos.)
We were planning on going camping from Sunday to Tuesday. We haven't been once yet this summer and we wanted to squeeze a trip in around Grant's shifts and before my mom and stepdad arrive for a visit next week. We were all looking forward to it.
Grant and I were talking about the
move to Taranaki
. I said to him that because we didn't know when his transfer would come through I'd really have liked to have sorted out a house to move to before my mom's arrival, so that we didn't have to worry about that for the month that they'd be visiting, or have to make the trip down during that time.
We then realised that Sunday-Monday-Tuesday were really the only times we'd be able to do it, and our planned camping trip quickly became a road trip to house hunt.
Grant left to go to work and I spent the rest of the day contacting estate agents, booking accommodation, and packing.
Backing up a bit, I do want to mention that we'd been house hunting online ever since our decision to make the move. We knew what we needed and what we wanted, we knew which town we wanted to be in, we knew which areas of the town we would consider, and of course we knew our budget. I had lists of houses and the agents and a place to make notes so that we could keep it all straight in our heads.
But there was one house in particular that we were very interested in - I'll call it House X. We were so interested in it that I'd even spent some time working out, from the satellite image, Google maps street view, and the listing's photos, what I thought the floor plan was, and planning the changes we'd make to it to suit us!
Anyway, I lined up appointments to view as many houses as possible, with four agents, and we packed up and headed out at 6am on Sunday morning to make the 5-ish hour drive down. The roads were almost empty and the weather was beautiful, starting out with ethereal trails of mist and brightening to a sunny day once the sun fully rose.
I drove first, while Grant slept, as he'd come off shift at midnight and only got to bed in the early hours. Eventually we saw the signs ...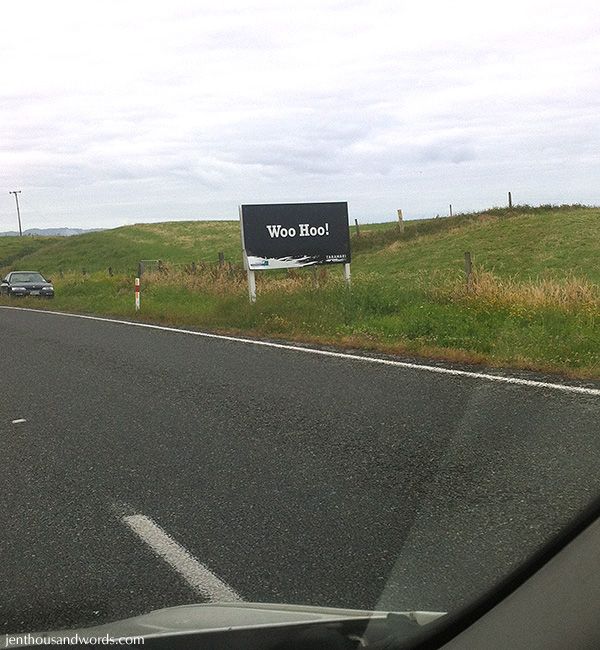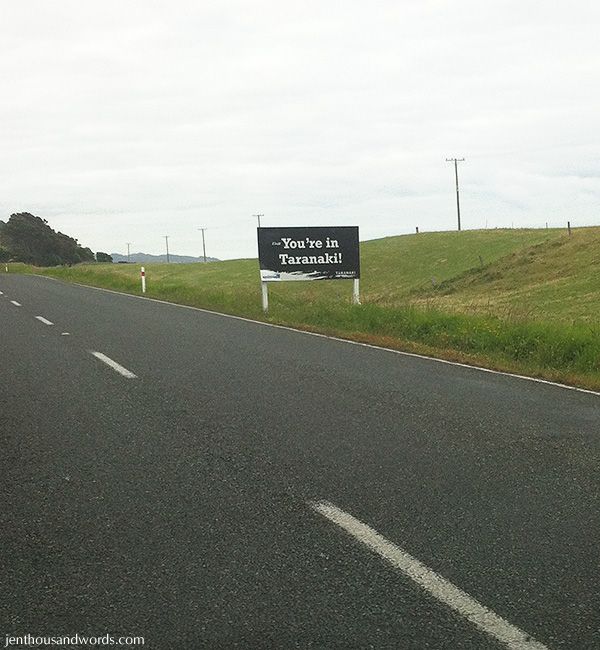 With another hour to go Grant took his turn at the wheel. The kids were keeping themselves amused and we had minimal "are we there yet?" questions - I've found it does help to give them occasional, "It's X many hours / minutes to go" updates so they don't have to ask.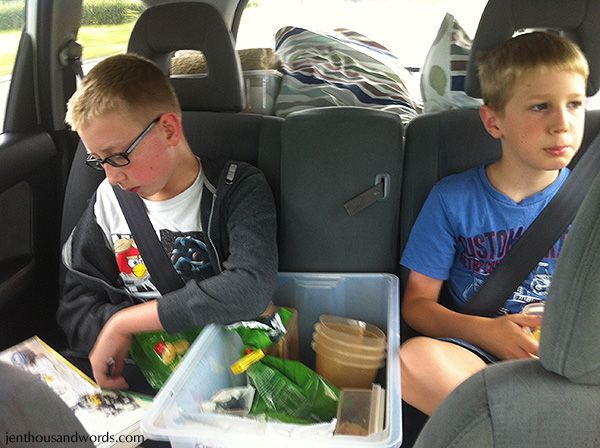 First glimpse of the mountain.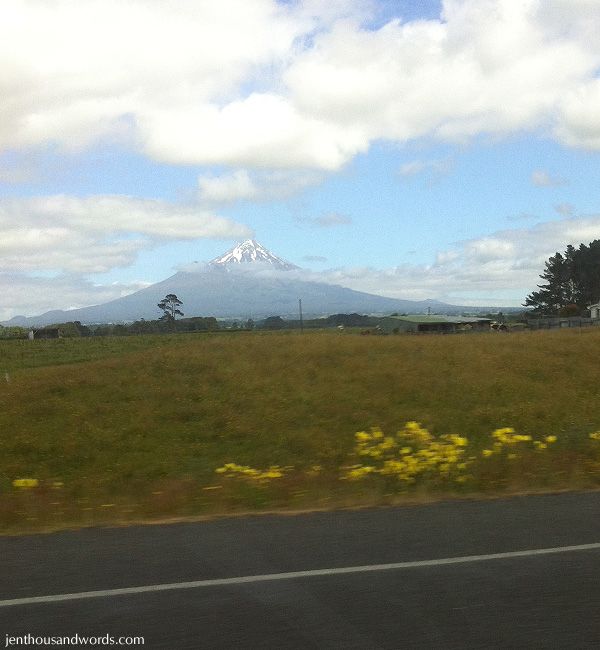 We arrived with some time to kill so we stopped in the town where we had our accommodation - I'll call it Town B (and I'll call the town we were house hunting in Town A). We couldn't check into the motel yet, so we killed some time and had some lunch before finding an amazing park and playground where we hung out for a bit.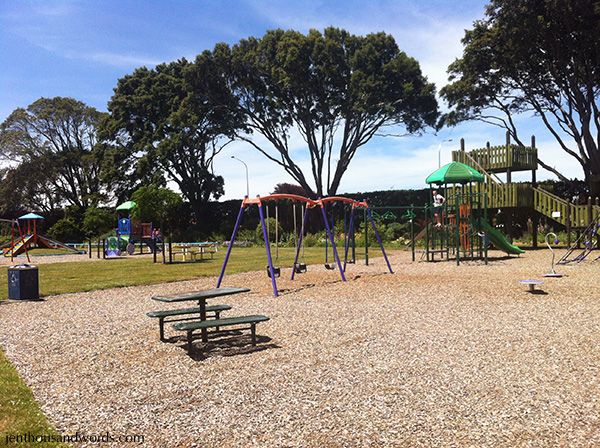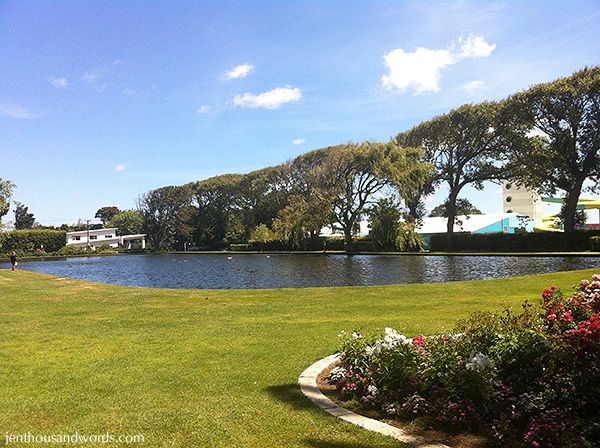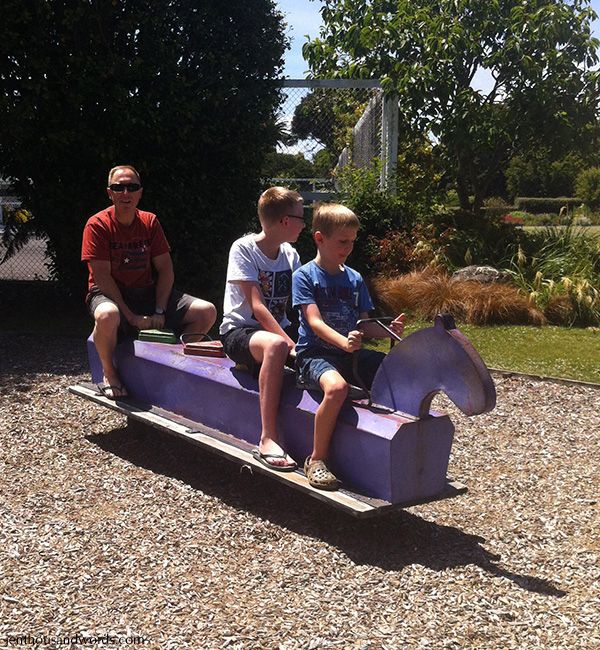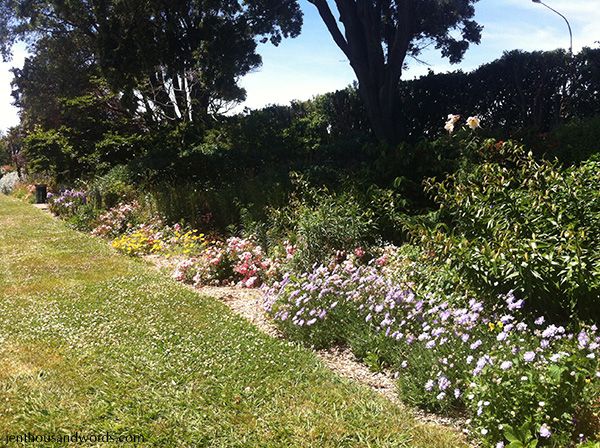 Soon it was time to head off to Town A to meet with the first estate agent. She was from the agency that had the listing for House X, and she said she was having trouble arranging a viewing as the tenants were away or something. She showed us five houses.
The first was lovely but we didn't like the flow and it just didn't feel like us. It was also opposite an industrial building. The second was overpriced, absolutely tiny, had the bathroom off the kitchen, stank of smoke, and was just horrid! In my notes I've written, "NO NO NO!" lol. The third was huge with so much potential but would require a huge amount of work and was at the very top end of our budget to start with - it just felt overwhelming. The fourth was immaculate but just too small. The fifth was a very strong contender. It had been renovated but was reasonably priced and could work for us with a minor tweak.
After that we headed to the motel to check in, have something to eat and put our feet up for a bit. The rooms were lovely and clean and comfortable, with a kitchenette in each.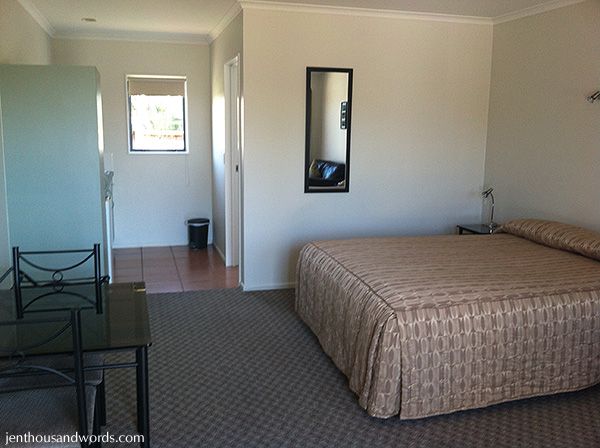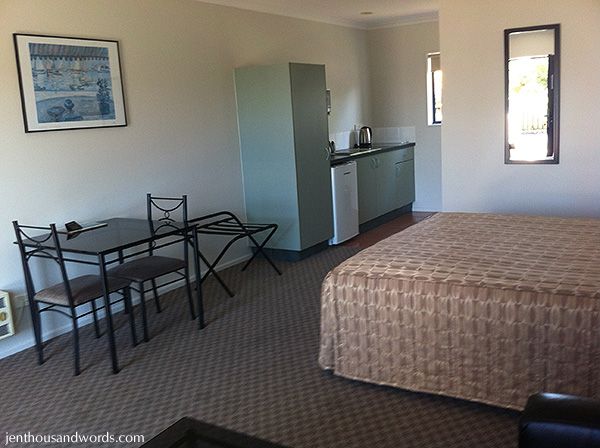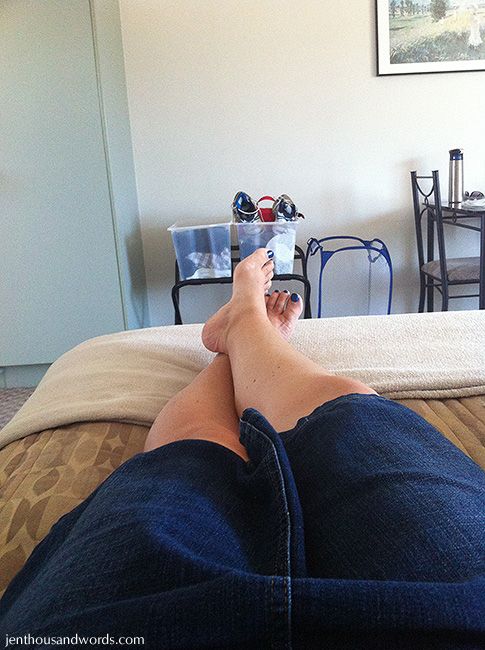 Grant is doing P90X so he did his workout and I went for a walk.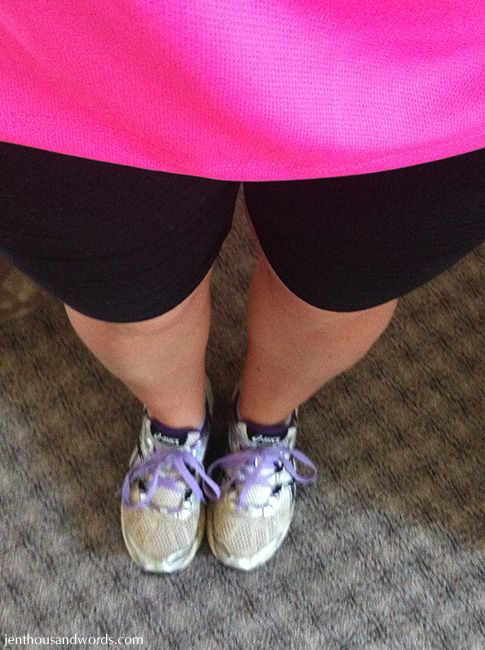 By this stage I was panicking about getting to see House X, but of course we still had loads to see with the other agents the next day.
I was dismayed to find out that just from going in and out of houses, and talking on the driveway with the agent for 10 minutes, I'd sunburned badly on my neck, chest, and tops of my arms. So annoying!!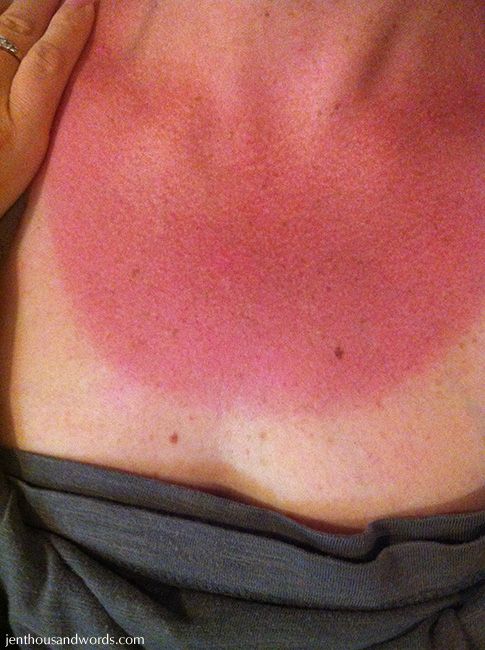 We drove to the beach but everyone was too tired and we ended up just coming back to the motel to have dinner and jacuzzi baths and relax.
The next morning we got up and ready and had breakfast. I had luckily packed a hot pink T-shirt to wear, which made my sunburn look more like a tan. There's a tip for you - if you want to look less burned, just wear something more highly pink than you are!
We drove through to Town A to meet the next agent at 10am. She didn't turn up and didn't turn up and, annoyingly, we found that Town A is not brilliant for either internet signal or cellphone signal, so we couldn't get hold of her. We eventually had to leave to meet the following agent at 11am. Shortly after meeting her, the previous agent got hold of us (we'd been calling the office when we had intermittent signal). She'd got confused and thought we were meeting at 12 (I think she got mixed up because it was Monday the 12th that she'd written down) but we told her that we'd driven past the four houses they had listed and hadn't wanted to live in those areas, so not to worry as we didn't want to see them.
The 11 o'clock agent was a fellow South African. She showed us three houses.
The first didn't have any indoor-outdoor flow, and no way to make it happen, plus it was opposite an industrial building. The second had an absolutely amazing garden and we liked the house, but it was just too tiny. The third was a bit gross, was gloomy, had damp, and needed too much work.
We heard from the first agent saying she had an appointment for us at House X at 3:45, as well as another one to show us at 3:30, so we were pumped about that.
We headed back to Town B to have some lunch and a rest, then we were back to Town A to see the next agent. She showed us four properties. The first was an old school, which would be a cool project but just too much work for us. The second was a set of units that were rented. She'd got the impression we were after investment properties, rather than a family home, so of course they were not suitable. The third house needed too much work. The fourth house was horrendous!! When we pulled up outside we saw that the next door neighbour had two goats, two sheep, a dog, and some chickens in the front yard! We went inside the house that was for sale, and the tenant began accosting the agent with all sorts of problems in the house, including a massive hole in the floor and an old woodstove that was apparently illegal and would need removal. He looked like a junkie, emaciated and blank-eyed, talking in a jaw-clenched way like drug addicts do, with rotten teeth. The house was disgustingly dirty and run down, just awful. I couldn't even make it halfway through the house before I felt like I was going to have a panic attack. I just had to get out of there!
The minute we got outside the agent said, "I'm so sorry! I had no idea of the state of it." The house next door was also for sale but we told her we didn't want to see it, thank you very much!!
By this stage we were exhausted and starting to feel a bit overwhelmed. We had seen twelve houses and only one was a real possibility, and we only had two more to see. Our hopes were still pinned on House X, which, of course, we hadn't yet seen.
But then the agent we were with said that she now had a better idea of the kind of house we were after and asked us if we were open to having a house moved onto a section.
To explain, here in New Zealand people often buy a plot of land, which they call a section, and buy a house and have the house transported onto the section. Coming from South Africa, where houses tend to be built of brick or cinder block on concrete pads, and living in England, where the houses tend to be built of brick, it kind of blew our minds to hear of moving houses. Sometimes they transport the house in one piece, sometimes they split it in half, move it onto the section, and put it back together. It's amazing.
Anyway, we told her that sure, we'd be open to that, and she said that just the day before they'd received a listing for a house for removal. The client wanted to build a new house on their section. It was between Town A and Town B and we had just enough time to shoot out there to see it.
We rushed over there, while the agent arranged for a colleague to meet us at the house and drop the keys off. We looked around the house inside and out and while it was nice, I just didn't know if it was the one. I was so exhausted, feeling rushed and under pressure because we had to make our next appointment soon, and everyone kept talking to me while I was trying to think. There was one aspect of the house that I really didn't like and I was trying to work out if it was fixable. I eventually came up with a solution in my mind, and it would work, but I just hadn't felt the "This is the one!" feeling that we had been hoping to get.
We headed back to Town A to meet the first agent and see the houses she had to show us. We made it just in time, and she showed us one that just wasn't for us, and then took us to House X.
We got there and the tenants were not home. We walked around the house, looking in the windows. So near, but yet so far! We'd spent a lot of time thinking of this house, and badly wanted to get inside it.
Eventually the tenants arrived and let us in. It was nicer inside in some ways, and worse than anticipated in others. I'd totally nailed the floor plan, and the changes we would make would have worked but the more we walked around and thought about it the more we realised just how much work (and cost) would be involved. It was a bit of a let-down and we certainly didn't have that coming-home feeling. We left the house and went back to the one that had originally been a contender.
I actually liked it less that time. I don't know if it was because I was exhausted and overwhelmed, but my brain felt full and I just felt irritable. The kitchen was pretty small and standing in it I realised that the only place for the fridge to go was stuck randomly in a corner. I just felt numb to it, but worried because it was really the only suitable house besides possibly the house for removal. I also felt that it would be disappointing to buy that house because it had already been renovated. While we didn't want to take on too much work, we were hoping to get a house that needed some updating.
We left to go back to Town B and think about things. Grant and I were silent in the car, thinking things over. It felt like crunch time and we still couldn't decide.
We began talking about our options and he said, "Should we stop back at the house for removal and have another look, by ourselves?" The house was unoccupied. I immediately said yes, so he turned off at the road and we drove to the house.
We walked around the house and looked through windows. We discussed the tweaks we would make to the layout and how we would position it on a section. I began to feel excitement bubbling up in me, and I could see that Grant felt the same way. And there, in the shady garden surrounded by lavender and hydrangeas, we got that feeling. That this-could-really-work feeling. That we-found-our-house feeling. We were jumping and laughing and hugging, it was such a cool moment. We just knew.
We headed back to the motel, elated. We changed into our togs and went to the local pool, which was pretty impressive. Noah made me laugh when I came out of the bathroom in my togs. He said, "Mommy, you might need a pink on of those because your burn is showing. It's not a good look."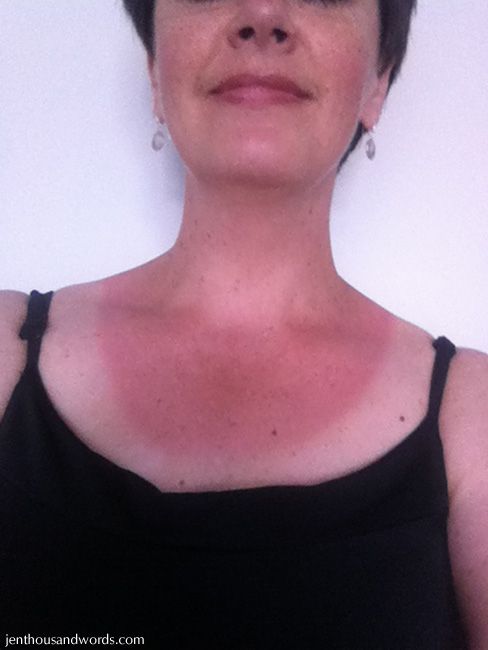 I then informed the cheeky monkey that, "Maybe you need a brown rash vest, your Nutella is showing!" as he had a smear of it on the front of his white top.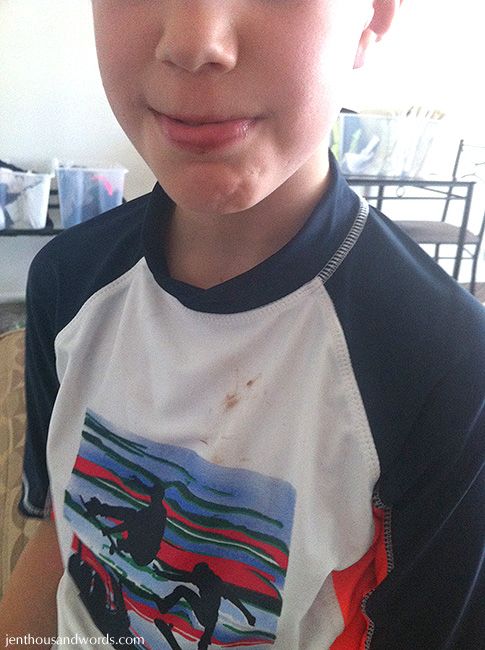 After our swim we talked some more about the house. We realised we would need to find a section on which to put the house! So after showering and changing, and having dinner, we turned back around and headed straight back to Town A.
Now, back when we first started looking at houses there were heaps of sections for sale. But when we checked the listings that evening there were exactly three. Two of them were completely not suitable, which left one. Once section to choose from.
We drove to it. We drove to every single empty section in the town and discussed each one. The problem with the section that was for sale was that it was on the south side of the street and we'd been wanting one on the north side so that we could position the house a certain way. We drove back and forth and walked onto sections that weren't for sale, hoping that we'd find the perfect one and that the agent could contact the owner and make an offer.
We found one other section that might be suitable, but had some issues with it. Undecided, we headed back to Town B, bought some ice creams and went to the park to relax for a bit.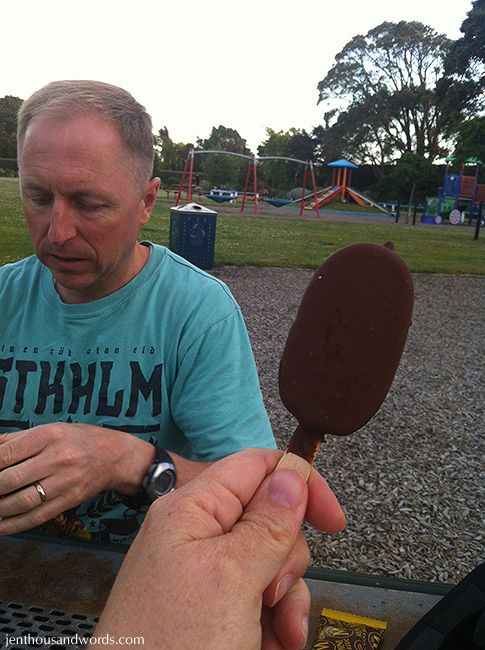 The next day we went back to Town A and looked at sections again. We kept coming back to the one (not for sale) with issues, and the one for sale. Back and forth. And realised that really, the one that was for sale was actually just right for us. Nice neighbours, right area, flat and cleared, everything we wanted. Sure, we didn't like the road name, and the section was on the south side of the road, meaning we'd have to rethink how we'd position the house, but it could actually work out better that way. We climbed over the fence, walked onto the section and discussed it, and we both got that excited this-is-right feeling again. And, luckily, it was actually for sale! The only one that was suitable was the one that was for sale. We felt like we'd arrived at the right decision for us.
Just before we left the town to go home, having done what we came to do, we saw another house, for sale by owner. It wasn't listed anywhere online. The owner wasn't at home but Grant managed to get hold of him by phone to ask if we could view it. He was only 5 minutes away, but when we found out how much the asking price was (a little over the top end of our budget) we declined. By then we were so tired and overwhelmed and still had a five hour drive ahead of us.
So we packed up the car and headed home, arriving late in the evening, exhausted but excited about what could be our new home.
A day or two after coming home, we got a phone call from the agent with the total cost of the house, labour, removal, section, repiling, reconnection, utilities, and council fees. It was kind of what I expected but more than Grant had - he was not happy. We were also told we have a week to decide if we want it as there are other buyers interested, but that they'd give us first option for that long.
We sat down and did some sums and realised that once you add a garage, insulation, heating, (as you'd have to do to all of the houses we saw), the total starts creeping up towards the for-sale-by-owner house price - and that that house includes all of those things, plus it's on a double-size section (half acre instead of quarter acre). We really really liked the pictures that we got the owner to email us and he said he'd be open to offers. Decisions, decisions.
Throwing a spanner into the works, just as we were about to go back down to Town A to view the for-sale-by-owner house (we were going to go today, driving there and back in one day), we found out that Grant's transfer might take a lot longer to come through than anticipated.
So, for now, we are sitting tight. We trust that it will all work out in the end, so there is no need to get stressed and worried in the meantime. We'll wait to hear about the transfer, and if we come to the end of the week and have to let the agent know if we want the removal house or not, we'll tell her to make it available to the next buyer. We're glad we went down and viewed all of the houses because when the time comes to make a decision most of the footwork has been done and we'll just pick out of a couple. Who even knows when that will be.
Thanks so much for following along our adventures, especially if you've actually read this epic post. It makes it so much more fun to share the journey!