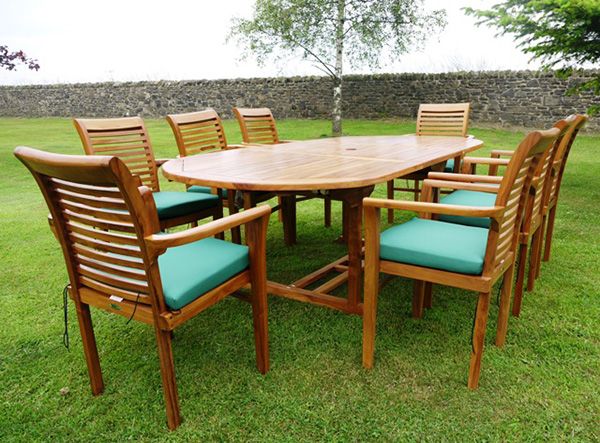 Spring is ideal for planning a garden party. At this time of year you can get great deals on garden furniture sets, outdoor lighting and heating, barbecues and parasols. Where to
buy affordable outdoor furnishings
for your garden? There are several ways to find a bargain:
1. Garage Sales and Second-hand Shops
If you're not fussed about matching reclining or lounge chairs, or whether you'll get a round or rectangular dining table; consider looking out for garage sales and second-hand shops in your local neighborhood. You'll be able to buy old family favorites for very little money. With a duster and a generous application of teak oil, or a paint job, you can bring new luster to those old wooden chairs and tables.
2. Home and Garden and D.I.Y. Centers
Most garden and D.I.Y centers offer a great selection of garden furniture sets, as well as additional folding chairs, swing seats, parasols and whatever else you'll need to hold a fabulous garden party. Typically sold as 2-seater, 4-seater, 6-seater, 8-seater, 10-seater, 12-seater or 14-seater dining sets, garden chairs and tables come in all colors, shapes and materials; from wire mesh to rattan, from graphite gray to chocolate brown, and from shiny chrome to the rich red hues of teak.
Modestly priced, these sets have the added bonus of being displayed in a garden setting, showing you all the accessories a successful garden party could require, such as lanterns, wall lights, candles and solar lighting,
a chiminea
or fire pit, plus a gas or electric barbecue.
3. Online Specialists
Online specialists will be able to sell larger dining sets with matching sofas and coffee tables, lounge chairs, cushion covers and parasols, to help give your garden a stylish and coherent look. Specialists also offer a far greater range of accessories than garden or D.I.Y. centers do.
Organizing a Garden Party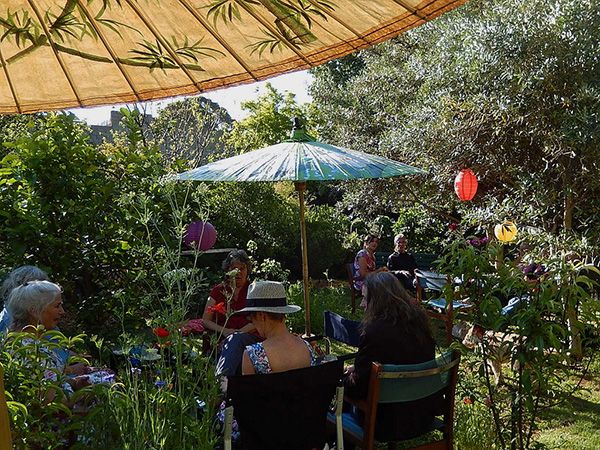 Now that you've installed the new garden furniture, it's time to plan your party:
Look up recipes for accompanying dishes that can be prepared in advance; this will allow you to concentrate on grilling meat to succulent perfection. Offer a choice of meat-based and vegetarian food, as well as a selection of non-alcoholic and alcoholic drinks. Be sure there's plenty of ice in buckets!
Draw up a list of guests who will get on well together, and enjoy being outdoors. Design outdoor lighting so everybody can move around safely after dark, but don't forget your garden should look magical at night. Try lanterns and solar lights, which give off a soft glow. Have sun cream and insect repellent ready. Buy disposable glasses, plates and cutlery to make your life easier. An outdoor garbage bin on your terrace or patio is also handy.
Select music most guests will like, and adjust the volume according to your neighbors' tolerance level. Enjoy the party!
Image by stevencoxon used under the Creative Commons license