(Scroll to the bottom if you'd prefer to watch a video instead of read this post.)
I love thrift shopping! Thrift stores, charity shops, op shops - whatever they are called in your country - are awesome. I love the thrill of the hunt and finding great items, but most of all I love how inexpensive it is - great for someone on a tight budget, like me, who loves clothes.
I know some people are a bit skeeved out at the thought of second-hand clothes. I'm not because I expect my washing machine to actually clean things, so once I have brought the thrifted item home and washed it, it is no different to any of the other clothes in my closet. I have been thrifting for years and have never got sick, a rash, bugs, or lice from it, I promise. Just don't think too much about where the clothes have been, and wash your hands and the items when you get home.
An advantage is that the clothes fit how they are going to fit. Sometimes when you buy something new it will shrink slightly or fit differently after washing and drying, but with thrifted items that have already been washed and dried you know exactly how they are going to fit and look. Buying second had is also good for the environment, so there's that :)
I some tips to share when going thrifting, so here they are.
1) Be in the right mood and allow enough time.
Occasionally you might walk into a thrift store and find something amazing right away, but usually it takes a little digging. You have to be in the mood and you have to allow yourself enough time to really look through everything to find the gems. They are there, I promise! You might have to flip through a whole lot of mediocre, wrong-sized, damaged, and just plain weird items to find them, but they are there.
2) Try everything on
Along with enough time to look through everything, you will also need to allow enough time to try everything on. It's sometimes tempting to just buy something that you like, because it's inexpensive, and try it on at home, hoping it will fit. This is a direct path to clutter collecting because not everything will fit right, and you'll be stuck with the item. Just try it on in-store to be sure.
You also want to try on anything that you love that is maybe a size too big or too small, but looks like it will fit, because you might find that it does. In thrift stores there is such a variety of brands and the variations in size and fit that comes with that, so don't just stick to your regular size. I've just been thrifting (scroll down to see what I bought) and bought a top which was labeled as two sizes smaller than I currently wear, and it fits beautifully.
3) Check for damage
Before purchasing an item, inspect it carefully for damage. Look for missing buttons, broken zips, small holes, stains, and pilling. You might decide that some damage, such as missing buttons, is not a big deal and that it's worth replacing all of the buttons because the item is so inexpensive. Or you might decide that no matter how beautiful the jeans are, replacing a broken zip is beyond your expertise and not worth shelling out for.
4) Think of the possibilities
You might try on something that you just adore but isn't quite right BUT it might be easily fixable. Consider removing trim such as beads and decorative pockets (check underneath to make sure the fabric hasn't faded around it), or shortening hems or sleeves, or taking in the sides of tops or dresses. If the item is at a low price, and you love it, and you know you will actually make the fix, then why not?
5) Keep a wishlist and stay focused
I have a pretty extensive wardrobe but I still have items on my wishlist to fill gaps in it. It helps me to stay focused when walking into a thrift store. I'll decide what in particular I'm searching for that day, and look for those items first before browsing around elsewhere if I have time and money to spare.
It's easy to get distracted by pretty things and end up with a wardrobe that leans too heavily in one direction. I have a bit of a weakness for skirts, plus they are easy to fit, so if I'm not careful I can end up buying too many skirts and not having enough other items to actually put together with them.
6) Buy if only if you can wear it right now
When clothes are priced so low it's easy to make too many allowances and buy them just because they are bargains. Try to avoid buying clothes that don't fit you beautifully right now. Don't buy clothes are a bit tight and will look great after you lose a few pounds - go shopping after you lose a few pounds and I'm sure you'll find great items then. But if you buy the tight item now, you won't wear it. Buy pieces that you love and that fit you right now. No matter how inexpensive an item is, it's still a waste of money if you don't wear it. It's still clutter if you have to store it at home but isn't used, and I can guarantee that if it is too tight or too baggy in areas or just doesn't fit well then you won't reach for it when choosing clothes to wear.
So those were my tips for thrifting. Now I'll show you what I bought when I went shopping with my friend on Wednesday. Although I do like to browse the op shops in my local area fairly frequently, we only go to SaveMart every 3-4 months. It's a chain of second-hand clothing stores and we are lucky to have quite a few in Auckland. They are huge warehouses filled with racks and racks of clothes, so it's really essential to go in with a wishlist and plenty of time. They are also a bit more expensive than most op shops, with items from $6-$9 upwards. They have racks of designer items for $20 upwards, but I don't generally browse those as that's more than I am prepared to pay for thrifted items (I'm not that bothered about designer names).
I tried on over 40 items and I bought 11 of them. I went in specifically looking for comfortable pants like ponte pants, jeggings, leggings, etc - non-frumpy pull-on trousers with elasticated waists because I've been spoilt by wearing skirts and leggings (and at home I wear yoga pants or pull-on shorts) and now find jeans far too uncomfortable. And I always look for more V-neck cardigans in colours I don't already have, because I adore cardigans and wear them probably 75% of the year. So this is what I found. The total came to $83.89, which I think is pretty good for 11 items.
These basic black pants have a permanent crease down each leg, and are of a very thick, soft, stretchy fabric.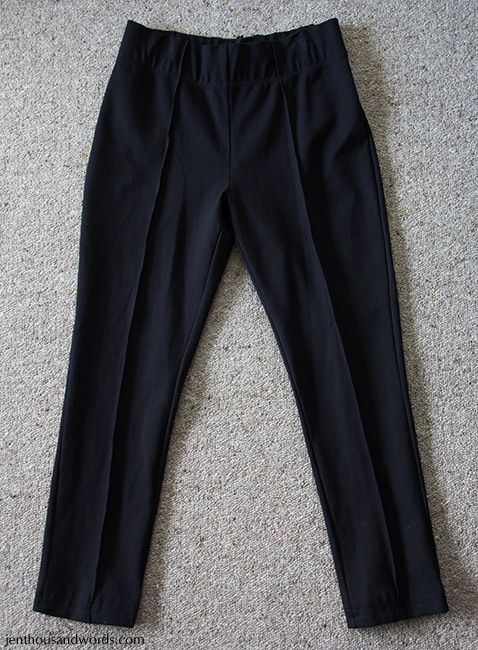 These pants look fine in real life, it's just the way the light is falling that they look faded and stretched at the knees.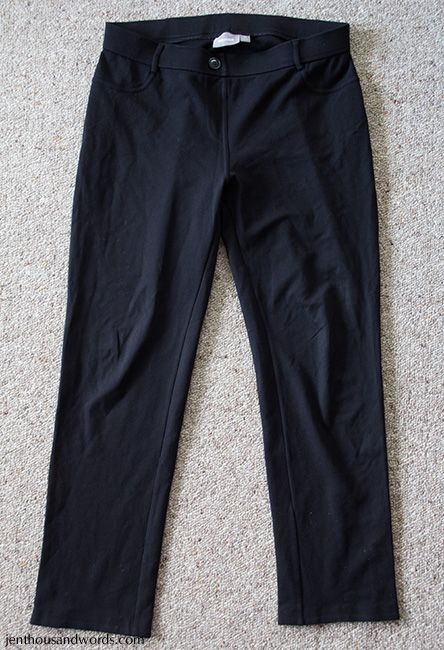 Totally love these, they are super thick leggings with some detailing and structure to them. The grey is a nice change from black as well.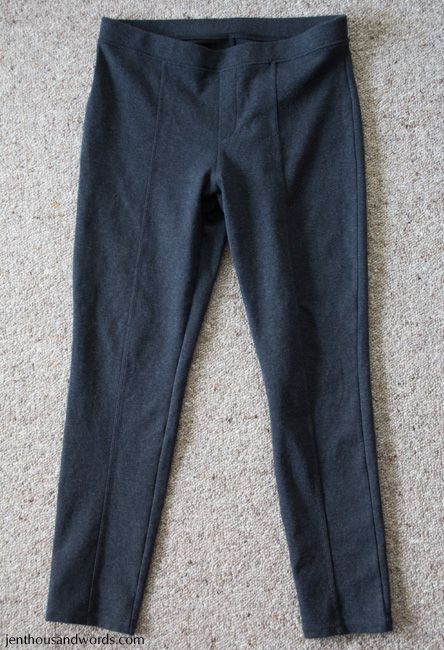 These navy blue pants are super soft and comfortable. They have a side zip and button.
I promise these don't look like grandma jeans when worn! I know they have an elastic waist but they fit so well they look just like regular jeans, and I always wear my tops over the jeans anyway so nobody will know ;)
I love this knee length denim skirt. I live in my straight / A line denim skirt and I thought the pleats on this one were so cute and a nice alternative. I know I'll wear it a lot.
I've been searching for a long, non-frumpy denim skirt for ages. It's so hard to find one that doesn't look old-fashioned and is long enough (I like my maxi skirts to hit the top of my feet). This one ticks all the boxes. It is very slightly too big at the waist but I can put a couple of darts into the back of the waistband with no trouble.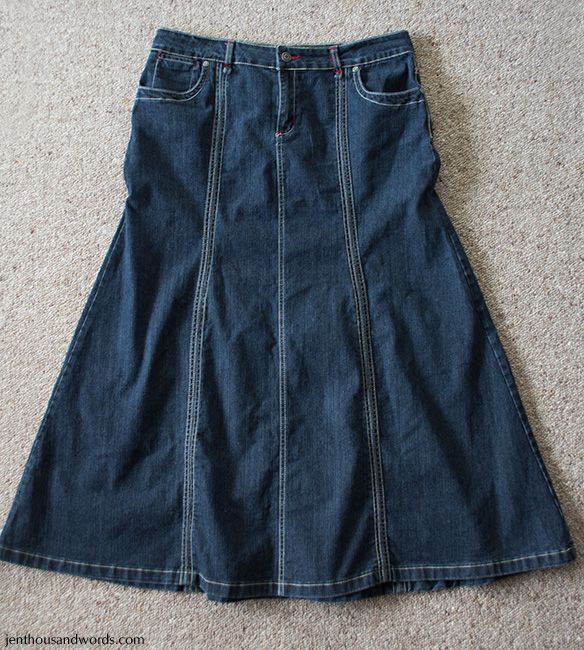 I love this tunic. It's a super soft, thick, stretchy knit, perfect for autumn and winter with a cardigan over the top, worn over leggings with boots.
I also found three V-neck cardigans in colours that I didn't already have. A red one was on my wishlist specifically, so I'm pleased that I found one.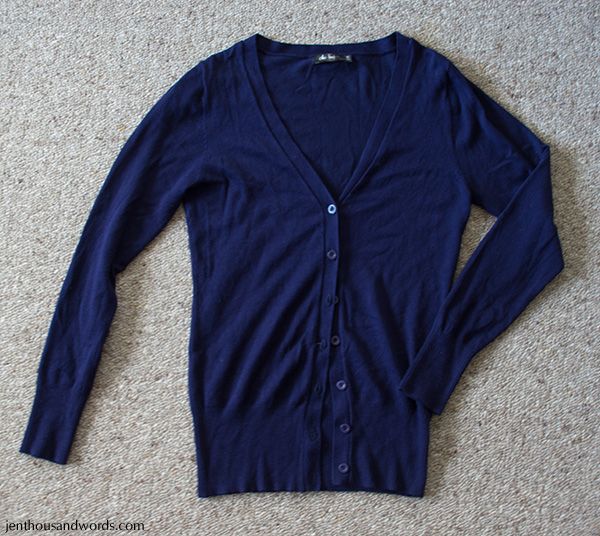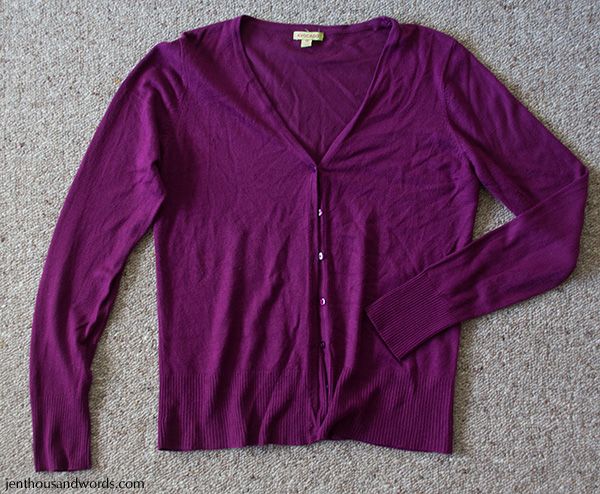 If you'd like to see a video of these tips and haul (i.e. me waffling on for hours), here it is. (If the embedded video isn't showing up, click on over here to see it.)