Last Wednesday (28th) a friend posted a fun Halloween tip on Facebook and it inspired me to have a little get-together at our home for Halloween. I phoned a couple of friends and invited them and their families over on Friday (30th). Luckily, despite the short notice, they both said yes.
I then spent Thursday and Friday having fun decorating and making Halloween themed food. I used what I had, rather than spending money, partly because Grant had the car so I couldn't get to the shops even if I wanted to. I was able to shoot to the dollar 10 minutes before it closed to pick up plates, cups, and serviettes.
Of course I had to share the details with you!
Here is an overview of the decorations.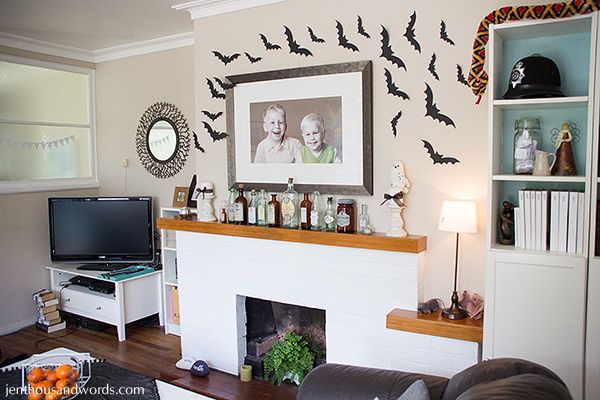 I found some cute printables and put them into frames that were already in the living room.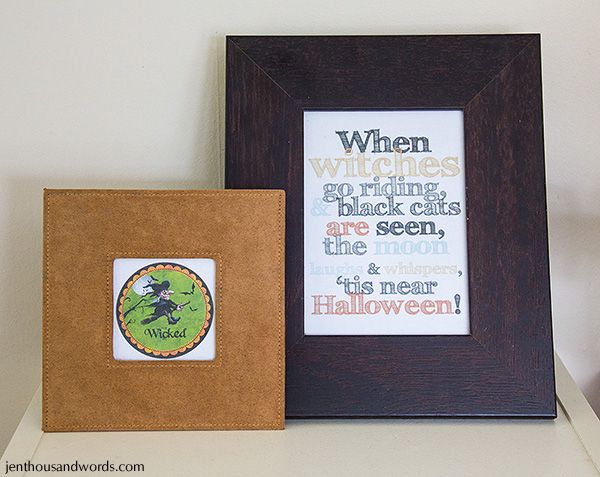 Then I turned my attention to the mantelpiece. I focused most of the decorating here, to create one big focal point.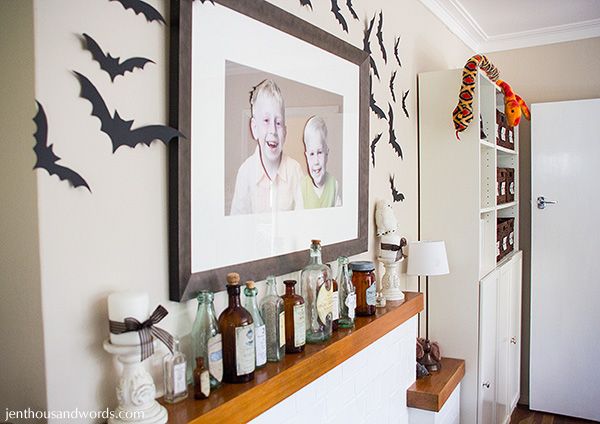 We have tons of rocks in the garden so I took a few and painted them with acrylic paint, then added letter stickers. I did have to use superglue on the letter stickers to get them to stay stuck. I scattered the rocks on the hearth.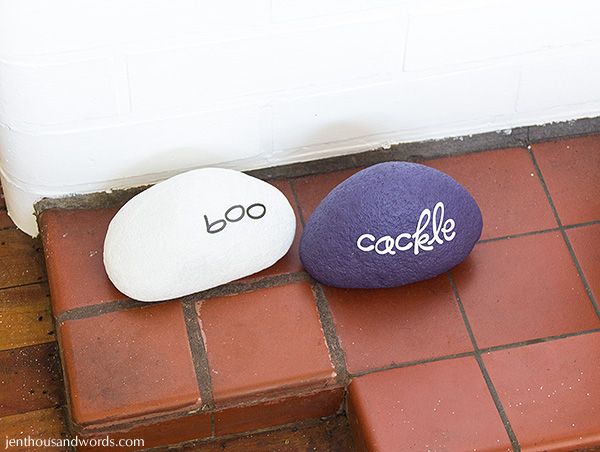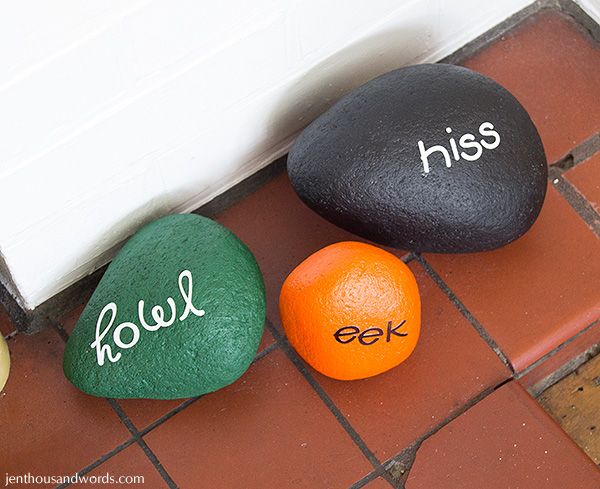 To the right of the mantelpiece we have a lamp. I raided the kids' stuffed toys and found a rat and a bat to hang out at the lamp based, and printed and cut out a spider silhouette which I stuck inside the lampshade.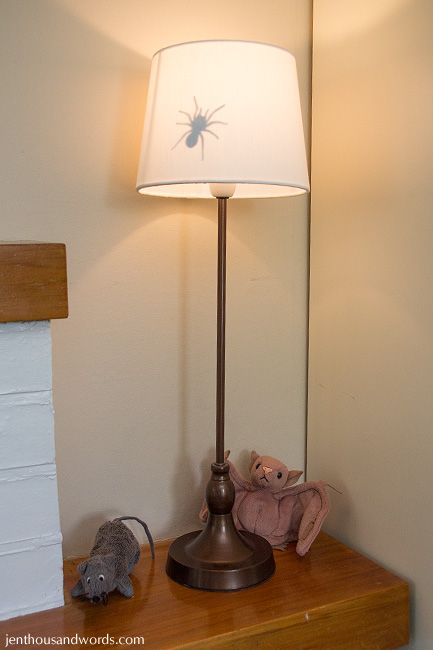 Because I took the photo of the boys on the chimney breast, I have the digital file. I opened it in Photoshop and turned my little darlings into vampires, then printed them and stuck them to the glass. I wasn't going to open up a professionally framed picture and mess with it!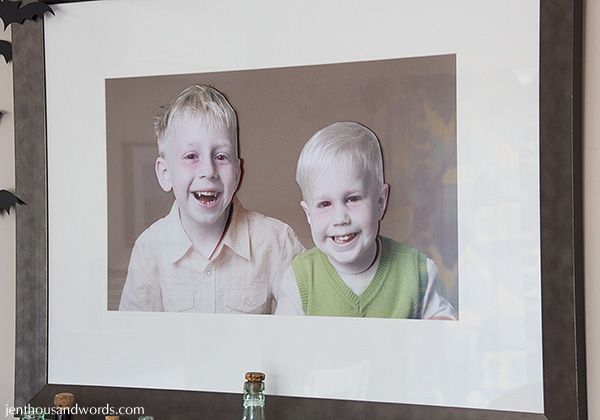 On the mantel I was able to use my antique bottle collection - I just found printable spooky labels online and stuck them on with tape.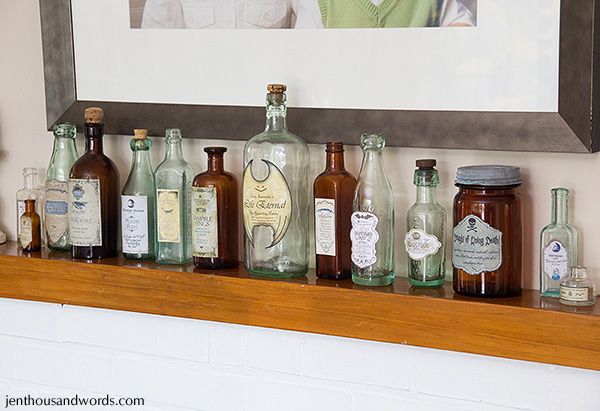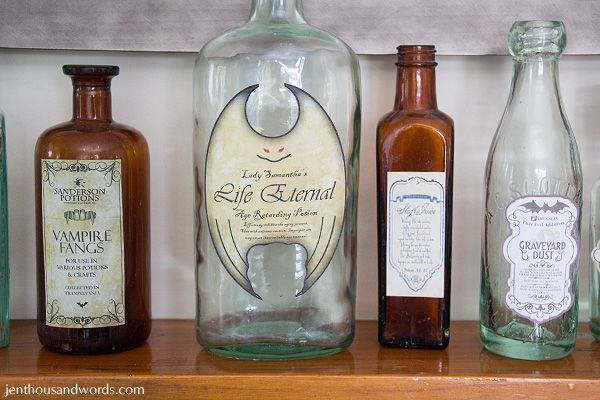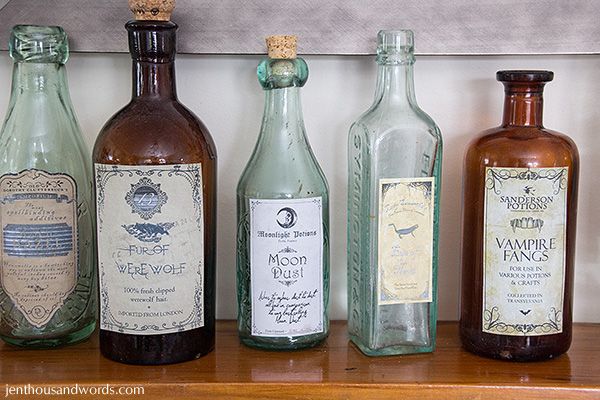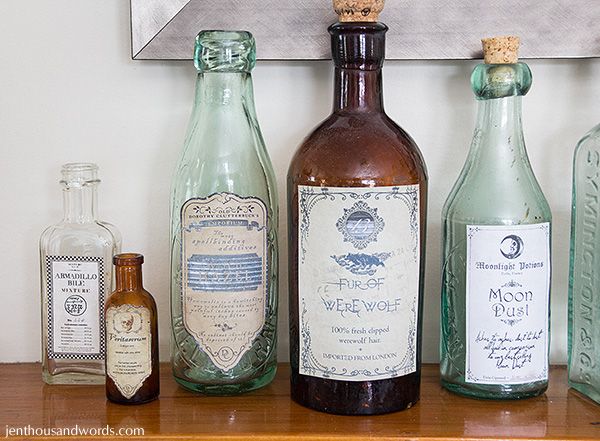 I added black striped ribbon to the candles. Rather than purchase coloured candles I often just add ribbon for each occasion, for example red gingham at Christmas.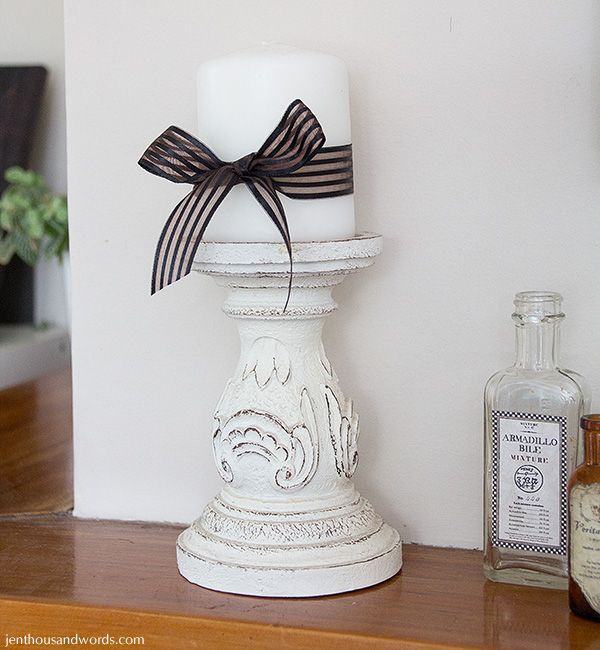 The stuffed toy collection also yielded an owl ...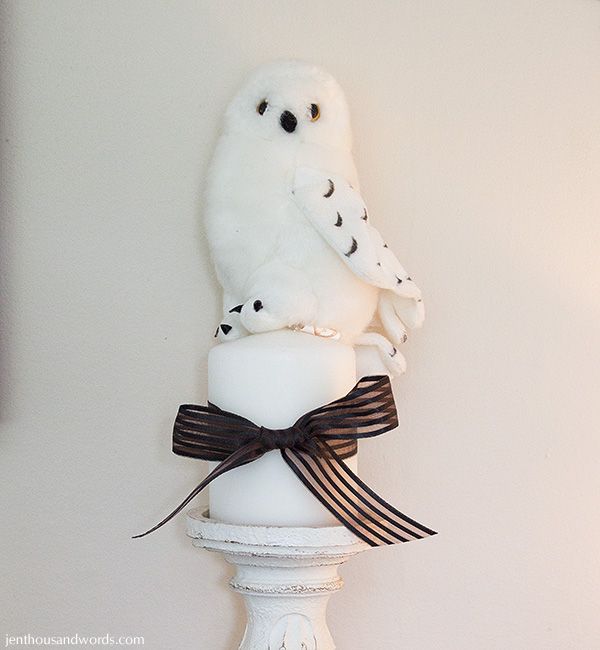 ... and a couple of snakes.
Even my sewing machine got spooky features.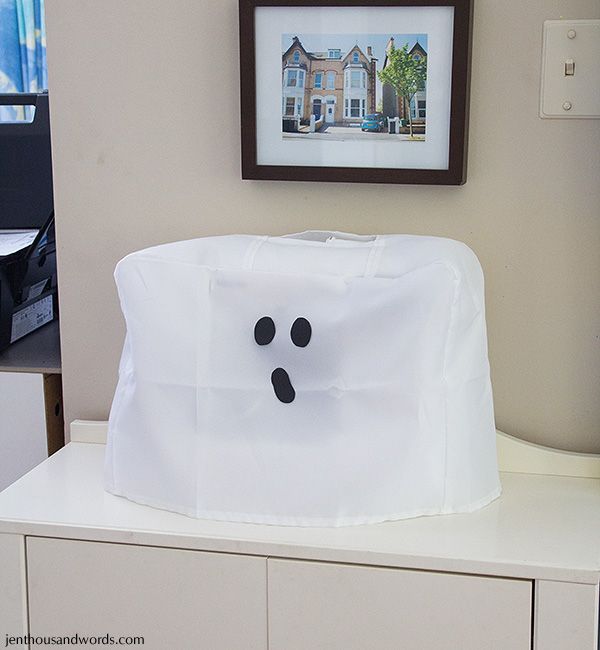 I laid a black scarf on the coffee table.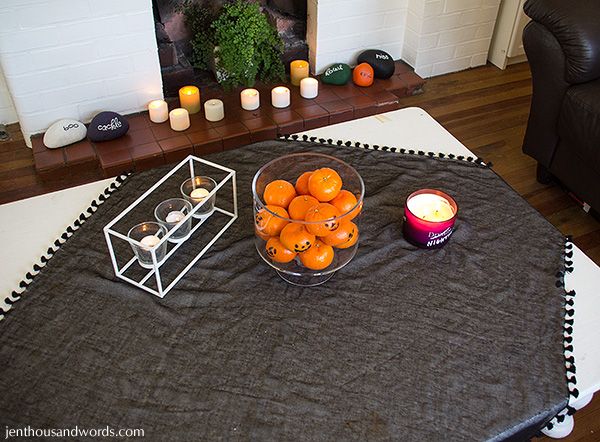 This bowl of mandarins served as snack and decoration once I added Jack-o-lantern faces with permanent markers.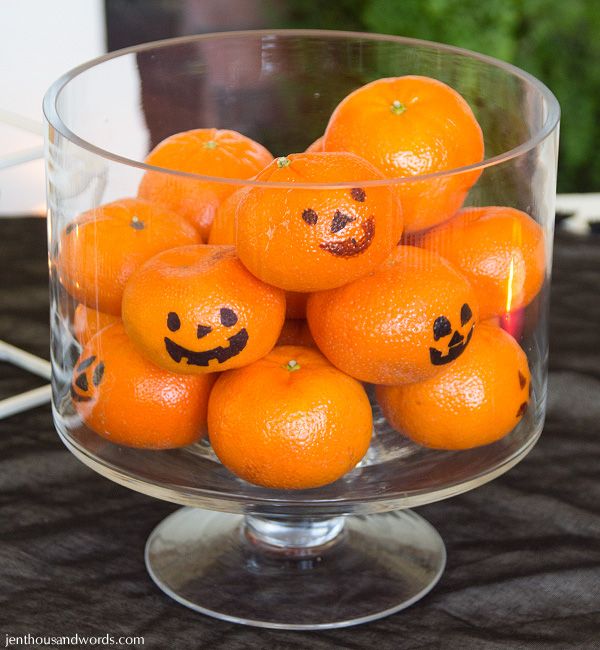 We have black sand on our beaches and I happened to have some in a bucket so I added it to votive holders, popping tealights on top.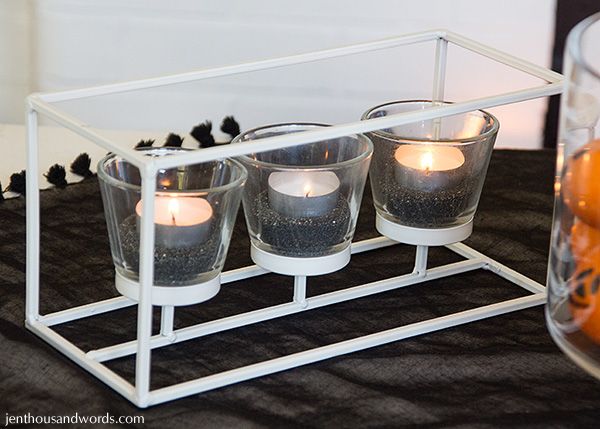 I also used a candle that I had, crossing out Dream and writing Nightmare with a chalk marker. I loved that the glass container fit in with my colour scheme of black / white / purple / orange / green.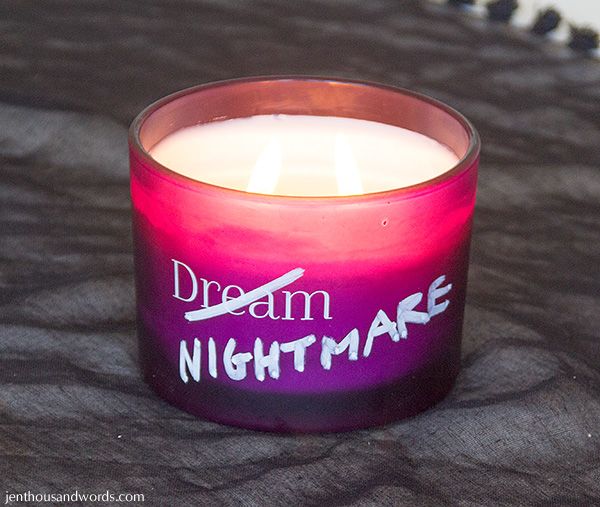 I also added a bunch of candles to the hearth.
We have a bunch of these green buckets so I painted one and placed it beside the door.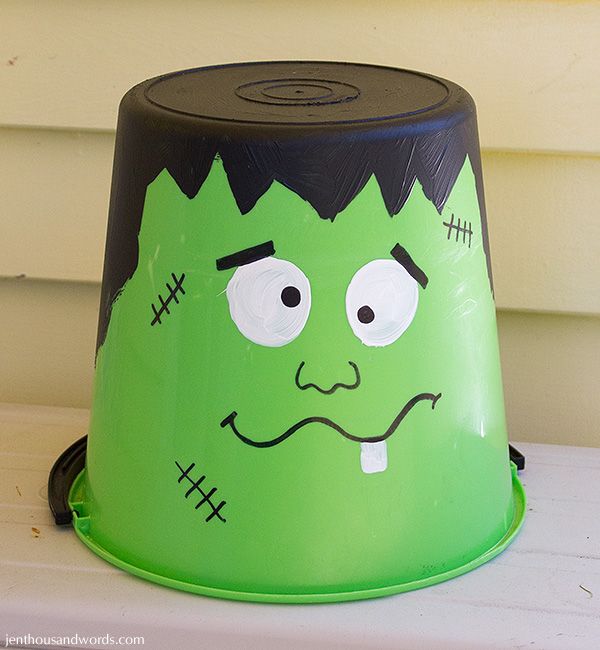 It doubled as a quick costume for Noah!
I wore a black dress, black necklace, orange belt, and did witchy green makeup.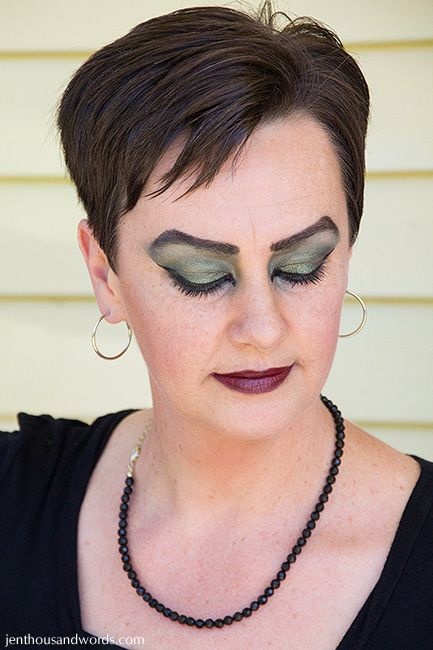 Moving onto food and drink. I spread my black photography backdrop on the table and added a purple pashmina as a runner.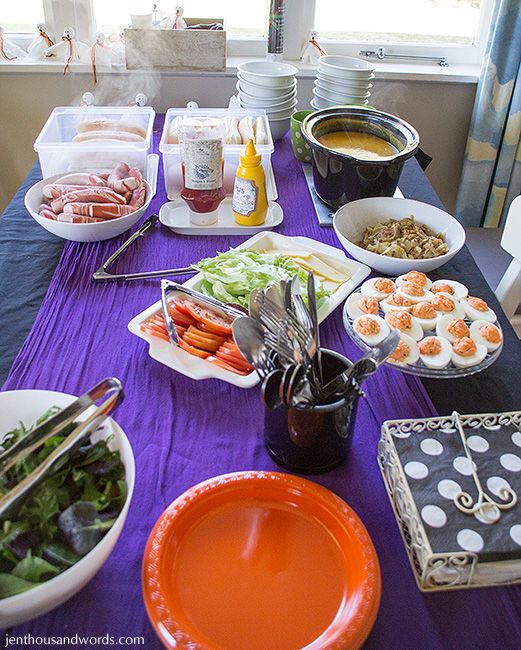 I had black and white polka dot serviettes, and orange plates.
Orange drink was served in the drinks dispenser with black paper Jack-o-lantern features.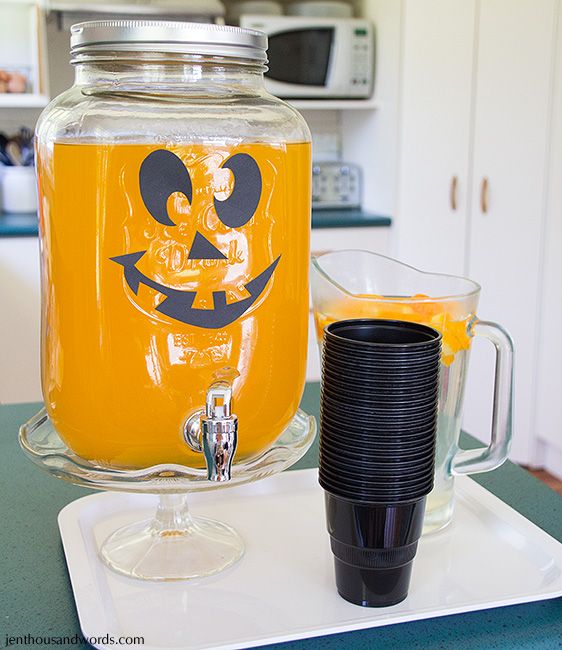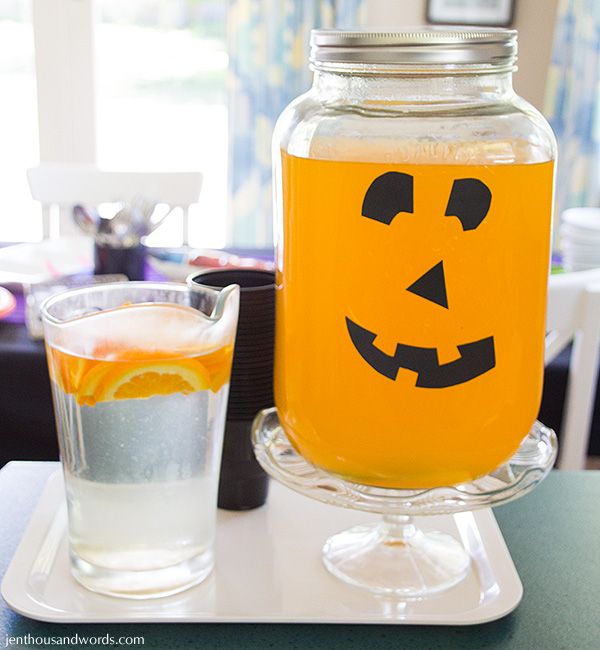 The jug of water had sliced oranges rather than the typical lemons, and I bought black plastic cups.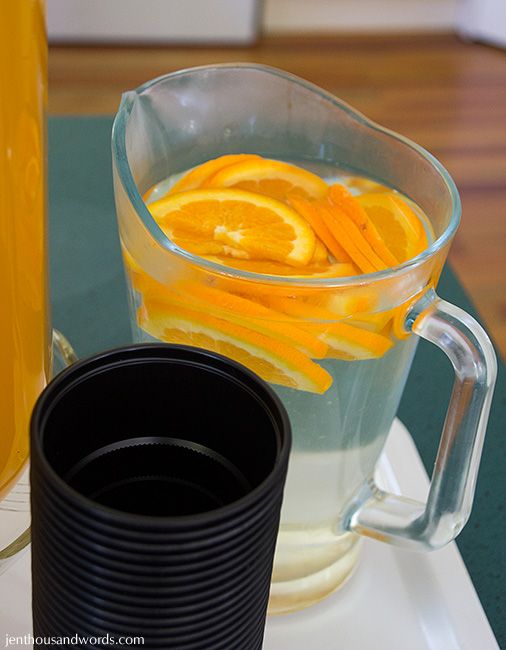 Now for the food.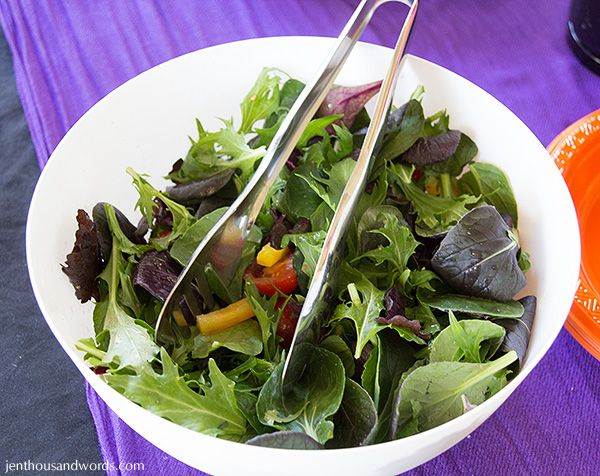 These hot dogs were cut to look like fingers but then Grant put them on to heat in hot water and went outside to BBQ the burgers without telling me, so they overcooked! The irony? The picture of finger hot dogs posted on Facebook is what inspired the whole party.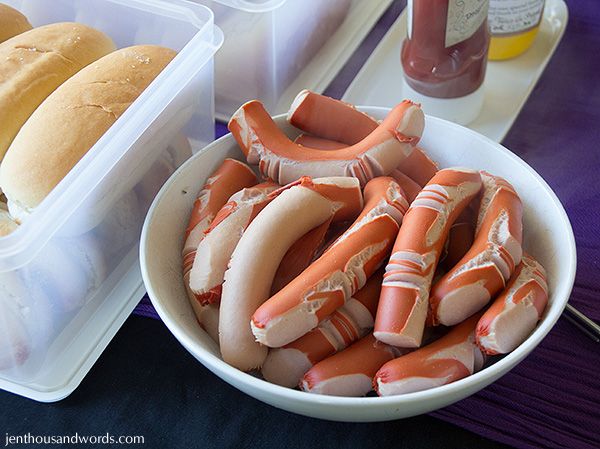 Of course with hot dogs you have to have ketchup and mustard ... or rather, dragon's blood and pus.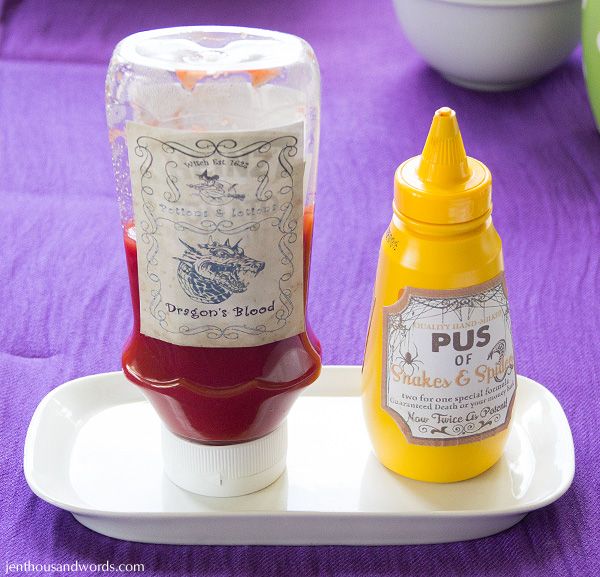 We also had burgers with tomato, cheese, iceberg lettuce, and onions.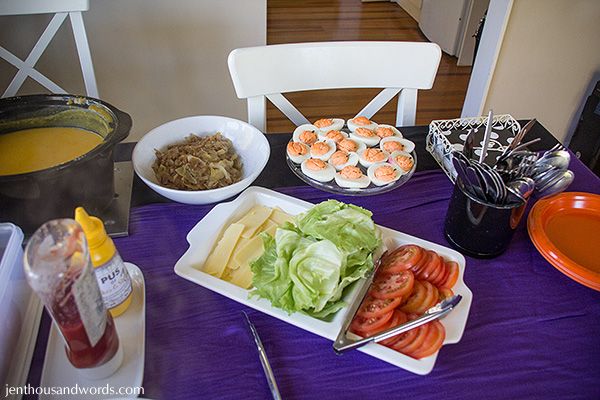 I made deviled eggs, adding food colouring to make the yolks orange, and scoring them with a knife. The addition of a little piece of rosemary turns them into pumpkins (thanks, Pinterest).
I made pumpkin soup so I'd have something to eat.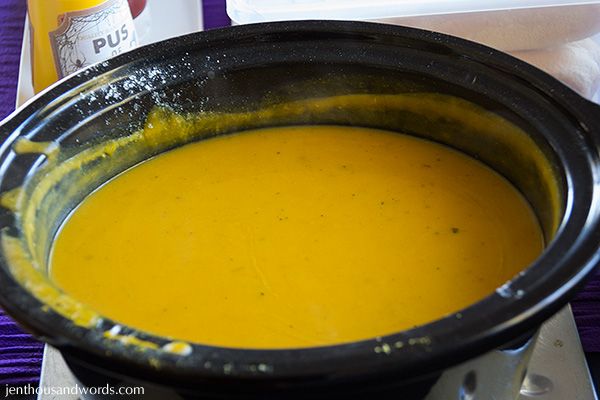 For dessert we had severed finger biscuits (
recipe here
).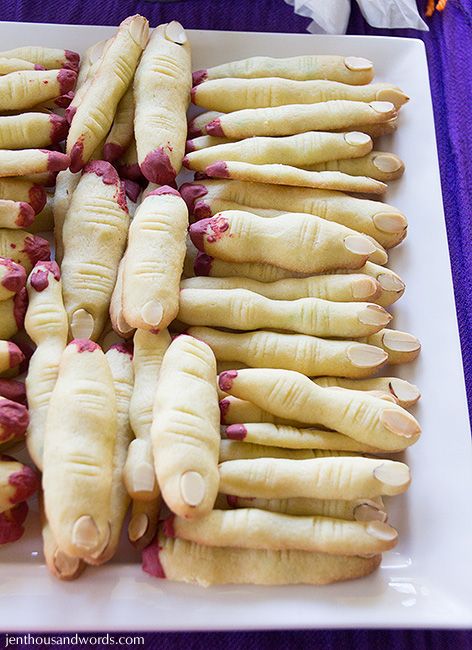 Noah couldn't eat jelly worms, he was too grossed out!
Instructions here
.
I made regular and mini chocolate cupcakes and topped them with easy royal icing decorations that I'd made in the shapes of bones, ghosts, and a skull.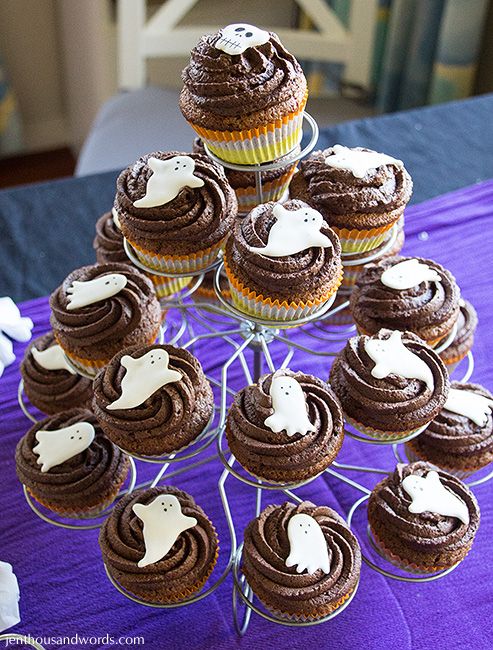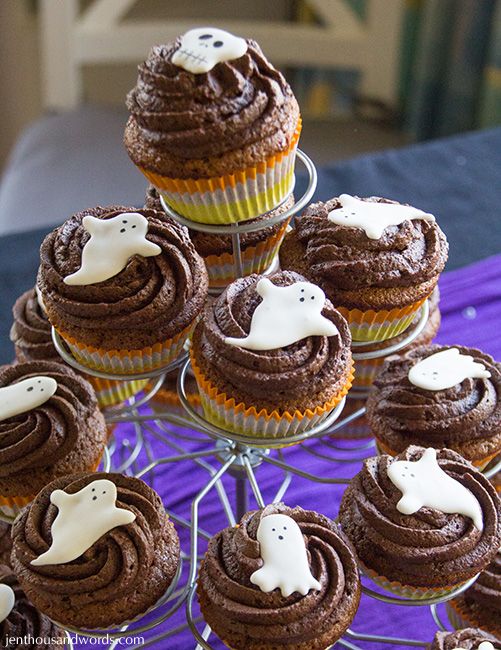 I hope you enjoyed this peek at our festive fun! I'm so glad I was spontaneous and decided to entertain, we always have a good time with our friends and should really do it more often.
Here is a video where you can see more of the decorations and my makeup.