I hope you guys had a wonderful Christmas! We had such a nice relaxing day at home. (You can see it
here
if you're interested.)
After opening presents we had the boys go into Daniel's room and wait while we brought in the foozball table we'd bought. As you can see, it was a huge hit!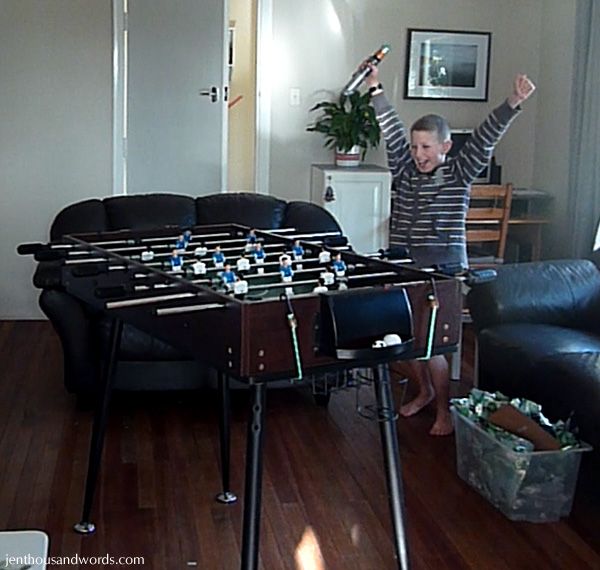 I cooked up some bacon, eggs, tomatoes, beans, and toast for everyone, after which Grant and Haydn (brother-in-law) went back to bed and the boys enjoyed their new toys while I got ready for the day. I then put up the hammock and had a lovely rest beneath the trees, enjoying the warm summer weather which has finally arrived.
Then it was back into the kitchen to prepare Christmas lunch. While I was doing the food the others enjoyed some snacks: baked brie, crackers, peanuts, homemade onion jam, smoked fish (gift from a friend, freshly caught and smoked), and chips.
I pottered about in the kitchen preparing lunch, while Grant tended to the BBQ. We ate out on the deck using the table I made.
We had roasted sweet potatoes, garlic bread, chopped salad, coleslaw, potato salad, bean salad, and also grilled zucchini (not pictured).
We also had some lamb and pork chops and pork sausages that Grant did on the BBQ.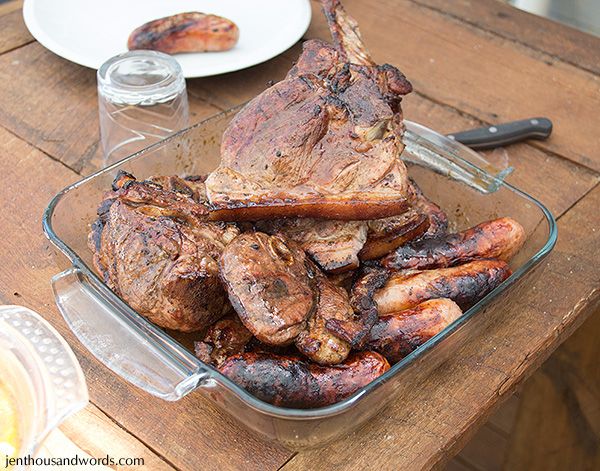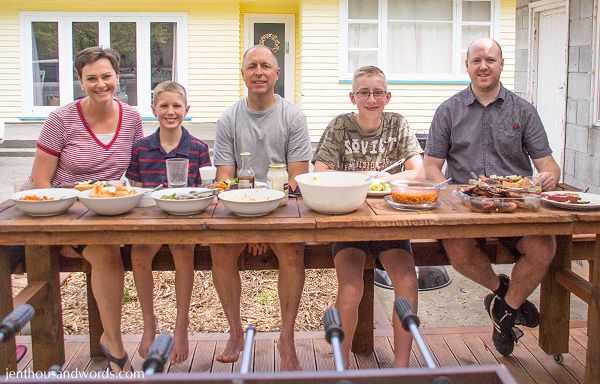 A little while after lunch it was time for dessert. I like to serve what I call deconstructed trifle / pavlova. This way everyone can build their own dessert. Want pavlova? Take meringue, fruit, cream. Want trifle? Take sponge, jelly, custard, cream. Gluten free? Take anything except for the sponge. Dairy free? Take anything except for the custard and cream. It's always a hit and so easy to prepare.
I served jelly, trifle sponge, custard, whipped cream, mini meringue nests, fresh fruit (apricots, grapes, mango, pineapple, strawberries), coconut cream, gingerbread stars, and the red plate you see holds some sweets and cake from a neighbour.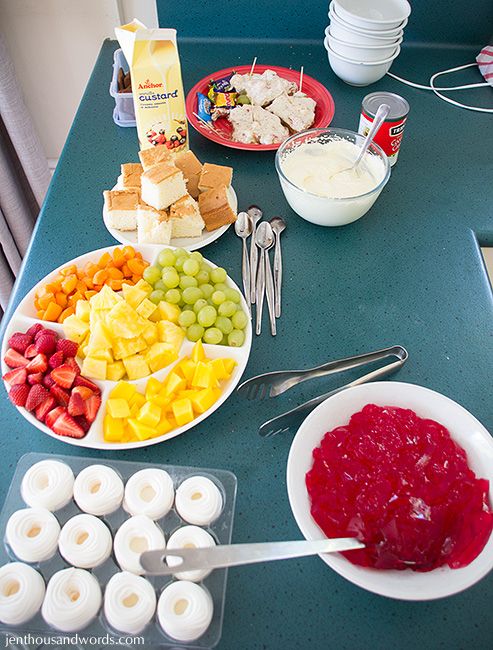 In the evening we went to the beach for a little while, then home and to bed. It was such a lovely relaxing day and is the best Christmas I can remember. Being so settled and happy in our home has made such a big difference.
I hope you each had a wonderful Christmas too!